Since the release of iOS 16.4, some users have found out that the new features are limited to them. Or even, it brings more inconvenience to them. In this situation, some of you will need a way to go back to the previous version. It is easy to downgrade to the iOS software that is still signed by Apple. But how to downgrade to unsigned iOS? If you are querying about this question and want to downgrade to the iOS 15 or earlier system versions, read this article to get three methods to downgrade iOS. No matter whether you are technically capable or not, you will find the appropriate solution in this article.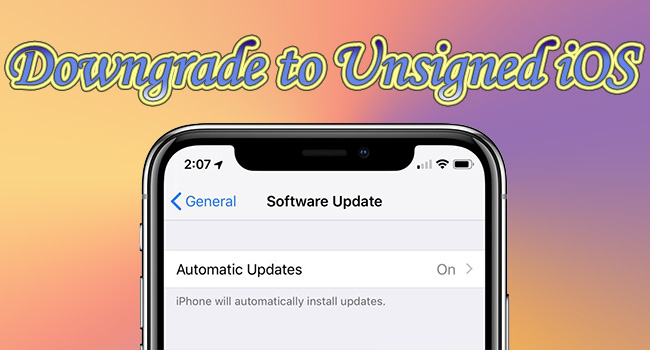 Part 1. FAQs about Downgrading to Unsigned iOS
Q1: What does it mean when Apple stops signing?
A: iOS software versions are available to be downloaded with Apple's digital signature. When Apple stops signing, you can no longer downgrade to the previous unsigned system versions.
Q2: Can you downgrade to a non-signed iOS?
A: Although Apple stops offering the digital signature for some iOS versions, a non-signed iOS is still reachable for some device models. You can downgrade to unsigned iOS through a non-official channel.
Q3: What happens if you downgrade to an unsigned iOS?
A: If you downgrade to an unsigned iOS, you will not be allowed to install a new iOS system and the bugs fixed on the new version remain on the old system which will do harm to your device.
Q4: What are the preconditions for downgrading unsigned iOS?
A: There are two things that need to be prechecked. On the one hand, make sure that the unsigned IPSW profile can be downloaded and is available to your device model; on the other hand, ensure that you have backed up your data in advance to prevent losing important information.
Part 2. Downgrade iOS with Unsigned IPSW via iTunes
iTunes, as the most common and the easiest tool to obtain, can be used to downgrade to unsigned iOS. Before the downgrading, you need to go to ipsw.me to check if the system software is available for your device model to be downloaded. First, choose your device model; then look through to see if it offers the unsigned IPSW profile you need; select the one you want and click on the Download button to download it on your computer. After that, follow the steps below to continue.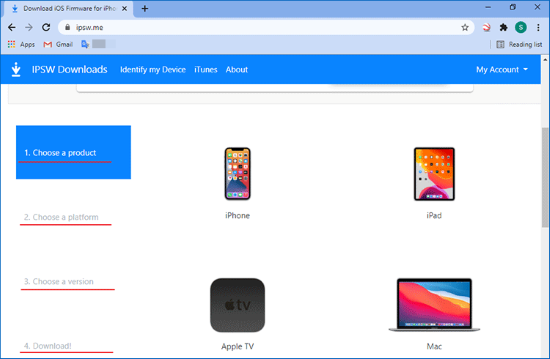 Step 1: Go to Settings → Apple ID → Find My to turn off the Find My feature.
Step 2: Launch iTunes on the computer and use an original USB cable to connect your device to it.
Step 3: Put your iPhone or iPad into recovery mode following the guide below.

iPhone 8 and later/ iPad with Face ID: press Volume Up and release it, do the same to Volume Down, hold the Power button and release it until you see the recovery screen.
iPhone 7 series: press and hold the Volume Down and Side buttons at the same time, and release them when you enter the recovery mode.
iPhone 6 and previous/iPad with Home button: simultaneously hold the Home button and the Sleep button, and then release them until the recovery screen shows up.

Step 4: A prompt will occur on the iTunes interface. If you are using Windows, hold the Shift key and click the Restore button at the same time. If you are using Mac, hold the Option key instead.
Step 5: You can choose and open the unsigned IPSW profile you just downloaded when entering the next screen.
Step 6: Wait for iTunes to help you downgrade your device to the previous iOS version.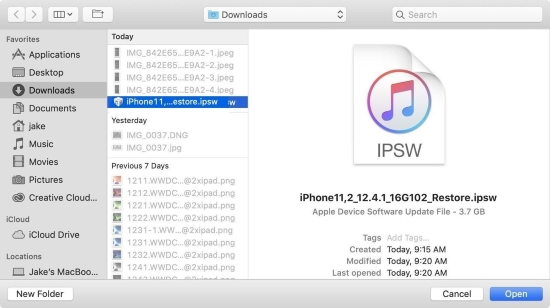 Part 3. Downgrade to Previous iOS via Joyoshare UltFix
The operating steps to downgrade to unsigned iOS by using iTunes are a little bit complicated for some users. Don't worry, Joyoshare UltFix provides a much simpler way for you to downgrade. With only three steps, you can downgrade your iOS system to the previous version without jailbreak. Even if you don't possess a developer account, the downgrading progress could proceed no matter if you want to come back to the earlier iOS or iPadOS system version. Apart from downgrading, you could also adopt Joyoshare UltFix to upgrade your system when it fails to be updated on your iPhone or iPad. For the main features of Joyoshare UltFix, almost all iOS system issues can be fixed with the assistance of its dual repair mode. Moreover, it offers a free service to enter and exit the recovery mode with one click.
Main Features of Joyoshare UltFix: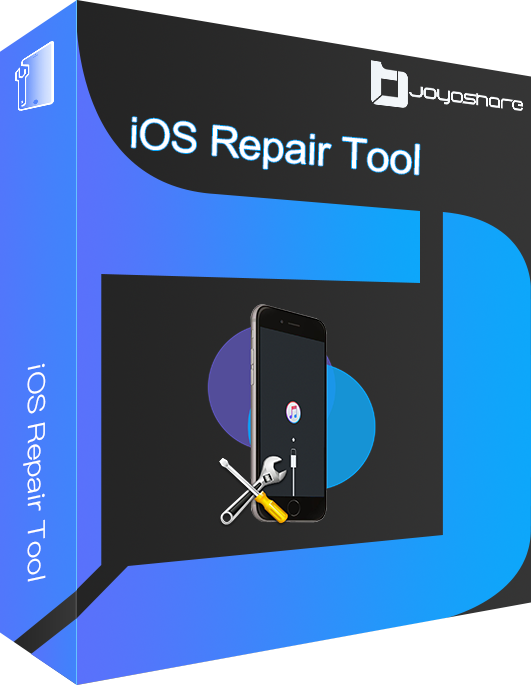 Downgrade iOS 16 to iOS 15 with a few clicks
Standard repair iOS system problems with no data loss
Free to enter and exit recovery mode
Compatible with all models of iPhone, iPad, iPod
Support all versions of iOS, iPadOS and tvOS
Step 1

Plug Device and Choose Upgrade/Downgrade iOS

After installing Joyoshare UltFix on your computer, plug your device into the PC. Launch the program, choose Upgrade/Downgrade iOS on the main interface, and opt for iOS Downgrade.

Step 2

Download Firmware Package and Start Verification

Your device information will be listed on the screen when it is detected by Joyoshare UltFix. Choose a supported firmware package that you need to downgrade to, and click on the Download button to download and verify it.

Step 3

Downgrade to Unsigned iOS

When the firmware package is verified without problem, hit the Start Downgrade button to start downgrading your iOS to the unsigned version.
Part 4. Restore Unsigned iOS by Using SHSH Blobs
How to downgrade iOS with the unsigned IPSW profile without iTunes? Here gives you a step-by-step guide for restoring the unsigned iOS version by using SHSH blobs. Try to downgrade with the steps below.
Step 1: Download the unsigned IPSW profile on ipsw.me in advance.
Step 2: Get SHSH blobs following the below instructions.

Connect device to computer, run iTunes, and choose the Summary section. Find your Serial Number to copy the ECID (Exclusive Chip ID) and paste it into Notepad. Repeat the steps to get your Device Identifier as well. Visit the TTS Saver page, paste the ECID into the designated section, select the device model, paste the Device Identifier, and click the Submit button.

Step 3: Download and install NonceSet1112 for iOS 10 and later or PhoenixNonce for iOS 9.3.4 or iOS 9.3.5.
Step 4: Go to GitHub to install a restore tool called FutureRestore.
Step 5: Create a new folder on your computer and copy the zip version of the FutureRestore and unzip it in this folder.
Step 6: Copy and paste the IPSW profile and SHSH blobs into this created folder as well.
Step 7: Find the generator key string on SHSH blobs in your Notepad. Open PhoenixNonce on your iPhone or iPad, enter the generator key string and tap the SET button.
Step 8: Your iPhone or iPad will restart. Then, run PhoenixNonce again to ensure the generator key string is right.
Step 9: Close iTunes on your computer, and plug your device into PC.
Step 10: Open the operating system of your computer as an administrator, and access Command Prompt for entering futurestore -t my.hsh2 -i signed.ipsw restoreto.ipsw.
Step 11: Click Enter and wait for the end of the downgrade process.
Part 5. Conclusion
How to downgrade to unsigned iOS system versions? This article gives you three methods – iTunes, Joyoshare UltFix and SHSH blobs. Apparently, it is more acceptable for you to use iTunes to downgrade to the unsigned iOS. But if you want to save time and simplify the steps, Joyoshare UltFix is more suitable. As for SHSH blobs, it is not recommended for those who don't have sufficient IT background knowledge. If you are a newbie in downgrading iOS with the unsigned IPSW profile, just adopt Joyoshare UltFix to avoid unnecessary damage.