Getting locked out of your iPhone can be a very frustrating experience, and with Apple's security system, it has become very difficult to access any data on your mobile device when you have issues with your device password. To gain access to your device after you've been locked out, you'll require making use of a third-party software dedicate to issues in this category.
There is a wide variety of iPhone unlocker software that can help you unlock your iPhone, iPad, or iPod easily, we've been able to put together a list of four very effective unlockers in this 2022 that you could pick from.
#1 Joyoshare iPasscode Unlocker
Joyoshare iPasscode Unlocker is by far the most convenient, reliable, and one of the best software to unlock iPhone available on the market. It makes use of a comprehensive approach to unlocking your mobile device professionally.
It considers a wide range of scenarios and has the capability of handling the situation based on each of the scenarios. Whether you had a broken screen, made several failed attempts while trying to draw your pattern, or you just got a second-hand phone and need to remove the passcode, the Joyoshare iPasscode Unlocker has got you covered with the ability to unlock four different passcode types including touch and facial ID.
It works perfectly for older iOS versions and Apple devices as far back as iPhone 4 up to the latest iPhone 13, iOS 15, etc. the software carefully guides you through the entire unlocking process, in other words, it acts as a smart assistant, this makes it very user-friendly.
With this iPhone passcode bypass software, you can unlock your iPhone, iPad, iPod touch, in three easy steps. First is to download the software to your Windows (or Mac) computer and install, after installation, connect your mobile device to the computer and select the firmware version of your mobile device, and finally unlock the device. Joyoshare gives you a 100% safety guarantee through the entire process.
Pros:
Joyoshare iPasscode Unlocker is very easy to install and also compatible with most PC's and Mac's currently available
Makes use of a comprehensive and detailed approach to get excellent results
Can unlock both the very old and the latest iPhones and other iDevices
The interface is user-friendly and works like a smart assistant to help you through the unlocking process.
It gives you a 100% safety guarantee, in other words, your phone is in good hands.
Cons: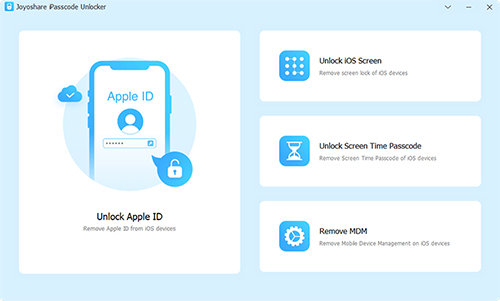 #2 iMyFone LockWiper
iMyFone LockWiper is another reliable iPhone unlock software tool that is quite easy to use and features a user-friendly GUI that helps you get your locked phone unlocked in three simple steps. To do this you must ensure that your cloud activation lock has been disabled. You won't be able to use this software if by any means you also cannot access your iCloud settings.
It also supports unlocking facial and Touch ID, custom numeric code, alphanumeric passwords, etc. To unlock your device, download the software to your computer, connect your iPad, iPod touch or iPhone to the computer, once the software detects your device, select unlocking mode, wait for the firmware installation to be complete. Once that is done, then click the Remove lock to begin the process, this will only take a few minutes.
This process will wipe away all the personal files and installed apps on your mobile device. The software also supports iPhone 11.
Pros:
Comes with a very interactive GUI that walks you through the entire process
It automatically detects your phone when plugged in and prepares it for the unlock.
Cons:
The software won't be able to work if you cannot access your iCloud account.
It wipes away every data in your phone.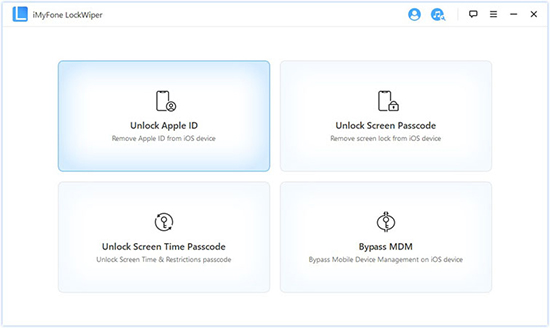 #3 dr.fone - Unlock
With dr.fone - Unlock, you can simply unlock your iPhone, iPad, or iPod in five minutes or less. You don't need any prior tech skills to carry this out, and it only requires a click-through process to get your device unlocked in minutes. This iPhone passcode unlocker tool is compatible with the latest versions of iOS and iPhones. To be able to do this, you have to ensure that your Find My iPhone has been disabled.
Once the Find My iPhone is disabled, boot your phone into the DFU mode using the instructions on the screen. If your device cannot enter DFU mode, you can switch to put it into the Recovery mode.
Download and install the dr.fone - Unlock software to your computer and connect your mobile device. For a successful installation, your computer must have the following minimum specifications, it must have an operating system of Windows XP or any later version for PC, and for Mac it should be Mac 10.8 or a later version. It can either be a 32 or 64-bit operating system, but the minimum CPU speed must be 1Ghz, recommended RAM of 1024MB and hard disk space of at least 1GB.
After it detects your device select start to begin the process, after the firmware downloads, check to ensure the device information is correct, if it isn't, select the correct information from the drop-down menu and click unlock to start unlocking the device. It is important to note that this software would wipe out all your personal files from this device.
Pros:
Fast installation in minutes.
May affect computer performance during the unlocking process.
Cons:
Doesn't work if the Find My iPhone feature is on
The mobile device must first be put in DFU or Recovery mode before it can be unlocked
Clears all the relevant information on the device.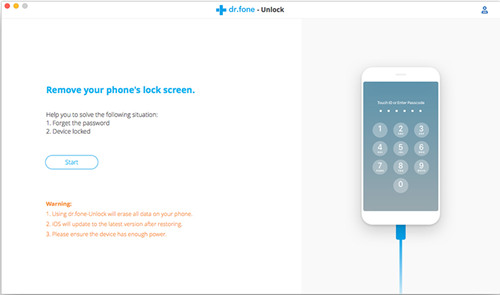 #4 Tenorshare 4uKey
Tenorshare 4uKey is an easy way to unlock your mobile device. Whether you forgot your passcode, too many wrong password attempts, you have a broken screen and you want to find a way to get rid of the pattern lock, Tenorshare has you covered.
With Tenorshare, you can remove several kinds of passcodes within a few minutes, including the Face or Touch ID, alphanumeric or custom numeric passcodes, etc. With this iPhone unlocker software, you're just three steps away from unlocking your mobile device.
However, if you have some data that hasn't been already backed up, you stand the chance of losing it because the process would clear all your personal files in the device.
To get started you are required to download and launch the 4uKey software on your computer, connect the iPhone, iPad or iPod touch to the computer, the software is designed to detect your device automatically, and then click Start. If your device doesn't get detected automatically, switch to recovery mode and reconnect to the computer.
After your device firmware is installed into the computer, click Start Unlock for your passcode to be removed. This would take a couple of minutes; you are required to ensure your phone stays connected to the computer during this time. When this is complete you can now set up your iPhone like it's brand new.
Pros:
It's easy to install and has a straightforward way of unlocking the device.
Can easily unlock different types of passwords including the Face or Touch ID.
Cons:
Wipes out all your personal files and important documents.
Fails to automatically detect some mobile devices.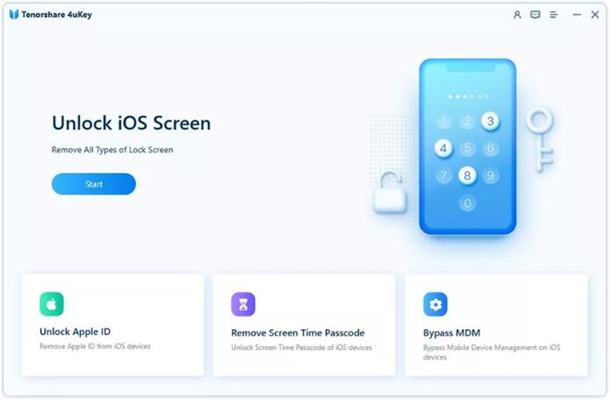 Conclusion & Suggestion
The list above has been carefully selected based on user experience and how effective the software is in doing the job. So you don't have to worry about how to get your phone unlocked anymore, seeing you can use any of the listed iPhone passcode unlocker software above with absolute ease and convenience. We encourage you to try out any of the listed, especially Joyoshare iPasscode Unlocker, and we are certain you'll get a good result. It's important to note that all the software listed would wipe away your personal data and any installed application on the phone. Hope you found these helpful, thanks for reading!