Have you ever forgotten your iPhone passcode after a long time since setting it? Have you been hassled by finding no access to your newly bought second-hand device? Have you ever felt angry about failing to enter passcode or locked iPhone screen due to several faulty tries? Understandably, most iOS users have experienced these problems as it is such a common occurrence for any electronic device.
Luckily, there are many professional passcode unlockers available in the market nowadays. iMobie AnyUnlock, which focuses on removing various locks of passcodes, has attracted iOS users and is known as one of the best passcode unlockers. But everyone has their own taste. The limited features in the trial version and expensive price make many people malcontent. If you think it can't satisfy your specifications, there are top 7 iMobie AnyUnlock alternatives to meet personal requirements.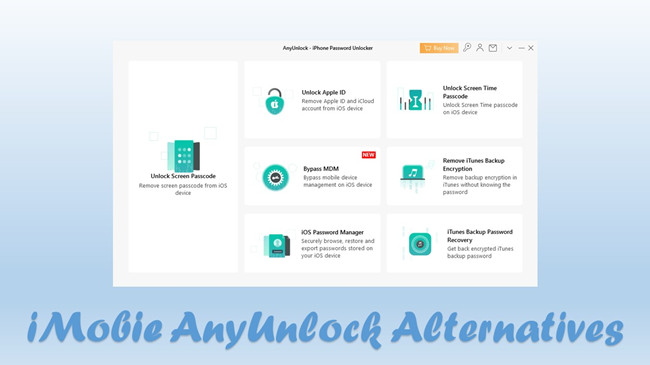 Part 1. The Criteria of Unlocker
Each user has their own judgments and considerations when deciding which unlocking tool to use. Here is a list of the most common criteria used when choosing an unlocking tool. These criteria can give you inspiration if you run out of ideas when faced with so many different unlockers.
Functionality: Different tools offer different features, and normally, the more the better. As for unlockers, you need to consider whether a tool could satisfy your demand.
Operability: Since many users might know a few or incomplete technical skills, it is essential for unlockers to provide easy operating ways and simple steps.
Success Rate: If an unlocking tool has a low rate of success, it is useless even if it possesses high functionality. Therefore, a high success rate is key among these criteria.
Compatibility: Some unlockers can only support limited device models, so it is invalid on your device although it possesses a high rate of success. Before downloading a tool, you need to check if it is compatible with your device model and system version.
User Experience: The user interface and program memory are also important for some users. Hence, a good unlocker will be designed with a clear UI and small memory.
Cost: The price has the right to make the final decision in most cases. And for users, the cheaper the better.
Part 2. iMobie AnyUnlock Review
2.1 What is iMobie AnyUnlock
iMobie AnyUnlock is a passcode unlocker developed by iMobie company with the purpose of unlocking the passcodes on iOS devices. It could be used to unlock iPhone passcode / MDM Lock / iCloud Activation Lock / Apple ID / iTunes backup password / SIM Lock / Screen Time passcode. Meanwhile, this program supports all iOS devices and computer models.
Pros:

Possess plenty and full functions for unlocking.
High compatibility and high success rate.
Cons:

Cluttered interface due to many features.
Take a longer time to unlock complicated passwords.
Data on the device cannot be reserved.
Due to loads of functions, it costs $59.99 per year.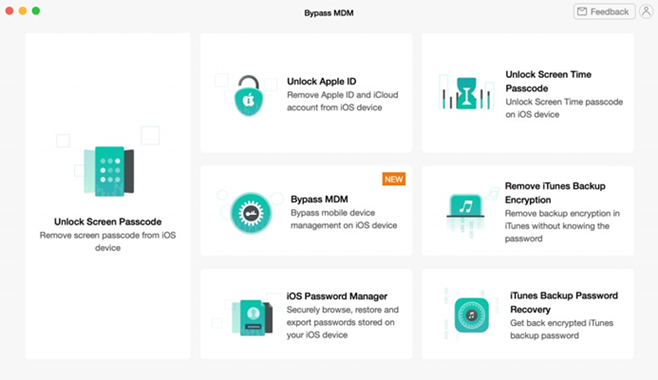 Step 1: Connect iOS device to a computer, launch AnyUnlock and choose Unlock Screen Passcode.
Step 2: Click Start Now once the device is recognized by AnyUnlock successfully. Otherwise, manually put the device into recovery mode.
Step 3: Choose a firmware version and click the Download button.
Step 4: When the downloading was completed, select the Unlock Now option.
Step 5: AnyUnlock starts removing the screen passcode.
2.2 FAQs about iMobie AnyUnlock
Q1. Is AnyUnlock free?
A: There is a free trial version available on Windows and Mac. You are allowed to scan passwords stored on iOS device in the trial version. But if you want to unlock any passcode, you require buying the premium version for essential features. By the way, most alternatives in the list are not free except iTunes and iCloud.
Q2. Does AnyUnlock really work?
A: According to its official site, it has a high success rate to unlock various types of iPhone locks with advanced technology. But many users in reviews complain that it can't work well at times, and their after-sales service is too slow to solve their technical problems quickly.
Q3: Is AnyUnlock safe?
A: Yes, it is safe when unlocking your passcodes. It will save some of your data but assures taking care of its confidentiality.
Q4: Is AnyUnlock legit?
A: On AnyUnlock's disclaimer, it claims that this tool is only designed for personal use. Any misuse of AnyUnlock for commercial or illegal purposes is strict. Thus, the software is legal.
Part 3. The Best AnyUnlock Alternative - Joyoshare iPasscode Unlocker
Joyoshare iPasscode Unlocker is definitely the best software to help users crack and erase all kinds of iOS screen lock among all alternatives to AnyUnlock. What makes this program take priority is that it has the highest success rate while unlocking all devices without passcode in the shortest possible time.
Not only is it compatible with a wide range of iPhone, iPad and iPod touch devices, including the newest iOS 16 version and iPhone 14, but it also supports numerous scenarios, such as forgetting iPhone passcode, multiple wrong attempts, fingerprint recognition failure, face detection failure, etc. In the meantime, it is designed with other features of unlocking any Apple ID with no losing data, removing Screen Time passcode, and bypassing MDM restrictions. Without too many requirements and limitations, any passcode could be successfully removed effortlessly within a few clicks.
Key Features of Joyoshare iPasscode Unlocker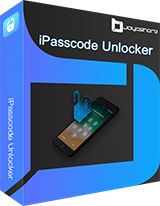 Remove all types of screen passcodes in 3 easy steps.
Possess the most commonly used functions and support numerous situations.
User-friendly and intuitive interface is easy to use.
It is highly compatible with all series of iPhone, iPad and iPod devices.
Data will not be erased when removing the Apple ID.
It holds the lowest price - $35.95/year.
Step 1

Run Joyoshare iPasscode Unlocker and Connect to Computer

Download, install and launch Joyoshare iPasscode Unlocker on your Windows PC or Mac. Connect any Apple device to your computer, and choose Unlock iOS Screen.

Step 2

Put Device into DFU/Recovery Mode

Follow the instructions displayed on the screen to manually put your device into the DFU mode or recovery mode. The switcher is the link at the bottom. Once you get into either mode successfully, click the right arrow to continue.

Step 3

Download and Verify Firmware Package

Check whether the detailed information about your device is correct. If it is wrong, remedy it by yourself. If it is right, hit the Download button to download the corresponding firmware package.

Step 4

Unlock Screen Lock without Passcode

When the firmware package is verified, click the Unlock option to start removing the screen passcode. Once the Done button appears, go to check your device.
Part 4. Alternatives to iMobie AnyUnlock
No 1. Tenorshare 4uKey

Tenorshare 4uKey is another namely popular password unlocker that can remove passcodes nearly in all scenarios. It can unlock iPhone, iPad and iPod for users who forget password of the lock screen, Screen Time, Apple ID and MDM login screen. Furthermore, it can factory reset iPhone without passcode and iTunes within a few minutes. Moreover, it is also remarkable for compatibility with the newly released iPhone 14.

Pros:

A fully functional program for unlocking passcodes on the iOS system.

Wipe the data on the device without passcode and restore it like a new one.

Easy-to-use interface and simple steps.

Cons:

The limited features in the trial version.

It may fail to solve the problem at times.

Apple account won't be removed if the device is factory reset after unlocking.

The price is higher than Joyoshare iPasscode Unlocker. ($39.95/year)

No 2. iToolab UnlockGo

When it comes to the substitution of iMobie AnyUnlock, iToolab UnlockGo is listed thanks to its capability of unlocking your screen lock, iCloud activation lock, Screen Time, MDM and Apple ID, and turning off the Find My function with ease. Whatever scenarios you come across, all passcode issues on iOS devices can be solved effortlessly. With the powerful features, users who have no tech knowledge can easily unlock their devices in minutes and with no complex steps.

Pros:

Support numerous types of iOS locks including screen passcode, iCloud activation lock, Apple ID, and so on.

Work on a wide range of iOS devices.

Unlock your device simply and effectively.

Cons:

The feature of removing Apple ID only supports devices equipped with iOS 11.4 and later versions.

Some users complain that this tool sometimes is unstable and insecure.

The success rate is not high and may fail to unlock the passcode.

It costs $39.95 for one year license.

No 3. StarzSoft KeyPass

StarzSoft KeyPass is one of the safest and most trustworthy tools that can bypass many types of screen passcodes on iOS devices and remove iCloud activation lock for some iOS system versions. The software works on a wide variety of iOS devices like iPhone, iPad and iPod. Furthermore, the official site claims that it has achieved a high success rate of 98%, hence, users don't need to worry about their problems can't be fixed.

Pros:

Relatively cheaper price than many similar passcode unlockers. ($29.95 for a lifetime)

Permanent technical support and guidance after you have bought the premium version.

Be available on both Windows and Mac.

Cons:

The entire unlocking process spends much time.

The supported features are finite compared with other tools.

NO 4. iMyFone LockWiper

iMyFone LockWiper is a brilliant alternative to remove the lock screen passcode in any scenario. Apple ID, remote management profile, and Screen Time passcode are also available to be removed on almost all iOS devices. At the same time, it doesn't have any complicated procedures, instead, you can easily bypass passcodes with simple steps on the clear interface. Even if you are running the latest iOS 16 or the old iOS 9, you can utilize it to get your device unlocked without hassle.

Pros:

Support removing general locks appearing on iOS devices.

Compatible with the newest iOS 16 and previous versions.

Screen Time passcode can be bypassed without losing data.

Cons:

Remove device data when deleting the iPhone passcode or lock screen.

Limited features on the free trial version.

Cost $39.99 per year.

No 5. Dr.Fone - Screen Unlock (iOS)

Dr.Fone - Screen Unlock (iOS), an all-inclusive utility kit developed by Wondershare, stands out as one of the best alternatives to iMobie AnyUnlock. It could work on all types of lock screens, like Apple ID, Face ID, Touch ID, screen time passcode, etc., remove the iCloud activation lock, Apple ID, MDM, SIM lock, and iTunes backup encryption. With it, users can unlock iOS devices without passcode no matter what scenarios they are facing. What's more, it works with all iOS devices and is easy to operate by following the guidelines presented in the software.

Pros:

Designed with pretty features on removing locks on iOS devices.

Tech-free operations to get into a locked iPhone, iPad or iPod touch.

Unlock iPhone without any carrier restrictions.

Cons:

The downloading and unlocking speeds are considerably slow.

It is occasionally unstable and may crash at times

The price, $49.95/year, is quite expensive.

No 6. iTunes or iCloud

iTunes and iCloud offered by Apple are absolutely good ways to unlock iOS devices without passcode. If you don't want to charge any money and have ever synced your device with iTunes or iCloud, you might as well try to use them to unlock your iPhone. Similarly, it will clear your data and restore your device to the factory setting. Nevertheless, if you are still troubled by the passcode, you can contact Apple Support for help.

Pros:

There is no need to pay any fee.

It is easy to operate and definitely safe.

Cons:

The limited function is only to unlock via restoring iDevice.

It will restore your iPhone to factory settings and erase all your data.

The success rate is lower than the professional unlocking tools.
Part 5. Comparison Table Based on Criteria
Since there is so much information about these iMobie AnyUnlock alternatives that may confuse you, here is a comparison table for you, based on the above review. You can refer to this table to choose the unlocker you prefer.
| | Functionality | Operability | Success Rate | Compatibility | User Experience | Cost |
| --- | --- | --- | --- | --- | --- | --- |
| iMobie AnyUnlock | The most versatile program | Easy but need a longer time | High | High | Cluttered interface | $59.99/year |
| Joyoshare iPasscode Unlocker | Fully functional software | Easy and tech-free | Super high | High | User-friendly interface and proper memory | $35.95/year |
| Tenorshare 4uKey | 4 Commonly used features | Easy | High | High | Simple UI | $39.95/year |
| iToolab UnlockGo | 6 kinds of locks can be removed | Easy | Unstable | High | Clear interface | $39.95/year |
| StarzSoft KeyPass | 2 finite functions | Easy | Not very high | High | Concise interface | $29.95/lifetime |
| iMyFone LockWiper | Possess basic features | Easy | High | High | Simple interface | $39.99/year |
| Dr.Fone - Screen Unlock (iOS) | More locks are supported | Easy | Crack sometimes | High | Complicated interface | $49.95/year |
| iTunes or iCloud | Limited | Easy | Lower than others | High | Simple and familiar interface | Free |
View all programs
Hide the table
Conclusion
iMobie AnyUnlock is an excellent iOS unlocking tool, but it still has many limitations in some aspects. If it is not far from your expectation, you can read this article to search for the best iMobie AnyUnlock alternatives. The alternative list has been carefully tested and proved helpful. All of them can give the best product experience as well as outstanding after-sales service. You could straightly look through the comparison table and consider your reality to choose the most suitable one. It is hoped that this AnyUnlock review does you a favor.