Are you a teacher, a professor, a business executive or just an ordinary music lover? Whatever your profession, technology is now central to everything we do and the use of clear flowing presentations is key to any learning process. What this means is that if you prepare presentations, tutorials and webinars among other things then you need good desktop recording software. Even if you just record music and video games that you play you will find these software's quite useful.
Having a great recording tool can make your life a lot easy and fun. This is software that records with great clarity allowing you to create great audio and video files that you can share with friends, submit as your work or even enter into contests. The good news is that there lots of tools out there that you can use for recording on your desktop. But, do they all offer quality recording? No. Not all available tools offer the best recording experience. For this reason, we have compiled a list of 8 best desktop recording software for you here:
1. Joyoshare Screen Recorder
Joyoshare Screen Recorder is one of the best recording software for desktop. It is professional and excellent screen recording software that is designed with a user-friendly interface allowing for easy recording of all screen activities on your computer. You can, in fact, record online streaming movies, online tutorials, webcam videos, games, webinars, Skype calls, music and even take screenshots with no time limt and watermark.
What's more, this tool enables you to save all your recorded files in various formats and transfer to compatible devices. Moreover, Joyoshare Screen Recorder can also be used to capture all forms of audios such as microphone voices, online radio, system sounds, and music games among others. The parameters, like resolution, sample rate, codec, bit rate, channel, etc. can be adjusted as you wish.
Pros:
Create high-quality and professional video and audio recordings
Save videos/audios in all kinds of formats as you want
Grab system audio and microphone sound during the recording
Support advanced recording options to add watermark, spotlight cursors, etc.
Capture audio files from diverse sources including YouTube and music streaming services
Cons:
Don't have dedicated video editing tools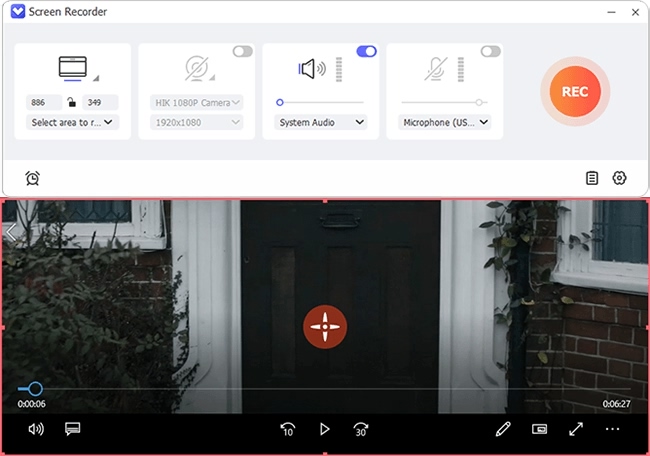 2. Camtasia
Camtasia is a first-class desktop recording software with lots of beautiful features that gives a great recording experience. Camtasia is designed for beginners and therefore has a great user interface; it is easy to use and has lots of features that will keep you using it even after you become a pro.
It captures all the activities on your screen and therefore allowing you to record music videos and movies streamed online. It captures your face thus allowing you to create webinars, tutorials, and other important videos. It has a powerful video editing tool that allows you to create high-quality ready to use content, add graphics, animated background and even themes to your videos.
Pros:
Support webcam recording
Have excellent video editing tools
Allow you to add video effects on your recording
Record all activities on your screen
It is available for both Windows and Mac users
Cons:
It is not free, only has a short 30-day free trial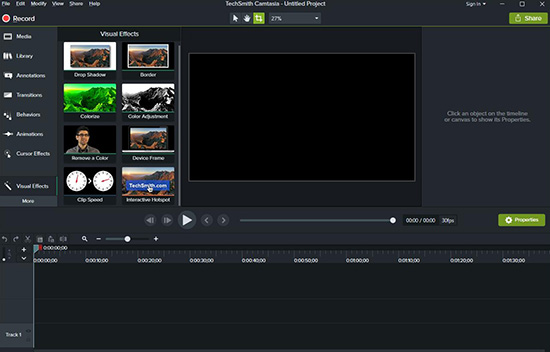 3. CamStudio
This best screen recorder for desktop, CamStudio, is reputable in the market today. CamStudio is an awesome tool that allows you to record all the activities taking place on your screen. In addition, you can record all the sound on your computer and thus be able to create amazing content for your audience. It supports content editing and you can easily create streaming quality files for sharing online.
Pros:
Superior recording quality
Record both audio and videos
Allow for content editing
Cons:
Support fewer output formats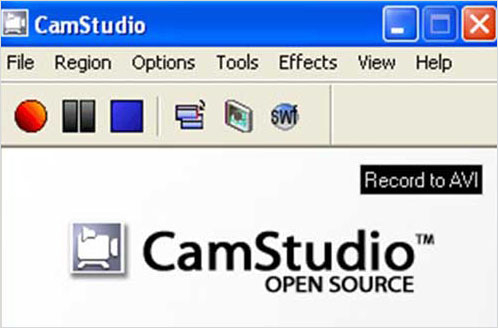 4. Movavi Screen Recorder
Movavi Screen Recorder is a competitive desktop screen recorder. This powerful screen recording tool is light in weight and has an easy to use interface making it easy for anyone to use it.
It comes with numerous great features that let you record videos being streamed online, music from different sites and streaming services, video calls and other desktop activities. This desktop screen recorder also comes with a satisfying editor to edit your video and audio recordings thus enabling to create professional content. You can also save your content in multiple formats for use on different devices.
Pros:
It as an intuitive interface
Come with a in-built editing tool
Record audio from your microphone and even system sounds
Record the entire screen, just a section of the screen or a single window on your screen
Cons:
This software is not free
Don't allow direct upload of videos to YouTube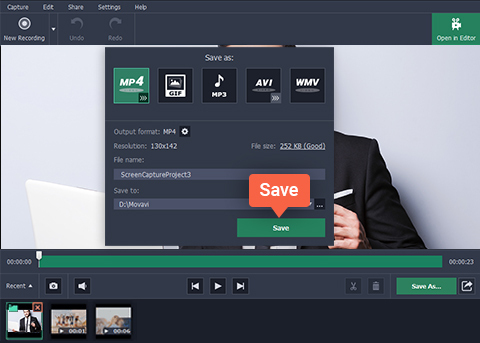 5. Screencast-O-Matic
Screencast-O-Matic is a desktop screen recording software that supports screencasting and editing the recorded videos. It's very popular in the education sector for creating lectures, video narration, tutorials and other instructions videos for students.
It's also widely used on creating game walkthrough videos. The Screencast-O-Matic comes with a screen capture feature, a microphone audio recorder, and a webcam recorder. You can capture items on your computer screen, recording audio files from the microphone and also videos from the webcam. It also features a video editor that allows you to edit all the videos created.
Pros:
Available on Windows OS, Mac and Chrome OS
Support AVI, FLV and MP4 video files
Record content on screen, from webcam, and from microphone
Allow to upload content on YouTube with a lot of ease
Have a handy editor for editing content
Cons:
The free version has lots of limitations that make it less useful when seeking to produce professional level work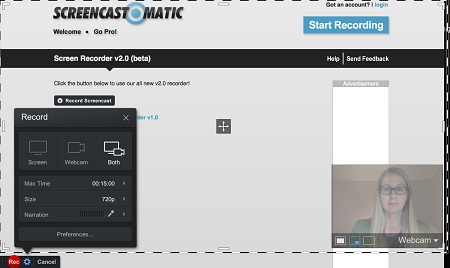 6. Ezvid
This is one of the most popular desktop recording tools in the world today. It has a neat and easy to use interface. It records all activities on the computer desktop which makes it capture music videos, video games, movies and webinars among others. Besides, it is fast and produces high-quality videos. It also enables users to directly upload content to YouTube. It also has an inbuilt editor that makes editing videos a lot easier.
Pros:
It is pretty faster
Save videos in high resolution
With built-in video editor
Cons:
Do not support full-screen recording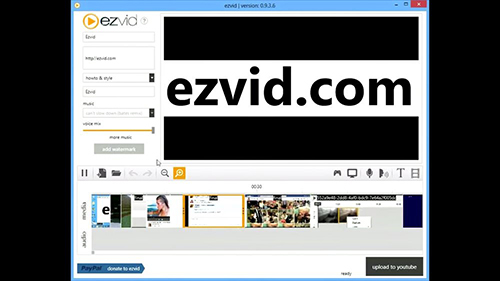 7. Expression Encoder
Expression Encoder is outstanding desktop recording software. This tool is backed by Microsoft and therefore is perfectly built for Windows users. It can record all your screen activities while at the same time capturing audio narration and a feed from the webcam. It also allows for video editing which makes it easy to produce consumer-ready content.
Pros:
It makes it easy to create a tutorial
It is powerful and produces high-quality content
Is designed for windows computer
Cons:
Its free version has very limited video length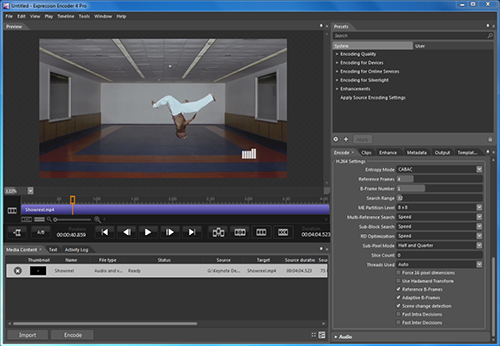 8. Jing
Jing is a best free desktop screen recorder available to anyone who wants to try out screen recording. It is designed to work on both Mac and Windows computers. This makes it a perfect tool for everyone. It captures audios while simultaneously recording screen which makes it easy to create tutorials and presentations.
Pros:
Super easy to use
Save files in a wide range of formats
Offer inbuilt video editor to manage recordings
Cons:
The free version has very limited features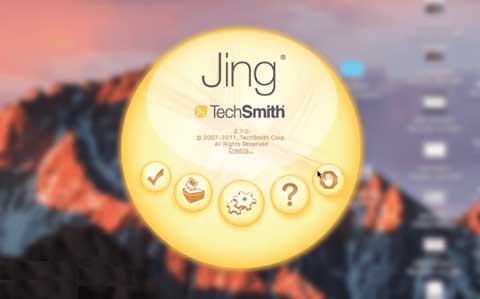 Conclusion:
Today the world is digital with almost everything being done online. This calls for greater use of desktop recording software. If you are a teacher or a college professor, you need to make tutorials and presentations for your classes. If you are an artist you want to record demos for producers and promoters; if you are a business leader you will have to make presentations, webinars and tutorials. No matter who you are, the tools used to record onscreen events are needed and this article has outline 8 options for you.