Q:" My MKV file is corrupted. What are the methods to repair the file?" – From Quora
Getting an error when playing an MKV file can be due to the file being corrupted or damaged. Many things can cause such damage. The prominent ones are unstable network during downloading, interrupted power supply during file transfer and malware attacks. To play such files, you need tools that can repair damaged MKV file. There are many MKV repair tool. To help you, we introduced why causes damaged MKV files and some solutions you can use.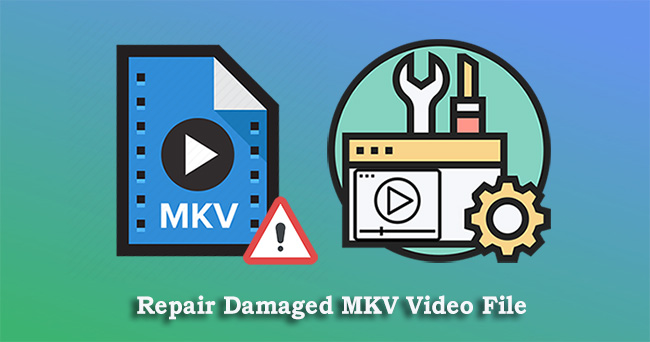 Part 1. Why Does MKV Files Corrupt
1

Incomplete Download

If the download is incomplete, or you download the MKV file from an unreliable source, there is a high chance that you will have a corrupted file.
2

Interruption during File Transfer

Interruption during file transfer, such as the sudden removal of the storage device, sudden shutdown of the devices or something similar, can lead to corrupted MKV file.
3

Technical Issues while Recording

MKV files might become corrupt due to technical glitches during the recording or saving. For example, getting a low battery warning during shooting or saving might damage an MKV file.
4

Malware Infection

A malware infection can also lead to corrupted MKV files. Therefore, it becomes unplayable. It can also lead to other problems, such as the virus transfer to other media.
Part 2. How to Repair Corrupted MKV Video File
Method 1. Joyoshare VidiKit (Video Repair)
Joyoshare VidiKit is a powerful video repair you can make full use of to repair any video files. It supports a wide range of file formats, like MKV, WMV, AVI, MP4, VOB, FLV, TS, MPEG, 3GP, M4V, MP3, WMA, OGG, etc. What's better, it ideally supports different file corruption types, such as video playback issue, codec error, black screen, MKV file no sound, video stuttering, blurry and so forth. The success rate to repair files back to normal is high. Conveniently, this software is designed to multitask for batch processing with maximum efficiency.
Key Features of Joyoshare VidiKit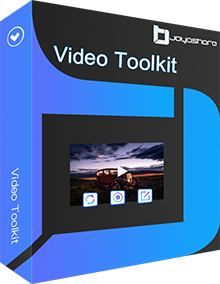 Support MKV, MOV, ASF, WEBM, MPG and more formats
Preview repaired MKV files before output
Suitable for repairing multiple files in high efficiency
High repairing success rate without limiting file corruption types
Step 1

Import the damaged MKV file(s)

Launch Joyoshare VidiKit on your computer and open Video Repair. Use the Add button at the bottom left corner to add the damaged MKV files. You can also drag and drop the videos quickly.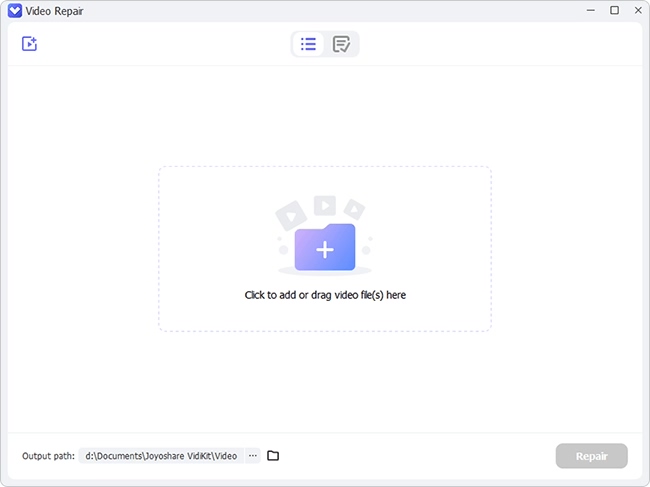 Step 2

Enable multi-task option

You can increase the number of files to work with. Navigate from Menu > Preferences > Advanced > Number of Parallel Tasks. Set the number to three so the software can fix three broken MKV files simultaneously.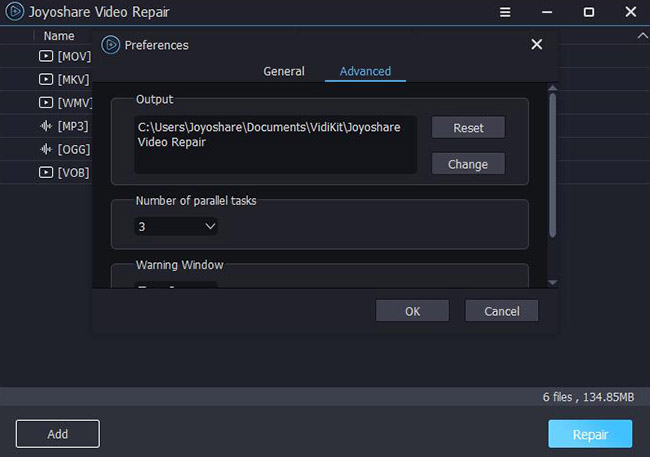 Step 3

Fix broken MKV file(s)

Click on Repair at the bottom right corner for the repair process to begin. After complete, the tool will inform you about the status of the damaged MKV files. It will also show you information regards such files, whether undamaged, completed, or failed.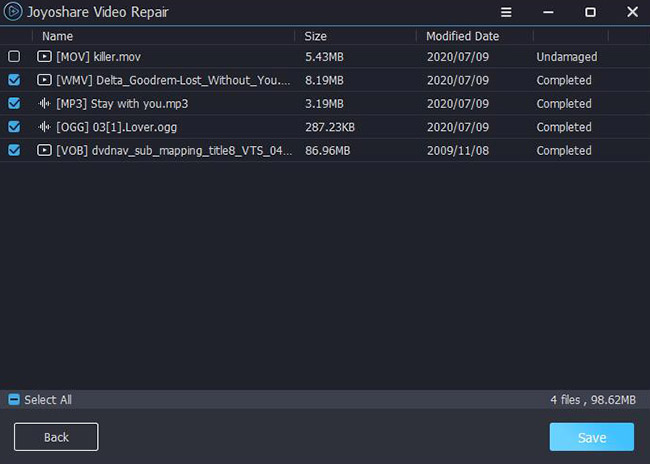 Step 4

Preview and save MKV file(s)

You can preview the files after you repair them to see what you need to work on. After that, you can save the videos and check again on the target local storage.
Method 2. VLC Player
Although most people think VLC is more of a video player, it can be an MKV repair tool to fix broken MKV files. Follow the steps below on how to use the software to do so: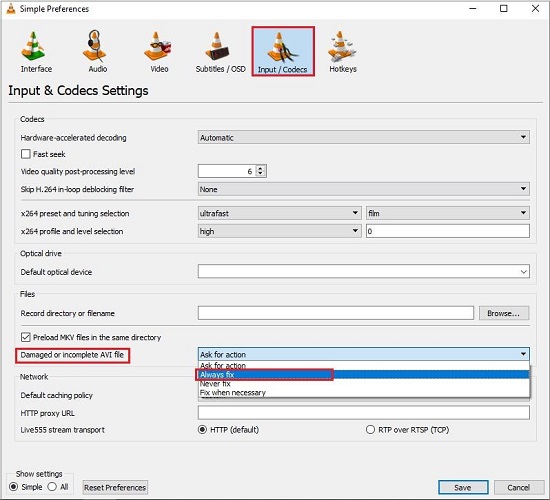 Step 1: Rename the MKV file extension .mkv to . avi.
Step 2: Launch VLC player.
Step 3: Navigate to Tools → Preferences → Inputs/Codecs settings.
Step 4: Click on "Always Fix" for "Damaged or incomplete AVI file" option.
Method 3. FFmpeg
FFmpeg is software for handling video, audio, and multimedia. It is not that popular due to its sophisticated UI but can help you fix the damaged MKV files. Download and install FFmpeg and follow the steps below on how to use the software to fix broken MKV files.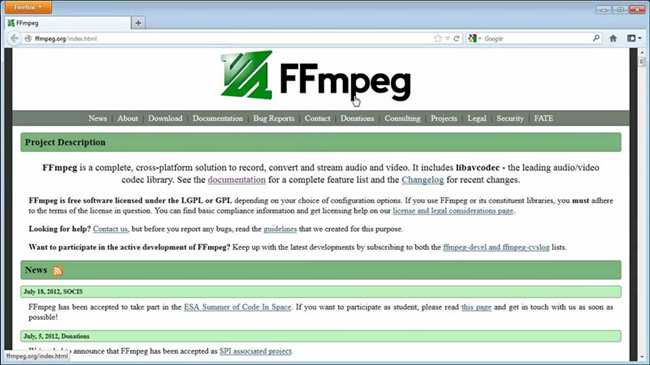 Step 1: Place the damaged MKV file on your Desktop since it is easy to retrieve
Step 2: Open the Command Prompt as an administrator.
Step 3: Type the code cd Desktop.
Step 4: Enter the command ffmpeg -i XXX.mkv YYY.avi (where XX is the name of the broken file, and YYY is what you want the converted file to be).
Step 5: Press Enter to kickstart the process.
Method 4. Meteorite
Meteorite is an open-sourced MKV repair tool known for its simplicity and ease of use. The program does not need installation. You only need to drag the damaged MKV video to the interface and fix it. Follow the steps below to use it to repair corrupted MKV video file.

Step 1: Download Meteorite Project.
Step 2: Unzip the downloaded files.
Step 3: Open the folder and launch the meteorite.exe.
Step 4: Drag and drop the damaged MKV file into the interface of the app to fix it.
Step 5: On completion, the file will be in the folder with the name starting with Meteorite.
Method 5. Redownload MKV File
Corrupted MKV files might be due to issues with downloading due to accidental termination of the downloading process. If it is due to this, you need to redownload the MKV files.
Part 3. Reasons and Solutions for Unplayable MKV
Reason 1

Outdated Video Driver

This is a common reason for unplayable MKV files, especially on Windows or Mac computers. If your video card is not the latest version, you might not be able to play MKV files on your device.

Solution: Update the video drivers and play the MKV file again.
Reason 2

Incompatible Video Codecs

Some players won't be able to play MKV files due to the absence of compatible codecs. Hence, there are glitches during the playing.

Solution: Download the codec necessary for the video player.
Reason 3

Inproper Video Player

Some video players do not outrightly support MKV files. Hence you won't be able to play videos in this format directly.

Solution: Download a compatible video player. Top examples include VLC and GOM Player.
Part 4. How to Avoid Damaging MKV Files
The tendency of having damaged MKV files is high if you are exposed to malware, unstable power supply, or Internet connection. Try the following steps to avoid damaged MKV files.
▷ Ultilize antivirus software, such as Kaspersky, Bitdefender, and Norton Antivirus, to eliminate malware that can infect the MKV files.
▷ Ensure you have enough power supply or get a reliable power backup whenever you download, transfer, or convert MKV files.
▷ Ensure you have a stable Internet connection to avoid downloading termination, which can lead to damaged MKV files.
Conclusion
Damaged MKV files can be due to malware infection, interrupted power supply or incomplete termination of downloading process. These render the files unplayable on any video player. To play such files, you need to repair them. This article introduces the best MKV repair tool you can use for corrupted MKV file repair. Of the solution introduced, Joyoshare VidiKit has a wide range of functions, making it more efficient to repair damaged MKV file.