Nowadays, most video websites and video makers would embed watermark on their videos for IP or copyright protection. It is like a logo printed on physical product so that people can tell that it's made by certain brand, which is quite understandable. However, when you try to use those video contents or watch them, those watermarks become very annoying. You may think it's easy to get rid of still watermarks, but what about moving watermark? Can you remove them by adding mosaic frame by frame? Certainly not. In this article, we list 5 ways to remove moving watermark from video.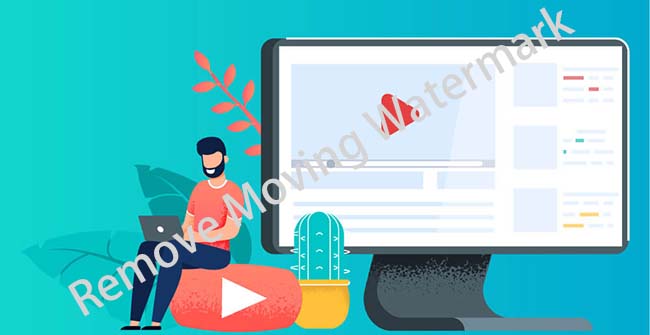 Part 1. Remove Moving Watermark from Video - Joyoshare VidiKit
To remove moving object from video, Joyoshare VidiKit is definitely the best tool to use. The magical software will remove both static and moving watermark on your PC or Mac effortlessly. Even beginners can get hands on it without any trouble. The best thing is that Joyoshare VidiKit can finish the job without harming the video quality at all. MP4, M4V, WebM, MKV, AVI and a lot of other formats are supported, which proves its amazing compatibility. Besides, it comes with many other interesting functions waiting for you to explore.
Key Features of Joyoshare VidiKit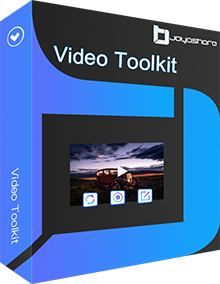 Remove watermark from video and photo
User-friendly learning curve and interface
Remove various still and moving objects, including logos, time, date, etc.
Support MP4, M4V, WebM, MKV, AVI, WMV and many other
Many other video and photo editing functions
Step 1

Install and Launch Moving Watermark Remover

Download Joyoshare VidiKit from the download box above, then install and launch it. Select "Repair" on the left side of the interface and then the "Watermark Wizard" on the right. Then, choose "Remove watermark from the video". You will be taken to the main window. Just drag and drop your videos with moving watermarks to the window. Or, you can click the "+Add Files" option to add videos.

Step 2

Select Moving Watermark

Click on the "Advanced" icon beside the video slider. Now you can select watermark at different positions as the video progresses. After selecting watermark in each segment, click the "+" icon, then adjust watermark at different starting and ending time. Joyoshare VidiKit can process multiple videos simultaneously.

Step 3

Output Videos without Moving Watermark

Adjust the output format by clicking Format option at the bottom left of the video and click the "Output" button to export videos to your destined location.
Part 2. Remove Moving Objects from Video - HitPaw Watermark Remover
Alternatively, HitPaw Watermark Remover is also a popular watermark remover in the market. It can effectively remove objects from video, but it doesn't support many video formats and is more difficult to use. Besides, just as its name suggests, HitPaw Watermark Remover can only remove watermark, editing or converting are beyond its capability. To remove watermark from a video, just follow the steps below.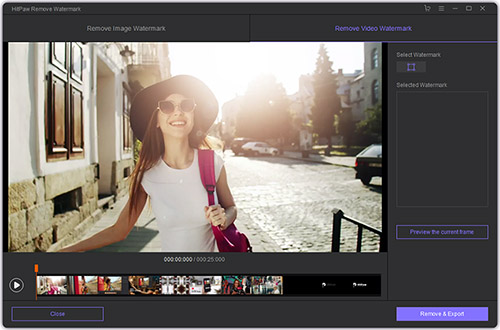 Step 1: Download and open HitPaw Watermark Remover.
Step 2: Under the "Remove Video Watermark" tab, click "Choose File" to add the video with moving watermark.
Step 3: On the top left of the timeline, click the star icon and turn on the "Dynamic Watermark Remover".
Step 4: Use the slider to locate the initial and ending positions of the moving object, and circle the watermarks in these 2 positions respectively.
Step 5: Click the "Remove & Export" button and wait for the process to finish. Then, click the "Open folder" button to see the finished videos.
Part 3. Remove Floating Watermark from a Video by Cropping
If watermark only moves in a small area in the corners of the video, we can remove it by cropping the video. This can be done by using BeeCut easily. Just follow the steps below.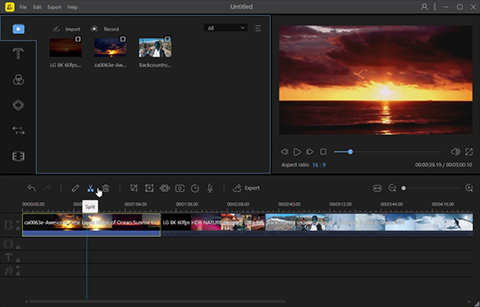 Step 1: Install and open BeeCut.
Step 2: Add video files by clicking the "Import" button then "Import file" button and choosing the videos.
Step 3: Right-click on the added file and select "Crop". Remember to check the "Keep aspect ratio" box if you want to keep the same aspect ratio for the video. Then, crop the desirable ratio until the watermark disappears.
Step 4: Upon finishing, click the "Export" button.
Part 4. Remove Moving Watermark from Video by Adding Watermark
If you can locate where the watermark is, you can choose to add an additional watermark, overlapping the original moving one. To do that, you can also use Veed.io, an online useful video watermark remover.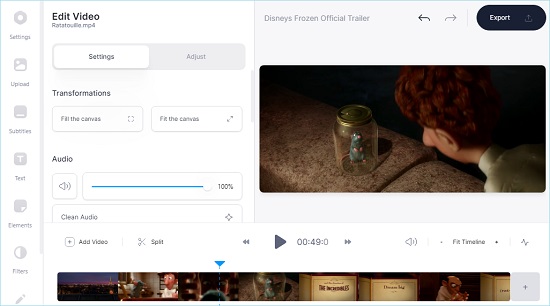 Step 1: Open Veed.io from Google.
Step 2: Add video file and your video will be uploaded to Veed.io.
Step 3: You will be taken to the video editing interface. On the left side, there are multiple tools that can be used to add watermark. Select any of them and drag it to the position of the moving watermark.
Step 4: Click "Export" and download the exported file.
Part 5. Remove Moving Watermark from Video Online (Free)
How to remove watermark from video without downloading any software? Media.io is the perfect answer. It is an online watermark remover and maker. Simply upload your videos to Media.io and it will remove the watermark for you.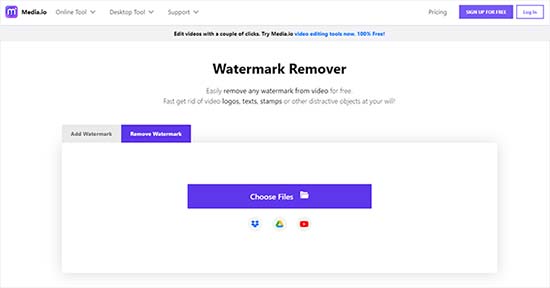 Step 1: Serch for Media.io Watermark Remover and enter it.
Step 2: Click the "Choose Files" button, and then choose the video files.
Step 3: Click "Add Area" to select watermark area. Then click the "Export" button on the top right.
Conclusion:
To remove moving watermark from video, we need to think from different perspectives. Sometimes, it's not about deleting it but blocking or replacing the watermark. You now have learned how to do it with video editing software and online remover by cropping and replacing it. By properly doing proper things, you can even add your own watermarks to the videos. That's why we recommend Joyoshare VidiKit, a software that can not only deal with watermark but also provides many other interesting features. We hope that these solutions are helpful to help you enjoy video without watermark.