Mosaics are used to protect personal information or mysteries in a crowded world. However, there are times when people consistently overlook the Mosaic attached photos and are curious about mosaic removal. Or you may want to delete mosaics naturally to re-create the images in your own way. Don't know what to do? Well, this article will solve your issues. Continue reading this to learn about the easiest ways for how to remove mosaic from photo.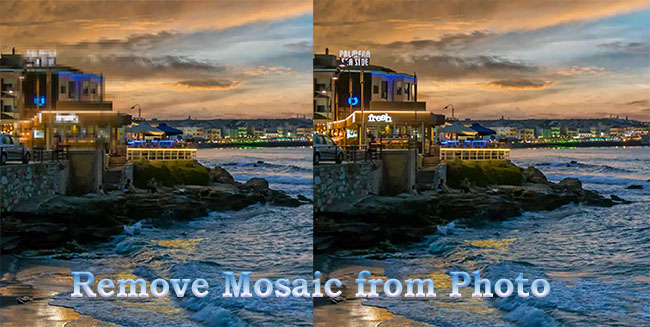 Part 1. What is Mosaic?
A mosaic is a special effect applied to a photo to make it look as if it is made of various parts of other images or fragments. It is capable of tricking the eyes into thinking that it has seen one object while there are many other small images that create a complete object. Generally, mosaics are used to protect private information, or to block out content that is not suitable for all groups, especially kids. In addition, on social media platforms, any content you upload or share that does not qualify will be mosaicked, mainly to eliminate the negative impact of inappropriate information and deep dissemination.
Part 2. Remove Mosaic from Photo on PC and Mac
Method 1. How to Remove Mosaic Using Watermark Remover
The one who prefers to edit images and videos on computer can take advantage of Joyoshare VidiKit. This watermark wizard offers comprehensive editor to remove mosaic, logos, texts, time stamps, stickers, person or any objects from photos without problems. You can batch-proceed multiple images at the same time and use different tools for content marking. The output formats can be popular in JPG, PNG, GIF, TIFF, BMP, WEBP and more. Besides, this software allows you to crop and resize photos in the way you like.
Key Features of Joyoshare VidiKit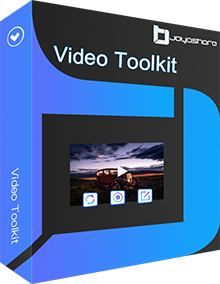 Remove text, logo, watermark, mosaic and more from photos
Crop images to remove unwanted parts and resize for better output
Support mainstream input and output image formats
Customize and add watermark to images easily
Step 1

Open Joyoshare VidiKit and add images

Install Joyoshare VidiKit on your PC/Mac and then double click to launch it on your desktop. Then go to open the watermark Wizard. In the main interface, choose "Remove watermark from image." You can press the + Add Files button to upload as many images or drag and drop them to the interface.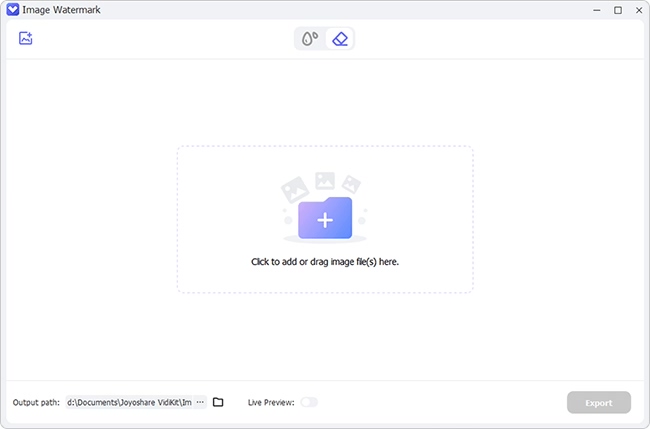 Step 2

Mark mosaic locations

Select the type of tool according to the location where you want to remove mosaic in each image. After selecting the tool, press the 'Apply' button to remove mosaic.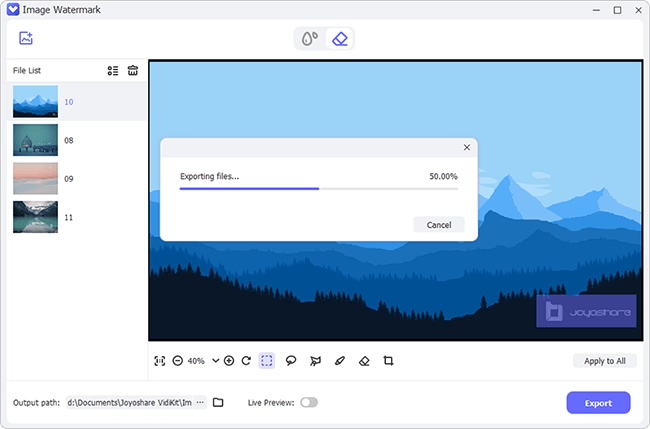 Step 3

Save edited photos without mosaic

Check whether the edited image is with no mosaic, and then press the Format button to choose the output image format, such as PNG, JPG, etc. Moreover, you can crop the photo, change the location, and adjust the size based on your situation. Once you are done with editing, save the image by clicking the "Output" present on the bottom right.
Method 2. How Does Photoshop Remove Mosaic
Powerful as Photoshop is, it can meet your various photo editing needs. Nevertheless, usually the problem is that new starters cannot independently operate this tool at home. To help you, here are the simple steps to remove mosaic using Adobe Photoshop: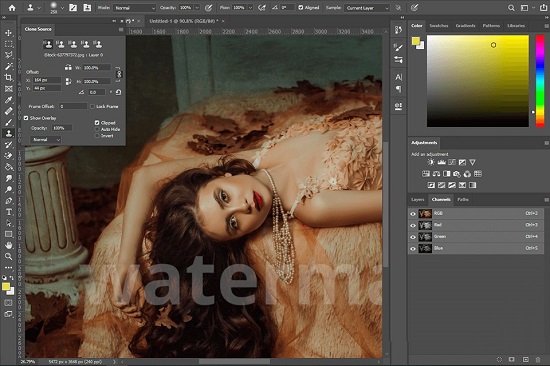 Step 1: Open Adobe Photoshop on your device.
Step 2: Press F7 to activate the layers panel, which will display at the program's bottom right.
Step 3: Keep your pointer on the layer that includes the mosaic.
Step 4: Right-click on the layer that contains the mask in the layers panel and then hit Delete Layer Mask in the window that appears. It will remove mosaic from the image.
Part 3. Remove Mosaic from Photo on Mobile
Do you want to reduce the Mosaic from photos using an app on Android or iOS? Is there any useful application? The answer to your question is yes. Well, there are various watermark removal applications available for both Android and iOS. Here, we have listed an app which is simple to use for both beginners and professionals.
PicLab is among the premium apps used to edit photos on Android and iOS devices. It is an amazing photo editing tool that comes with numerous watermark removing options. Along with this, you also get various effects to adjust the saturation, blur, exposure, and brightness of your photos. Here are the steps to remove mosaics from photos using PicLab.
Step 1: Download and Install this application on your Android or iOS phone.
Step 2: Open this app, and upload a photo with a mosaic effect.
Step 3: Select the marker tool and highlight the area from where you want to remove the mosaic.
Step 4: Press Erase and save the edited photo on your Android/iOS phone.
Part 4. How to Remove Mosaic from Photo Online
InPaint is an online editor that can be used for mosaic removal, supporting both Windows and Mac. With this amazing watermark remover tool, you can remove the watermark, mosaic from the photos, scratch repair on old photos, remove objects from photos, and other edits. The desktop version of this tool has higher restoration quality with better inpainting algorithms.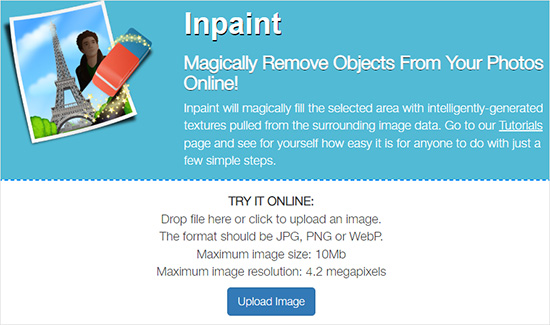 Step 1: Open Inpaint and press the open button on the toolbar. Choose the image from which you want to remove the mosaic and open it in the program. The picture will be displayed in the main window.
Step 2: Inpaint allows you to retouch the mosaic area and restore the original image. Choose the Magic Wand Tool or Pencil tool to remove the mosaic from the picture. Inpaint will try to restore the entire data and provide you with a picture with no mosaic.
Part 5. FAQs about Removing Mosaic
Q1. Is it illegal to remove mosaic?
A: We add mosaics to protect social morals and personal information in general situations. Whether or not mosaic removal is illegal is based on the case of what is legal while you enjoy videos and images on your own. You may get linked with the law if you want to share it with someone else, show it or post it online. Generally, personal data protection and misuse against public order and morals are restricted strictly. Hence, there are no issues if you want to enjoy the pictures yourself.
Q2. Is it possible to remove mosaic from a video?
A: Yes, it is possible to remove Mosaic from a video with the help of a video watermark remover like Joyoshare VidiKit mentioned above. To do that, you can follow the below-listed steps: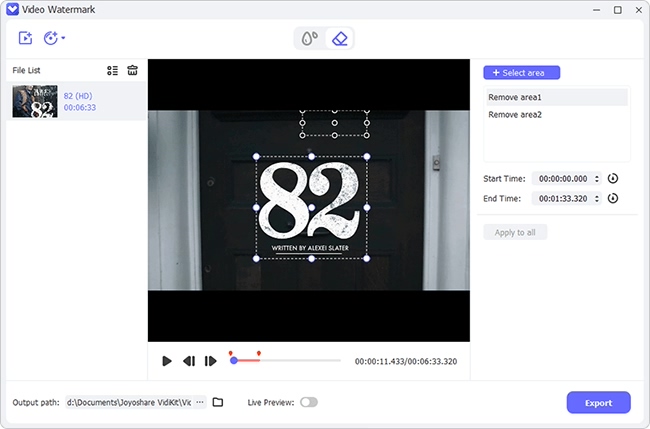 Step 1: Launch Watermark Wizard in Joyoshare VidiKit and select the option "Remove watermark from video." You may add multiple videos using the '+Add files' button.
Step 2: Focus on any video and select the area freely using the mouse where you want to remove a mosaic. You may play the video to preview and then remove it accordingly for your convenience.
Step 3: Joyoshare VidiKit divides all videos into two categories - Completed and Incomplete. Hence, you can clearly review the processed files. Once you are done with mosaic removal, you can choose the format and adjust the quality according to your requirements. Then click on the Output button to download videos with no mosaic.
Conclusion:
Here, we have focused on how to remove mosaic from photo and included some tools and apps that you can use to remove mosaics. You can pick any of the ways, but the best way to remove mosaic is using Joyoshare VidiKit. With the help of this software, you can remove mosaics from both photos and videos. You must keep in mind that there are some legal and moral issues linked with the mosaic removal if you are sharing it with someone, so be careful. Make sure that the images you edited for personal use, or get approval from official side first.