Do you have unwanted objects in your best photo and want to get rid of them? A photo may contain defects, watermarks, flaws, stamps, or unwanted objects. Just like my graduation photo that I was so proud of, it has the photographer's signature. I was not contented with the small signature at the tip of the photograph. I was introduced to a photo stamp remover, which solved my problem. Such tool comes to the aid in different cases, removes all unwanted objects and gives you a clean and high-quality photo. Read through this article to learn more about the best photo stamp removers.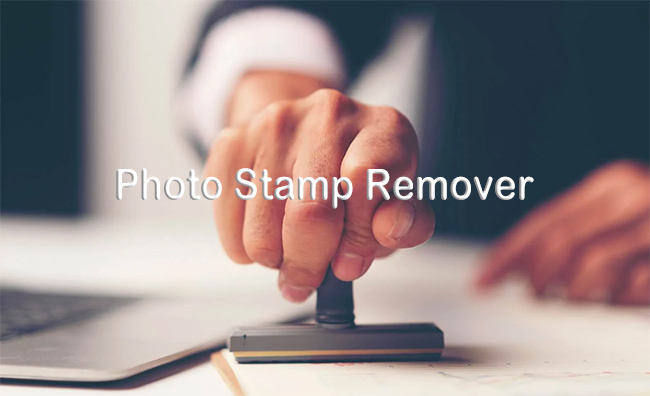 #1 Joyoshare VidiKit
Want to remove the watermark from your photo or video without leaving a trace? Would prefer to add a distinctive watermark for copyright protection to your picture or video? Joyoshare VidiKit magical watermark remover is the best option. It provides complete assistance when eliminating watermarks from photos and video and even adding watermarks to both. It is embedded with lots of astonishing features, enabling you to get rid of multiple watermarks at the same time using various makers, adjust size, change formats and more.
Key Features of Joyoshare VidiKit: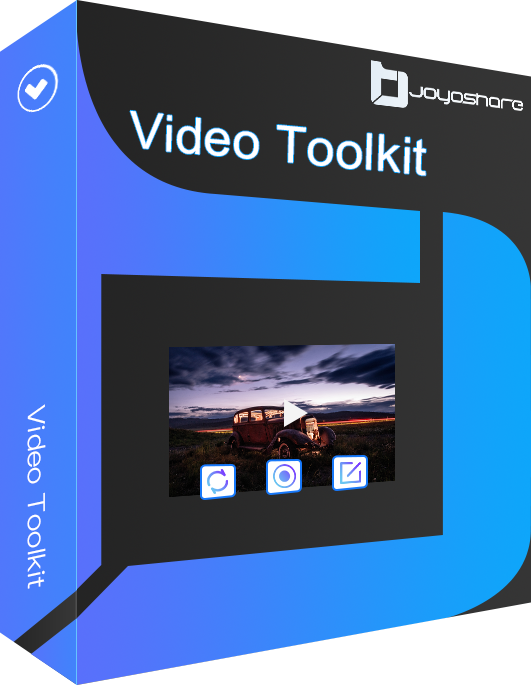 Intelligent software to remove watermarks from photos and videos
Batch edit watermarks to improve efficiency
Supports common and popular formats
Gives results quickly and makes a visualized comparison
Adds customized text and image watermarks quickly
#2 SoftOrbits Photo Stamp Remover
SoftOrbits Photo Stamp Remover is a generally accepted program that removes stamps and unwanted marks on the photograph. It is equipped with the best intelligent technology to eliminate distractions, including inpainting, quick remove, hole filling, and texture generation. It possibly removes photo stamp manually or automatically.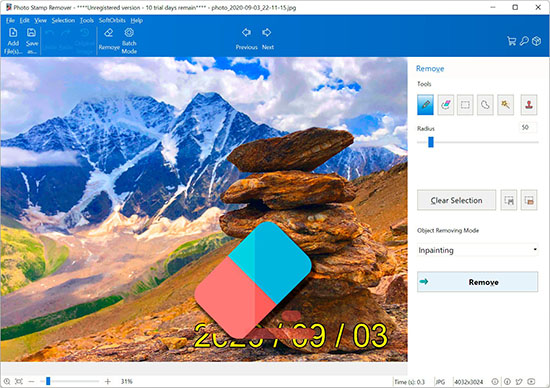 Pros:
It's user-friendly, easy, and straightforward to use
Has batch mode feature to process more than one photo simultaneously
You can select the objects to remove by color
Suitable for retouching old pictures
Has different removal methods and algorithms
Removes people, watermarks, date stamps, and other unwanted objects from your photos
Cons:
Doesn't perform well when removing objects, text, and watermarks on complicated backgrounds
#3 Watermark Remover
Watermark Remover is a photo stamp remover online that removes unwanted pictures and video objects. This tool is free and has a highly intuitive user interface that lets you get rid of undesired content with a few clicks. It provides you with the finest possible image by modifying the changes as needed. Only three steps are required: upload your photo, use maker to choose stamp, and start removal process.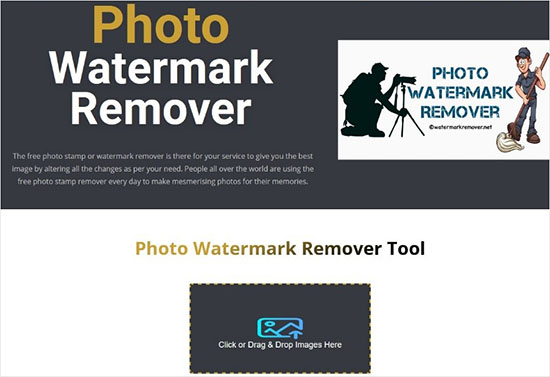 Pros:
A free photo stamp remover
Removes undesired elements from your photo
Allows batch processing for multiple photos
It reads all kinds of picture formats
Removes batch watermark from photos
It reverts to the original photo format
Cons:
You will need to complete a survey before downloading the edited file
File processing takes time
#4 Apowersoft Watermark Remover
Suppose you are searching for a dependable solution to magically remove watermarks from your photos or add text and image watermarks freely as you wish. In that case, Apowersoft Watermark Remover is another best option. It processes watermarks quickly with ease. It has good compatibility with nearly all photo formats. Similar to others, this tool is able to support batch removal as well as customize watermarks as per actual needs. As it claims, the photos it outputs can keep original quality.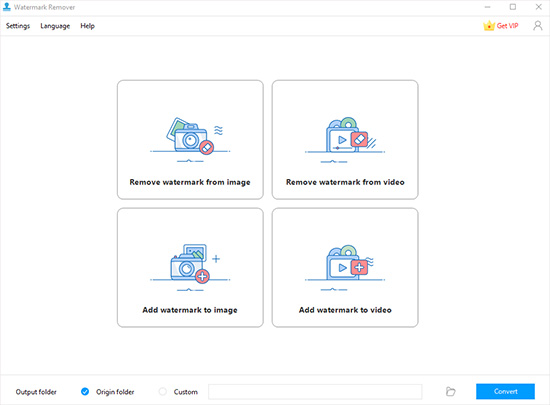 Pros:
It supports different file formats
Has a simple working user interface
Process images in a batch simultaneously to remove stamps
Cons:
Has limited editing features
#5 Unwanted Object Remover
Unwanted Object Remover is a handy photo stamp remover app for removing any objects, watermarks, dates, or logos on a photo. This amazing app allows you to improve your photo in different manner than the initial ones. It is a user-friendly and easy-to-use app. It is synched with lots of outstanding qualities that make it stand out as the best option for you. Try out this wonderful application to have a unique touch of excellence on your photos.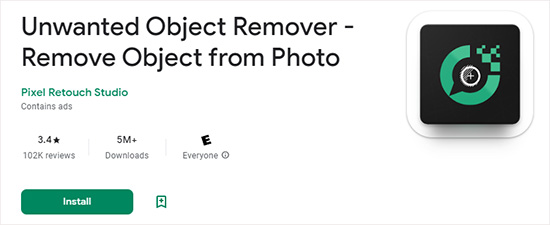 Pros:
Retouches and removes photo stamps
Offers color and local tonal corrections
Provides texture and filters to add richness to your photos
Cons:
It's only available for Android devices
Shoves ads in your screen for every 30 seconds
#6 AirBrush
Do you want to elevate your photo aesthetic? AirBrush is your pick. It is a powerful, pro-level editor specially designed to help you easily create a high-quality photo. It is a popular free photo stamp remover that offers cool, natural, and beautiful effects for your photos. With just a few fingers taps, you can create a professional photo based on your desire.

Pros:
It has simple and easy to use
It has an intuitive and clean interface
Removes stamps from photos for iPhone and iPad users
Cons:
It is free but with an in-app purchase
Conclusion
Unnecessary objects in the background of your photo can completely ruin the presentation of the file. If you have such files, you now know which photo stamp remover you may use to eliminate unwanted objects. First learn what it can do for you, then how it works and if it functions well. Based on your situation and actual requirements, choose a suitable one and get rid of any imperfections from your photos quickly. If video watermark removal and dedicated watermark maker are what you additionally want, don't forget to try Joyoshare VidiKit!