Dreamstime is famous as an online photography provider. It offers licensing of stock media files that come from different individual contributors around the world, allowing users to search and find images quickly. Although there are no barriers to downloading photos free of cost, the output files are embedded with default watermark, which to a great extent, actually affects the direct use of images. This is the reason why more and more users want to remove Dreamstime watermark. If you are the one on the way to find solutions as well, check this article right now.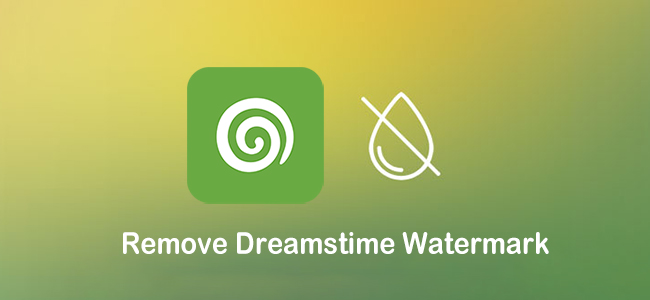 Part 1. Get Watermark-free Images from Dreamstime Officially
You can easily get rid of watermarks by selecting a buying plan and downloading images from Dreamstime official website. There are two ways: purchase a credit package and make a monthly subscription. The former is enough if you only use Dreamstime images occasionally. However, for those who download images frequently and require different file formats or sizes, the later is suggested. Now, follow steps below to learn how to remove watermark by purchasing licensed images.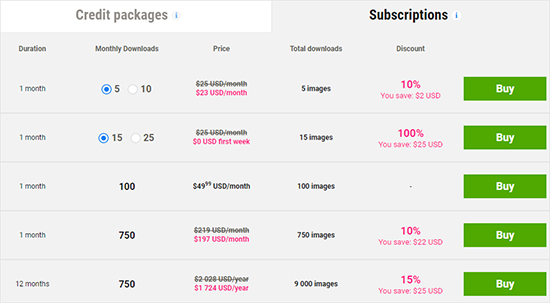 Step 1: Visit the official website of Dreamstime. Then "Sign in" or "Sign up for FREE" to create your account.
Step 2: After login, click on the "Prices and download plans" option available at the top right corner of the screen.
Step 3: You will notice two options (Credit packages and Subscriptions) for you to "Buy".
Step 4: After completing checkout, the credits and subscribed plan will be added to your Dreamstime account.
Step 5: Search, find, download images and other medial files from the site with no watermark.
Part 2. Remove Dreamstime Watermark from the Unlicensed Version
Frankly, purchasing licensed images from Dreamstime is expensive and cannot satisfy your daily requirements. Another bad feedback from users is that the watermark is still on the images, even though purchasing is made in advance. If you are experiencing this, you may be forced to try third-party watermark remover, like Joyoshare VidiKit, a deserving choice to eliminate watermarks. It deals with both images and videos, also supports batch removal. You can ultimately utilize different tools to select watermark, adjust image size and crop it to your desired area.
Key Features of Joyoshare VidiKit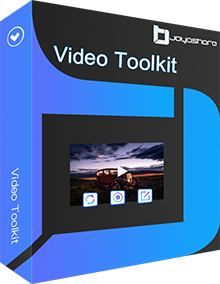 Quickly eliminate watermark from images and videos
With preview and compare options to check the changes
Present and adjust the parameters of the output file
Batch mode removes watermarks for numerous photos
Provide output files in several formats, like JPG, PNG, BMP, etc.
Step 1: Download and Install Joyoshare VidiKit. Find Watermark Wizard and access to "Remove watermark from image" section. Press the "+" button to add files or drag and drop them to the list.
Step 2: Select the area that your watermark puts on using tools like freehand selection, rectangle selection, and polygon selection. You can also use a pen to specify the location and click on the Apply button to eliminate the Watermark.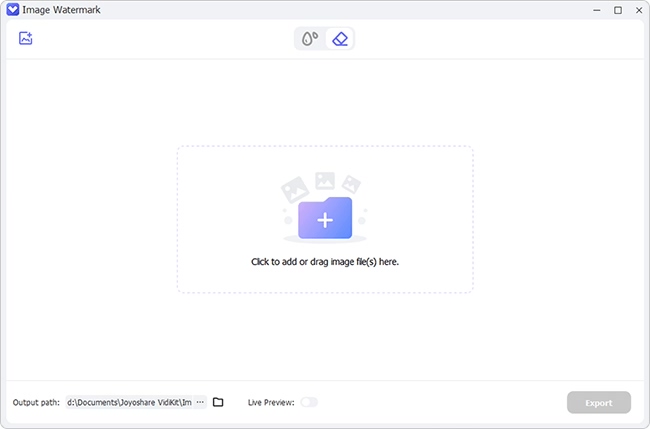 Step 3: Use Compare tool to check images. If no problem, press the Format button to choose the output file format. You may also resize and crop images to meet whatever you need. Once done with everything, save images by clicking on the Output option present on the bottom right.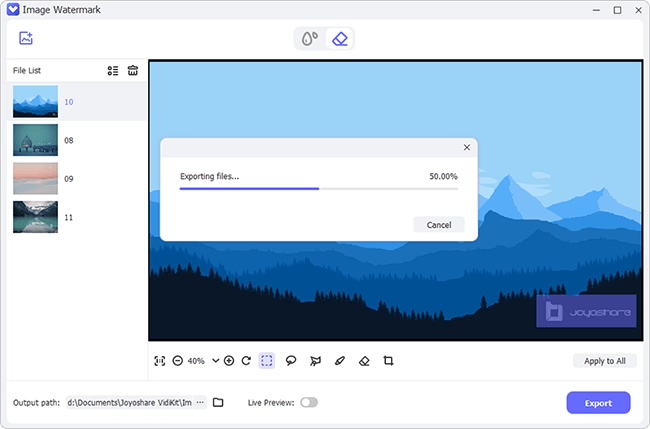 Part 3. How to Remove Dreamstime Watermark in Photoshop
Photoshop is a common tool that many users have on computer. It features a lot of options to help us post-process images. Therefore, you can apply it to remove watermark from Dreamstime. Here are steps to check: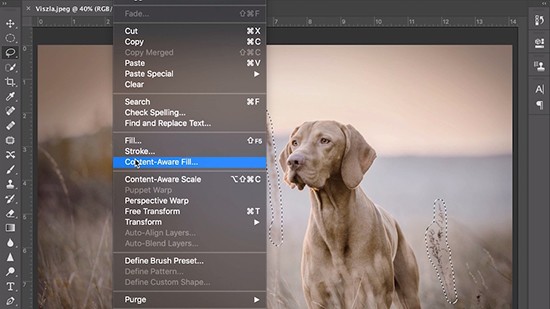 Step 1: Open Dreamstime file you want to remove the watermark in Photoshop. Choose any tool such as Magic Wand, Pencil Tool, or quick selection to select the region around the watermark.
Step 2: Adjust the selected area around the watermark accordingly by clicking select menu and then choose to modify → Expand. A dialog window will appear; write the pixels that perfectly fit the background of your photo.
Step 3: Now slide to File → Edit → Content-Aware Fill feature from the displayed dialog box. Modify the mode to Normal and Opacity to 100%.
Step 4: Now press the Alt key and left-click on the area to select it and then release to start covering the watermark. Continue painting until the watermark is removed completely.
Part 4. Remove Dreamstime Watermark Online
Besides various applications and software, a Dreamstime watermark remover online is also available to remove watermarks from videos and images. Here, we will discuss Inpaint. It removes unwanted objects from the images and is an ideal way for those who need to eliminate the date stamp. Plus, it is a convenient tool for both desktop and mobile users.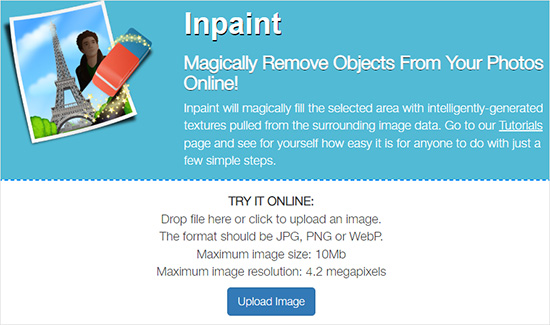 Step 1: Visit the online official website of Inpaint.
Step 2: Under "TRY IT ONLINE" section on its home page, check requirements in advance.
Step 3: Hit "Upload Image" to choose the image from your device and press Open.
Step 4: The image will open. Highlight the area with the watermark and click on the Erase.
Step 5: Now, hit the download button at the screen's top right corner to save your file to the device.
Part 5. Comparison of Dreamstime Watermark Remover
For further analysis, a comparison chart can help you. So, here is a comparison table of the methods mentioned above to remove Dreamstime watermark.
| | Supported Formats | Batch Removal | Cropping Image | Selection Tools |
| --- | --- | --- | --- | --- |
| Joyoshare VidiKit | JPG, PNG, TIFF, WEBP, GIF, and BMP | Yes | Yes | Rectangle, freehand, polygon, pen |
| Photoshop | PSD, PSDC, PNG · JPEG, TIFF, HEIC, PSB | Yes | Yes | Magic Wand, Pencil Tool |
| Inpaint | JPG, PNG, WEBP | No | Yes | Freehand |
Part 6. FAQs about Dreamstime Watermark Removal
1

Why is there a watermark on the downloaded Dreamtime images in the free trial?

The images downloaded in the Dreamstime are provide by contributors with copyright. That's why there is a watermark on each file. To use the images in your legal or official projects, you must opt for its license by turning to a commercial plan. After upgradations, you will get free watermark-free images and downloads from paid plans. It means you get the benefits of two plans by paying just for one.

2

Are Dreamstime images free?

You need to sign in on Dreamstime to search and download the images. The images are free in the trial period, but they all come with a watermark. So, to download watermark-free images, you are required to buy the credit packages.

3

Is Dreamstime copyright free?

Although Dreamstime provides a Public Domain collection of images and even a free section, most illustrations, audio, illustrations, and photos are copyrighted. The copyright stays with the individual author even if you have taken a license for a file. Here, you just pay for your right to use that particular audio/video/image file. In simple words, you cannot declare yourself to be the author of an image. The files on this platform are not copyright free but are Royalty free. It means you need to pay and use them.
Conclusion:
If Dreamstime is your leading source for images, buying subscriptions or credits from Dreamstime is suggested. This is actually the first option and is legal. However, in some special situations, such as Dreamstime official bugs to remove watermark from licensed images, you can try other solutions we provide here, which can be used easily. Just remember that these images with no license to pay for copyright cannot be applied for commercial use.