You just completed creating your video with a free video editor. However, you suddenly realize that there is a watermark that can only be eliminated if you upgrade to a premium version. Watermarks generally appear when you create a video using the free version. Even though it shows the patent of the master company, it is a bother to some people when it appears on their videos. You should worry less as there are various ways that watermark remover online provides to painlessly remove such logos. This article brings you top 6 tools to set you free from watermark.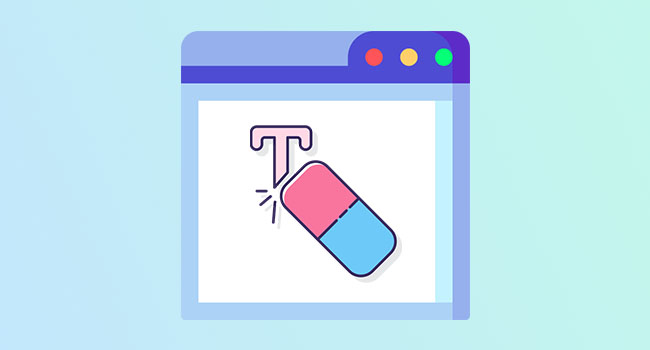 Why Do You Need Online Watermark Remover?
Watermark on any video is likely to distract viewers when watching your video. It is even more immense when your video is of a promotional product or service. Video watermark remover online will wipe it off and turn your video into a professional-looking piece of art. It will also require no installation hence you don't need to worry about the space memory of your device.
1. Apowersoft Online Watermark Remover (Image and Video)
Apowersoft Online Watermark Remover requires no computer skills to the task. It will remove the watermark from both image and video in simple steps. It also emphasizes file security as any files are deleted from the server immediately after the watermark removal. More so, this tool is efficient and can erase multiple watermarks in batches. It supports image formats like BMP, TIF, PNG, JPG, JPEG, and TIFF. Likewise, use it to remove watermark from a video as it supports video formats like MPEG, MOV, FLV, MP4, AVI, M4V, BWT, and computer-aided designs.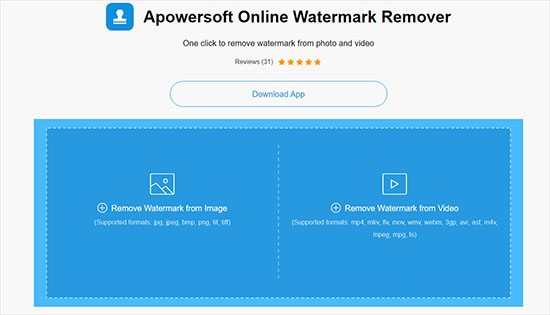 Pros:
Enable batch watermark removal from photos
100% guarantee of your files' security
Easy to use and require only one click to remove the watermark
Cons:
It is not free
No live customer support
2. Aiseesoft Free Watermark Remover Online (Image)
Aiseesoft Free Watermark Remover Online will erase several marks like graphic logos, camera date stamps, among other objects from your photo. The user interface is quite friendly, giving you a refined photo for free. It works fast and will automatically detect and blur watermark from various files like BMP, TIFF, JPG, PNG, DDA, DPE, DMG, and CPT.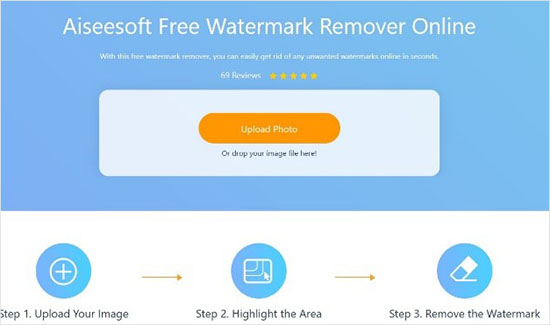 Pros:
Easily preview results in real-time
Your files are safe
Work at fast speed
It keeps high quality of your photos
Cons:
3. Media.io Online Watermark Remover (Video)
Here comes Media.io Online Watermark Remover that's free to use. It works efficiently to delete any unwelcome object. It also works with several video formats like WebM, MOV, MP4, DDZ, DPE, CPT, XAML, and MP4. Use Media.io for batch watermark removal on your videos. Removing watermark from video in batch is also available when you use this tool.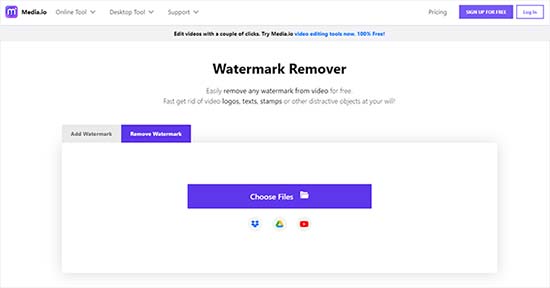 Pros:
Fast rendering speed
Easy to remove watermark
Support batch watermark removal
Cons:
Limited file upload size for free account
4. HitPaw Online Watermark Remover (Video)
This watermark remover online tool comes with easy steps to remove the watermark. It works on any device like Android, iPhone, and Windows. This tool will help you to remove any marks on videos for free. Supported formats include GBP, EXE, ESD, ESS, MP4, MOV, LBR, IPG, and HTML. The best part of this tool is that there is no advertisement when you utilize it.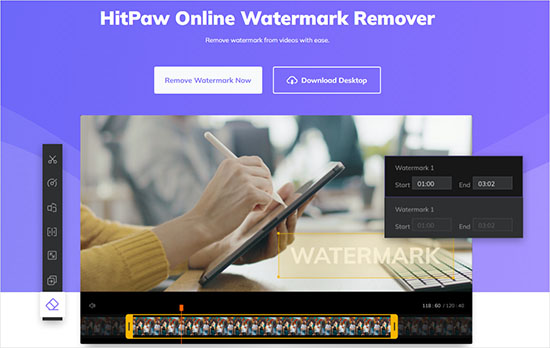 Pros:
Experience no watermark and ads
High level of security
Constantly updates features
Cons:
It has limited features
You have to register first to edit photos
5. Watermark Remover (Image and Video)
This watermark remover online tool will help you to be more creative, creating magical photos in a short time. It works free, blending world-class features and interface. It doesn't matter whether you wish to remove watermark from the photo or video. Watermark Remover supports several formats like PNG, JPEG, TIFF, BMP, LBR, JPG, AAC, MP4, MOV, WAV and GIF.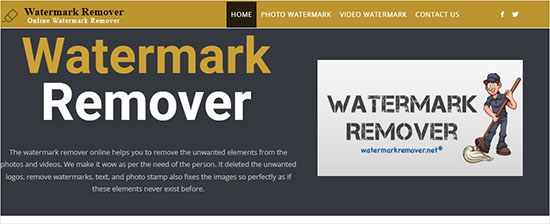 Pros:
Work on any device
No privacy risk
No installation required
Cons:
6. Photofunny Watermark Remover (Image)
You definitely don't need your funny photos to bear watermarks. This watermark remover online will work completely free on your photos. Besides, it supports various photo file formats like JPEG, PNG, HTML, DPE, DAA, EGT, DPE, ECAB, CPT, ARJ, BKF, and BMP. You can operate this tool without steep learning curve as it is featured with an intuitive interface.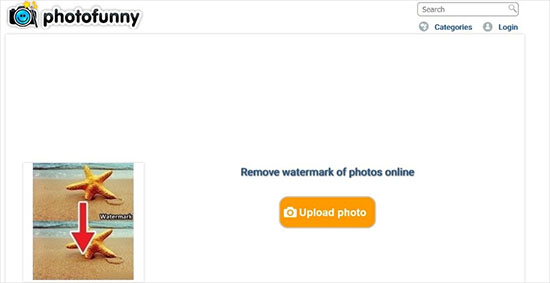 Pros:
Excellent customer support
An intuitive user interface
Cons:
Can't remove complicated objects from your photo file
Recommendation: Joyoshare VidiKit (Image and Video)
Joyoshare VidiKit is encompassed with advanced watermark removal techniques. It lets you remove images and text watermarks efficiently. More so, easily view your videos or photos in real-time to determine the quality. It supports popular output formats like BMP, GIF, PNG, WEBP, etc. You can also easily edit any video file with watermarks like DV, WMV, MPEG, ASF, MP4, M4V, MOV, AVI among others.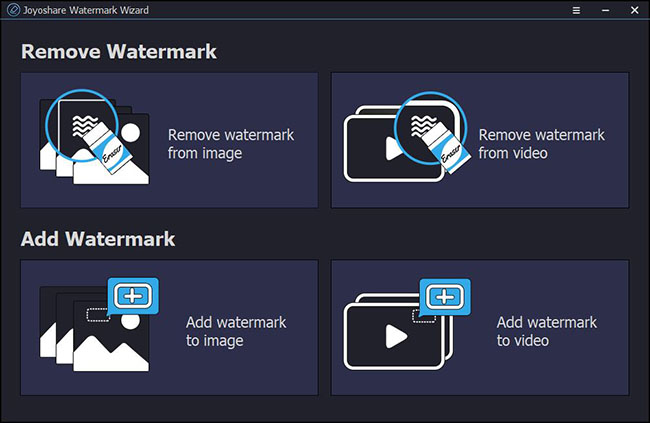 Pros:
Batch removing watermark from video and image as you want
Preview your files in real-time
Easily add images and manually type in a text
Freely set video and audio parameters to your specifications
It exports your file without watermark to popular formats like MOV, HD MP4, etc.
You can remove specific watermarks in several segments at once
Cons:
The free version has limited features
Conclusion:
Don't be drawn back when it comes to creating videos. Most often, you end up with a watermark on your videos which may distract the viewers' attention. The best solution is to remove watermark such as photos, logos, texts, and more. This article has brought you best watermark remover online to clean your videos and images with hassle-free solutions. You should note that many online tools can only remove watermark from video or image. To use watermark remover efficiently, you can choose a tool that can help you get rid of watermark from both video and photo.