People are looking for content to share with the world via social networks like YouTube and Facebook now that video and image sharing has become extremely popular. When you download an intriguing movie or photograph, however, you will see that it includes a branding watermark or logo. The name of the uploader or the program they used can be used as a watermark. Seeing a watermark on such content is never pleasant, which is why you should get a free watermark remover that will allow you to easily erase the watermark from the video or image.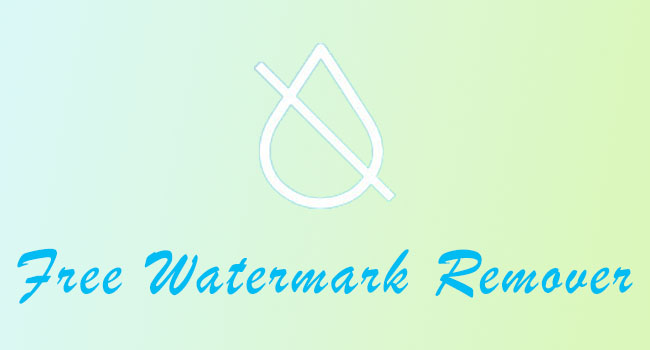 Part 1. Free Image and Video Watermark Remover
1

Joyoshare VidiKit

Joyoshare VidiKit is a very useful tool for removing watermarks from videos and pictures. To specify the location of a watermark, you can use a rectangle selection, freehand selection, polygon selection, or a pen directly. Furthermore, this brilliant watermark remover can crop photos to remove unwanted content and outputs images in 1:1 original or adjusted size. If you are looking for the best and free watermark removal tool then Joyoshare VidiKit is the perfect choice for you.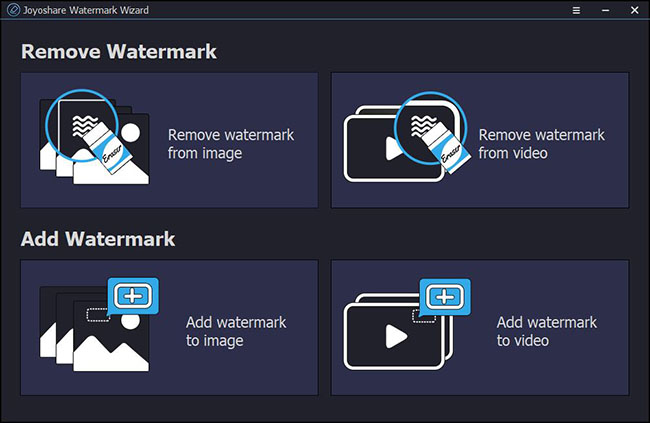 Pros:

Remove watermark from video and image intelligently
Flexible methods are provided for locating watermark
Real-time preview of results and visual comparison
Cons:

Free trial version has limitations
Step 1: Run the program and choose Repair - Watermark Wizard. Then select "Remove watermark from image" or "Remove watermark from video" option in the main interface and upload your files.
Step 2: Use your mouse to target a watermark freely in a video or image by utilizing the appropriate features.
Step 3: Click on the Format option and choose your desired format and preset quality. Pick your output location and press the Output button to export your files.
2

Apowersoft Online Watermark Remover

Apowersoft Online Watermark Remover is a simple but effective tool for removing watermarks from video and image. It can actually erase logos, texts, time stamps, and any other unwanted things from your file, in addition to watermarks. This user-friendly online watermark remover may be used in three simple steps.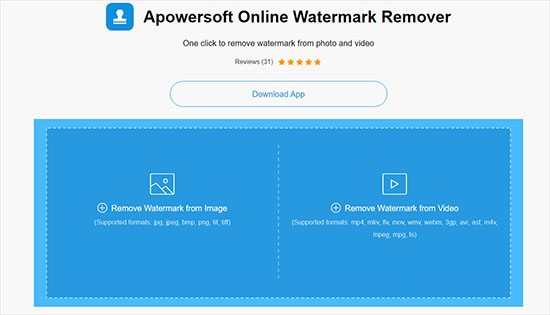 Pros:

Available in a variety of video file formats, including MP4, FLV, MOV, WMV, and others
It has a simple user interface
It enables you to process videos in batches at the same time
Cons:

It has limited editing capabilities
Step 1: Launch your browser and go to its official website.
Step 2: To remove the watermark from an image or a video, select "Remove Watermark from Image" or "Remove Watermark from Video".
Step 3: After that, import the file you want to edit and choose the watermark regions you wish to delete using the "Add Box(es)" option.
Step 4: To process your file, tap the "Erase" button once you're done. Then, once your file has been processed, you can download it to your computer.
3

Watermark Remover

Watermark Remover aids in the removal of undesired elements from images and movies. This free video watermark remover will assist you in removing undesirable logos, watermarks, texts, and photo stamps, as well as properly repairing images as if these components had never existed before.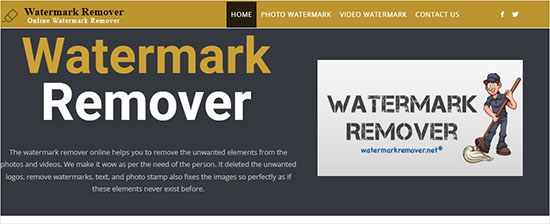 Pros:

Easy to use
No need to download any plug-in
No privacy risk
Cons:

Not available to install on your device
Step 1: Open Watermark Remover. Select VIDEO WATERMARK REMOVER or PHOTO WATERMARK REMOVER. Select the video or photo you would like to remove the watermarks or logos to upload.
Step 2: Select the "Remove Watermark" option. Wait till the processing is finished before proceeding.
Step 3: Select the "Download" option. You can download the new video in the same video format as it was uploaded, without any watermark.
Part 2. Free Image Watermark Remover
1

WatermarkRemover.io

WatermarkRemover.io is an AI-driven program that eliminates visible watermarks from photos in seconds. It allows you to use the product's strength for both personal and professional reasons and remove watermarks from images. Furthermore, you can precisely cut, crop, and adjust any part of your video or image.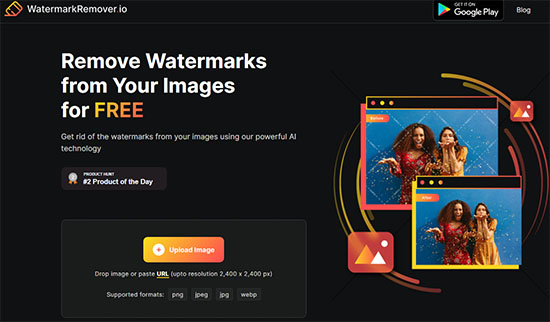 Pros:

Automatic detection
Multi-colored support
Cons:

Limited editing function
Step 1: The location of the watermark in the image is predicted first by this model after adding image by clicking Upload Image option.
Step 2: The colors of the watermark are then separated from the image's background.
Step 3: Finally, in the area where the watermark was present, it recreates the background image.
2

Aiseesoft Free Watermark Remover Online

Use this free watermark remover online to remove watermarks from any image. Its user-friendly interface allows you to remove any watermark for free within a few simple clicks without requiring any tech expertise. Furthermore, you can complete the whole progress within three steps.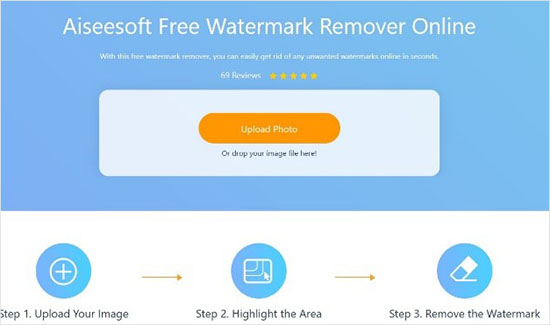 Pros:

Remove watermarks from photos in bulk or individually
Add a text or image watermark to a photo with customizable size, location, transparency, and so on
After removing the watermark and exporting the image, keep the original quality
Cons:

Video watermark removal is not possible
Step 1: Upload a photo from your device by clicking Upload Photo.
Step 2: Highlight the area in the image where the watermark is available using the appropriate features.
Step 3: Click Remove to erase watermark and click Download option to save photo with ease.
3

Vidmore Free Watermark Remover Online

Vidmore Free Watermark Remover Online is a web-based program that can remove watermarks from images. It allows you to completely erase texts, images, logos, and other elements from your photographs. Using this watermark remover, you can remove undesirable watermarks in three simple steps.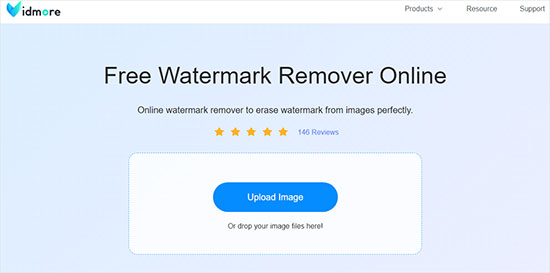 Pros:

Remove watermarks from images online using AI technology
Remove all types of watermarks from photos
Remove multiple watermarks from images in batch
Cons:

Removing watermarks maybe not be as fast as expected for some users
Step 1: Select a photo from your device and upload it by clicking Upload Image.
Step 2: Easily remove the watermark by clicking Remove after locating watermark.
Step 3: Download the finished photos by clicking Save.
4

GIMP

GIMP is a versatile image editing application that runs on Windows, Mac OS X, and Linux. Many people prefer it to Adobe Photoshop because it is free. Removing the watermark from a photo is a common undertaking for many of us. GIMP is an excellent tool for this. The steps to remove a watermark with GIMP are as follows: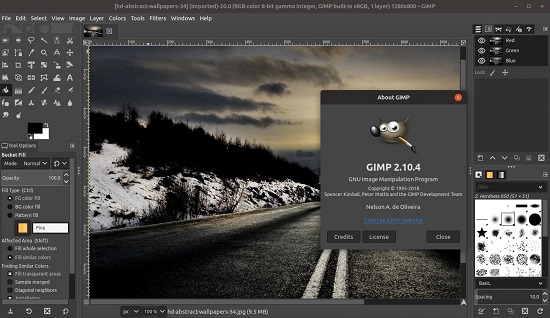 Pros:

Crop and resize images
Work with layers (text, images etc.)
Images can be exported in a variety of formats
Cons:

The selection tool in GIMP is not very precise
Have fewer features than other paid software
Lack of customer support
Step 1: Get GIMP for your device and install it.
Step 2: Select Open from the File tab in the top left corner of the screen. Then simply choose and open the image.
Step 3: In the top right corner of the screen, select the Clone Tool.
Step 4: In the image, locate a location that matches the watermark's backdrop.
Step 5: Paint over the watermark by holding down the left mouse button. The cloned region's image will cover the area you painted.
5

Remove Unwanted Object

Using this free software to remove watermark from video, such as people, objects, stickers, or texts, you can get watermark-free video. Everything is completely free! This is one of the greatest applications for removing undesirable stuff from your images with the touch of a finger. It will save your time while processing your image with simple features that is =quick, effective, and simple to use.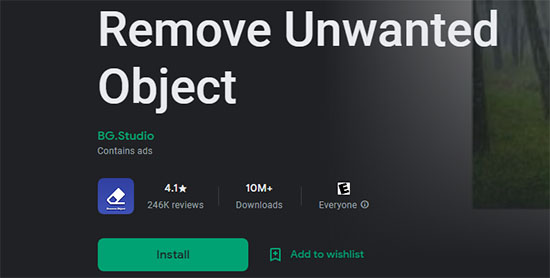 Pros:

Remove human-made items such as stop lights, street signs, and trash cans
It is easy to use
The interface is beginner-friendly
Cons:

Not available for iOS devices
Step 1: Download and launch this tool. Then add your file by selecting Upload.
Step 2: Move the eraser to select the watermark.
Step 3: Then click Erase button to start processing photo.
Step 4: Save processed image to your device.
6

Pixlr

Pixlr is a browser-based free online photo editor. PSD, PXD, JPEG, PNG, SVG, and other image formats are all supported by the editor. You may erase watermarks from your photographs with one click using the AI design features in this editor. The powerful online picture editor also works well on mobile devices, allowing you to edit at any time.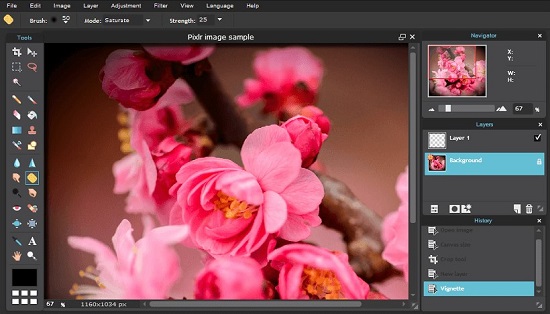 Pros:

Multiple options to remove watermark
Highly advanced editing tools
Cons:

Complicated user interface
Step 1: Open Pixlr on browser and upload image.
Step 2: Click Retouch - Clone Stamp and select watermark area.
Step 3: Click Save and choose Download to save your edited image.
Part 3. Free Video Watermark Remover
1

HitPaw Online Watermark Remover

Remove watermarks from videos with ease with the most effective and powerful watermark remover HitPaw Online Watermark Remover. In three simple steps, you can remove the watermark from your video using this powerful tool. The fact that HitPaw Watermark Removal is the best watermark remover can't be overlooked! In terms of ease of use and efficiency, this tool outperforms other relevant apps. It is popular because of its user-friendly design, making it a great watermark remover for you.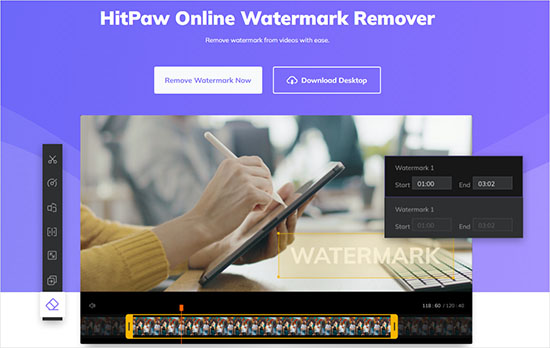 Pros:

Design is simple to use
The elimination of watermarks is quick
Cons:

It requires registration in order to export videos
Step 1: Import the video over the tool by clicking Remove Watermark Now.
Step 2: Select the watermark you want to remove using the selection box.
Step 3: To remove the watermark, click the "Remove" button.
2

Media.io Watermark Remover

This free tool allows you to erase any watermark from any video. With this watermark remover program, you may erase video logos, texts, stamps, and other distracting things as needed. This tool is regarded as the best watermark remover due to its extensive support of various video formats, ensuring that there will be no compatibility concerns. As a result, you'll be able to select your preferred video output format.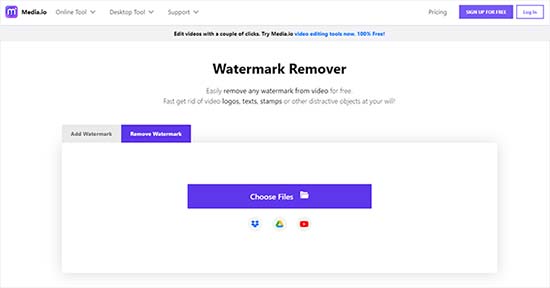 Pros:

This free batch watermark remover can remove watermarks from videos in high quality
Any unwanted video object can be removed using the free video watermark editor
Media.io Watermark Remover is available for Android/iPhone/iPad/Windows/Mac/Linux.
Cons:

Limited file uploads for free users
Step 1: Select Files and add any video from your computer or upload a YouTube video by copying and pasting a link after selecting Choose Files.
Step 2: To remove watermarks/logos, select and highlight one or more unwanted areas. You can also set a timer for watermarks to help speed up your workflow.
Step 3: Click the Download button to export the new video without a watermark.
Conclusion:
Free watermark remover makes it easy to get rid of obnoxious watermarks from photographs and videos made by Getty Images, Shutterstock, or any other application. With Joyoshare VidiKit, you can easily manage and erase watermarks from videos and photos. Choose the one you want and remove the watermarks with ease. What's more, a rectangle selection, freehand selection, polygon selection, or a pen directly can all be used to indicate the location of a watermark in photo.