As we all know, in order to better preserve the meta information of the picture taken, mobile phones and digital cameras are usually time-stamped. Some are added by default, and some are self-specified in the settings. While this is somewhat of a good way to track life back in time, sometimes there is inconvenience caused for the subsequent use and sharing of pictures, especially for professional photo lovers. This makes it necessary to remove date stamp from photo. You can learn about different solutions that are simple and quick available here.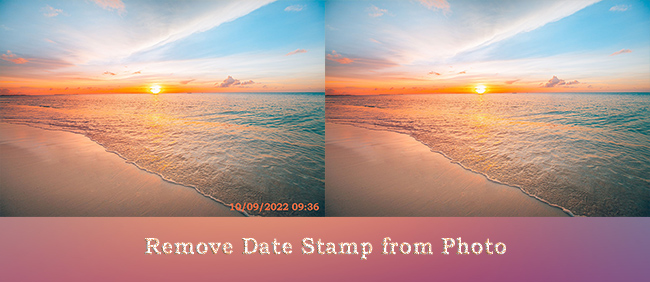 Part 1. Easiest Way to Remove Date from Photo
Joyoshare VidiKit is a powerful tool that can remove date stamps, mosaics, people, logos, objects, captions, stickers, and more from photos with some simple clicks. It supports images in different formats and can save what edited in JPG, PNG, GIF, BMP, TIFF, etc. This watermark wizard can process photos in bulk and also, it supports various types of watermark selection tools, making your removal process effortless. There are some options this software offers, like crop, resize and preview before export.
Key Features of Joyoshare VidiKit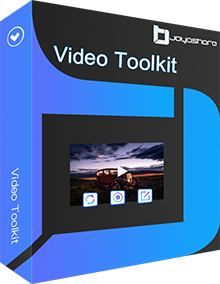 With intelligent algorithm to remove watermarks without hampering the quality
Support batch processing photos
You can preview the changes in real-time
Classify the files under completed and uncompleted
Import and output files in popular image formats
Get rid of stickers, emojis, shadows, people, captions and more
Step 1

Add Photos to Program

After completing the installation, launch the software, and choose the "Repair" section. Click the "Watermark Wizard → Remove watermark from image" option. You can now import the photos or drag them to the interface.

Step 2

Select and Remove Photo Date

Choose between rectangle, freehand, and polygon selection tools. Now, hover over the date stamp on the photo and adjust the borders. Finally, click "Apply" to remove the date stamp.

Step 3

Save Photos without Date Stamps

Click the "Format" button to set what you'd like to output. You can save the file as required in JPG, PNG, BMP, and other formats. Then resize the photo, crop, and change the location. Simply click on "Output" button.
Part 2. Remove Date Stamp from Photo with Photoshop
Photoshop is an extensively used graphics editor for altering images by professionals and beginners. It has advanced layer management, color grading support, remarkable plug-ins, textures, filters, overlays and more. Today, we will see how you can remove date stamps using the content-aware feature in Photoshop.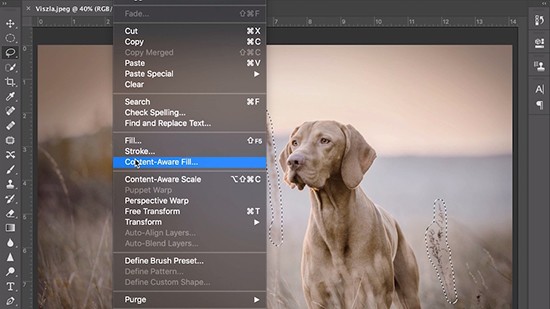 Step 1: Open the photo with the date stamp in Photoshop and select the date using the Magic Wand tool. You will see the selection below.
Step 2: Expand the selected area to include background pixels. Click "Select → Modify → Expand". Enter a number that you seem suitable for expansion.
Step 3: Click "Edit → Fill" and select the "Content-Aware" feature. Then, in the same window, set the blending mode to normal and opacity to 100%.
Step 4: Now, press Ctrl+D to unselect the selected region and remove photo date in Photoshop.
Part 3. How to Remove Date Stamp from Photo Online
Have you wondered how to remove date time stamp from digital photos using an online tool? Well, you are in luck, as you can use Inpaint to do it from a single image or a bunch of them. It now supports formats in JPG, PNG or WebP. You should note that the maximum image size you can upload is 10mb.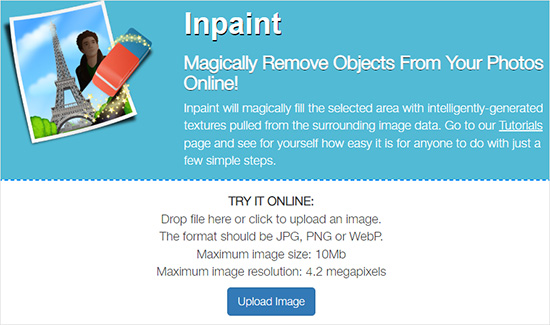 Step 1: Open Inpaint website using any web browser.
Step 2: Upload the image consisting of the date stamp using "Upload Image".
Step 3: Use the marker to select the date stamp on the image. Adjust the marker size and do not go beyond the stamp area.
Step 4: Now, click the Erase button, and you should see the date stamp erased from the photo. You can then download the picture in its original quality.
Part 4. How to Remove Date from Photo on Android
Remove Unwanted Object is a dedicated app you can get from Play Store for your Android device. It is able to remove unwanted content from your photos, which are possibly person, date stamps, texts, objects, stickers and more. You can now follow the steps below to let it work for you.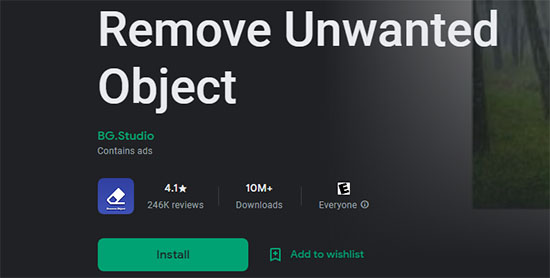 Step 1: Download and install Remove Unwanted Object app on your Android phone.
Step 2: Select a photo with a date stamp from your phone's gallery.
Step 3: Select the brush tool and highlight the date stamp on the photo.
Step 4: Tap the process button to remove date from photo.
Step 5: You can proceed to save the image.
Part 5. How to Remove Date from Photo on iOS
You can wipe out date stamps from your photos on your iOS device using the Photo Retouch. It is applicable to both iPhone and iPad with ability to remove background, fill color to photos automatically, blur moving objects in videos, get rid of date stamps, add filters, and the like. You can download it from the App Store and proceed with the steps below.

Step 1: Complete the installation of Photo Retouch-Object Removal.
Step 2: Launch the app, click the "+" and tap "Import from Camera Roll" to add photos.
Step 3: Select the edit icon from the bottom menu and choose the "Object Removal" tool. Now, choose the date region on the photo.
Step 4: The app will erase the date from the image. You can then save it to your iOS device.
Conclusion:
Editing an image with a date stamp is no longer a tedious task. You can remove date stamp from photo using different photo stamp removers. We showcased a few solutions today, which you can work on desktop, online, Android, and iOS devices. While online programs require no downloads, they have restrictions. You can avoid restrictions by using an offline tool like Joyoshare VidiKit to helpfully edit your photos and videos.