Shutterstock is an awesome website for accessing beautiful and high-quality images and videos. It is thus an important resource if you are a creative person seeking some inspiration or work to use as a basis on which to create your content. Unfortunately, the free Shutterstock images and videos come embedded with a watermark. This makes it impossible to reuse them in professional settings. To learn more on how to remove Shutterstock watermark, let's look at some of the best methods you can use.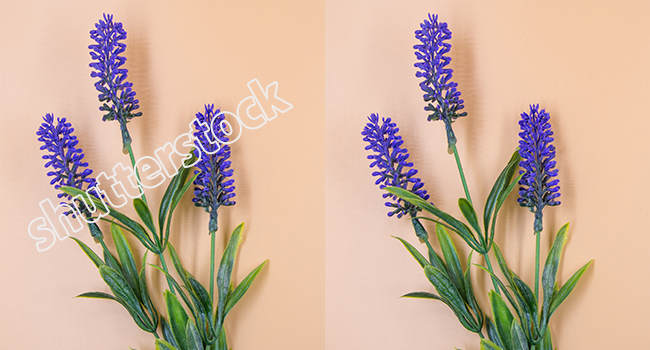 Part 1. Remove Shutterstock Watermark - Joyoshare VidiKit
Joyoshare VidiKit is a powerful tool designed to get rid of unwanted content like image and text from both images and videos. It is fast and allows batch editing, which makes it easy to process more videos and photos in a short duration. You can use this tool to trim and crop images, add customized watermarks and do a host of other things like changing output format to JPG, TIFF, WEBP, BMP, highlighting watermark with various solutions and more. Also, it gives you the power to resize your files as you want and export photo and video without watermark in original quality.
Key Features of Joyoshare VidiKit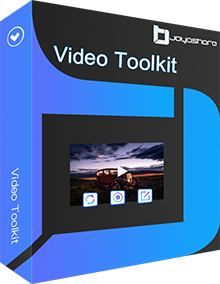 Easily remove watermark from photo and video with few clicks
Select and highlight unwanted content using various functions
Export your high quality photo to multiple formats without Shutterstock watermark
Compare watermarked photo and processed image to find changes
Provide editing features like trimming and cropping to enhance your image
Step 1

Open Joyoshare VidiKit to Add Images

Download and install Joyoshare VidiKit program on your computer. Once done, launch the program. Now click to open the "Repair" section and then select "Watermark Wizard". Now choose "Remove watermark from image" then hit the "+ Add Files" icon to add images to the tool. Alternatively, simply drag and drop your images to the main interface.

Step 2

Select and Remove Shutterstock Watermark

Select the image to work on and then utilize the available pen to select the watermark to be removed. Once you have done this, click "Apply" and the tool will go to work to remove the watermarks from the Shutterstock image you are working on.

Step 3

Save Your Processed Image

Before you save your watermark-less Shutterstock images, you have a chance to convert to a preferred format and adjust other parameters such as the image size. Simply click the "Format" icon and then select your preferred format and change any other parameter that you want then hit the "Output" icon to save the image.
Part 2. Remove Watermark from Shutterstock - Photo Stamp Remover
Photo Stamp Remover is among the most commonly used tools to remove watermarks from Shutterstock photos. This powerful software is free and is quite powerful when it comes to erasing date stamps and removing watermarks and other unwanted elements from photos. To use this tool to get rid of watermark, simply follow these steps: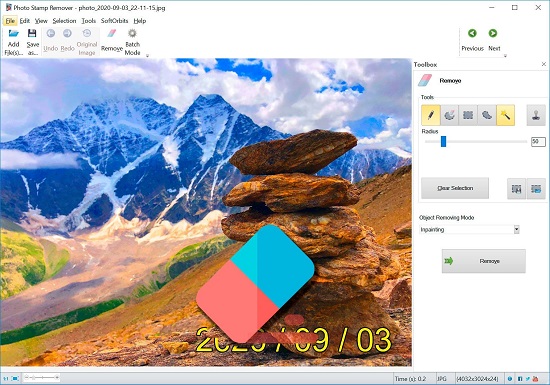 ● Step 1: Add Photos to Photo Stamp Remover
First, you have to download and install this tool on your device. Next double click on the tool's icon to launch it. Then open the main menu and click "Add Files" to add the Shutterstock Image that you want to remove a watermark from.
● Step 2. Highlight the Watermark to be Removed
Now use the marker and move it over the Shutterstock watermark to highlight it. You can also select any other elements from the image that you also want to remove.
● Step 3. Remove the Watermark
Once you have the watermark selected, simply click the "Remove" button and this tool will go to work to remove the highlighted watermark and any other elements that you have selected.
Part 3. Remove Shutterstock Watermark - Photoshop
Another awesome tool that you can use to remove watermark from an image is Photoshop. This is a powerful program designed for editing photos. It comes with many tools you can use to remove watermarks including the ability to crop images, retouch images, and remove objects. To use this tool to remove unwanted content from your images, follow these steps: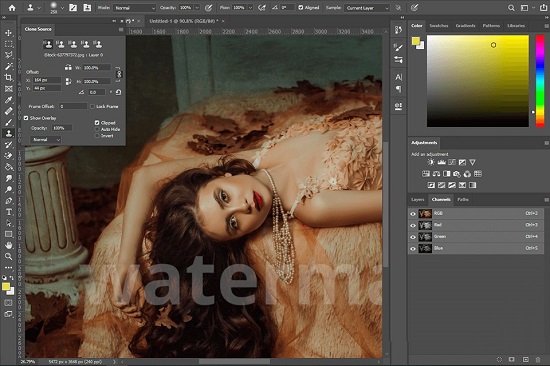 ● Step 1: Set up the Tool
Download and install Photoshop software. Once it is done, launch this program.
● Step 2: Add Your Shutterstock Images to Your Tool
Simply open the folder containing the Shutterstock image you want to remove the watermark from and drag and drop the image in Photoshop's main interface. Alternatively, you can click "File" on the main menu and then click Open to upload image from the folder.
● Step 3. Select the Watermark
Navigate to the main menu and choose "Content-Aware Move Tool". Now navigate your image and select the watermark that you want to remove from your photo.
● Step 4: Remove the Watermark
Click "Edit" then "Fill". When the fill pop-up box opens, select "Content-Aware" then set the Mode to "Normal" and the Opacity 100% and then click "OK". The watermark will then be removed.
Part 4. Aiseesoft Free Watermark Remover Online
Another wonderful tool that you can use to remove watermark is Aiseesoft Free Watermark Remover Online. This is a free tool designed with many powerful tools to make it easy for you to delete unwanted elements from images. It is easy to use as it is an online tool that does not require being downloaded and installed on your device. To use this tool, simply follow these steps: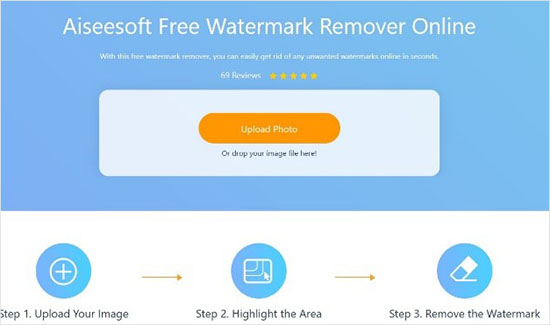 ● Step 1: Upload Your Shutterstock Image
Simply search and open this tool on your browse. Then click the "Upload Photo" button to upload the Shutterstock photo you want to process.
● Step 2: Remove Shutterstock Watermark Online
Next, apply the brush tool to select the Shutterstock watermark. Once done, hit the "Remove" icon to remove the Shutterstock watermark that you want to remove.
● Step 3. Save the Image
Review the work done by the tool and if you like it hit the "Save" button to download and save the image on your computer. If you want to crop the image then simply click the "Crop and Save" button to crop the image before saving it.
Part 5. Shutterstock Watermark Remover - InPaint
Many people use a simple tool known as InPaint to delete unwanted content. This is another online tool that works on any browser meaning that you don't have to worry about your operating system. As an online tool, it is perfect for anyone to use.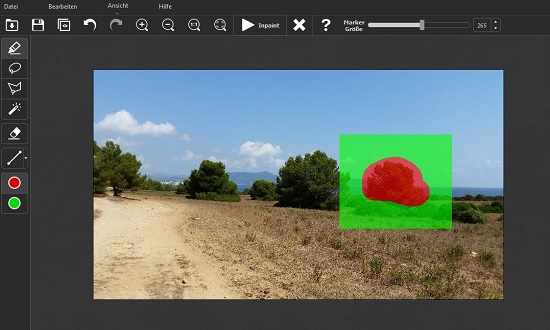 ● Step 1: Launch the Tool
Search and open Inpaint on your browser. Remember you need to have good Internet connection to use this tool.
● Step 2: Upload the Image
Once you have launched this program, simply tap on the "Upload Image" icon to upload the Shutterstock image you want to work with.
● Step 3: Remove the Watermark
Highlight the watermark on your photo that you want to remove. Once this is done, click "Run" to start the process of removing the watermark. Once the watermark is removed, press the "Download" icon to download and save the processed image on your computer.
Conclusion:
Getting free images from Shutterstock is great. The only problem is that those photos come with a Shutterstock watermark, which makes them pretty useless. However, don't let this kill your dream of creating a great report using images as a visual aid. There are several awesome methods on how to remove Shutterstock watermark from all your favorite photos. However, if you want a tool that is easy to use, converts your photos into any format and can remove watermark from any photo not just those from Shutterstock, then we recommend Joyoshare VidiKit.