For users, Facebook is an excellent social media platform for expressing themselves and interacting with others. Currently there are more than 2 billion users of this social media app worldwide. Chatting, updating posts, sharing images, videos, and many other activities are common within this app. Your phone automatically stores every video or photo you send to or receive from others. From time to time, people delete these automatically saved files, only to realize they need them later, especially media files like videos.
Actually, mis-delete data often happens to us in daily life. If those deleted data are important, you had better recover them as soon as possible, in case they are covered by new data and couldn't restore them anymore. Thankfully, there are multiple ways to recover deleted videos on Facebook.
Part 1. Pro Way – Joyoshare iPhone Data Recovery [Hot]
A reliable and safe way of recovering them is the fantastic iOS data recovery program – Joyoshare iPhone Data Recovery. It can recover deleted videos on Facebook or any other data stored on any iPhone gadget. It is like magic to bring you astonishing surprises. You can use this application to restore Facebook videos from your iPhone effort-freely. The tool is trusted and will not disclose your personal information. Choosing this option will put the mind of any iPhone user at ease.
Additionally, a damaged, broken, stolen, or lost device will prevent you from accessing your iTunes backup. With Joyoshare iPhone Data Recovery, you can browse your backup content and extract it directly to your computer. There is no need to connect your device to a computer to perform this operation. Let's perform:
Key Features of Joyoshare iPad Data Recovery:
Recover videos from Facebook on iPhone with/without backup
With three recovery modes and 20 supported data
Offer high success rate to restore data in varied scenarios
Preview videos, photos, audios and more in real time
Selectively choose whatever deleted to recover back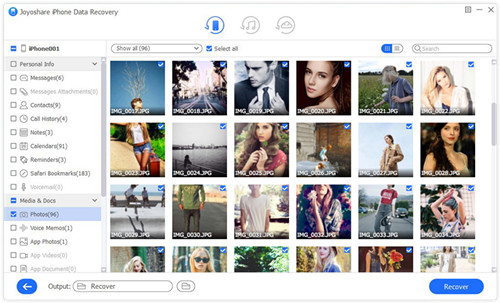 Here Joyoshare iPhone Data Recovery guides you on how to recover deleted Facebook videos, messages, or pictures. Just make sure the device works before doing as below.
Mode 1. How to Recover Videos from Facebook on iPhone Without Backup
Step 1

Install and Launch the Program on Computer

Firstly, download and install Joyoshare iPhone Data Recovery on your PC or Mac. You need to connect your iPhone with the PC or Mac via USB cable. Then launch it, it will recognize your iPhone automatically and the main interface will show.

Step 2

Start to Scan Your Deleted Facebook Videos from iPhone

Here you should click the Scan button to let the software scan your iPhone for lost Facebook videos or other data. Your device may take a few minutes to complete the scanning process, depending on the amount of data you have on it. While the program is running, ensure your iPhone is connected to a PC.

Step 3

Preview and Begin to Recover Facebook Videos from iPhone

Your data will be displayed after the scanning is complete, including deleted data and existing data. After that, click "Recover" to start recovering deleted videos on Facebook by default, the recovered videos will be saved to your computer.
Mode 2. How to Recover Deleted Videos from Facebook with iTunes Backup
Step 1

Install and Launch the Program

Run the program and choose the "Recover from iTunes Backup" mode shown on the main interface. It takes some time for the recovery tool to detect all iTunes backup files, please wait patiently.

Step 2

Recover Deleted Videos on Facebook from iTunes Backup

After selecting the exact iTunes backup file that you want, tap the Scan button to let the software extract all deleted data from the backup. Or you can select the Facebook videos only by clicking the "gear" icon of the backup file.

Step 3

Restore Facebook Videos from iTunes Backup

The program will sort and display your Facebook videos in different categories based on their content. Preview and pick the Facebook videos that you want to recover, and then click the "Recover" button to restore them to your computer in a jiffy.
Mode 3. Recover Facebook Videos from iCloud
Step 1

Select the iCloud Recovery Mode and Sign in to iCloud

Download, install and launch Joyoshare iPhone Data Recovery. Select the "Recover from iCloud" icon in the top toolbar. Enter your username and password to log in to your iCloud.

Step 2

Download iCloud Backup and Scan

Access to backup files will be displayed on the screen. Select the file that you need and download it. then click on the gear icon next to the backup you have just downloaded. Select the files you need and click on "Scan".

Step 3

Preview and Recover Deleted Facebook Video

A preview of the scanned files is available after the program finishes scanning. By clicking "Recover", you can restore all or some of your deleted Facebook videos.
Part 2. How to Recover Deleted Videos from Facebook through Archive Settings?
Downloading the archive file of a Facebook video allows you to recover it when it's accidentally deleted. But the Facebook live video cannot be recovered with this method. You may not be able to complete the deleted Facebook live video recovery if you haven't saved the video on your iPhone before.
Step 1. Launch Facebook and sign in to your account.
Step 2. On the top right corner of Facebook, select the downward-facing arrow. Click on Settings to locate a new menu.
Step 3. Inside the "General" section, click on the hyperlink "Download a copy of your Facebook data".
Step 4. Under "Download Your Information", hit "Start My Archive". You can recover deleted Facebook videos you've shared. Confirm your request in the "Request My Download" dialog that appears.
Step 5. Facebook will send you an email a few minutes later. To download, click the link at the bottom of the email.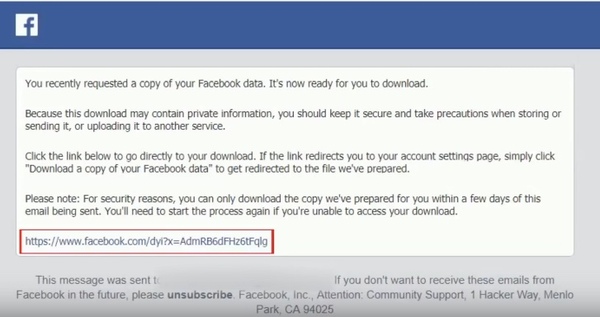 Step 6. Click on "Download Archive" and enter your password once again. You will get all your Facebook videos, photos, and messages into a zip file. Unzip the file and you can easily restore deleted videos on Facebook.
Part 3. How to Recover Deleted Videos from Facebook Page?
Your Facebook account allows you to see all your activities. For example, you can view deleted messages, photos, or videos. Follow the steps given below to discover another answer for how do I recover deleted saved videos on Facebook.
To download a copy of your Facebook data:
You can download a copy of your Facebook data by following these instructions:
Step 1. Sign in to http://facebook.com
Step 2. Click on the down arrow at the right corner, and then click Settings.
Step 3. Inside Your Facebook Information, click Download Your Information and hit View.
Step 4. You can add or remove categories of data from your request by clicking the boxes on the right side of Facebook.
Step 5. Additional options include:
· Specify the format of your download request.
· The quality of videos.
· A specific date range of information. If you do not select a date range, you'll receive information for all of the categories you have chosen.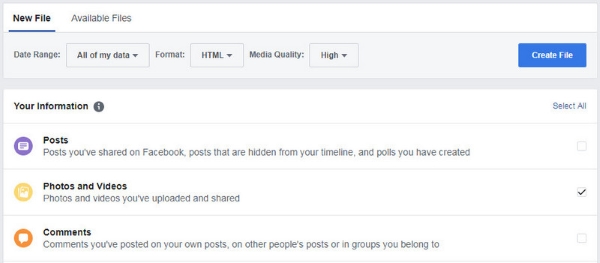 Step 6. Click Create File to confirm the download request.
To download a copy of the Facebook video you requested:
Step 1. Head over to the Available Files section of the Download Your Information.
Step 2. Click on Download and enter your password. Additionally, you can click Show More to get more information about your request, including the format and its expiration date.

Part 4. How to Recover Facebook Videos via Google Chrome?
This guide will only guide you through the process of recovering deleted Facebook videos if they were unique videos not stored on your hard drive.
Step 1. Create a new tab on Chrome and type:chrome://cache
Step 2. Open the Chrome search by pressing Ctrl + F and typing "_n.jpg."
Step 3. With the mouse, select the URL, right-click on it, and choose "Go to" from the context menu.
Part 5. How to Recover Deleted Videos in Facebook Messenger in Apple's Way?
Way 1. Restore from iTunes Backup including Facebook Video
You can restore the iTunes backup that contains your Facebook videos to your iPhone by following the steps below.
Step 1. The first step must open iTunes on your computer. Then connect your iPhone to the computer. If asked enter your password.
Step 2. Choose the "iPhone" menu and select the "Restore Backup" option to check the latest backup files for iPhone on iTunes.
Step 3. Choose the iTunes backup files that contain the Facebook videos, click on the "Restore" button to recover the deleted videos from Facebook.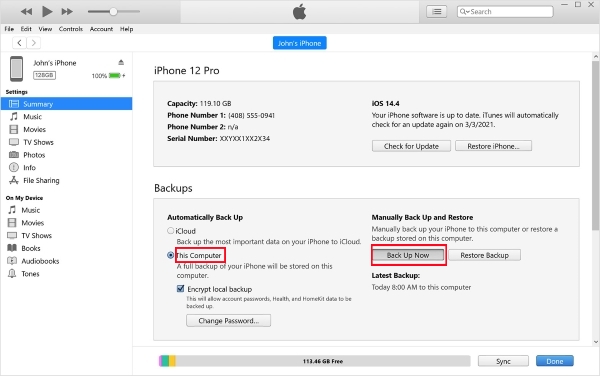 Way 2. Restore Deleted Videos from Facebook through iCloud
Same as the iTunes backup, you will lose all of your data if you apply Apple's ways to recover. Before performing, backing up your phone is extremely critical. In case it causes lose any important information.
Step 1. Open "Settings" → "General" → "Reset", you can choose the "Erase All Content and Settings" to restart your iPhone.
Step 2. After you set up your iPhone, inside "App & Data", choose the "Restore from iCloud Backup" option.
Step 3. Log in to your iCloud account and choose the iCloud backup to retrieve deleted videos from Facebook on iPhone.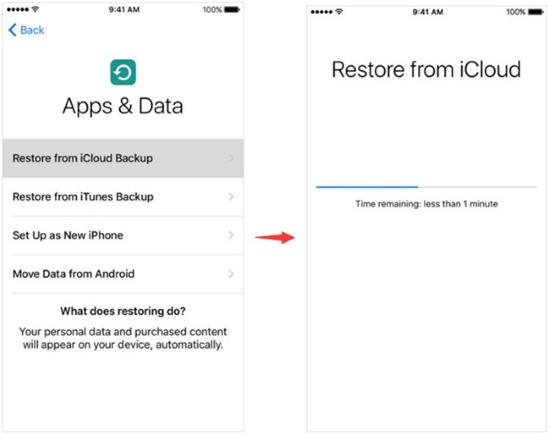 Part 6. Wrapping up
By reading the methods listed above, I believe you've removed the doubt about "can you recover deleted videos from Facebook". We can see that it is not difficult to retrieve Facebook videos and other deleted videos on iPhone with Joyoshare iPhone Data Recovery. Provided that you have an iTunes or iCloud backup, the recovered data will be more complete.
We can also recover other 20+ types of iOS content, such as messages, contacts, photos, safari history, bookmarks, etc. You should scan your iPhone or backup for any deleted Facebook videos that you haven't recovered yet with Joyoshare iPhone Data Recovery before they are wiped out forever.