As we all know, Instagram is one of the most popular social media platforms for sharing stories, photos, and videos. Worldwide, millions of people use it to stay in touch with friends, family, and colleagues. For a better user experience, the platform is constantly improving, implementing new features and updating algorithms. The platform was never designed to provide a direct messages service. Therefore, users are not able to directly backup messages from the app.
However, Instagram messages recovery is an issue that many iPhone user users experience after accidentally or intentionally deleting DMs. If messages disappear, it seems like we can do nothing. Is that so? Really? Relax! Keep on reading to find out how to recover deleted Instagram messages in various way.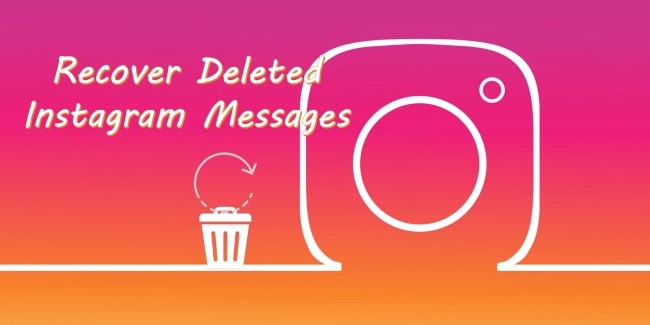 Part 1. Recover Deleted Instagram Messages with Instagram Data
After deleting your messages, they will disappear from your iPhone but still remain on Instagram's servers. Instagram data allows you to download the saved data, like messages, photos, videos. Let's get going!
Step 1: Launch your internet browser and turn to https://www.instagram.com, then log in to your account.
Step 2: Select "Profile" from the menu after you right-click your "Profile icon" in the top right corner of your screen.
Step 3: On the screen, you should click on the "Edit Profile" button.
Step 4: In the pop-up menu on the left, select "Privacy and Security".
Step 5: Scroll down the menu and navigate "Data Download." Below this header you will find "Request Download." Click on it.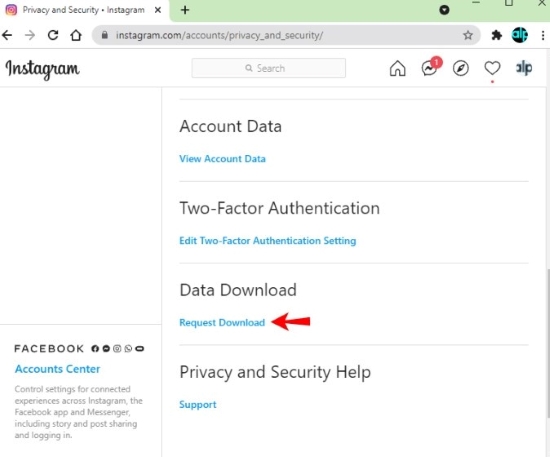 Step 6: Type in your "email address" in the text box and select your download format ("HTML" or "JSON"), then click on "Next".
Step 7: Enter your "password" to verify your identity, then click "Request Download.".
Step 8: Following that, Instagram will send you a link to download the data files requested.
Step 9: Go to your email and find the message from Instagram with the subject, "Your Instagram information." Click on "Download information."
Step 10: To download your data, click the link to return to Instagram. After entering your "login credentials," click "Log in."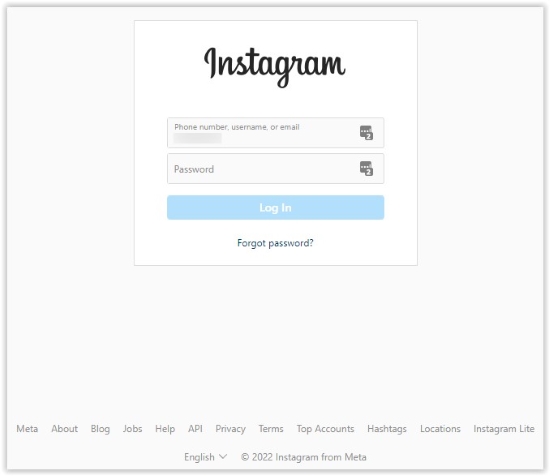 Step 11: Instagram page will load to give you the link, which you can obtain you data. Click on "Download information". Then Unzip the folder you've downloaded.
Step 12
: For the HTML option, navigate to "
messages
→
inbox
→
[named folder]
," then click on the "
messages html file
." For the JSON option, jump to the
Step 14
.
Step 13: In the opened file, you should see all messages stored on Instagram servers in HTML format.
Step 14: For the JSON option, browse for and open the file named "messages.json" with a text editor. You can right click on it and choose "Open With."
Step 15: When the file is opened, it should display all the messages stored on Instagram servers in JSON format. The "messages" folder of the zipped download contains the entire contents of message you've sent on Instagram.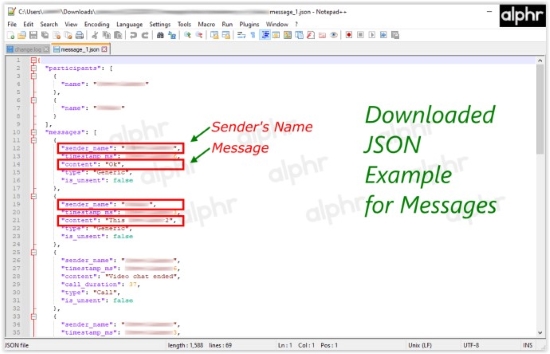 Part 2. Recover Deleted Instagram Messages Through Facebook
Instagram became part of Facebook's operations when it acquired the company in 2012. Therefore, if you accidentally delete or lose any messages on Instagram, you can reach out to Facebook for assistance. Step-by-step instructions will explain what you need to do.
Step 1: Visit the Facebook website.
Step 2: Log in with the account you used to link your Instagram account.
Step 3: Then, go to your inbox on Facebook.
Step 4: With your pointer, select the Instagram direct icon on the left side of the screen.
Step 5: You can find all of your Instagram DMs by looking through these.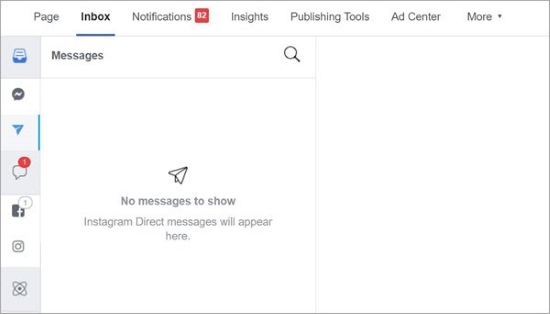 Part 3. The Professional Tool – Joyoshare iPhone Data Recovery [Easy & Effective]
Hope you've restored your messages with above methods. But if you don't want to get yourself into the mess for the complex ways and steps, another alternative is to use advanced data save tool – Joyoshare iPhone Data Recovery. People who fixed such problem tend to use this piece of professional program.
With it, you can recover deleted Instagram messages in three modes: scanning your iPhone for the deleted messages, recovering messages from iTunes, or restoring deleted messages from iCloud. It can also recover data of many media software on the market, including Instagram, Notes, Safari, Kik, Viber and so on. In fact, there are a few programs that can help you recover your valuable message in only 3 steps.
Take a glance at the following steps for how to use the program:
Mode 1. Recover Deleted Instagram Messages on iPhone Without Backup
With the help of Joyoshare iPhone Data Recovery, you can recover photos from your iPhone. Follow the steps below to learn how to recover them with ease.
Step 1

Connect iPhone with Computer and Run Joyoshare

Connect your iPhone to the PC or Mac with an original USB cable. Then go to the official page to download and install Joyoshare iPhone Data Recovery on the computer. Launch Joyoshare and it will recognize your iPhone automatically.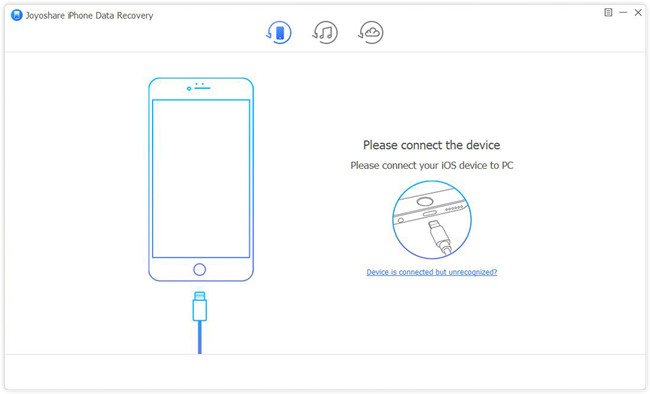 Step 2

Scan iPhone for Deleted Message

After Joyoshare detected your device successfully, it enters the "Recover from iDevice" mode by default. Usually, all the recoverable files are ticked. You can click the "Scan" them all, or just tick the "Messages" for scanning.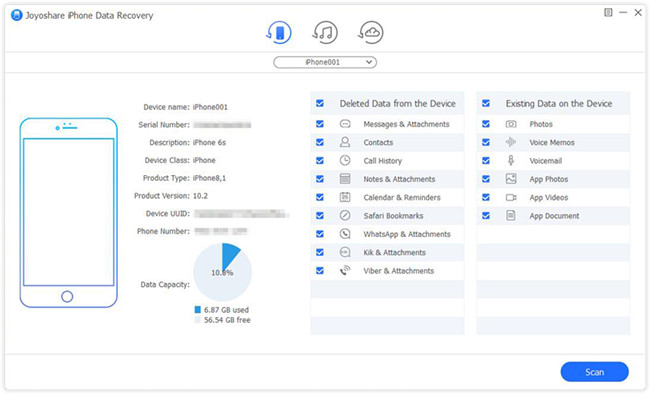 Step 3

Preview and Recover Messages

When the scanning is done, select the "Message" under the "Personal Info" menu. Preview them and choose the ones you want to recover. Next, click the "Recover" button to restore and save them on your computer.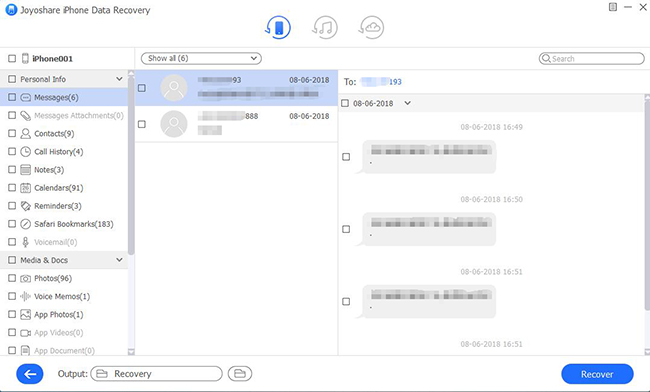 Mode 2. Recover Deleted Instagram Messages on iPhone with iTunes
If you have back up your data on iTunes, then you are able to recover deleted Instagram message from the iTunes. The following part is the specific steps for, with no need of connecting the device to a computer.
Step 1

Open Joyoshare iPhone Data Recovery

RLaunch the app and then go to the "Recover from iTunes" solution on the top menu bar. You'll see all the iTunes backup files you have here.

Step 2

Scan iTunes Backup for Missing Instagram Message

Select the latest backup file and then hit the Gear icon to choose the data types to recover. Then click the "Scan" button to ask Joyoshare to scan all data from the backup file.

Step 3

Recover Deleted Instagram Messages from iTunes Backup

Let the scanning process complete for a moment. In addition to the missing messages, you can see all the data that can be recovered. Select all or some of them as you like, and then press the "Recover" button to return them to the computer's local folder.
Mode 3. Recover Deleted Instagram Messages on iPhone via iCloud
If you have turned on iCloud backup on your iPhone, iCloud will automatically back up your data whenever connecting to Wi-Fi. Now let's see how to recover them step by step.
Step 1

Launch Joyoshare and Log in iCloud

Open Joyoshare first, and switch to the "Recover from iCloud" mode. Then enter your username and password to log into the iCloud account. You will never have to worry about Joyoshare keeping your private information.

Step 2

Extract a Backup Data for Scanning

The iCloud backup files will be listed orderly here after you have logged in. By clicking "Download" you will be able to extract the current iCloud backup file.

Step 3

Restore Deleted Instagram Messages from iCloud Backup

After the downloading is done, all recoverable data will be shown to you. Tick the "Messages" box, preview or select some or all of them. Click on the "Recover" button and export them to your computer.
Part 4. Conclusion
The first option may seem complete and challenging, be patient is the only trick. You can also restore them through your Facebook account, if you have linked your accounts. The third way seems the simplest way, which suits all of the iPhone users. Because using this method is a no-brainer. What's more, whether you've backed up your iPhone or not, its not difficult to recover deleted Instagram messages with Joyoshare iPhone Data Recovery. Check out our official website about this program if you want to learn more. Hope this article has been of sufficient assistance to you.