Private browsing, also known as Incognito mode, prevents your device from saving a history of your browsing activities. You can also delete other temporary data while using Incognito mode to protect your privacy from anyone else using your device later. With Private Browsing, you don't have to worry about websites tracking your search history. Safari does not save information about the pages you visit, your search history, or autofill settings. This feature is very useful for people who are concerned with their privacy or want to hide their weird browsing histories.
It may happen that you would like to know the Incognito history of your child, your partner, or your employees. Plus, others may want to retrieve their Incognito history. However, since the browser deletes all your browsing activities as soon as you close an Incognito tab, retrieving an Incognito history becomes problematic. Don't panic. Keep an eye on this post, we are about to explore how to efficiently recover Incognito history on iPhone.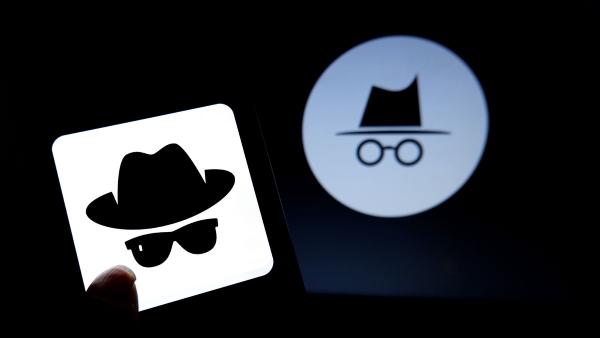 Part 1. How to Recover Incognito History on Way 1. Ask Support from Joyoshare iPhone Data Recovery [100% Effective]

Now, Focus came! Joyoshare iPhone Data Recovery is a magnificent data recovery tool that recovers your lost data, "already deleted" messages, photos, contacts, files, and more with high efficiency. There are three advanced recovery features in this software, Recover from iOS, iTunes/iCloud backup could flexibly recover your Incognito history without wiping original data. Joyoshare recognizes your backup file automatically and analyzes it with advanced technics. But works in a very simple way, so that it recovers your data in a short time. Try it out! Get it here.

Key Functions of Joyoshare iPhone Data Recovery:

Support the recovery of over 20 types of data

Support all iDevices with iOS as new as iOS 15

No overwriting the current data during the recovery

Recover Incognito history on iPhone with/without backups
Start to enjoy the benefits of this amazing tool:
Mode 1. Recover Incognito History from iPhone Without Backup
Step 1

Download and Install Program on Your Computer

You should install this program on your computer and then open it. Plug your iPhone into the PC with a USB light. Simply click Trust on the iPhone to trust the computer. Click the Recover from iOS option on the main screen. Joyoshare will detect your device in a short time.

Step 2

Begin to Scan Your Incognito History from iPhone Storage

On this page, just click the "scan" button on the bottom right corner to analyze your iPhone to scan the Incognito history. The process will last for a little while, so be patient and keep connecting your iPhone to your PC.

Step 3

Preview and Begin to Recover Incognito History on iPhone

Upon completion of the analysis, all the data contained in your selected backup file is shown in a well-organized list on the left side of the program. To transfer Incognito history to your computer, you simply preview them one by one, select the data you need, and click "Recover".
Mode 2. Recover Incognito History from iTunes Backup
If your iPhone has been stolen or damaged and luckily you do have an iTunes backup, you can take advantage of the second mode on this program. This second mode — "Recover from iTunes Backup" is recommended. Follow the steps outlined below to do so:
Step 1

Select iTunes Backup and Scan it

Install and run Joyoshare iPhone Data Recovery on your computer. All of the previous backups will be detected and shown on the program. Choose the latest backup file.

Step 2

Preview the Missing Data and Recover Selectively

Now, a deep analysis of the backup file content will be performed by Joyoshare, and all files will be displayed in a list. The detailed preview can be accessed by tapping the "gear" icon of the backup column and marking the desired data.

Step 3

Recover Incognito History from iTunes Backup

To retrieve the Incognito history from the iTunes backup file, click on the "Recover" button to save the data. Within seconds, they will be back on your computer.
Mode 3. Extract Missing Incognito History iCloud Backup
It is a must-have option for anyone who wants to restore an iCloud backup without wiping your data and settings. Here's what you can do:
Step 1

Log in iCloud Account

Open the program and select the recovery mode as "Recover from iCloud Backup". Next, enter the Apple ID and password to log into the iCloud account.

Step 2

Download iCloud Backup File

After you log in successfully, the software will begin to find your iCloud backups. Choose the backup containing the Incognito history and tap Download. Hit the Next button to download the recovery data after selecting the data you want to retrieve.

Step 3

Recover Incognito History from iCloud Backup

All of the lost data will be displayed under a different category after the scanning process is completed. You can immediately retrieve those data you want back by selecting them and clicking Recover.
Way 2. View Incognito History from iPhone Settings
Additionally, to using a third-party tool, you can also access your private browsing history by using the iPhone's settings. You may find this method useful if you use Safari on your iPhone. Please follow the steps below.
Step 1. On the Home screen of your iPhone, open the Settings app.
Step 2. Navigate to the Safari option, and then tap it.
Step 3. Choose the "Advanced" option at the bottom. Then you should see the Website Data. tap it, the private browsing history will show.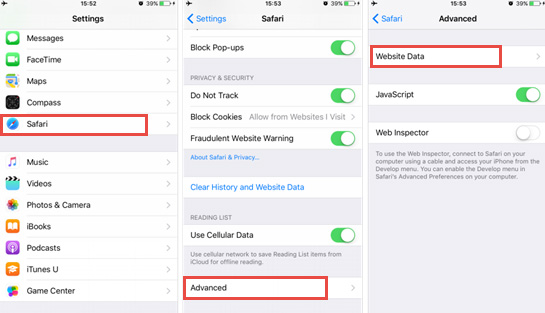 Part 2. More Tips & Tricks
Can Incognito Be Tracked?
If you sign in to any website in Incognito mode, that site will know that you're the one browsing and can keep track of your activities from that moment on. When you sign in to any website in Incognito mode, that website will know that you are the user browsing, and they will be able to track your activities from that moment on. Protect your activities and location from being visible to sites you visit, your school, your employer, or your Internet Service Provider.
How to Delete Incognito Search History?
The browser will delete your Incognito history, which includes any web tracking tools, cookies, or form data you've entered when you close your private browsing window instead of clearing your history yourself. Keep your mind that Private Browsing mode doesn't extend your privacy past your computer, phone, or tablet. As we said before, Incognito browsing will not hide your activities online. The employer, ISP, and other websites can still view and record your location, browsing history, and any personal data that you sharing along the way.
Your activity may trace saved behind your PC in the DNS records. Even a powerful browser cleaning tool can not touch it. To remove any website URL queries that get recorded, you should manually delete your DNS cache. Flushing the DNS cache varies from one to another, it's relying on the device's operating system.
Part 3. Conclusion
There you go folks; this is how to recover Incognito history on iPhone. If the valuable data were deleted, lost, missing by mistake, it could drive us crazy. We believe Joyoshare iPhone Data Recovery is really cool and worth trying out. It can retrieve almost all of your data from your iPhone. In case of any doubt, suggestions, or feedback concerning this article, you may seek help from us, and do let us know through the comment box.