It's truly amazing to see the massive global community of anime fans. Crunchyroll has undoubtedly earned its place as a beloved platform among them. With an impressive 100 million registered users, it's evident that Crunchyroll is fulfilling their needs and providing a wonderful experience for all. Renowned for its extensive library, Crunchyroll features anime/manga content to stream with regular updates.
However, there are instances when viewers lean towards downloading titles onto their devices. This choice is often made to sidestep unforeseen streaming disruptions and have uninterrupted viewing. Unfortunately, Crunchyroll doesn't permit downloads without subscribing to one of their paid plans. And these plans are available for mobile users.
You're in luck because this article has covered you with many options for downloading your favorite episodes from Crunchyroll. Plus, we'll guide you on how to screen record Crunchyroll episodes with the best solutions available.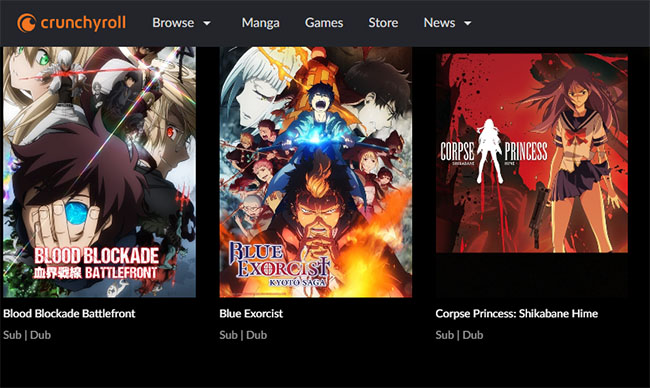 Part 1. What Is Crunchyroll?
Founded in 2006, Crunchyroll has rapidly become the preferred site for those who love anime around the world. It offers paid and free subscription plans for viewers to indulge in Japanese animation and film titles. While viewers may watch certain shows for free, one can only experience all available content without ads by subscribing. There is a 14-day free trial for you to test different premium plans, which once expires will charge at least $7.99 per month.
Part 2. How to Screen Record Crunchyroll
Though you can enjoy offline viewing directly on Crunchyroll, you have to pay for it at $9.99/month ~ $14.99/month. If you only have few episodes to save for offline playback, trying to record them is a good alternative. Here are some solutions you can resort to.
2.1 Joyoshare VidiKit (Screen Recorder)
With Joyoshare VidiKit, you can record Crunchyroll without a hitch. It is possible thanks to this incredible software that makes screen capturing so effortless. For example, its multi-functional features enable high-quality recording across any format. You could record at 1080p/4K 240fps without lag for clear viewing. Handily, its scheduling option even enables you to stop whatever you record automatically, greatly saving your waiting time.
Key Features of Joyoshare VidiKit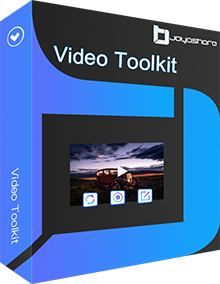 Numerous flexible recording modes
Auto-stop recording to improve efficiency
No recording time limits
Capture audio alongside with video
Output TV shows, episodes, movies and more in 4K 240fps
Step 1

Open Screen Recorder in Toolkit

Install Joyoshare VidiKit and start the program using its desktop shortcut. In the main interface, click on "Screen Recorder" under "Recorder" section.

Step 2

Check Recording Area

You should first confirm where to record your Crunchyroll video. Go to the first section and click "Select area to record" then you can freely choose a certain region for capturing your desired content.

Step 3

Set Recording Options

Confirm related settings for camera and audio in the main interface of Screen Recorder. Afterwards, you can go for the bottom right to click Preferences. Here you can check output format, resolution, quality, hotkeys, mouse effects, and more.

Step 4

Record an Anime from Crunchyroll

Open an anime you wish to record on Crunchyroll and simply hit the REC button in Joyoshare VidiKit. Screenshots can also be captured during recording. You can pause to skip the plot you don't like or cut the episode to different fragments.

Step 5

Manage the Recorded Crunchyroll Video

When required, stop the screen recording by clicking the Stop button. You will then be taken to History window to preview the Crunchyroll episode recording, trim, rename, etc.
2.2 Xbox Game Bar
Windows 10 users can use the built-in screen recorder, Xbox Game Bar, to record videos. You may not even realize it exists - yet thanks to it, you can record the last 10 minutes of your game in the background while you are playing it. Besides, you can apply it to record content from Crunchyroll for maximum 4 hours at up to 60fps.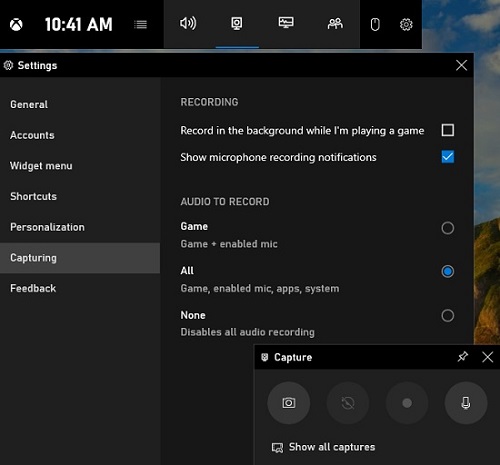 Main Features:
● Record game in background, record video and audio
● Adjust volume levels and select audio channels
● Monitoring system performance while recording
Guide:
Step 1: Select Xbox Game Bar application from the Windows Start menu.
Step 2: Choose the Game Capture feature and then click on the Record button.
Step 3: Set a save location and record Crunchyroll videos.
2.3 QuickTime Player
QuickTime Player from Apple is an excellent application available on all Apple devices. It is pre-installed and helps in playing videos and audio. You can use it on your Mac computer to record Crunchyroll screen. The operation is easy and you can save your videos in MOV with high resolution.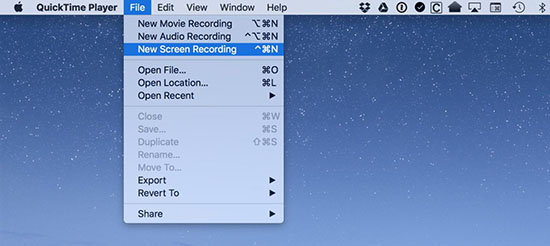 Main Features:
● It can play multiple videos at a time
● Record screen and take screenshots
● No installation requirement and offer clear UI
Guide:
Step 1: Open QuickTime Player and select File → New Screen Recording.
Step 2: Click the arrow beside the recording button in the screen recording window to set and configure recording requirements.
Step 3: Once ready to record, click the recording button. In the popup window that appears, adjust the recording window size, and when done, click the stop icon to complete the recording process.
Step 4: The recording will appear on the screen for review. If you are satisfied with the results, you can save the file.
Part 3. Can You Download Crunchyroll Episodes?
Surely you can download video from Crunchyroll and here what we show is an online video downloader – Keepvid. It promises that anyone without special tech knowledge can download desired anime videos immediately. It works well and requires no subscription.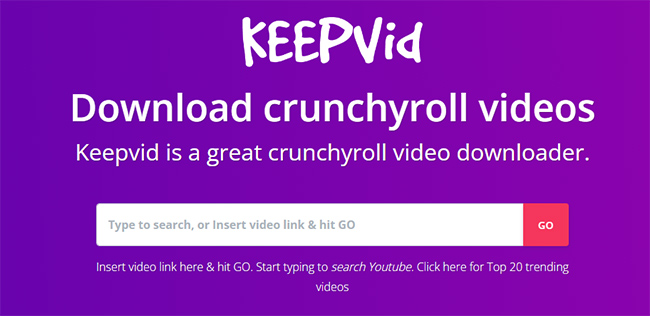 Main Features:
● Download quickly with only a page link from Crunchyroll
● Free online to operate for non-tech-savvy users
Guide:
Step 1: Visit Keepvid official website and head to Crunchyroll.
Step 2: Find the page link of your desired anime, copy and paste it to the search bar in Keepvid.
Step 3: Simply click on Go and confirm downloading needs according to your preferences.
Step 4: Pick the format you like and start to download Crunchyroll video.
Part 4. FAQs about Crunchyroll
Q1. Does Crunchyroll allow you to screen record?
A: No doubt, Crunchyroll is a platform mainly offering streaming service. It doesn't come with built-in screen recording feature. Notably, Crunchyroll definitely claims copyright protection rights against recording content. Nonetheless, you may still save your favorite show using screen recording software like that discussed herein.
Q2. How to screenshot Crunchyroll?
A: Unfortunately, due to copyright concerns, Crunchyroll does not permit screenshots. Nonetheless, you may still capture Crunchyroll by disabling hardware acceleration in Google Chrome. Alternatively, no changes need to be made to capture Crunchyroll screenshots using Mozilla Firefox.
Q3. How to screen record Crunchyroll on iPhone?
A: To screen record Crunchyroll on iPhone, head into Settings and open Control Center. Click the Add button near the Screen Recording feature. Launch Crunchyroll before opening Control Center again. Now, clicking Gray Record Button begins the recording. Once the recording is underway, you may stop it by tapping the red button, which stops recording from the Control Center.
Q4. Why is Crunchyroll displaying a black screen while streaming?
A: Crunchyroll occasionally exhibits black screens when streamed through Google Chrome. Or there is any extension you use for browser that conflicts with Crunchyroll. You are suggested to turn off any ad-block plugins, try a different browser, update your browser, run browser in incognito, clear browser cache and data, check Internet connection, disable hardware acceleration.
Part 5. Conclusion
This article provided a thorough solution about how to screen record Crunchyroll using various tools and guide you with step-by-step screen recording instructions. You may select any of them according to your personal need or choice. Joyoshare VidiKit is particularly popular due to its features, support, quality recording abilities, and support available. Please give it a go now and experience screen recording for yourself!