For different purposes, people always need to make editing MP3 files on Mac. Perhaps some want to trim an MP3 file as a ringtone. Some might intend to combine multiple MP3 files in an effort to create soundtracks for a video. Seemingly merging MP3 files can't be simpler. Though, can you really do it perfectly while in actual operation? If you are a beginner who is preparing to have a try, share this post with you to prevent useless effort. 4 super easy methods to merge MP3 files on Mac can be found in it.
Part 1. Combine MP3 Files on Mac Using Joyoshare Audio Joiner
Joyoshare Audio Joiner, a versatile desktop program, can help you merge multiple MP3 files into one in a quick and lossless manner on Mac. It well supports quite a number of audio and video formats, such as MP3, MP4, MKV, M4V, M4A, WMV, AVI, OGG, AAC, AC3, FLV, ASF, HD, 3GP, FLAC, DVD, etc and web videos.
Except as a professional audio joiner, it can also be used as an audio/video converter, cutter, or editor. With its assistance, not merely joining several media files into a single file but also converting them to many other formats, cutting them, doing some basic editing on them are actualized. Better, such a powerful program features a nice user interface. It involves no technical skills in the whole process.
Key Features of Joyoshare Audio Joiner:
Work well with a bunch of audio/video formats
Come with two merging modes for different situations
User-friendly program and require no professional skills
Can be run on both Mac and Windows operating system
Batch merge MP3 files without re-encoding at 60X quick speed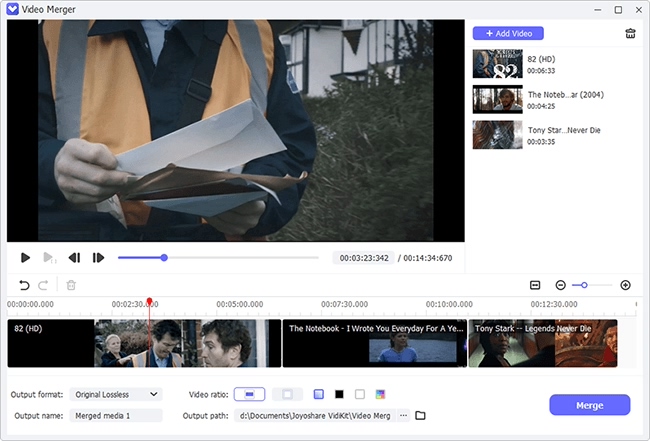 How to combine MP3 files on Mac by means of Joyoshare Audio Joiner? Below gives a stepwise guide.
Step 1

Run Joyoshare Audio Joiner and import MP3 files

Get into the text link above to download and install Joyoshare Audio Joiner for Mac on your computer. Next, you should launch it and start dragging your MP3 files to its interface. You also add MP3 files by clicking "Open File" in the lower left corner of the window.

Step 2

Select merging mode and export format

Press on the "Format" icon to access the format window for choosing a merging mode and an output format. Before choosing, remember that the high-speed mode is a lossless mode aiming at combining files in the same format without causing damage to the original files. With the encoding mode, you are allowed not only to join files of different formats together but also to do some basic editing and customize format parameters with a click of the gear icon.

Step 3

Cut MP3 files when previewing

Go back to the first interface and click to preview your MP3 files one by one. If find something you don't want while previewing, simply slide the yellow timeline to remove it.

Step 4

Edit MP3 files (only in encoding mode)

This step is optional, just for users who work with the encoding mode. If you choose the high-speed mode to merge MP3 files, please skip to step 5. Suppose you select the encoding mode, now you are able to trim MP3 files, adjust audio volume, add various sound effects, etc with the "Edit" button next to each MP3 file.

Step 5

Merge MP3 files on Mac

Prior to starting merging, if necessary, you are able to rename MP3 files and rearrange every MP3 file by moving up and down. Then, touch "Convert" icon to let Joyoshare Audio Joiner set about combining your MP3 files together. By the way, the merged MP3 file will be saved in "converted" file folder.
Part 2. Merge MP3 Files on Mac with CAT Command
Another fairly simple method to combine MP3 files on Mac is by using CAT command. CAT command is one of the most commonly used commands on Mac and Linux operating system. Using this command, you can quickly create a file, view content of a file, and concatenate two or more files. To join MP3 files on Mac with CAT command, follow these steps.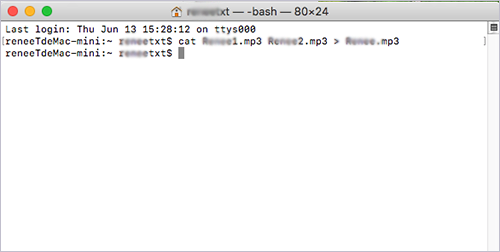 Step 1: On your Mac, please head to "Launchpad" - "Other" - "Terminal";
Step 2: Rename MP3 files. For example, suppose you have 3 MP3 files to be merged, you can rename them as joyoshare1.mp3, joyoshare2.mp3, joyoshare3.mp3. Then, type the command "cat joyoshare1.mp3 joyoshare2.mp3 joyoshare3.mp3 > joyoshare.mp3" and run it;
Step 3: Once done, your MP3 files will be concatenated and saved into a file named joyoshare.mp3. Visit the local file folder to find it.
Part 3. Join MP3 Files on Mac in iTunes
Besides providing a convenience way for Mac users to enjoy music, movies, and TV shows, iTunes as well gives a hand in merging audio tracks and join CD tracks. For some, this power might outdo the knowledge of how to use it properly. However, never mind. Below show the detailed steps of how to combine MP3 files on Mac by way of iTunes in a trouble-free manner.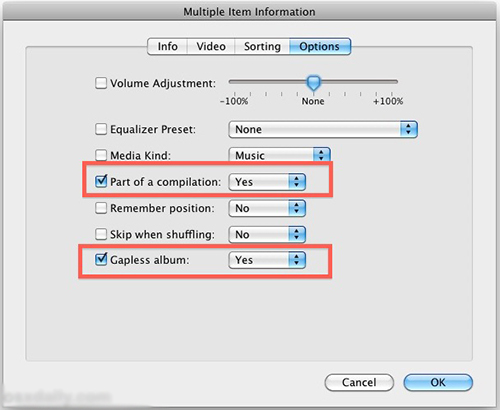 Step 1: Open iTunes on your Mac, and then head to the "Songs" option to browse and select the MP3 files to be merged or press the Ctrl + Shift keys and click on all the required MP3 files;
Step 2: Next, right-click on each of the MP3 files and followed by "Get Info" option. Now, a dialog box will pop up to ask if you need to modify the file infomation. You ought to touch "OK" to get into the "Multiple Item Infomation" interface;
Step 3: In the new window, go for the "Options" tab to set "Part of a compilation" to "Yes" and customize "Gapless album" to "Yes". Once set up, hit on "OK" and your uploaded MP3 files are now joined together.
Part 4. Combine MP3 Files Mac for Free Using Audacity
Popularly, Audacity is a free and cross-platform audio editing software, which can do a good job on macOS, Windows, Linux, and other Unix-lime operating systems. It is provided with a full set of editing tools so that you have the ability to combine, record, analyze, digitize, and edit your audio files. Though, such a digital audio editor is not designed with a very intuitive operation interface. Part of its editing tools is hidden. If you have zero experience in using it, no worries, just focusing on the following step-by-step guide on how to merge MP3 files on Mac using Audacity.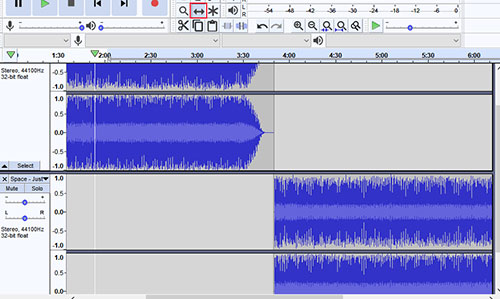 Step 1: Download and intall the fresh version of Audacity on your Mac computer. After launching it, separately drag your MP3 files to the different tracks in Audacity;
Step 2: To merge your MP3 files into one track, please press on "Time Shift Tool" (the hotkey is F5) as well as left-click on the second MP3 track and drag it to the end of the first MP3 track;
Step 3: There will appear a yellow line when the beginning position of the second file and the end position of the first file overlap each other. For the rest of your MP3 files, do the same to re-aarange them. In this way, your MP3 files will be merged together;
Step 4: Now, it is time to output the joined MP3 file by click of "File" > "Export" > Export as MP3" to save the merged MP3 audio file in a lossless way. Note that you don't have the permission to preview the combined MP3 audio in Audacity unless you export it.
Bottom Line:
Till now, you at least get 4 proven and practical solutions to merge MP3 files on Mac. For free methods, choose from the last three. CAT Command, iTunes, and Audacity are completely free to use. In operations, they are relatively complicated and not that friendly for beginners. And, crucially, there is no absolute guarantee in loss-free quality. As for Joyoshare Audio Joiner, it comes with a clean interface, which make it extremely simple to use. What's more, it allows you to achieve the join of MP3 files with 100% original quality in the enjoyment of 60X quick merging speed. By the way, it provides you with 5 chances to use without registation.