Q:"While recording my first podcast, I recorded a few separate audio tracks. I need to combine them into one stream audio track to edit. It is said that Audacity is a multi-track audio editor. I have tried but I have trouble operating it. Anyone knows how to use Audacity to join tracks? If any idea, please let me know. Thanks a bunch." - Jolly Giant from VideoLan
Gone are the days when it takes a lot of effort to combine audio tracks. These days audio joiners are continuing without end. Of all these joiners, Audacity is so beloved by users. However, the recent report about Audacity is that users have difficulty in using it to merge audio tracks. In allusion to the problem, below demonstrates how Audacity combines tracks and even details an alternative to Audacity to get a little deeper in this field.
Part 1. How Will Audacity Combine Track
A growing number of people love to utilize Audacity to merge or edit audio tracks, for it is free and open-source. As a specialized audio editor, Audacity can join, cut and edit audio files on Windows, Mac OS X, Linux, BSD, or other operating systems. It supports sound files of different formats and many plugins like LV2, VST, Nyquist, etc. Powerfully, it offers advanced editing function to paste and delete commands with unlimited "Undo" and "Redo". Working with Audacity, you are even allowed to choose your preferred look and feel for the software.
The following is about how to combine audio tracks with the help of Audacity.
Step 1

Launch Audacity on the computer

If you have installed Audacity, please run it on your computer. If not, please first download it from its official website and then open it.

Step 2

Import audio files

After that, you need to add your audio tracks by clicking "File" - "Open" or drag them to the program. Then please put these tracks into one project.

Step 3

Merge audio files

To combine several audio tracks together, you have to select all the imported tracks by pressing Ctrl+A on the keyboard. Next, go for "Tracks" at the top menu and followed by "Mix and Render". Like that, all your audio files will be combined into one track.

Note: For beginners, using Audacity may be a little bit complex because it does not come with an intuitive enough interface. Without a step-by-step guide, many users fail to operate it. This is why the following is added as an alternative.
Part 2. How Does Joyoshare Video Joiner Merge Tracks
In addition to using Audacity, the other easy way to combine audio tracks is utilizing Joyoshare Video Joiner. As an all-round joiner, it's not only capable of combining video clips or audio tracks into one file but also supports having them cut and edited with ease. More importantly, it is equipped with a lossless mode, which can join files at 60X speed with no quality loss.
Beyond that, its full compatibility makes it work well with all kinds of file formats like MP3, MP4, MOV, WMV, VOB, HD, TS, and much else. Anyone who has applied Joyoshare Video Joiner knowns that it is designed with an easy-to-use interface. Even a novice can handle it nicely. It can be said without exaggeration that the audio joiner is one of the best in this respect.
Key Features of Joyoshare Video Joiner:
Combine audio tracks without the least distortion
Real-preview, rename, and rearrange audio tracks
Allow you to apply sound effects and adjust volume
Support cutting and editing audio tracks with easy clicks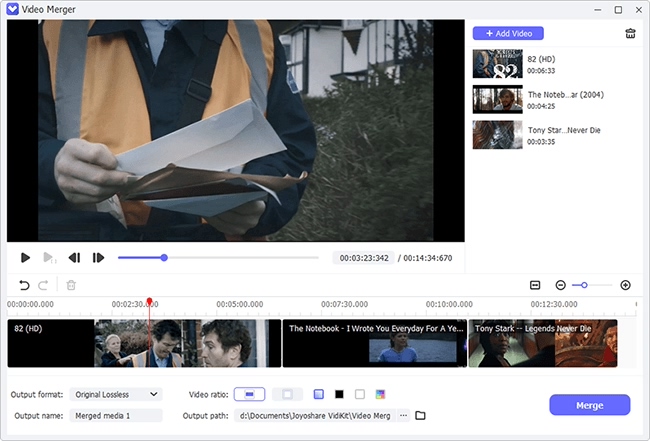 Step 1

Input audio tracks to Joyoshare Video Joiner

After finishing the downloading and installation of Joyoshare Video Joiner, run it on your computer, please. Then drag and drop audio tracks to the program or you can also choose "Open File" to add them.

Step 2

Choose a merging mode and export format

Touch "Format" to get into the next interface. Afterward, according to your needs, select a merging mode and output format. Specifically, users who want to join files with lossless quality need to click the speed-mode. Users choosing the encoding mode are allowed to edit audios and customize file format.

Step 3

Delete needless parts from audio files

When merging mode and output format are selected, tap on "OK" to go back. Next, you can preview and rename audio tracks. If you find something unwanted while previewing, you could move the timeline to delete it.

Step 4

Edit audio tracks

This step is only for users who use encoding mode to combine files. They can hit on "Edit" button to trim audio tracks, apply different audio effects, adjust audio volume, and more.

Step 5

Combine audio tracks

At this point, everything is set up and you just need to touch "Convert" to start the merging process. Wait a moment; these audio tracks will be combined seamlessly and stored in the local folder.