Q:"Students in my class recorded some voice overs in multiple clips. We want to combine them into one track. Is there any software to combine audio files on Mac?" - Mr. Berg from MacRumors Forum
Are you also under such a situation where you are in desire of merging a number of audio tracks on Mac but fail to identify a reliable audio joiner software? In that case, you can spare a little time to check out this article, from which you will acquire at least 3 best audio joiners to consolidate multiple audio clips together gaplessly on Mac. Even, it lists two or three online audio merger tools for the greater diversity of joining audio.
Part 1. How to Combine Audio Files on Mac with Joyoshare Video Joiner
It is can be said with such certainty that applying an all-round audio joiner like Joyoshare Video Joiner could not be better when you need to combine several audios or videos together on Mac. It is so mighty that you can not just attain the goal of merging audio files losslessly but also reach further to cut and edit these files as your desires. Go without saying, this audio joiner is capable of working with all the popular audio formats such as MP3, M4A, AAC, AC3, OGG, M4B, FLAC, MP4, MOV, MKV, FLV and others.
Apart from cutting and combining media files at 60X speed, editing options of sorts are come out with Joyoshare Video Joiner, which includes various special effects, watermarks, subtitles, audio volume and aspect ratio adjustment, file parameters customization (like codec, channel, bit rate, frame rate, sample rate, etc), and more. It's rather easy to use. You have no concern for its operability.
Remarkable Features of Joyoshare Video Joiner:
Fast combine audio files on Mac with no compromising on quality
Real-time preview as well as modification of file name and order
Two merging modes: high-speed mode and encoding mode
Available for both Mac and Windows
Step 1

Import audio files to Joyoshare Video Joiner

In the first step, please install Joyoshare Video Joiner Mac on your computer and launch it. Then click on "Open File" to add your audio files or you can drag these files into the program.

Step 2

Choose joining mode and output format

Next, you ought to tap on "Format" to select a mode to merge audios and choose one format as the output format. Remember that the characteristic of the high-speed mode is fast and lossless and the encoding mode is characterized by editing files plus customizing codec, channel, sample rate, and bit rate for the selected output format. In accordance with your needs, select a proper one.

Step 3

Cut undesired content from audio files

Touch "OK" to go back to the first interface, in which you are able to preview, rename and rearrange these audio files. To delete undesired sections off them, drag the yellow time handle.

Step 4

Edit audio files before combining

Do remember to hit on "Edit" to trim the audio files, add sound effects or adjust audio volume if you choose the encoding mode to merge audio files. Once finished, just go for the last step with the "OK" icon.

Step 5

Merge audio files on Mac

At last, it is high time to click the "Convert" to start joining your audio files. It will take you some time. After merging, you can play the complete audio track in your local file folder.
Part 2. How to Combine Audio Files on Mac with iMovie
Mac users should be well acquainted with iMovie. It's a video editor developed for Mac and iOS, focusing on dozens of advanced editing technology, one of which is fast audio and video joining. Though, beginners might be a little confused because of the lack of an intuitive interface. If that's a challenge for you, act as follows.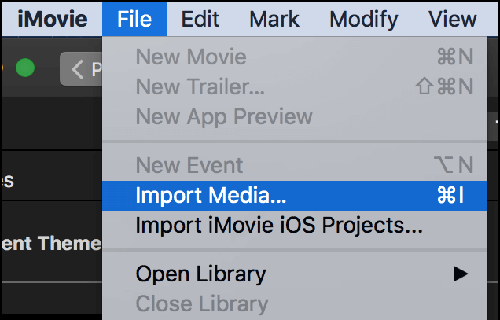 Step 1: Launch iMovie on your Mac and click on "+" icon - "Movie" to get into its main interface;
Step 2: On the top menu bar, go for "File" - "Import Media" to upload your audio files to it. When all is added, drag them to the timeline;
Step 3: If needed, adjust the sequence of every audio file as you desire. That's the order in which they are joined;
Step 4: Once done, tap on "File" and then to "Share" - "File..." to set up audio format. You need to choose "Audio Only" under "Format" and opt for an output format. After completion, press on "Next" and these audio files will be exported into an intact audio file.
Part 3. How to Combine Audio Files on Mac with Fission
Fission is a fast and lossless audio editing software for MacOS 10.12 and higher. With it, rapidly joining, trimming, and splitting files is no longer a chore. Besides, it can also convert your audio files to MP3, AAC, Apple, FLAC, AIFF, and WAV format.
The steps to merge audio files on Mac by means of Fission audio editor are detailed below.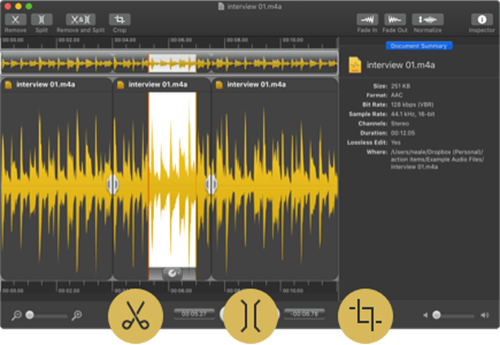 Step 1: Download and install Fission audio editor on Mac. Then, open it and drag your audio files to be combined into it;
Step 2: Afterwards, determine an audio file that you want to place first as well as copy the second audio file and paste it after the first one. In this way, your audio files will be merged;
Step 3: Lastly, go to "File" and touch "Export" in the dropdown menu to save the joined audio file.
The Suggestion of 3 Online Audio Joiners
All the above is about how to combine audio files on Mac offline. But what to do if you demand to merge them together online on Mac? Never mind, it is by no means as difficult as you thought. The following presents three commendable online audio joiners for you.
Clideo Audio Joiner

When it comes to combining audios files on Mac online, many of you should have heard of Clideo Audio Joiner. As a completely online audio merging tool, Clideo does not need you to download and install it on your Mac, which will gain time for you. Also, it is compatible with a variety of audio formats and quite simple to operate with an intuitive interface. By the way, it offers an additional function to apply a crossfade effect to audio files.

Audacity Audio Editor Online

As a free audio editing program, Audacity Audio Editor Online similarly works with most audio formats as well as merging multiple audio files and saving them as all kinds of popular formats. It is designed with an easy-to-use interface. Even if you do not know it well, you could run it flexibly. All those are why it is favored by the majority of users.

Don't Miss:

Audio Joiner

Audio Joiner is an online audio joining program that is so much powerful that it can dynamically combine audio files into one on your Mac. It supports more than 300 file formats and enables you to set up the specific playback interval for each audio track.

Additionally, it features the crossfade effect making your audios seamlessly flow one into another. With it, you needn't have concerns that these files let out, for all the imported audio files will be automatically deleted within hours after your completion of the merge.