Q:"What is the most convenient software to merge audio and video into one video file?" - from VideoHelp
Would you like to make a creative video by merging your own video and audio files together? For the realization of it, a distinguished audio and video combining software is a must. Haven't you yet hunted for a dependable one to be at your service? No worries. In this article, we collect 4 specialized tools for merging audio and video files. Read it over and work with the one that best suits yourself.
Part 1. How to Merge Audio and Video in Joyoshare VidiKit
To merge audio and video files into a single video, you have got to hire a professional audio video merger software, Joyoshare VidiKit, for one. This program is so exceptional that it both works as a video joiner and as a video editor. Not simply to combine two or more selfsame media files without compromising quality, it also quickly merges different video and audio files, customizes file quality, converts video and audio at 60X speed, inserts subtitles, watermarks, and logo, extracts audio from a video, brightens a video, etc. It can do the same with an array of file formats and device formats, such as MP4, MP3, AVI, M4A, M4V, DVD, AAC, WMA, WAV, WMV, AC3, OGG, MKV, and the like.
60X conversion: join media files of same quality with zero loss
High compatibility: support quite a few input and output formats
Two merging modes: high-speed (lossless) mode and encoding mode
User-friendly interface: effortless to operate for both newbie and tech-savvy
Built-in editor: trim, crop, rotate videos, effects and effects, subtitles, watermarks, etc
Highlights of Joyoshare VidiKit:

Step 1

Add video to Joyoshare VidiKit

Please download, install, and open Joyoshare VidiKit on your computer. Find "Open File" button at bottom left of its main interface to browse and upload the video to be merged with an audio. Also, you can directly drag and drop.

Step 2

Specify encoding mode and output format

Get into the format window by click on "Format". There are two merging modes offered. To combine audio and video files, you should highlight the encoding mode, since the high-speed mode aims to join media files of the same parameters instantly and losslessly. After that, select any desired output format from "Devices", "HD Video", "Web Video", or "General Video". Furthermore, touch a gear icon to reset the codec, resolution, bit rate, and frame rate of your video.

Step 3

Cut video file

In this step, preview the video and slide the timeline to delete abandoned parts from your video if needed. If there is no need for this, locate "Edit" and perform the next step.

Step 4

Merge video and audio together

By "Edit", you are now in the edit window, in which please choose "Audio" tab - "File" section - "..." icon to open your local file and select the required audio file. In the event that the duration of the audio file doesn't match with that of the uploaded video, it is advisable to check "Repeat" option. In this way, Joyoshare VidiKit will loop your audio until the end of video playback. Meanwhile, you could adjust voulme and weight, apply sound effects, and do other actions like crop, trim, visual effects, watermarks, subtitles, etc in accordance with requirements.

Step 5

Export the new video

As soon as it is done, quit the edit window by the click of "OK".In the first interface, you can name the new video file and lastly hit on "Convert" to export and save the video with the audio added.
Part 2. How to Merge Audio and Video in VLC
Taking advantage of VLC media player is another Viable and effective method to combine audio and video files together. It's a gratuitous and cross-platform multimedia player software on Windows, Mac, and mobile devices. Except for putting attention on playing media files and that from discs, various devices, and network streaming protocols, it is also in a position to merge videos, put audio and video together, add subtitles to video, rotate, crop, trim videos, etc. Given the lack of an intuitive operation interface, it is not highly recommended to those who have little or no prior editing experience. If you insist, follow these steps.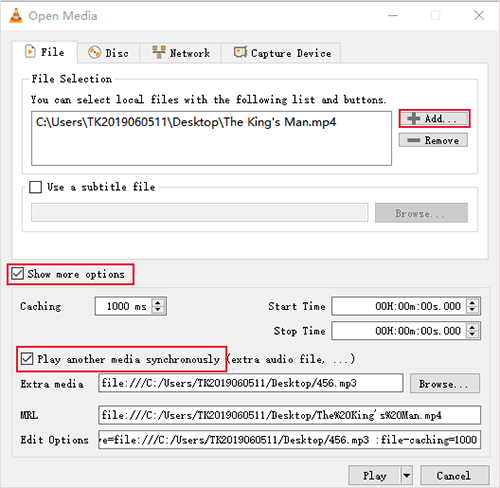 Step 1: launch VLC media player after downloading and installing. What follows is heading to the "Media" tab and "Open Multiple Files..." in the drop-down menu;
Step 2: In the "Open Media" window, click on "Add" to import the video file. Then, tick "Show more option" and "Play another media synchronously";
Step 3: Under "Extra media", touch "Browse..." to bring out the "Open Media" window again. Likewise, tap on "Add" to upload your audio file to be merged and press on "Select" to confirm;
Step 4: In the last step, go to "Play" button and then to "Convert" for accessing the convert window, in which you are able to opt for an output foramt, do format edition by tapping a forcipate icon, and decide a destination file. After all of these, click the "Start" button to merge video and audio files together.
Video Guide: Merge Audio and Video in Joyoshare VidiKit and VLC
Tips: How to Merge Video and Audio Online
Instead of desktop software, quite a lot of online tools are efficient in merging audio and video files. Benefits provided by web tools are that you need not install the third-party software on your system and the operation is remarkably simple. If you would like to combine audio and video online, you can follow the top 2 web-based audio and video mergers listed below.
Kapwing

Kapwing is a multipurpose online editor tool for video, image, and GIF files. It comes with an ad-free interface and reasonably simple to use. By means of it, you can merge MP3 audio file and video into a single video with very little effort, but you are licensed to do basic editing on your audio like trimming, adjusting volume, looping, etc before adding it to the video.

Step 1: First of all, you have to type this URL: www.kapwing.com/tools/add-music-to-video in your browser. In its interface, click "Upload" to add your video to it;

Step 2: After the video is loaded, import your audio by way of dragging. You are allowed to mute video, trim audio, adjust the audio volume, select the audio start time, and loop audio;

Step 3: Once all necessary settings are done, touch "Create" to combine your video and audio into one video file. Wait till the process comes to end. Please download the new file by "Download".

Voice2v.com

Voice2v.com is a free online service, consisting of a series of tools, such as convert image/text to video, add audio to video, insert logo, trim video and audio, 3D transition effects, etc. With it, only by 3 clicks can merging audio and video be achieved. Note that, unlike Kapwing that supporting trimming audio, controlling volume, removing original audio file from video, etc during the process, Voice2v allows you to do nothing but merely stitch the audio and video together.

Step 1: After getting into https://voice2v.com/add-audio-to-video/, tap on a "+" icon to upload your video first;

Step 2: Next, click "Upload An Audio File" to select your target audio file from the local folder;

Step 3: Lastly, you just touch a blue icon to start the process of merging audio and video files into one. Once done, go to "Download The Video" to save it to your computer.