"Why is my flash disabled on my iPhone 11? Its camera will not allow me to take photos with flash and gives me a message saying it has a low battery regardless of how charged it is. I fully charged it and when I tried to activate flash the same low battery message popped up. The light works separately from the camera so nothing seems broken besides the function." – From an iPhone user
iPhone is considered one of the best camera phones in the world. It is a wonderful thing to have a camera phone like this. You expect it to be very very accurate when you pay a very high price. Any iPhone owner wants no problems in either the software or hardware of the device. However, this time this is not the case. Some iPhone users are experiencing hardware issues. For some, this may be their worst nightmare.
Yes, "Flash is Disabled" prompts on their iPhone while opening the stock iOS Camera app. They are informed that "The iPhone needs to cool down before you can use the flash". If you browse this article, you've obviously suffered the pain of this irritating problem. Just relax. Keep reading to know why is flash disabled on iPhone and apply some effective resolutions for it.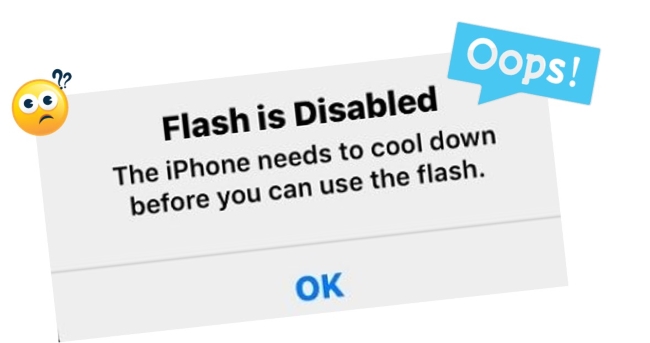 Part 1. Why Is My Flash Disabled on My iPhone?
There are several reasons why the flash on your iPhone camera may not be working. One possibility is that the flash is turned off. Another possibility is that there may not be enough light for the flash to be effective. When "The iPhone needs to cool down before you can use the flash." pops up, it means what it says. You overheated the iPhone either by exposing it to excessive sunlight or by performing demanding tasks. More seriously, it may be because your phone system is corrupted. In this case, you need a professional system repair recovery tool to help you fix it. The solutions are described in detail below.
Part 2. How to Fix Flash Is Disabled on iPhone?
Solution 1. Force Close the Camera App
We will try this way at first. It is quite easy and will give a quick solution. Try closing the app and launching it again after a few minutes to see whether the iPhone flash disabled is fixed or not.
Step 1. On iPhone with Face ID, swipe up from the bottom of the screen and hold.
On iPhone with a Home button, quickly double press it.
Step 2. Drag the app card for the Camera all the way up.
Step 3. After a few seconds, reopen the app, and it should let you use the flash again.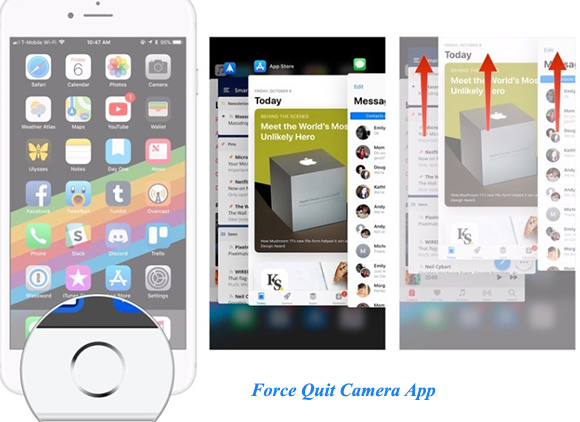 Solution 2. Hard Restart iPhone
In case the first solution does not work for you, you can try hard to restart the iPhone to fix the flash disabled in iPhone. It will also fix the minor glitches which are resisting the flash. Hopefully, this solution will troubleshoot this error.
On iPhone 6 and earlier, simultaneously hold the Power button and the Home button until your iPhone screen goes blank and the Apple logo appears.
On an iPhone 7 or 7 Plus, the buttons you need to press to do a hard reset are slightly different. Press and hold the Power button and the Volume Down button simultaneously until the Apple logo flashes.
On an iPhone 8/ 8 Plus, iPhone X, or later, press and release the Volume Up button, followed by the Volume Down button, then keep holding the Side button. Don't release it until you see the Apple logo.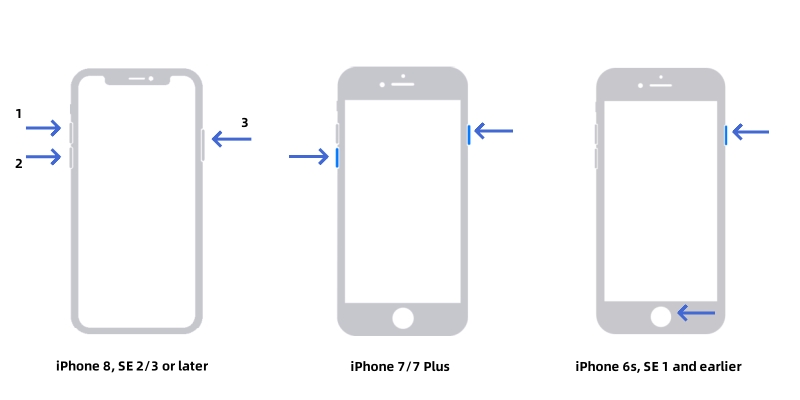 Solution 3. Turn OFF Location Service for Camera
Try disable the location services, it is possible to bring changes and the flash may get light up in the camera. Follow these points:
Step 1. Open "Settings".
Step 2. Scroll down and choose "Privacy".
Step 3. Under "Location Services", click on "Camera".
Step 4. Tap on "Never" to turn off the location service of the camera.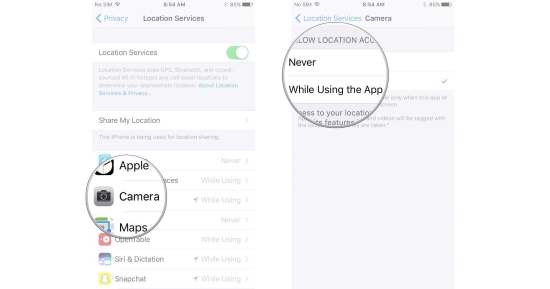 Solution 4. Reset All Settings
Reset All Settings lets you reset all your preference settings. It can be a good option to try before attempting a master reset, the "Erase All Content and Settings" option. Because the latter one will delete all of your data.
It is easy to reset all of your settings. Simply go to Settings → General → Transfer or Reset iPhone → Reset All Settings and follow the onscreen instructions.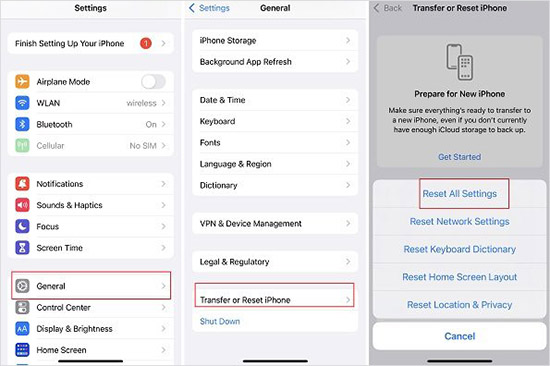 Solution 5. Cool Down iPhone
When an iPhone says "Flash is disabled", it may need to cool down before flash can be used again. This problem can be resolved simply by letting your iPhone cool off. Make sure your iPhone is left in a cool, shady spot until it cools down to an operational temperature (32–95º Fahrenheit).
Solution 6. Highest Success Rate Method – Joyoshare iOS System Recovery [Easy & Effective]
In this section, we will fix the problem with smart and powerful software, called Joyoshare UltFix iOS System Recovery. It is a fantastic tool to correct 150+ iOS software problems without having any technical experience. Furthermore, it fixes iPhone, iPad, iPod, and Apple TV devices in a lossless way. I have tried this software successfully fixing iPhone disabled connect to iTunes. It also has the ability to fix the iPhone camera not working, iPhone no sound, and much more. The following is a demonstration of how to use this program better.
Key Features of Joyoshare iOS System Recovery: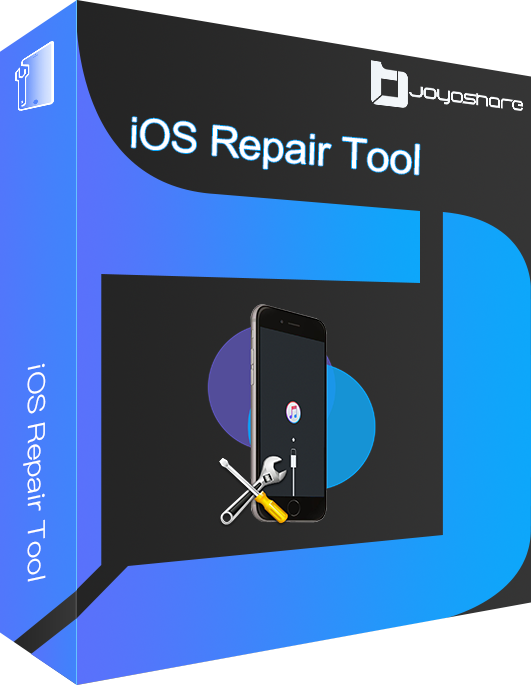 Fix flash is disabled on iPhone with simple steps
Compatible with the latest iOS 15 and iPhone 13
With a free option to get into or out of Recovery Mode
Resolve 150+ errors on all iOS devices like iPod, iPad and iPhone
Step 1

Installation and Connection

Plug your iPhone into the Mac or PC with a USB. Install and open Joyoshare. It will detect your iPhone automatically. Then press the "Start" button.

Step 2

Select Standard Mode and Enter Recovery/DFU Mode

Choose Standard Mode, which allows you to fix various common iOS issues without losing any data. Then follow the instructions shown on the screen to place your iPhone into Recovery or DFU mode.

Step 3

Download and Verify Firmware Package

On this page, you should check your device info first and then press the "Download" button to download and verify the firmware package.

Step 4

Start to Fix Flash Is Disabled on iPhone

Click on the "Repair" button to start fixing. At the end of this fixing progress, you should see a message – "Repair Completed" on the screen as shown below. Congrats! Go to take your wonderful photos now!
Part 3. Final Verdict
Now you know everything about "why is my flash disabled on my iPhone". We know that such hardware problems are not bearable, but luckily now you know how to fix them. It is worth mentioning that Joyoshare provides customers with a simple but efficient method of repair. If you don't want to fuss about resolving the complex problem, let Joyoshare take the strain!