Now, iOS 17 is released to everyone, so you don't have to worry that you don't have a developer account to install iOS 17 Beta. However, some users reported that they received an alert saying "Unable to Install Update. An error occurred installing iOS 17." This error might come from incompatibility, poor Internet connection, insufficient storage, system problems, etc. To help you deal with these kinds of problems, we test many methods and collect viable solutions for you. Thus, if your iPhone or iPad is not able to update to iOS 17 or iPadOS 17, or your older devices are unable to install the latest system version, read this article and follow the solutions one by one.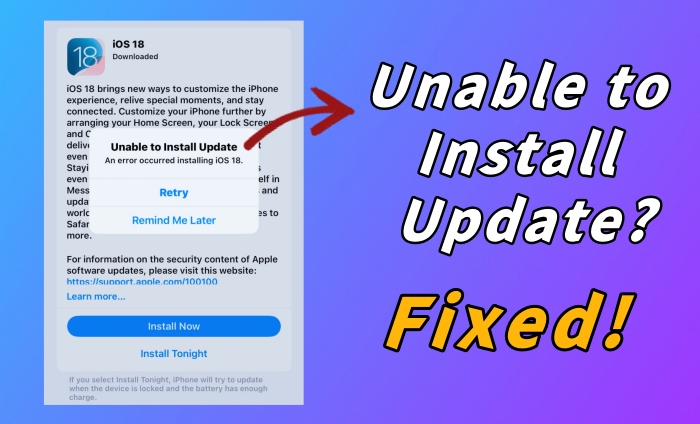 Solution 1. Check Compatibility and Restart iPhone/ iPad
The simplest and most overlooked point is the compatibility of the device with the system. Since not all Apple devices support updating to iOS 17, you need to be aware and check if your device is compatible with iOS 17 when prompted with the message Unable to Install Update. Up to now, iOS 17 can be installed on iPhone XS and later. If your device is compatible with it but the error message still appears, try restarting your iPhone and reinstalling it.
Solution 2. Check/ Reset Network and Try Again Later
Some users may receive the message showing "Unable to Install Update. Software update requires a network connection." If the network you connect to is weak, the process of installing iOS 17 update will be slow or even be paused. So, once you are unable to install update on your iPhone or iPad, check the network by disabling and reenabling Wi-Fi, forgetting and reconnecting to a stable network, turning on cellular, and closing VPN. Or, you can go further by resetting the network settings on your device. Go to Settings → General → Transfer or Reset iPhone → Reset → Reset Network Settings, and confirm your action. After that, you could try to update to iOS 17 again.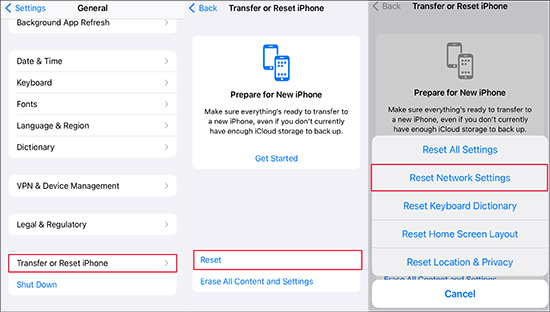 Solution 3. Free Up More Space for Installing Update
As the new operating system will consume a lot of memory space, before upgrading, you not only need to back up your data but also make sure that your iPhone has enough storage. Hence, head to Settings, tap General, scroll to iPhone Storage, and see if there are more than 5 GB left on your device. In case there is no more space to install iOS 17 update, you could delete some unimportant data or apps to get more storage.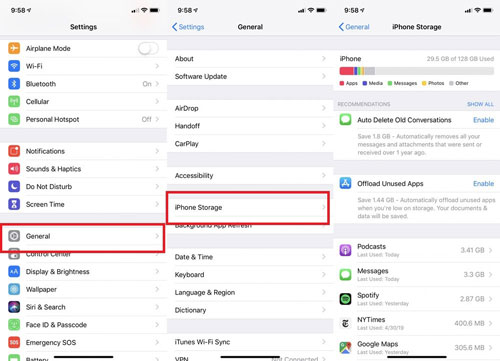 Solution 4. Delete and Install iOS 17 Update Again
Once the iOS 17 profile is successfully downloaded on your iPhone or iPad but is unable to be installed, this error could be fixed by repeating the whole updating progress. To achieve this, you are required to go to Settings → General → iPhone Storage → iOS 17 → Delete Update. As long as the faulty profile is deleted, you could go back to check for update and tap Download and Install to reinstall iOS 17 update.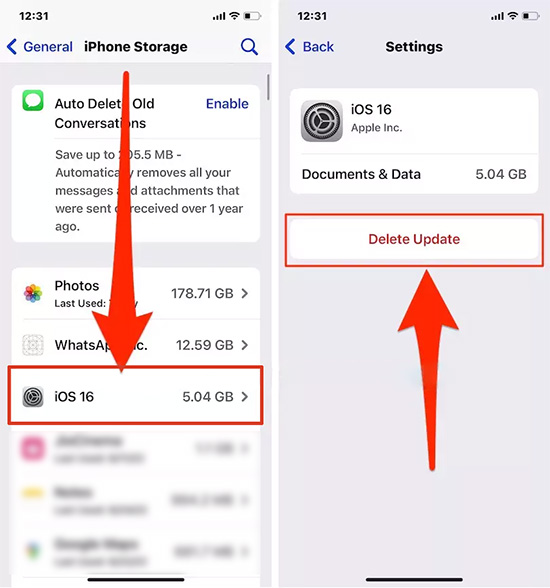 Solution 5. Install Update with Joyoshare UltFix
Alternatively, if your iPhone or iPad can't be updated to iOS 17 although you have done all the above-mentioned methods, it is time to shift your mindset. Aside from installing iOS 17 in Settings, there are other ways allowing you to update to the latest system version, such as Joyoshare UltFix. It offers you a channel to downgrade and upgrade to any available version you need. Since this program is now compatible with the latest iPhone, iPad, and iPod, you can use it to download the newest iOS 17 without hassle. If your iPhone won't update due to system errors, Joyoshare UltFix could help you repair the system by using its Standard Repair mode or Deep Repair mode. In addition, it provides a free feature for entering and exiting recovery mode with one click.
Main Features of Joyoshare UltFix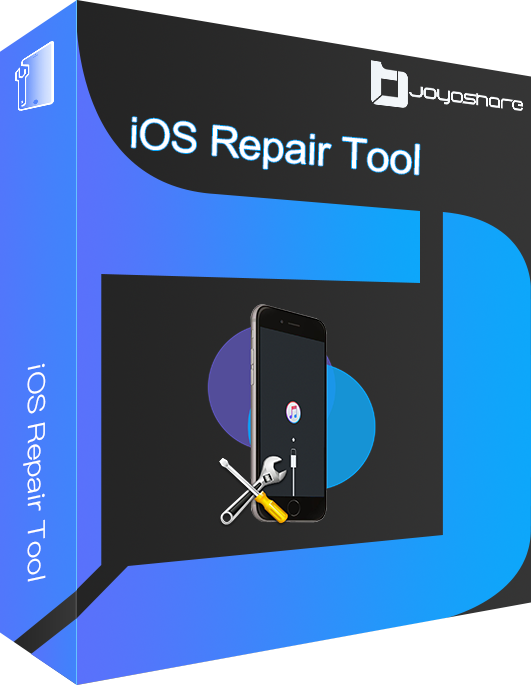 Fix 150+ system problems on iPhone, iPad and iPod
Free to enter/exit recovery mode with one click
Downgrade iOS system to the previous versions
Factory reset Apple devices in 2 steps
Step 1

Plug iPhone/iPad and Select iOS Upgrade

With Joyoshare UltFix launched, plug your device into the computer, click the Upgrade/Downgrade iOS section on the main screen, and choose iOS Upgrade.

Step 2

Download the Firmware Package

When your iPhone or iPad is recognized by Joyoshare UltFix, the available iOS versions you could upgrade to will be shown on the screen, select iOS 17 and click on the Download button to download the firmware package.

Step 3

Start to Install iOS 17 Update

Hit the Start Upgrade button to install iOS 17 update on your device. If it fails, you can try to use Joyoshare UltFix to fix the system using Standard Repair mode with no data loss.
Solution 6. Update to iOS 17 with iTunes
There is another way to update iOS system apart from Settings. The latest iTunes now supports iPhone 15 series, so you can connect your iPhone to it to install software update without obstacles. When your iPhone is detected, click the device icon on the top menu, and you will enter the Summary section. Then, click on Check for Update, and hit the Update option, you will be able to install update.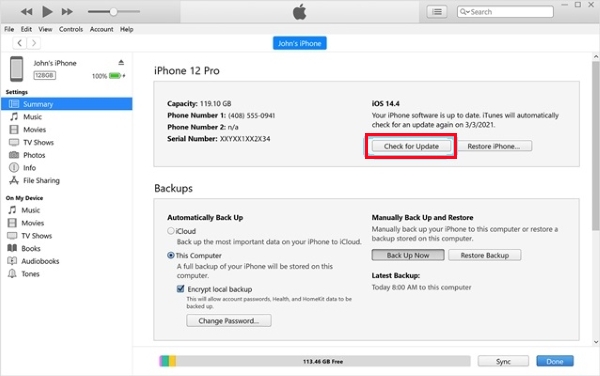 The Bottom Line
Unable to install update? Don't worry, you may need to troubleshoot some conditions first. The device compatibility, the network connection and the storage are the prerequisites that you need to check before updating your device. With these conditions running well and the profile is successfully downloaded, but you still can't install it on your device. In this situation, it is advisable to delete the profile and redownload it. Or, you could employ Joyoshare UltFix or iTunes instead to update your iPhone or iPad. In case your device is unable to install the update because of the system glitches, use Joyoshare UltFix to repair the system first, and retry to update the iOS system.