We increasingly rely on our phones and Apple Watches as timepieces in our digital era. And why shouldn't we? Everywhere we go, we probably already have these convenient, multipurpose devices with us. To put it simply, we are relying on them.
Therefore, setting a proper date and time on the iPhone is a matter of great account. Attention should be paid if you find your iPhone time is wrong, for this little problem will make certain features on your device unavailable; for example, iPhone can not make calls, send messages, or run some applications and various unknown errors could arise on your device. It is just so-called that a slight move in one part may affect the situation as a whole.
In response to refrain further problems from cropping up, you need to get over the matter of iPhone showing wrong time as quickly as you can. As luck would have it, this guide elaborates 9 solutions to assist you if you yet have no clue on how to tackle the problem now.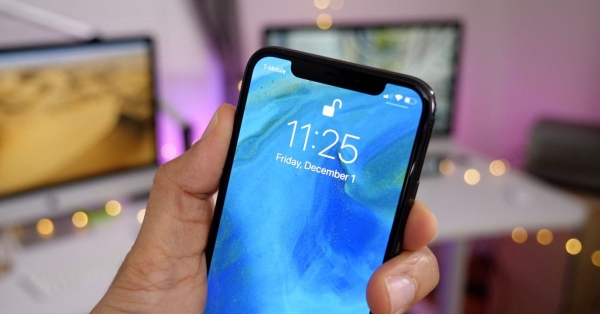 Part 1. Why Is My iPhone Showing the Wrong Time?
There are multifarious reasons behind "why is the time wrong on my iPhone". So, it is unlikely to list each cause at full length. But here are a few primary reasons for iPhone time wrong issue so that you can have a general idea of why it occurs and how to figure it out.
1. A device that is completely drained and its internal battery is dead or out of juice will often display the wrong time until it is powered back on and re-connected to the internet.
2. The occurrence of errors after iPhone jailbreak leads to trouble.
3. You might have not set the "Time Zone" automatically. Like that, your iPhone still will display the date and time in the previous time zone even if the location changes.
4. It is also possible that an outdated iOS version or a system issue on the iPhone brings about such a matter.
Part 2. How to Fix Time on iPhone is Wrong?
There are half a dozen workarounds you can employ before you take your iPhone or iPad to the Apple Support Center. And believe me, there is no rocket science behind these easy methods.
Fix 1. The Easiest and Quickest Way to Fix iPhone Time Wrong — Joyoshare UltFix [Hot]
Wisely try an excellent repair tool named Joyoshare UltFix iOS System Recovery to discover what makes it so attractive. You have to understand that updating iPhone software is not the answer to every system failure. For some iOS issues, like iPhone time is wrong, using a professional program is a safer and handier option to repair it.
This program features two Standard Mode and Advanced Mode to repair more than 150 kinds of iOS issues and even Apple TVs problems. The strongest card of the former is that it possesses the capability to fix general iOS failures without losing data, while the latter shows the effects in complex problems of sorts. For good measure, its extensive compatibility is also the reason why it can come out on top among numerous competes.
Key Features of Joyoshare UltFix iOS System Recovery:
Repair iPhone wrong time issue without losing data
Let your iPhone enter/exit recovery mode for free
Compatible with all iOS devices and the latest iOS version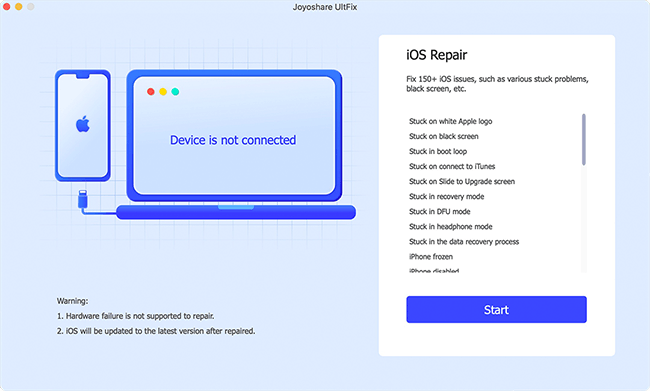 Step 1

Install Joyoshare UltFix and Connect iPhone to Computer

Firstly, please download and install Joyoshare UltFix on your computer. Then open it and connect your iPhone. You cannot proceed with the "Start" button until your device is detected successfully.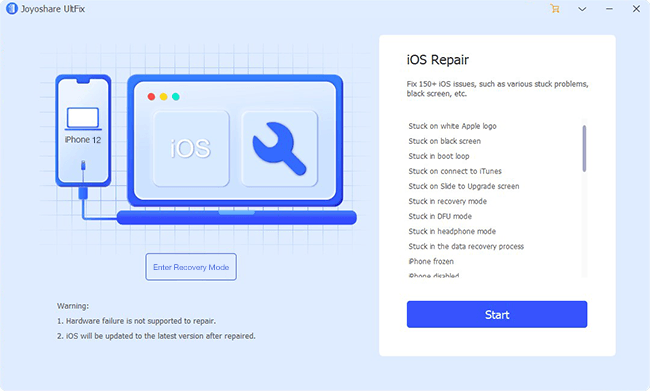 Step 2

Set Standard Mode and Enter DFU Mode

Next, it is time to choose the repair mode. In order to keep all data on your device intact in the process, you should select Standard Mode to repair the issue. Do remember to select your iPhone model before following the on-screen steps to set your iPhone into recovery mode or DFU mode.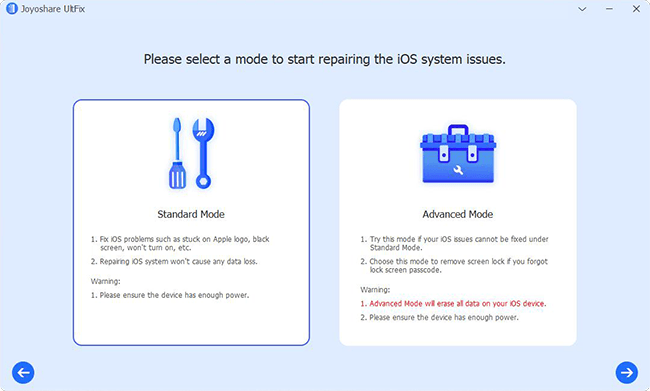 Step 3

Download Firmware Package

At this time, it is necessary to confirm all the info about your iPhone. After that, tap on "Download" to download and verify a new firmware package for your device.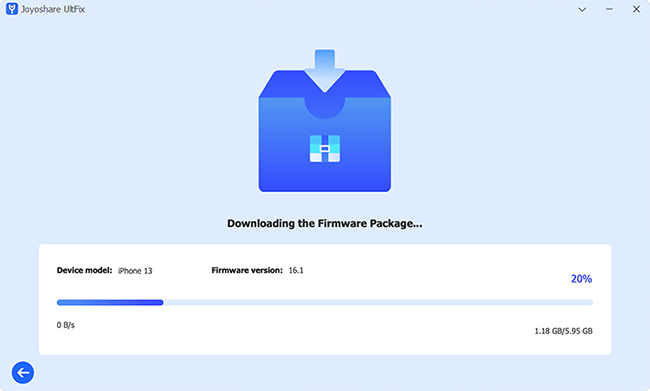 Step 4

Fix iPhone Time Wrong

Lastly, you only need to touch the "Repair" button to have the verified firmware package unzipped. Once done, you'll no more such doubts about "my iPhone time is wrong".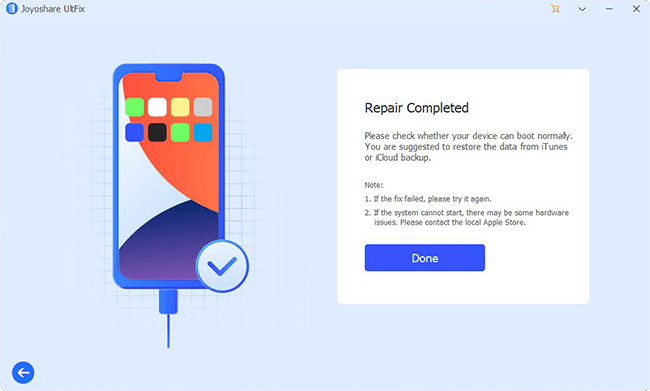 Fix 2. Set Date & Time Automatically
Although setting date and time automatically sounds simple and may not be enough to convince you that it's the perfect answer to "why is my iPhone time wrong", the method has been proven to be effective in practice.
Once the problem happens on iPhone, you can check the "Date & Time" settings in the first place. In case "Date & Time" is set manually, please change it to "Set Automatically" following the steps below. Ensure that the Time Zone setting is correctly set for your region. By doing so, your iPhone will set the proper time depending on your location.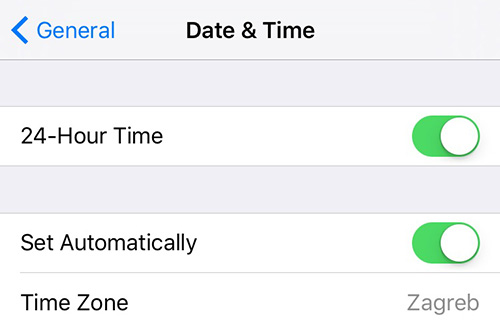 Step 1: Get started by going for "Settings" and scrolling down to "General";
Step 2: Then find and click on "Date & Time". In this interface, just tap "Set Automatically" to toggle it on.
Note: If the "Set Automatically" keeps on but this issue takes place, you need to turn it off and manually set the time zone, date, and time. After that, turn it on again.
Fix 3. Check for Time Zone Updates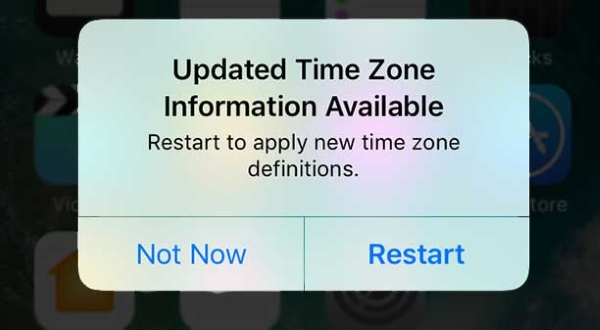 Step 1. First of all, your iPhone should be connected to a Cellular Data network or a Wi-Fi network.
Step 2. Head for the Settings → General → Date & Time.
Step 3. Check your device for an alert about updated time zone information, and restart your device to get the update.
Step 4. If the alert doesn't show, please back to the Home screen. wait for a while and tap on Date & Time once again. To see if the message now flashes.
Fix 4. Toggle off/on Location Services
Sometimes, there is something incorrect with location services, which would cause the trouble that iPhone time is wrong. As previously described, iPhone adjusts the date and time automatically according to your location. Suppose location service is not working, then iPhone is incapable to detect the real-time location information, thereby leading you into this problem. In this case, the simplest solution is to turn off location services and turn it on again after restarting your iPhone.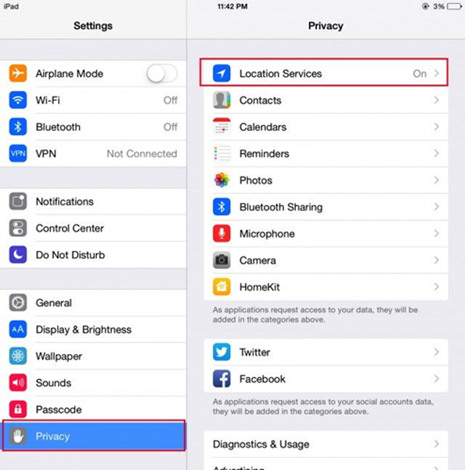 Step 1: First of all, you ought to get into "Settings" and then to "Privacy";
Step 2: Under "Privacy", click to disable "Location Services". After soft resetting your iPhone, you can repeat the operations to enable it again.
By ensuring that the time zone adjusts for your location, you should also ensure the proper date and time is always shown on the iPhone. It's a setting that's typically disabled by default, but some users may have turned it off inadvertently, thus making it worth a look in iOS:
Step 1. Under "Location Services", locate "System Services".
Step 2. Navigate to "Setting Time Zone" toggle it to the ON position.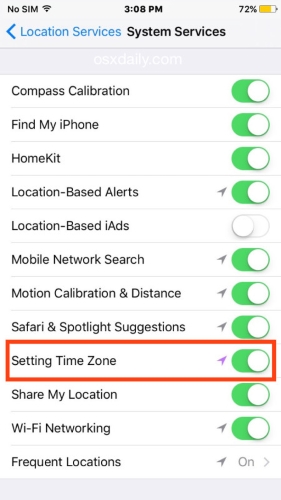 Fix 5. Check Screen Time's Settings
Screen Time tends to trigger lots of issues with your iPhone time zone. Several users tell us that Screen Time's settings often hamper the ability to change time zones. It even disables or grays out the options to utilize Set Automatically on or off. Here is what you can do about Screen Time settings to review and change:
To check if you have enabled any restrictions, head to Settings → Screen Time → Content & Privacy Restrictions. Examine what you allow and do not allow, or turn them off completely if you wish.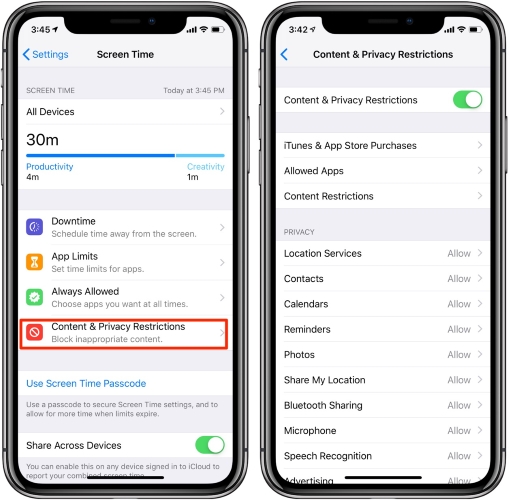 What's more, if you have been using Screen Time passcodes, try removing them altogether. Choose Screen Time → Change Screen Time Passcode → tap Turn Off Screen Time Passcode.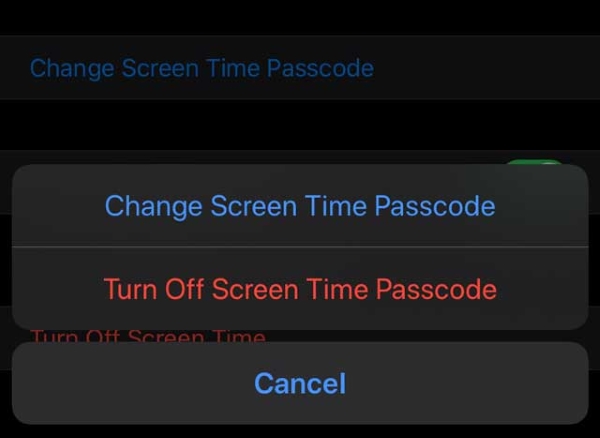 Finally, try to toggle Share Across Devices off.

Fix 6. Exit out of Settings
Anytime a location's time zone changes, the clock should immediately adjust. In other words, if you turn on an iPhone while crossing the dateline, the time and date will change as soon as the device detects your location has changed. That's another reason for people keep asking "why is my iPhone time wrong". The time on an airplane will now adjust to show the appropriate time if you're crossing time zones. Just like daylight savings time, the clock will change automatically if you're on an airplane crossing time zones.
Fix 7. Reset Network Settings
Reset network settings has proven to be an effective way to fix iPhone time wrong. This process will delete all Wi-Fi settings. So, before performing this method, please note down your Wi-Fi network name and password, then follow the steps below to reset your iPhone's Wi-Fi settings to factory defaults. On your home screen, go to Settings → General → Reset → Reset Network Settings.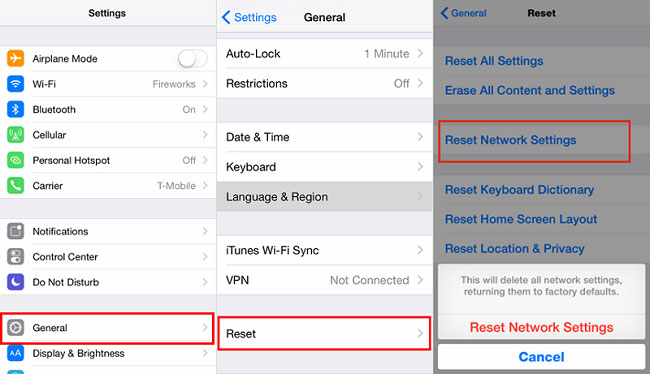 Fix 8. Reset All Settings
The conflict between some settings on your iPhone is also one of the factors that give rise to the iPhone time wrong issue. Faced with this condition, the solution is resetting all settings that can not only help you round the mess but also prevent the emergence of potential problems. Given below is a quick guide on how to get it done.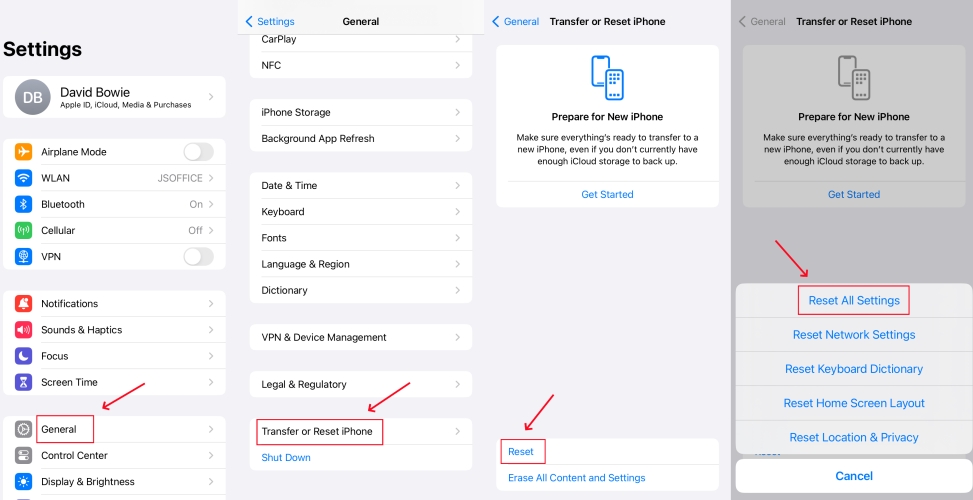 Step 1: Please open "Settings" on your iPhone and then you should choose the "General" option;
Step 2: Afterward, slide to the bottom to tap on "Reset" and next touch "Reset All Settings";
Step 3: It will require you to enter passcode to confirm this option. You just do it and all settings on the iPhone will be reset.
Fix 9. Update iOS Version
If you cannot get any positive results after all the above approaches, this indicates the issue that iPhone time wrong may be touched off by software glitches on your device. Therefore, what you need to do is check if there is an update available on your iPhone. If so, easily download and install it to get the iPhone time issue worked.
Checking it needs you to visit "Settings" → tapping on "General" → locate and click "Software Update". Then your iPhone will check for the recent iOS version. If a pending update is detected, you just download and install it. Without an available update, please move on to the next part.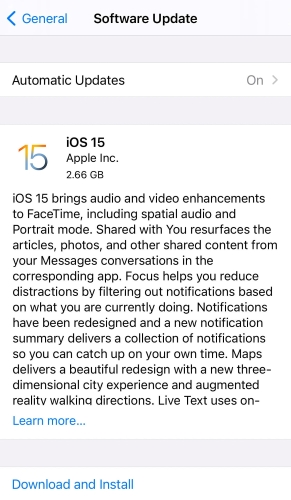 Part 3. Conclusion
If for any reason your time on iPhone is wrong despite being worried take a chill pill. Before you ask for support from Apple, we've explained half a dozen troubleshooting mentioned above that you can try. If you don't want to try this confusing method one by one. Don't worry. We have to praise the development of technology to facilitate our lives. Try emerging and feature-rich repair tool — Joyoshare UltFix. There is not really rocket science, instead, the simple and fast operating system that makes you fall in love with it for the first time. Don't hesitate to download it!