Q: "I have an iPhone 13 and I updated the software to iOS 15. Now my iPhone randomly beeps twice about every hour or two. I sound like a smoke detector and I don't know how to turn it off." – From Apple Community
Are you afraid of the random beeping noise without any message on your iPhone? Do you encounter such an issue like iPhone keeps beeping when you try to charge your iPhone or plug it into computer? Are you in a rush to solve the problem right now? There is no need to concern because quite a few iOS users also have the same experience. Especially in recent years, it becomes more and more common between Apple Community and other forums. As a knotty problem as it sounds, we've compiled a list of solutions to overcome it.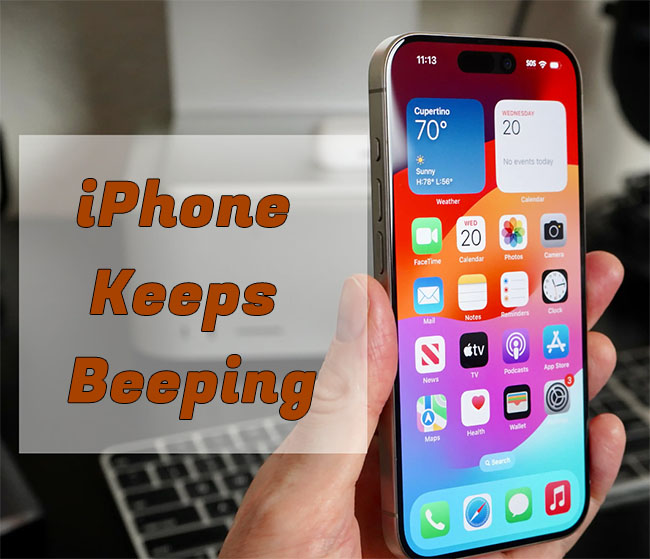 Part 1. Why Does My iPhone Keep Beeping?
Typically, your iPhone produces beeping sounds because you receive messages from apps for notifying you. However, a continuous noise will disturb your mode and interrupt what you are doing at that time. Meanwhile, many iOS users find their iPhones are beeping randomly while there is no message on iPhone. We will tease out the possible causes and offer some recommendations.
#1

Sound Notifications

It is not rare that many iOS users find this error happens because of enabling audible notifications for too many apps. Once you download a new app, it will send a message to inform you of opening sound notifications. As a matter of fact, it may be the chief culprit for the annoying and continuous beeping sound.

#2

Settings Conflict

There are innumerable settings and features equipped with your iPhone and iPad. The unknown beep may be the result of the discordance between settings. Moreover, if your iPhone is on charge, the problematic USB cable may be responsible for this issue.

#3

Software Glitches

Some hidden bugs and errors either in system or applications may lead to this problem as well. And that in general, you are unaware of where they start. Even if Apple prides itself as the safest operating system, software glitches are still inevitable.

#4

Hardware Errors

Though rarely occurring, it has a small possibility that hardware error attributes to iPhone beeping sound. There is possibly something wrong with complicated electronic components and hardware equipment. It must be fixed with the help of experts specializing in this field.
Part 2. Troubleshooting for "iPhone Makes Beeping Noise" Issue
Method 1. Check Notification Settings
If too many apps are enabled audible notifications, your iPhone naturally is occupied with successive beeping noises. So, make sure that your iPhone is left with some important notifications.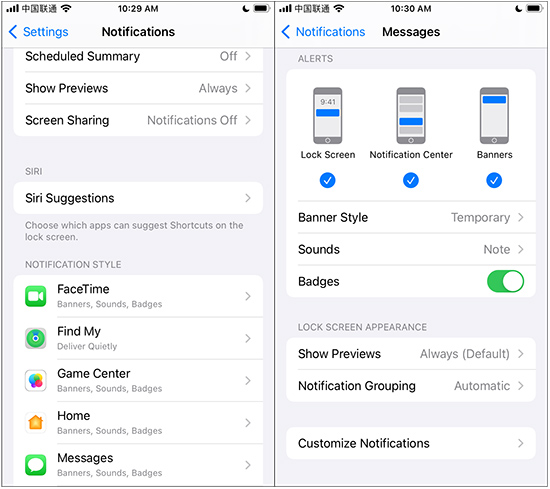 Step 1: Go to Settings and choose Notifications.
Step 2: Confirm all apps, and toggle the "Sounds" switch off.
Step 3: Make sure you have turned off unnecessary "Sounds" permission.
Method 2. Force Quit All Apps
If the problem frequently occurs after you run a specific app, it may result from the application malfunction and virus. The best choice is to force quit all apps from the multitasking view, Nevertheless, if it still exists, you may as well consider updating and reinstalling the app to fix this issue for good.
Method 3. Restart Your iPhone
The first idea that comes into your mind when you face system errors is to reboot your iPhone. Although it has been widely used in various articles, it is so excellent in clearing these minor software bugs and unknowing app bugs that it is still worth stressing.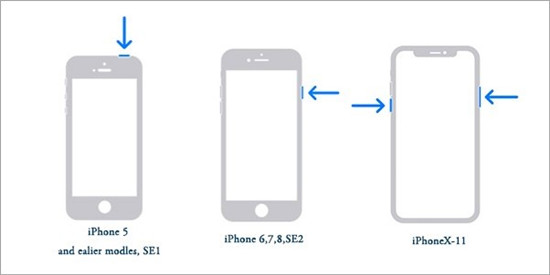 For iPhone X, 11, 12, or 13:
● Press either volume button and the Power button to bring up the Power-off slider. Drag it and wait for 30 seconds. Hold the Power button to reboot your iPhone.
For iPhone SE and former models:
● Restart your iPhone by simply holding the Power button. After the screen gets dark, press and hold the Power button again.
Method 4. Clear Browser History and Website Data
The first idea that comes into your mind when you face system errors is to reboot your iPhone. Although it has been widely used in various articles, it is so excellent in clearing these minor software bugs and unknowing app bugs that it is still worth stressing.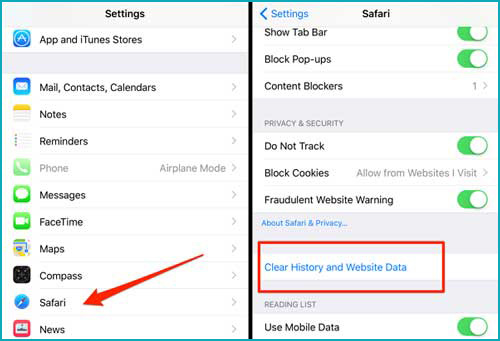 Method 5. Update iOS System
A timely iPhone software update will keep you away from many troublesome system issues. It is suggested to check for software updates occasionally. Bear in mind that download and install the latest update in Settings → General → Software Update.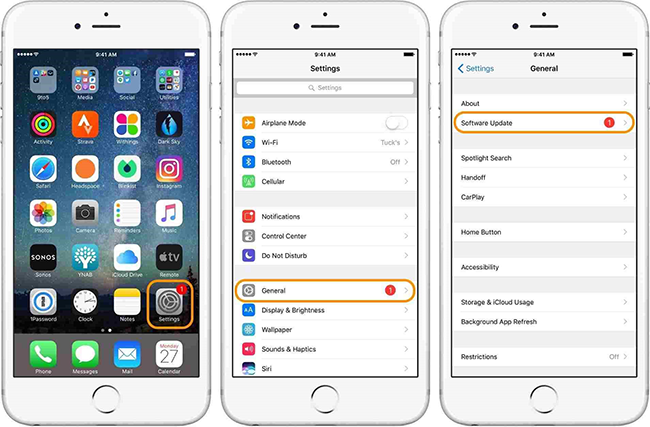 Method 6. Use the Most Effective iOS System Repair
If the above methods have no effect, the best possible solution is to resort to a professional and outstanding iOS system repair – Joyoshare UltFix. With its advanced processor and rich experience, it can swiftly locate your problem and address it within a few minutes. You are allowed to free your hands and not waste time trying the solutions one by one.
Joyoshare UltFix is capable of repairing 150+ iOS system issues, including various stuck issues, screen problems, iTunes errors, etc. Naturally, it works well on all a list of notification errors, such as iPhone notifications delayed, iPhone beeping, and so on without data loss. The highest success rate and data security make it appreciated by masses of iOS users.
Key Features of Joyoshare UltFix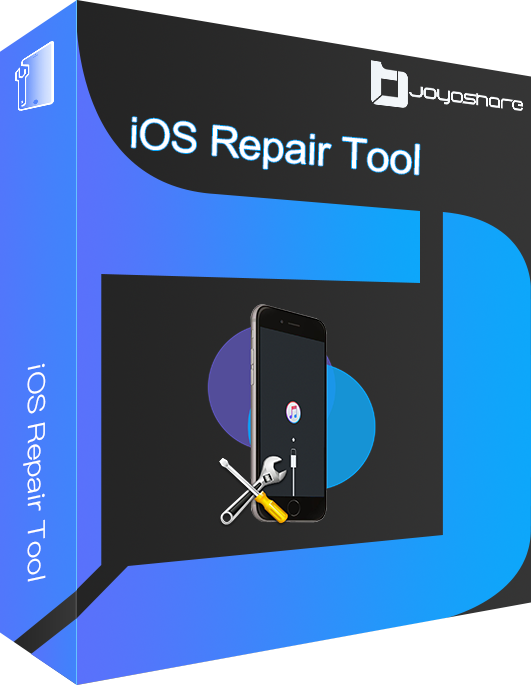 Support iPhone, iPad and iPod touch, covering the newest iPhone 13 and iOS 15
Dual repair modes are dedicated to solving nearly all iOS issues perfectly
Free to enter/exit recovery mode with one click at any time
You can independently fix your problem within 3 steps
Step 1

Connect iPhone to Computer

Download Joyoshare UltFix by clicking the link offered above. After launching it on your computer, connect your iPhone to PC or Mac with a USB cable. Hit "Start" button to enter the next step.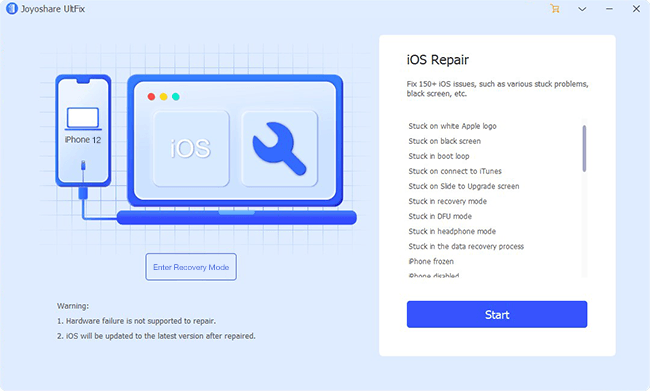 Step 2

Set Standard Mode

Standard mode is able to fix common iOS issues perfectly. Hence, set "Standard Mode". Follow the on-screen instructions to access to recovery mode or DFU mode. Afterward, click the "Next" icon.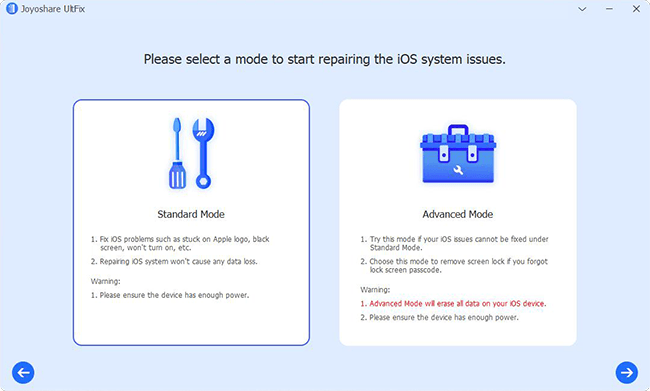 Step 3

Download the Firmware Package

Carefully check the device information so as to download the matching firmware package by hitting "Download" button. You need to wait a while for the downloading and verifying process.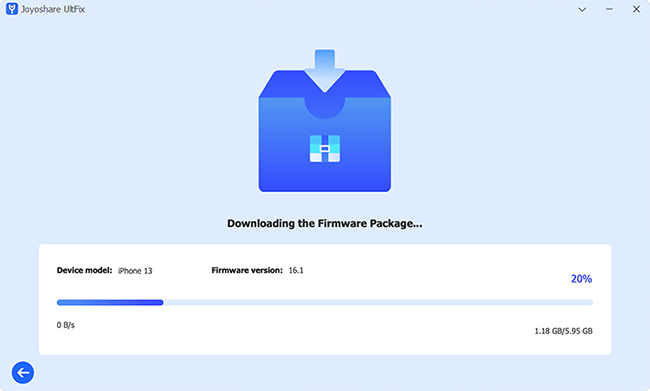 Step 4

Repair iPhone Beeping Error

Click "Repair" button to start unzipping the package and repairing the issue losslessly. After "Done" button appears, confirm whether your iPhone gets back to normal.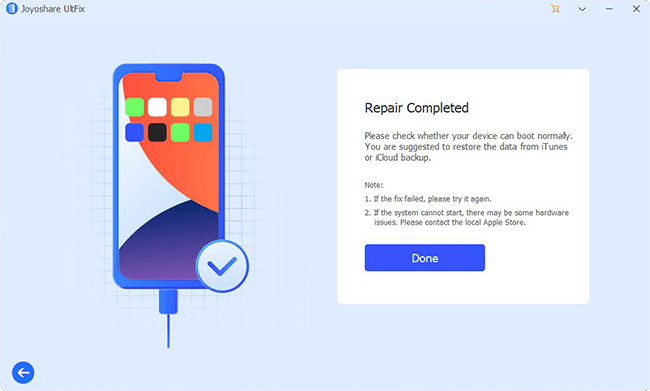 Method 7. Reset All Settings
The last resort is to reset all settings of your iPhone. One iOS user ever fixed this issue by utilizing this solution. Though not an ideal way, it is an effective approach you can try to solve any system problems. Compared to factory settings, it can keep your data intact with all settings erased.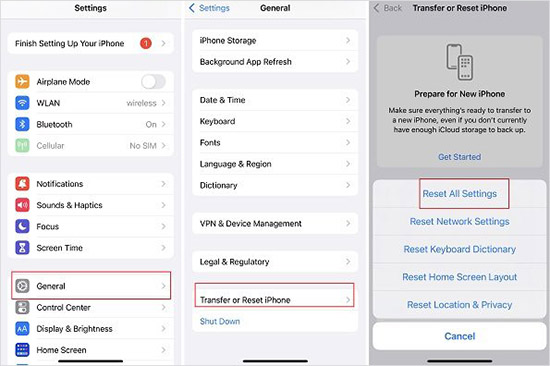 Step 1: Run Settings.
Step 2: Select General and then Transfer or Reset iPhone.
Step 3: Tap Reset All Settings and enter your passcode.
Part 3. Conclusion
With the mentioned information, it's certain that you must have ideas in terms of "iPhone keeps beeping" issue. It is worth noting that Joyoshare UltFix is always here to assist you in fixing any iOS problem quickly, safely, and losslessly. I hope this article can help you repair this trouble in triumph. But if none of them work, the biggest possibility is that there are hardware issues on your iPhone. And what you can do is to contact Apple Support center or get technicians' assistance.