Q: "I want to restore my iPhone and then a message appeared with text - The iPhone software update server could not be contacted. An unknown error occurred (1671). How could I solve it and restore the iPhone?" – From Apple Community
Encountering iPhone error 1671 when restoring your iPhone? Feeling troublesome about the plight? Wonder why it gets an error? Have no idea how to fix it? As iPhone or iTunes errors are one of the common issues, it is frequent that error messages appear when you sync, update, backup, or restore your device. However, there is no need to worry too much. In this article, we will deeply analyze the reasons of this error and list 6 effective solutions. Read on and find a better way that is suitable for you.

Part 1. Why Does iPhone/iTunes Error 1671 Appear?
When you want to update your iPhone software, iTunes will contact and connect to Apple servers automatically. However, sometimes you may find the restore can't be finished and then the error code 1671 shows up on the interface. The failing connection is caused by several factors. Some reasons are listed below:
* Outdated iTunes version
* Outmoded security software
* The obsolete operating system of iPhone and computer
* Corrupt iTunes files
* Virus or malware infection
Part 2. How to Fix iPhone Error 1671
Method 1. Fix System Error with Zero Loss in Joyoshare UltFix
If the glitch is caused by software issue, never hesitate to apply this time-saving solution. Joyoshare UltFix, the most professional iOS system repair tool, is dedicated to solving more than 150 iOS system issues without the risk of data loss. While most traditional methods will erase all your data, the software can not only provide secure repair to get back your device to normal but also protect your data as far as possible. What's more, the intuitive interface and step-by-step guide allow iPhone users to repair their devices independently and operate easily.
Key Features of Joyoshare UltFix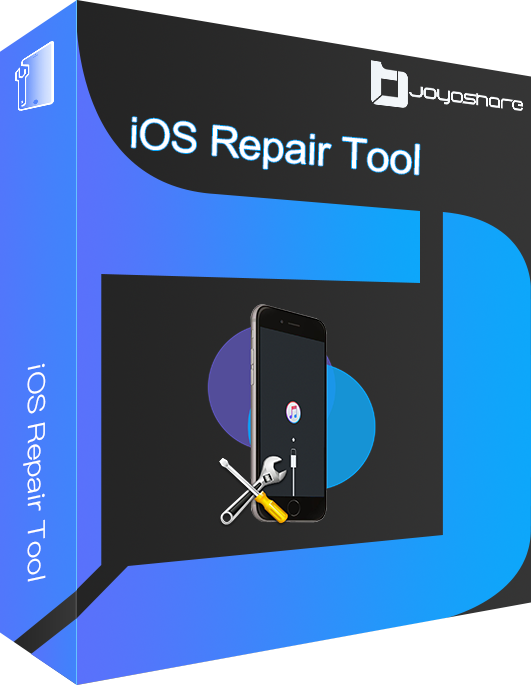 Best iPhone repair software to fix iPhone or iTunes error
One-click option to freely enter and exit recovery mode
Repair 150+ iOS system issues within three steps and a few minutes
Support all kinds of iOS devices, including the latest iOS 15 and iPhone 13
Step 1

Run Joyoshare UltFix and Connect iPhone

Install and run Joyoshare UltFix on your computer. Then plug your iPhone into computer via genuine USB cable and click the "Start" button.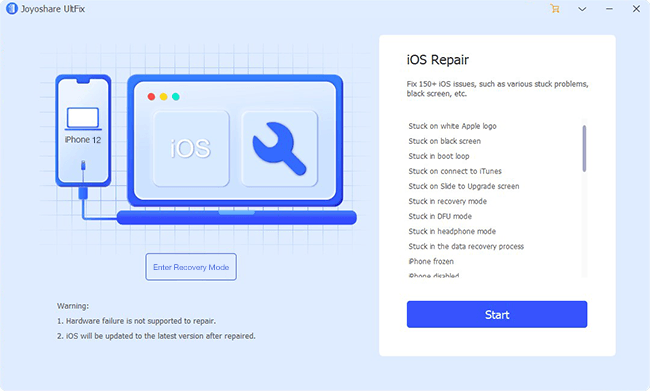 Step 2

Choose the Repair Mode

If you would like to keep your data intact, you would better select "Standard Mode". After choosing the repair mode, you can alternatively decide to enter recovery mode or DFU mode following the instructions. Then press the "Next" tab to proceed to the next step.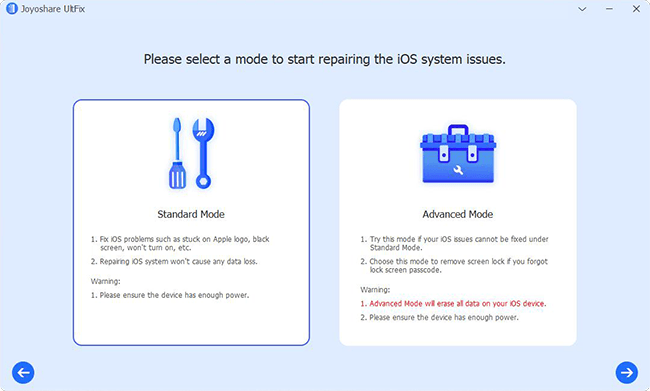 Step 3

Download and Verify Firmware Package

Check whether your device information displayed on the screen is correct. Click the "Download" button to begin downloading the matching firmware package. Once completing downloading, it will unzip the firmware package automatically.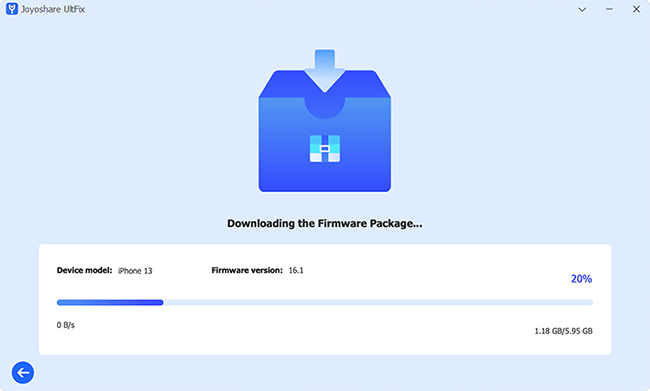 Step 4

Fix iPhone Error Code 1671

In the last step, hit on the "Repair" button. The software will repair system issues quickly. You just need to wait a few minutes to see that "Done" button appears on the interface. Then boot your iPhone and confirm if the problem is solved.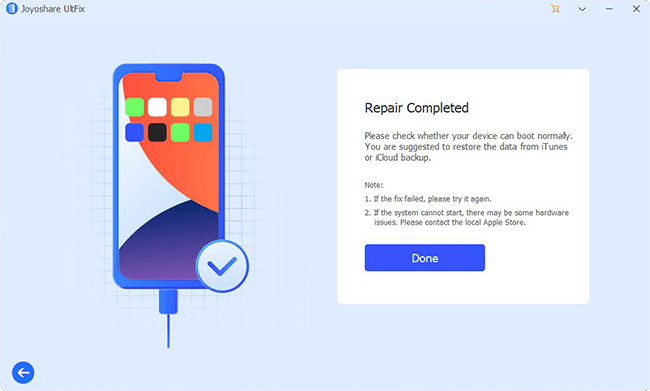 Method 2. Force Restart iPhone and Computer
There is probably a process running on your computer and iPhone stopping them from functioning correctly. At that time, there is no better way than force restart. It won't damage any data and is capable of solving some common and fundamental mistakes. So, when you face such plight, you can attempt to force restart your device and computer at first.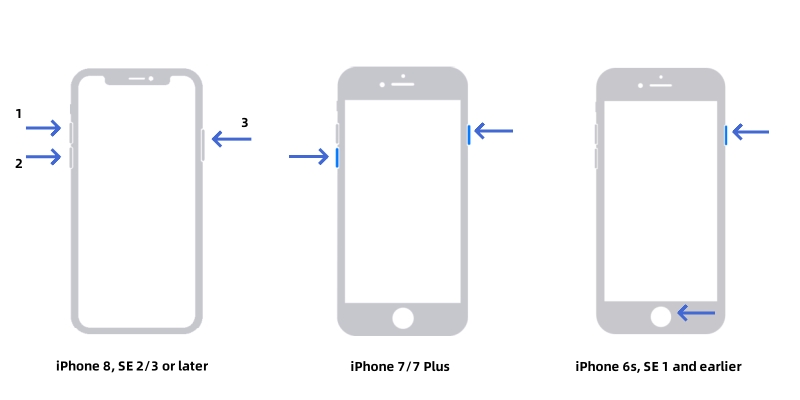 For iPhone 8/X/11/12/13 models:
● Press and quickly release the Volume Up button.
● Similarly, press and release the Volume Down button immediately.
● Hold the Side button and release it until you see the Apple logo on the screen.
For iPhone 7/7 Plus:
● Press and hold the Volume Down button and Sleep/Wake button simultaneously. When the Apple logo appears, you can release these buttons.
For iPhone 6 or iPhone SE (1st generation):
● Hold the Sleep/Wake button and the Home button at the same time. Then release both buttons after seeing Apple logo.
Then simply click on the Start menu in your computer, choose Shut Down or Sign out option and select Restart. After doing that your computer will force restart.
Method 3. Factory Reset
If the solutions listed above can't resolve this error successfully, you might as well try to restore your iPhone to factory setting. Although this method will eradicate all data and settings on your iPhone, it is definitely effective to fix common system issues. You can follow the procedures as below: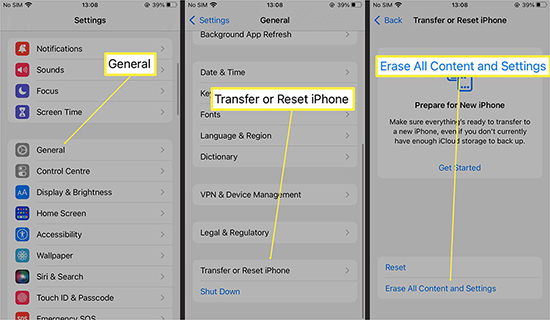 Step 1: Click the General option After running Settings application.
Step 2: Scroll down and choose Reset and tap on Erase All Content and Settings.
Step 3: Click on Erase iPhone and enter your password if necessary.
Method 4. Edit Hosts File
Sometimes, some programs or malware can modify the hosts file, which may result in iTunes error 1671 by blocking iTunes from communicating with Apple servers. What you can do is to open and try to edit the hosts file. Nevertheless, for some iPhone users who have no tech knowledge, it is a little difficult to operate. So, you need to proceed with caution and follow the guide step by step.
Step 1: Disable all antivirus software on your computer.
Step 2: Open My Computer and click on Local Disk (C:).
Step 3: Input System32 on search box and click on the Enter button to search for the location.
Step 4: Click on drivers and then hit on etc file.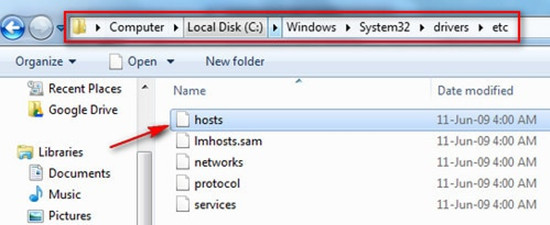 Step 5: Locate the hosts file and drag the file onto your desktop, or cut and paste it to the same location. Remember the location as you must put the hosts file back in the same place after finishing restoring.
Step 6: Launch iTunes and proceed with the restore.
Step 7: Once the restore process is done, you need to put back the hosts file to the original location. And remember to run your antivirus software.
Method 5. Update Antivirus Software, iOS Device and Computer
Outdated antivirus software and operating system of iPhone and computer may lead to the issue as well. That is because the outmoded software and operating system mistakenly believe the connection between your device and computer is not safe. So, updating them can improve their performance and eliminate bugs compared to the previous version.
Step 1: Open antivirus software and check whether it can be updated. Upgrade it if there is the latest version。
Step 2: Open Settings on the iPhone and tap on General. Click Software Update and then hit on Download and Install if an update is available.
Step 3: Open your computer, enter Settings and click on the Update tab. If the operating system can be updated, just follow the guide on the computer interface.
Method 6. Enter DFU Mode and Restore Device via iTunes
You can also restore your device from DFU mode to fix iPhone or iTunes error 1671. A Device Firmware Upgrade can rebuild the structure of the software currently running on your iPhone. Likewise, it will cause all data loss.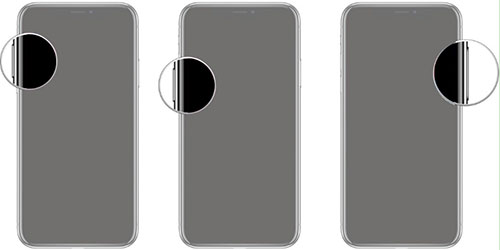 Step 1: Connect your iPhone to your computer with USB cable. And then launch the newest version of iTunes.
Step 2: Press the Volume Up button swiftly, and then quickly press Volume Down button. Next, hold the power button even if the screen turns black.
Step 3: Continue holding the Power button and hold Volume Down button together for approximately 5 seconds.
Step 4: Release the Power button but continue holding the Volume Down button for at least 10 seconds. If the screen is black, release the button. It represents you have entered DFU mode successfully.
Step 5: When iTunes has detected your iPhone, just restore your iPhone with iTunes. Tap the device icon, choose the summary option, and then hit on the "Restore iPhone…" option.
Part 3. Conclusion
If you come across such an annoying problem, we hope you can find the most suitable method in this article. If you don't know which one can fix your problem, just try them one by one. But it is worth noting that the easiest, quickest and best way to fix iPhone error 1671 is to use Joyoshare UltFix. However, regardless of method, you can leave a comment when you have any query.