Last week, my iPad didn't connect to Wi-Fi. I have tried many traditional ways to fix the problem, like checking the Wi-Fi router, resetting network settings, upgrade to the current iOS version. But these methods didn't help. Therefore, I decided to restore my iPad. This is the last way I should attempt to fix iPad's disconnection to Wi-Fi due to its data loss.
But something more terrible happened: my iPad won't restore in iTunes. Then I searched the the solutions in Google. Fortunately, I have repaired my iPad back to normal ultimately. In this article, I will show you how I successfully fix this issue.
Part 1. Why my iPad won't restore and some common causes?
First of all, I searched the causes why my iPad won't restore. Then I knew the specific reason, which is the first situation. There are some other common iPad problems leading to iPad won't restore. Keep reading to understand the causes. Look at which error your iPad belong to.
(1) iTunes error - "iPad could not be restored. An unknown error occurred". Take itunes error 14 as an example.

(2) The iPad is not eligible for the requested build.

(3) The Firmware File is corrupt.
Part 2. What should I do to repair iPad won't restore?
What should I do to repair iPad won't restore? After getting the reasons of this error, I started to look for solutions. There are some ways listed below.
#1

Inspect iTunes whether it is the latest version

The message that iPad won't restore popped up on screen first, so I need to know the specific conditions of iTunes. If iTunes was not the newest version, it may bring problems when restoring iTunes. I directly checked for my iTunes on my Windows 10 as the following steps:

Launch iTunes > Press the Help button on the top of the window> Select Check for Updates.

By the way, if you use Mac to restore your iPad, follow the guide below:

Run iTunes > Select iTunes on the top left bar > Click Check for Updates.

After upgrading iTunes, I tried to restore my iPad again. But it failed. Therefore, I continued to find another method.

#2

Restart my computer

Because iTunes itself had nothing wrong, something unnormal may happen on my computer. I have only one PC, so I restarted it to fix some basic system issues on it. If you have another computer, switching it is better. Unluckily, it still didn't work. Both iTunes and PC were in a good function. I think that my iPad itself must have something wrong. Therefore, I searched some methods to fix iOS system issues.

#3

Force restart the iPad

On the searching result pages, I picked the easiest one: Force Restart my iPad to recover iPad won't restore.

Step 1. Press and hold down the Home button and the Sleep/Wake button in the meanwhile.

Step 2. Release the two buttons until the Apple logo shows on the screen.

Step 3. Be patient to wait until iPad reboot finishes.

#4

Put iPad into Recovery Mode

This method can fix more system issues than the previous one. Follow the steps below to make your iPad enter Recovery Mode:

Step 1. Run iTunes.

Step 2. Hold down both the Power button and the Volume Down button.

Step 3. Get your hand off the two buttons until the Slide to Power Off displays on the screen.

Step 4. Slide to the right to shut down your iPad.

Step 5. Press the Power button again till the iPad enters Recovery Mode.

Step 6. A picture display on iTunes, showing "iTunes has detected an iPad in Recovery Mode".

#5

Throw iPad into DFU mode

DFU mode can fix iPad which encounters software glitches. Here is how to applying DFU mode to repair iPad won't restore:

Step 1. Run iTunes and connect your iPad to a computer.

Step 2. Hold down the Home and Sleep/Wake button simultaneously.

Step 3. Release the Home button until the screen turns black, showing the iPad have entered DFU mode.

If iPad won't restore, the causes are various. Therefore, someone has fixed the iPad error using only the first method. Someone, unfortunate as me, has tried all the traditional ways, but the problem still occurred. I decided to ask for help in some professional forums. One netizen with passion told me that I can try the third-party tool: Joyoshare UltFix. It is far away cheaper than buying a new iPad. I'm so glad that my iPad is back to normal with Joyoshare. In the following contents, I will show you that how I fix iPad won't restore issue via Joyoshare UltFix.
Part 3. Use Joyoshare UltFix to fix iPad won't restore
Joyoshare UltFix iOS System Recovery is a professional repair tool for iOS system. It supports not only a number of different iPads, but also has compatibility with a seriels of iOS/tvOS devices, including iPhone /iPod touch/Apple TV. It can fix more than 30 iOS system issues without data loss. Joyoshare offers free Enter/Exit Recovery Mode with one click. It is very easy to use.
The reasons of picking Joyoshare:
Support various iPad, including iPad mini, iPad pro, iPad 2, etc
Be compatible with the latest iOS 13
Repair iPad won't restore with only 4 steps
Without data loss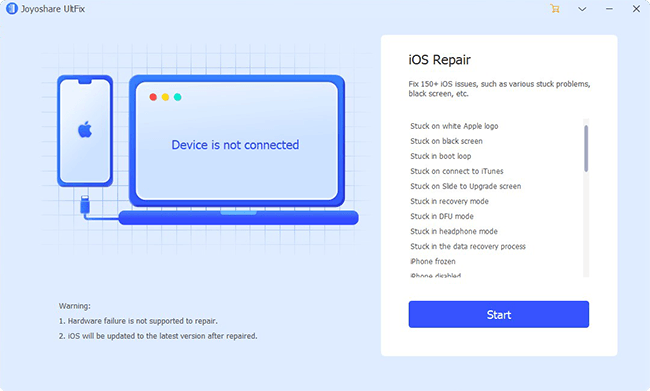 The guide to fix iPad won't restore issue:

Step 1: Launch Joyoshare and connect iPad to the PC. Click the Start button. Download and install Joyoshare first. Then run it and confirm the connection between the two devices.

Step 2: Select the Standard Mode to fix it. Standard Mode can repair most iOS system issues without data loss.

Step 3: Download and verify the firmware package. Click the next button. Make sure a sound network. Speed up the downloading.

Step 4: Start to Fix iPad won't restore. Click the Repair button. With just one click, what you should do next is to wait for the process completed.
My Opinion:
Various iPads have different kinds of functions. When problems occurred, reasons differ. You can try the 5 traditional ways recommended above. If the repairing fails, try the third-party tool: Joyoshare UltFix to solve iPad won't restore problem. It makes me surprised that the repairing won't lose any data with Joyoshare. It is very easy to use with only several clicks. I knew that Joyoshare can fix 30+ iOS system issues, such as iPad cannot connect to App Store. If someday my iPad is default again due to some other causes, I still can use Joyoshare to fix it.