Does your iPad have no sound? Don't worry. You are not the first one who has encountered this annoying thing. Many users have the same issue with their iPad. Some talk that the iPad just can't produce sound in a certain app or iPad has no sound with the headphone. For instance, you can hear sound in games but can't in music or video, or iPad can't play sound when you unplug the headphone. In either case, iPad sound not working issue is not difficult to troubleshoot. Here is a list of different methods including common and advanced ways to fix iPad no sound issue. If you don't know why your iPad has no sound, you'd better try them all because there's no guarantee that every method will work for your situation.
Part 1. Force Restart iPad
When sound not working on iPad issue is occurring, the first thing you maybe think of is to restart or force restart your iPad. Everyone knows how to restart iPad, so the steps of its operation need not be elaborated. Since the iPad model is dissimilar and not all the iPad have the Home button, Here's a brief introduction to how to force restart the iPad of different models.
iPad with Home button: Keep pressing and holding the "Power" and "Home" buttons at the same time until the Apple logo appears on the screen. When your iPad is restarted successfully, you can test if such an issue is fixed.
iPad without Home button: Press the "Volume Up" button and release it quickly. Then, press and release the "Volume Down" button. After this, keep holding the "Sleep/Wake" button until you see the Apple logo on the screen. Wait a moment, your iPad will be restarted.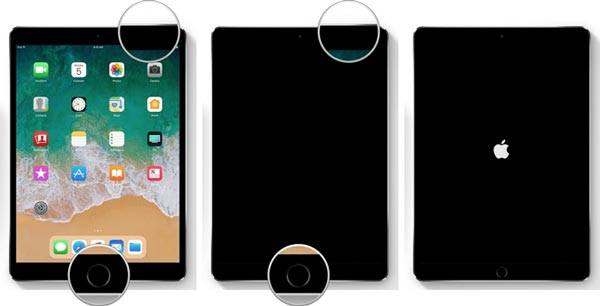 Part 2. Check If "Do Not Disturb" Is off
It is quite possible that your iPad sound not working is caused by "Do Not Disturb" mode. With this mode, all the notifications on your iPad will be stopped. In this case, you just turn it off to resolve the sound problem. You need to tap on "Settings" and scroll down the screen to click "Do Not Disturb". If this function is on, please click to enable it. Note that if this feature is always off, you need to follow solutions below.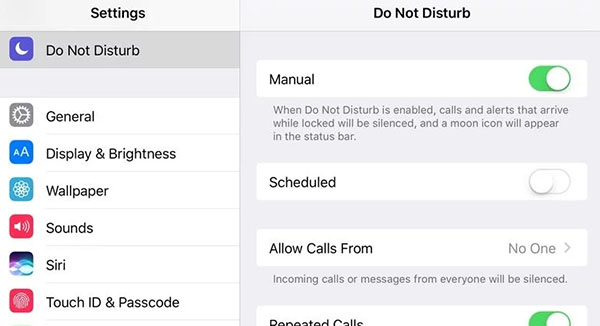 Part 3. Turn Mono Audio On and Off to Fix iPad Sound Stopped Working
If you are sure that the mute button on iPad is not enabled, you can try this way to fix such a problem. You can follow the steps given below if you don't know how to do.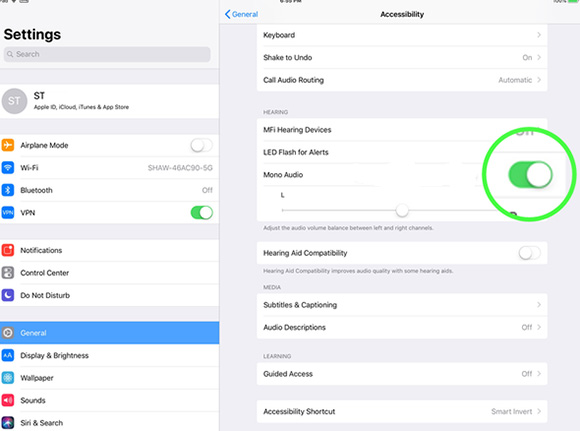 Step 1: Get into "Settings" and select "General" on your iPad;
Step 2: Afterwards, click "Accessibility" and you can see "Mono Audio" under "Hearing" option;
Step 3: Then, you should turn it off and turn on again.
Part 4. Turn off Bluetooth to Repair iPad Sound Is Not Working
There is another possibility that Bluetooth affects iPad not to play sound because iPad can send audio to an external Bluetooth attachment. So you should check Bluetooth in "Settings" and toggle it off. Please ensure that a mute switch on your iPad has been off and turn up the volume.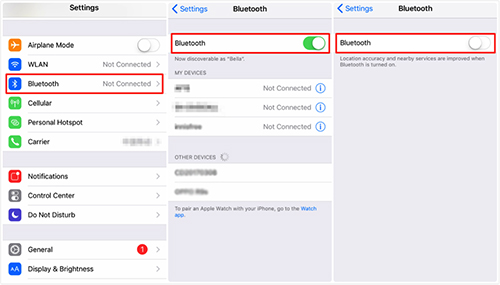 Part 5. Try to Flip the Side Switch to Solve Sound Doesn't Work on iPad
There is a switch on the iPad side that can mute your device. The switch is right next to the volume control. But if you find the side switch is set to the mute position, you will try to push the volume up button. In general, you can get into the volume controls from the "Control Center". For iPad without Home button, just swipe down from the upper right corner of screen to get into "Control Center". For iPad users with Home button, you need to swipe up from the bottom of the screen to access "Control Center". When you get into the interface, you should find the volume slider and slide it up.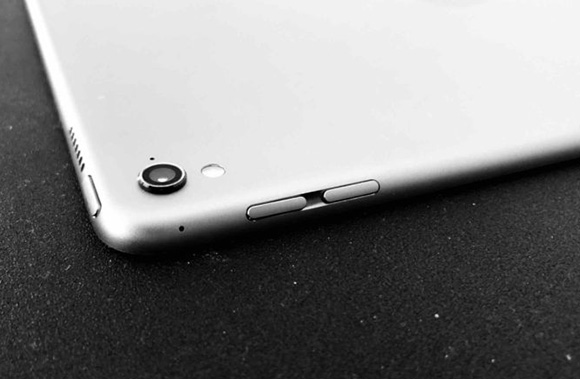 Note: If this way fails to work, you can try to reset all settings on iPad by clicking "Settings" - "General" - "Reset" - "Reset All Settings". Or you may also update iPad to the latest iOS version if it is available.
Part 6. Check the Headphone Jack to Fix Sound Not Working on iPad
If this issue only happens when you plug headphones to iPad, that means your headphone will be responsible for this problem. You are able to solve it according to the following steps.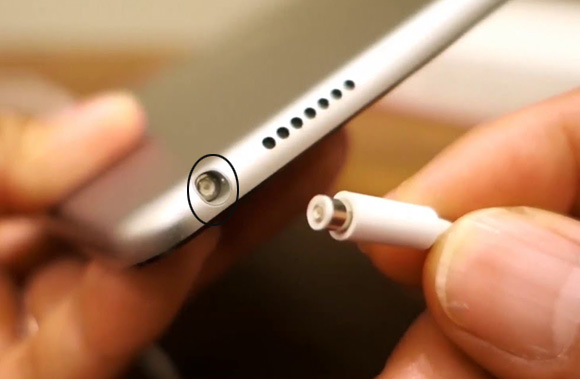 Step 1: You need to clean the headphone jack because it may be clogged by dirt and dust;
Step 2: You can attempt to turn on the volume to maximum;
Step 3: Inspect the headphone to see if it is damaged. If it is, try a new one.
Part 7. Fix with Joyoshare UltFix iOS System Recovery with No Problem
When you try all the solutions above but none of them is useful, it may mean that iPad sound not working results from something unknown or serious with your device system. Under this circumstance, you will need a powerful iOS system repair tool like Joyoshare UltFix iOS System Recovery to get this issue done. With sophisticated algorithms and advanced functions, it allows you to enter or exit the recovery mode with one click for free.
Furthermore, it is developed with flexible repair modes including standard mode and advanced mode. You can get iPad sound issue fixed with standard mode without data missing. Besides, it is possible to fix over 30 kinds of common iOS problems such as iPad screen flickering, iPad speaker not working and so on without any damage. Or if you want to restore iPad to factory settings or repair some iOS issues that standard mode can't fix, you will choose advanced mode. By the way, it is compatible with the newest iOS 12.3 and all the iOS devices.
Key Features of Joyoshare UltFix iOS System Recovery:
Fix iPad sound not working safely and simply
Designed with two repair modes
Offer free one-click enter/exit recovery mode function
Support both the newest iOS 12.3 and all iDevices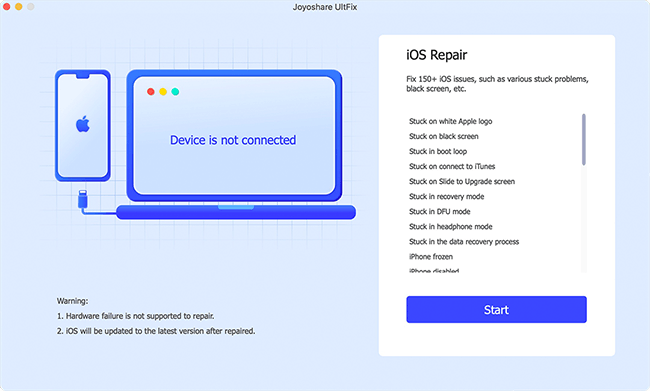 Here is a step-by-step guide for you to operate.
Step 1: Download the installation package on Windows/Mac. When the installation is completed, you can connect your iPad to the computer and click the "Start" option;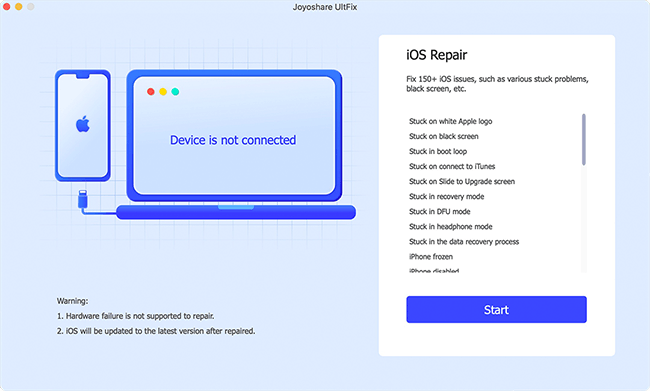 Step 2: It is the turn of choosing one mode to repair. According to your iPad condition, you just select the standard mode. Then, proceed to the next step by clicking "Next";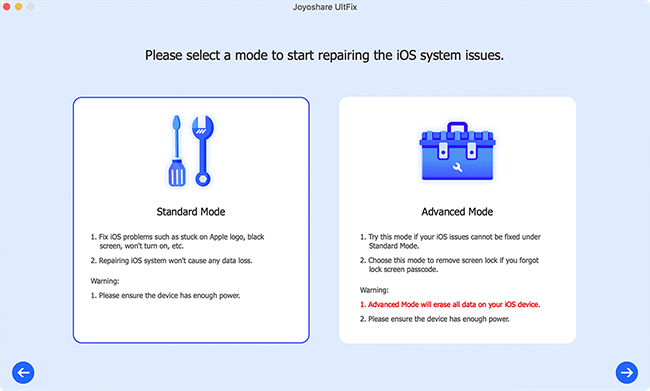 Step 3: In this step, you need to put your iPad into DFU mode or recovery mode following the on-screen instructions;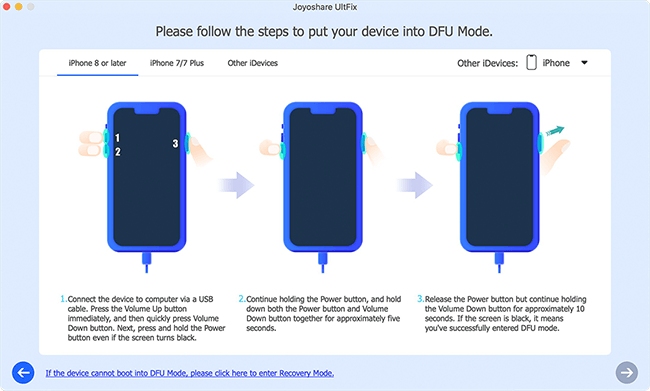 Step 4: After that, Joyoshare UltFix will detect your iPad model and you will confirm the option. Now, you can click "Download" to download the firmware package and verify it;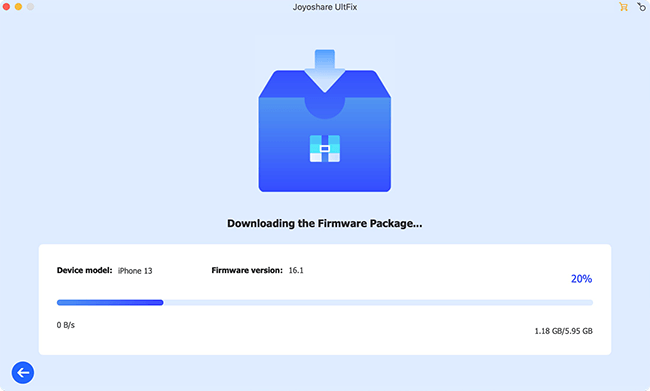 Step 5: Eventually, it is time to tap on "Repair" to unzip the firmware package and begin to repair. After a while, your iPad sound not working will be resolved successfully.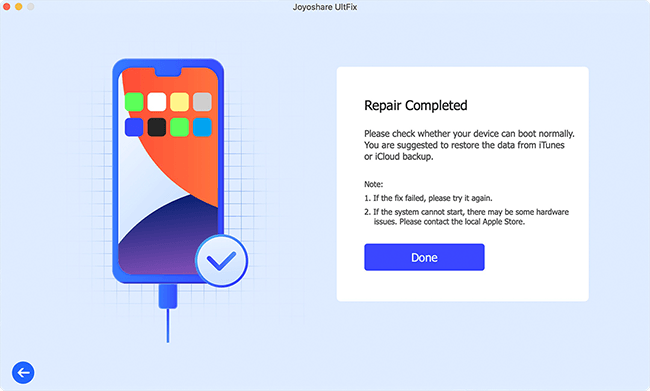 Conclusion
Take it easy when your iPad sound not working occurs. These solutions shared above are workable after testing. The ordinary approaches like hard restarting iPad or turning off Bluetooth are easy to understand. You can absolutely do it by yourself at ease. What needs to be illustrated again is the third-party iOS system repair software - Joyoshare UltFix. As a special tool, it is greatly recommended to you if your iPad issue can't be repaired with common ways. However, it's up to you to determine which solution you need to use. Or you can choose to try them all over before making a decision.