Do you have a problem with your device and ask why your cellular data keeps vanishing? What causes it to toggle on and off by itself even when I don't touch it? Recently, some iPhone users keep grumbling "my iPhone cellular data keeps turning off" and urgently looking for solutions. Their problem is that cellular data doesn't stay on for all the apps or individual apps. But there may be some iPhone apps that require cellular data to function properly all the time. That can be a big problem. Have you experienced this problem as well? If so, you should read this article. We are going to show you how to fix it in greater detail.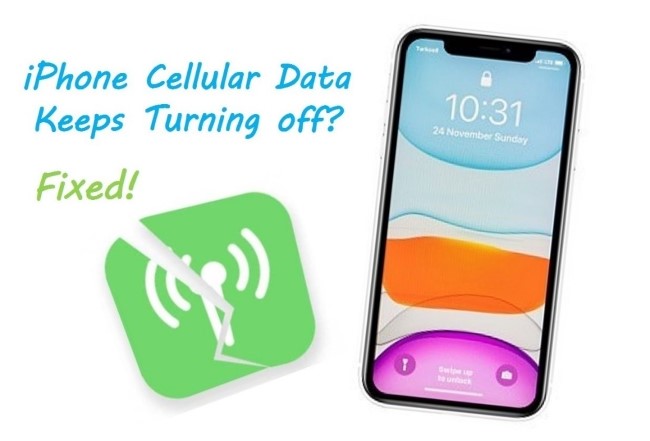 Solution 1. Enable Roaming Data
Data roaming can be enabled on the Apple iPhone, depending on your wireless plan. If your wireless provider does not charge you extra for being on another carrier's network, you will want to enable Data Roaming. Especially when you are traveling internationally. Here's how it's done. Go to Settings → Cellular → move the button to turn off the Data Roaming.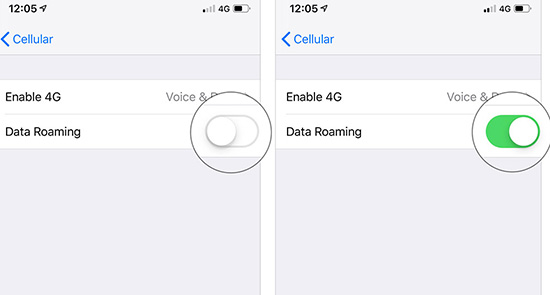 Solution 2. Toggle Airplane Mode ON/OFF
Then, what you can apply to overcome cellular data keeps turning off on iPhone is to toggle airplane mode on your iPhone. You can do that by the Quick Settings menu or simply scroll down from the top of the screen to open the Control Center. You should see a gray plane icon, click on it to turn on, and then do it again after 30 seconds to switch it off.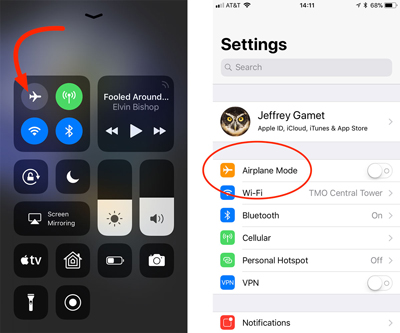 Solution 3. Power Circle Your Smartphone
What you want to do for the next step is to power cycle your device. The issue could be congested packets of data going in and out and resetting your device can help resolve it.
Step 1. Startup power-off slider:
For iPhone X, 11, 12, or 13,
Keep holding the Volume button and the Side button at the same time until the power-off slider appears.
For iPhone SE (2nd or 3rd generation), 8, 7, or 6
Press and hold the side button until you see the power-off slider.
For iPhone SE (1st generation), 5, or earlier
Press and hold the top button until the power-off slider appears.
Step 2. Move the slider to the left, then wait 30 seconds for your device to turn off.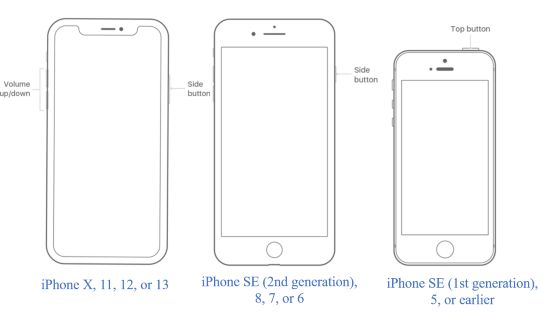 Before turning the phone back on again, proceed to the next step, which is…
Solution 4. Remove and Reinsert the SIM
Put the SIM card back into the SIM card tray after removing it from the tray. Remember to do this with the phone turned off. To successfully remove the SIM card, follow these steps:
Step 1: Locate the tray on the bevels of your iPhone.
Step 2: Then you need to press on the pinhole with a SIM card pin or a paperclip to release the tray.
Step 3: Move the tray out to extract the SIM card.
Step 4: Reinsert the SIM card into the tray after cleaning its chip.
Note: Ensure that the SIM card is correctly positioned. Sim cards won't be recognized by your device if the chip isn't detected.
Solution 5. Check Your Mobile Data Limits
You may encounter cellular data keeps turning off on iPhone if your data limit has been exceeded. Mobile data is sometimes limited after you've used it up to a certain point in order to save you money. This is usually controlled by your data plan, though sometimes your phone will set the limits on its own. To change the limits, either upgrade your data plan or change your data plan. If you're experiencing problems with the plan, the service provider will allow you to upgrade right away. Depending on the service provider and your plan, you may have to wait until the end of the month to make changes.
Solution 6. Turn OFF Low Data Mode
With Mobile Data mode, you can save data by cutting off unnecessary things while using cellular connectivity. The Low Data Mode is useful for people who are unable to access unlimited cellular data. But here in this case – cellular data on iPhone keeps turning off, some apps will not work if Low Data Mode is enabled.
Asking Siri to disable Low Data mode on your device is an easy way to do so. But Siri may not be the best option if you want to manage device settings, so you may have to do it manually.
Step 1: Open Settings and find the Cellular section.
Step 2: Touch Low Data Mode to turn it off.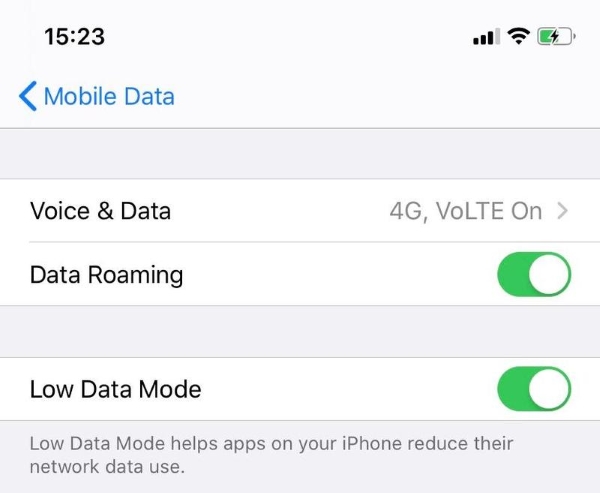 Solution 7. Perform Reset Network Settings
Reset your network settings will erase your networking settings. After applying that, you are asked to reenter your Wi-Fi passwords again. Here is what is to be done.
Step 1: Go to Settings on your iPhone.
Step 2: Then, choose General.
Step 3: Next up, navigate to Reset → Reset Network Settings.
Step 4: When prompted, enter your four-digit password. Then confirm the Reset.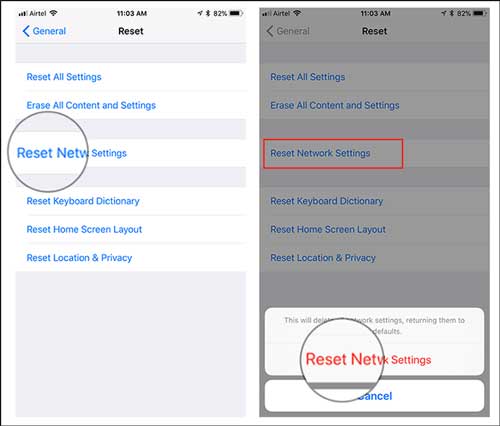 Solution 8. Update Your iPhone
iPhone cellular data keeps turning off problem may be caused by a bug in your current iOS software. So, make sure to check available iOS system software updates. Install iOS updates if they are available, even if they appear to be the same version. Check for updates by going to Settings → General → Software Update.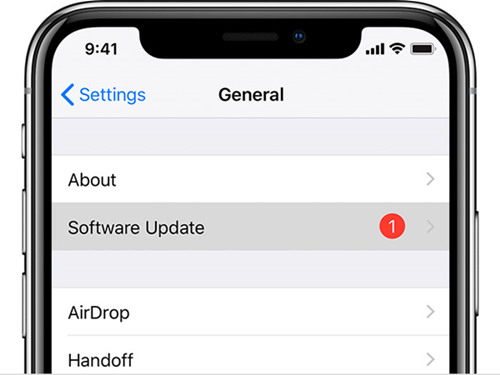 Or connect your iPhone to iTunes and check there. If you are using a computer running macOS Catalina or later, use open Finder to update. If your computer is running an earlier version of the macOS software or if this is a Windows PC.
Solution 9. Use Repair Tool to Fix iOS System
Joyoshare UltFix develops an iOS System Recovery feature that works for iPhone, iPad, and iPod, and the repair results are satisfactory. What makes these programs so outstanding? It was developed by a team of professionals over a long period to overcome all iOS issues. It allows users to save maximum time and effort to complete device troubleshooting. Not only can you resolve 150+ weird iDevice problems in a lossless way, but enter the recovery mode with one click. I mean, it specializes in fixing cellular data keeps turning off on iPhone, iPhone cellular data not working, or iPhone won't turn off, and more. Scroll down, and you'll see each fixing step and a simple description of each one.
Key Features of Joyoshare iOS System Recovery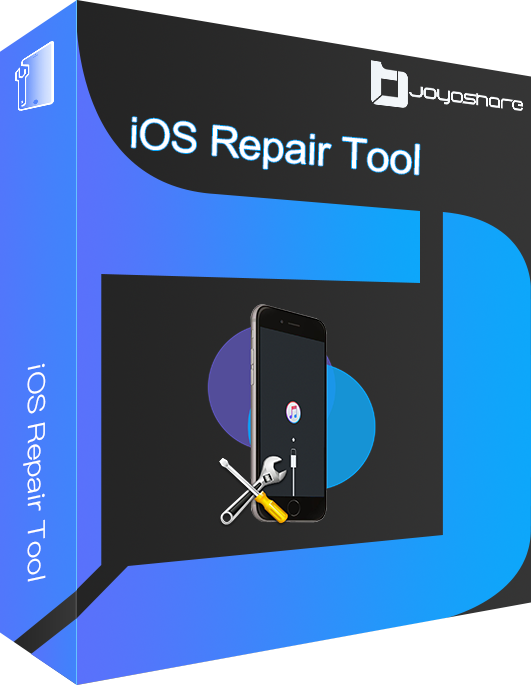 Fix cellular data keeps turning off on iPhone
Resolve 150+ errors on all iOS devices like iPad, iPod and iPhone
Compatible with the latest iOS version - iOS 15
Free to put your iPhone into Recovery Mode with one click
Next, let's explore the actual workings of this amazing program:
Step 1

Install and Open Joyoshare iOS System Recovery

Firstly, download the program from the official website and save the file on your computer. Next up, open the downloaded file and install it in the proper location. The installation process is quite simple and can be completed within a few minutes. Now, launch the software, you see the main screen of this software.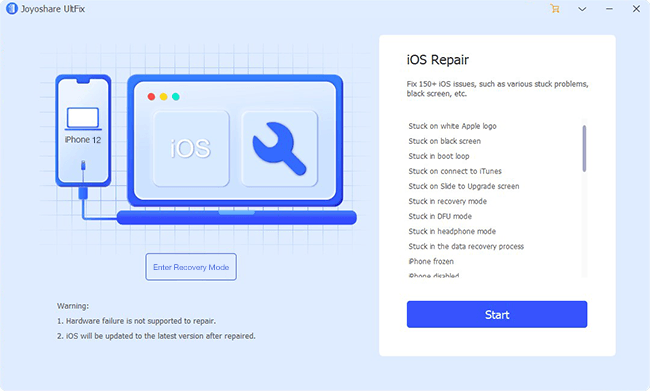 Step 2

Plug iPhone Computer and Choose Repair Mode

Connect iPhone to the computer with an original Apple USB cable. The software will detect your iPhone. After everything is done properly, then hit the "Start" from the main screen of the software.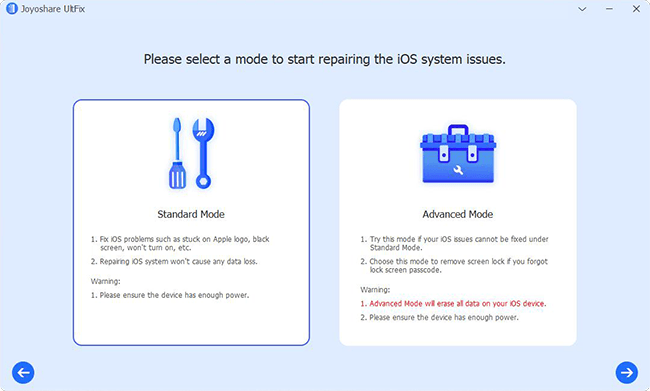 Step 3

Enter Recovery/DFU Mode and Download Firmware Package

In this step, you need one click to let your device into Recovery mode or force it to enter DUF mode by following the onscreen instruction. Next, the software will detect the info of your device for downloading the firmware. If it is not correct, select the options you want from the drop-down list and click "Download".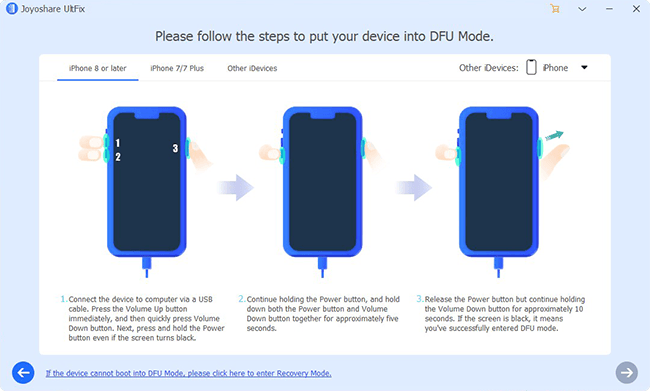 Step 4

Start Fixing the Issue on iPhone

After the downloading is finished, click "Repair" and the software will automatically attempt to repair your iPhone. Wait patiently until the process is finished. When the repair is complete, you will see a message on your screen that says "Repair Completed". The issue should be fixed and the device can be restarted normally.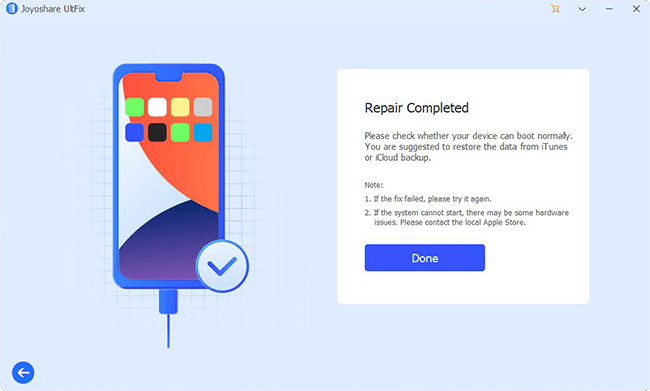 Conclusion: Cellular Data Keeps Turning OFF on iPhone
If your cellular data keeps cutting out, it can be extremely frustrating, especially if you are in the middle of something. You can try the above methods one by one, if you find it troublesome, you can jump directly to the last method, Joyoshare UltFix iOS System Recovery can fix all iOS system problems. Thus, I hope that this article will be helpful and you will be able to handle the problem yourself.