WAV files, also known as WAVE audio files, play a premium role in the music industry. They are high-quality audio formatted files. The reason for the large size of WAV files is its lossless quality feature. Considering the size of these files, it's hard to play or store them on mobile devices. Therefore, for using or storing WAV files, you need to convert them into a suitable format or compress them at first. In order to compress WAV file, you are suggested to use the ways well-defined in this article. We will recommend you the 8 best ways of compressing these files. Moreover, you will also look across the factors about how you can customize parameters to change the size of WAV files.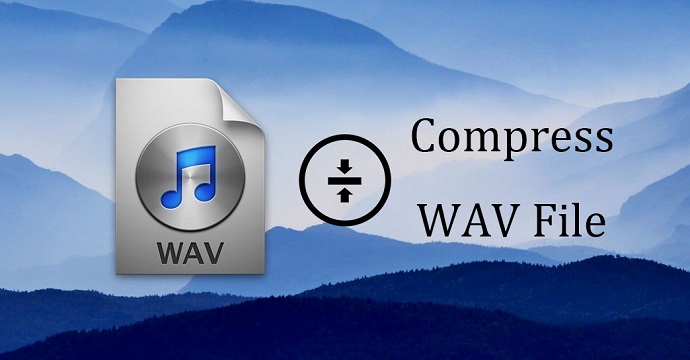 Part 1. How to Compress WAV Files - Wondershare UniConverter
The best-suggested software which can compress WAV file for better use is Wondershare UniConverter. This software supports both conversion and compression of WAV files to manage a number of files at once. It successfully compresses the audio files without risking quality loss. This UniConverter software allows YouTube video conversion by pasting the URL of the video.
Besides compressing files, this software can convert WAV files to thousands of formats like MP3, allows the transfer of WAV files after compression. Wondershare UniConverter has a 30 times faster speed of conversion and compression comparing all other audio compressors. It also allows you to customize some parameters to give you your required results.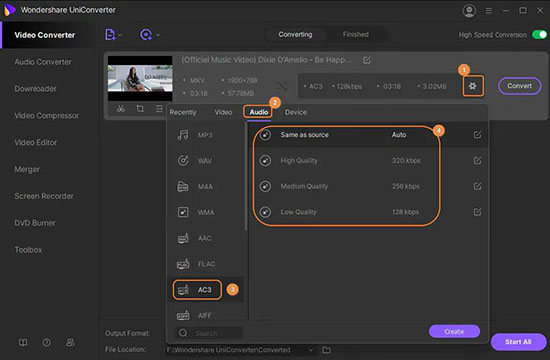 Step 1: Open Wondershare UniConverter on your computer and open the audio converting tool by pressing the "Audio Converter" tab on the left side of the main screen;
Step 2: Click the "Add Files" button in the upper-left corner of the screen or make use of the drag-and-drop feature to import your WAV files to the program;
Step 3: Hit the gear icon on the information box of your added WAV files so that you can start to select your output format and adjust quality, codec, bitrate, and more;
Step 4: Tap the "Convert" button to start to convert and compress your WAV files.
Part 2. Compress WAV File Online - Online Audio Converter
You can also access an Online Audio Converter to reduce WAV file size. It is not necessary to do compression by installing some software. It a free-to-use compressor that can compress your WAV files. You can change the quality and other parameters like sample and bit rate, channels, removing voice, fading on and out for better results.
In Online Audio Converter, you can upload files using Dropbox, Google Drive, URL, and from your PC. It promotes information about WAV files like the album, track name, year, and other parameters for editing purposes. The drawback of this converter includes that it always needs a strong internet connection, and it supports restricted file formats.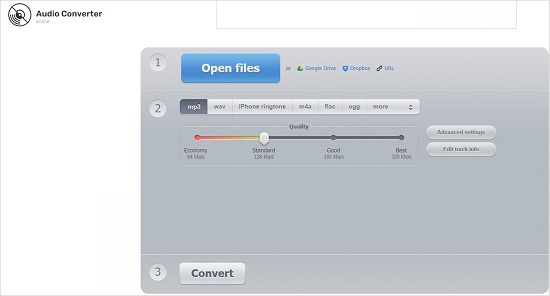 Step 1: Open Online Audio Converter on your web browser, then press the "Open files" button to upload your WAV files;
Step 2: Next, you are able to select your output format as WAV or other formats, then adjust the "Quality" bar and click the "Advanced settings" button to adjust bitrate, sample rate, etc. to configure compression settings;
Step 3: Begin to hit on the "Convert" button to start to reduce WAV file size with ease.
Part 3. Compress WAV - FreeConvert
FreeConvert is a free online file converter that allows you the conversion of various file formats. It offers you to use video converter, document converter, image converter, music converter, unit converter, eBook converter. FreeConvert provides you with various compression tools which can compress WAV file online.
The WAV compressor tool of FreeConvert allows you to choose your WAV file with a maximum size of 1GB. For the above file size compression, you need to buy some package of FreeConvert or sign up from the account. You can also select a suitable compression level like low, medium, and strong levels for different WAV file sizes.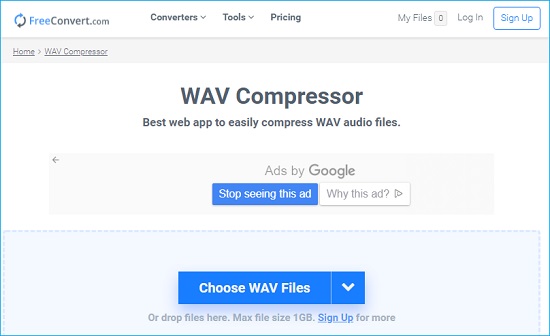 Step 1: Open the WAV compressor by FreeConvert on the web page and then upload your wanted WAV files from local folder, Dropbox, Google Drive, or by URL;
Step 2: Click the gear icon on the audio tab to select your compression level;
Step 3: Tap the "Compress Now!" button to start to compress WAV file size online free.
Part 4. Reduce WAV File Size - Zamzar
Zamzar is an online file conversion tool that will let you know how to compress a WAV file on Zamzar. It offers you fast downloads, good quality conversions, deals with any operating system, and completely secured results. This conversion tool supports many popular conversion and converters for them. It recently comes up with the compression of various file formats.
To compress WAV files in Zamzar, you need to upload a WAV file from your device, or you can drag and drop the file in its interface. In Zamzar, the maximum allowed file size for uploading is 50MB. You can also buy their package for large-size compressions.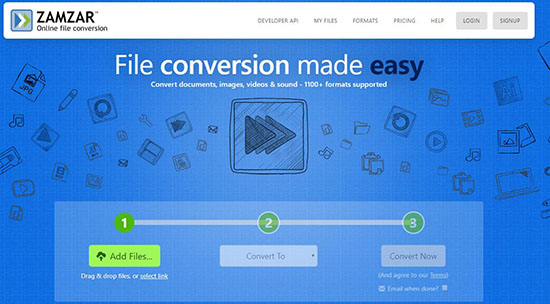 Step 1: After opening Zamzar online, you can click the "Add Files" button to upload the WAV audio you would like to compress, or alternatively, you can add a file by dragging and dropping;
Step 2: Next, expand the "Convert To" dropdown list and select your preferred output format that will cause a smaller file size;
Step 3: Hit the "Convert Now" button to start the WAV compression process.
Part 5. Compress a WAV File - YouCompress
YouCompress is a remarkable web portal responsible for the compression of different file formats. You need to upload a file from your device then this app will automatically compress the file. It offers you countless sessions per day, encrypts the compressed file to secure your data, avoids watermarks to add in the resultant files. You can also compress a WAV file using YouCompress.
This app provides users with free compression of videos, songs, images, documents, and files like MP3, PNG, JPG, JPEG, MP4, PDF, MOV. There is no registration process required for the compression, and users can compress countless files. YouCompress doesn't have any authority over the compression ratio.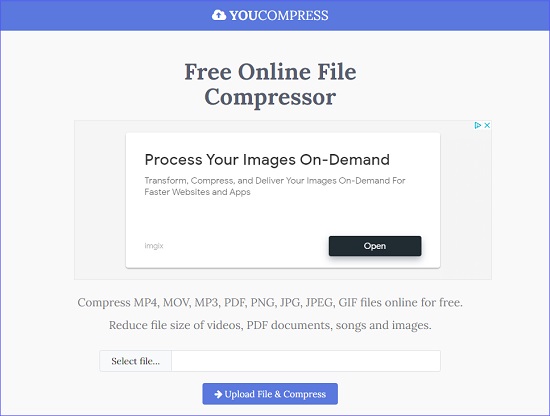 Step 1: Open the online YouCompress, then click the "Select file" button to add your WAV file;
Step 2: Now you can tap the "Upload File & Compress" button straightforwardly and YouCompress will help you compress WAV file as much as possible.
Part 6. How to Reduce WAV File Size - Compress.com
Compress.com is a free file compressor available online where you can reduce WAV file size online. It can compress different file formats like documents, websites, images, audios, and videos for free. For initializing the compression, you are required to drag your file and drop it in the interface of Compress. It does not support any other uploading procedure.
While compressing a file, you can customize compression settings like audio quality and compression options. It allows maximum file size for compression up to 200MB. You can also compress the resultant files into a ZIP file by tapping three "dots" at right and then select the "Add to ZIP." You are allowed to download the file on your PC for further use.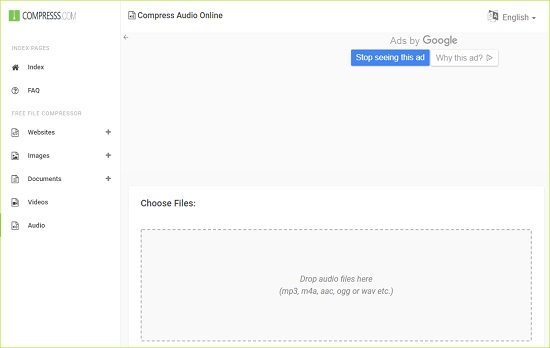 Step 1: After opening Compress.com, you need to press the "Audio" tab on the left side at first to open the audio compressor at first, then adjust the "Compression Options" and change the settings accordingly;
Step 2: Next, click or drag and drop to import the WAV audio you want to compress;
Step 3: After the file is added, Compress.com will start the compression automatically and you can scroll down to find and download the compressed WAV file you want.
Part 7. How to Compress a WAV File - Audacity
Audacity is an amazing free audio editor tool having flexible nature. For free downloading tools, Audacity is at the top of the list. It is famous for open-source audio editing, recordings from many media platforms, its support for LV2, VST, LADSPA, Audio Unit Effect Plugins, and Nyquist. You can also edit and then compress a WAV file using Audacity.
Audacity is mainly designed for creative people to offer the best opportunity to edit their audio files. It still faces some drawbacks, like it could not work without documents, the long interval between updates, and the neglection of new updates due to its complicated interface.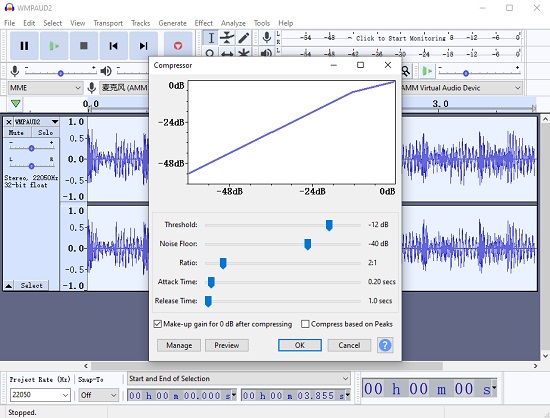 Step 1: Having started Audacity on your computer, you can go to File > Open to load up your WAV audio;
Step 2: Next, go to Effect > Compressor so that you can adjust a series of compression settings like "Threshold", "Noise Floor", "Ratio", etc.;
Step 3: You can also choose to tick the checkbox of "Make-up gain for 0db after compressing", which means you allow Audacity to amplify your audio so that your WAV is listenable;
Step 4: You are free to click the "Preview" button if you want to know what your WAV audio would sound like;
Step 5: Now you can click "OK" and Audacity will start to analyze your WAV and compress it in the way you want.
Part 8. Reduce WAV File Size Online - ClipCompress
It is an online compressor that helps you to reduce WAV file size online. You can reduce the WAV file size by up to 90 percent. It will protect the quality of your audio from any kind of loss. For comparison, you need to upload a file from your device up to 50MB.
ClipCompress can compress unlimited files per day. Moreover, it secures your data by deleting all uploaded and compressed WAV files from their server around 6 hours after compression. The compressed files from ClipCompress do not contain any watermark in the output files.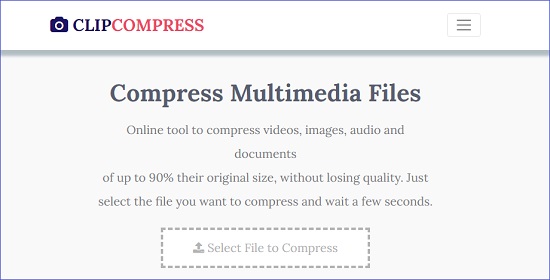 Step 1: When you open ClipCompress on your computer, you can press the "Select File to Compress" button to upload your large WAV file;
Step 2: Then ClipCompress will start the compression automatically, and after a short while, you will be able to save your compressed WAV audio.
Recommendation. Best Way to Compress All Videos - Joyoshare VidiKit
Joyoshare VidiKit, supporting 40X faster compression speed, is always the best solution for every starter and professional to compress all videos in an accurate manner. Different from other conventional competitors, Joyoshare VidiKit allows you to compress any large video file you want by controlling the degree of compression easily. You can set the percentage or designate the exact output file size directly.
As a perfect video compressor that works flexibly, Joyoshare VidiKit also enables you to select any output format and change the video resolution. You can even use the real-time preview function to check your file quality in advance and the "Apply to All" mode to apply the compression settings to all the added videos. Its ability to compress videos in batch will undoubtedly bring you a lot of conveniences.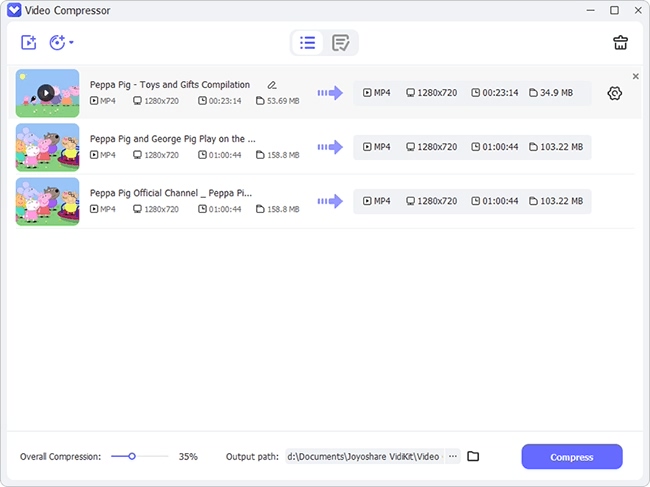 Compress multiple videos of different formats at 40X faster speed
Compress MOV, AVI, MKV, MP4, WebM, 4K video, etc.
Apply the real-time preview function and the "Apply to All" mode
Change output format and video resolution in the way you like
Compress large videos by file size or percentage singly or in batch
Conclusion
Knowing how to compress WAV file is necessary when you need to play the audio on devices like mobile phones. WAV files require compression due to their nature of lossless quality. This quality makes them huge files for normal use. Above in the article, we discussed that how to compress a WAV file using different useful ways. There are many tools that support the compression of WAV files and the best of them becomes part of the discussion in the above article. If you are looking for a fast and accurate way to reduce the file size of common videos, you can also give Joyoshare VidiKit a try and it will never let you down.