In workplaces or other fields, data needs to be stored or shared via different sources. Some people prefer MOV files to store their audio, video, or written data after compression. The compression of MOV files is important for storing such type of content. MOV files are also known as container files as they store various types of content. Regardless of its functionality, its large size makes it difficult to store or share them. In this article, viewers will get to know how to compress MOV files for storing or sharing purposes by showing up to 11 reasonable ways to do so.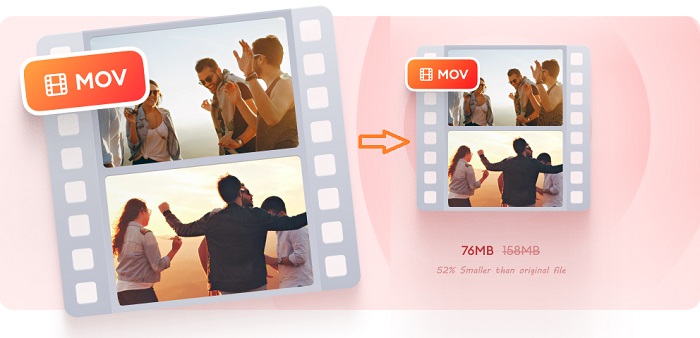 Part 1. Compress MOV in No Time Flat - Joyoshare VidiKit
With a powerful MOV video file resizer like Joyoshare VidiKit, you will be able to resize MOV, MP4, M4V, MKV, AVI, MPEG, WebM, DV, DivX, HEVC Video, ASF, 3GP, 3GP2, etc. in no time flat. Batch compression is supported so you can compress multiple files simultaneously. The compression modes Joyoshare VidiKit conduct to resize your video files is by percentage and by file size. These two modes make it possible to compress files in an extremely flexible and accurate manner.
The 40X faster compression speed than any other conventional competitors is appreciated by users. Moreover, using this video compressor, you will be allowed to preview videos in real-time before any compression process starts. You can also use many features like adjusting video resolution and applying the "Apply to All" function.
Key Features of Joyoshare VidiKit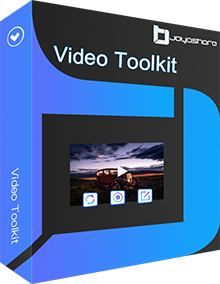 Compress multiple videos by percentage or file size flexibly
Adopt 40X excellent processing speed and batch compression
Compress MP4, MKV, AVI, WebM, MPEG, MOV, FLV, and more
Select the output format and customize the video resolution
Preview target videos in real-time before compression begins
Step 1

Add MOV Videos to Joyoshare Program

Open Joyoshare VidiKit on your PC or Mac after installation, then move to the "Convert" section and click to open the video compressor. You are able to drag and drop or hit on the "Add Files" button at the top of the screen to import your multiple MOV videos.

Step 2

Compress MOV in 2 Ways

The "Compress" button in the bottom-left corner of the main screen can help you compress MOV by percentage. But if you prefer to compress MOV by file size, you are free to tap the gear icon on the video tab and drag the slider bar to change the video size. Here you are also able to select your wanted output format and adjust the resolution as you like.

Step 3

Start MOV Compression

Once you are ready, you can click the "Compress" button in the bottom-right corner of the screen to let Joyoshare VidiKit start the MOV compression process. After a while, you can go to the "History" window to check your compressed files.
Part 2. How to Compress a MOV File - Wondershare UniConverter
Wondershare UniConverter is professional software that allows users to compress MOV files, video conversion, and video editing for free. You can customize various parameters of your file to get the resultant file of your choice. Wondershare UniConverter does compression of MOV files by changing some parameters like sample and bit rate and the size of the actual file.
This UniConverter software supports more than 1000 formats for the conversion of MOV files. Moreover, it provides the user with all video editing features, compression of MOV files in batches, download videos from various sites like YouTube, and some other functions. These functions may include GIF maker, Screen Recorder, etc.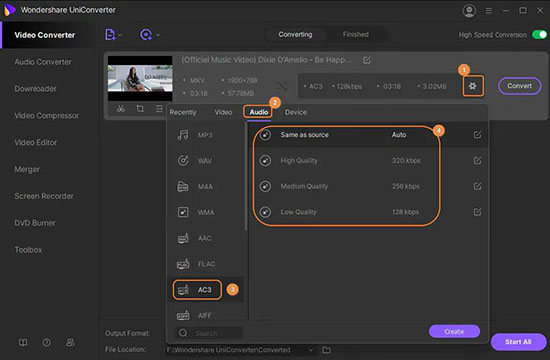 Step 1: To start with, run Wondershare UniConverter on your computer and tap the "Video Compressor" tab on the left side of the main screen;
Step 2: Next, press the "+" button or the "Add Files" button in the upper-left corner of the main screen to import your large MOV video;
Step 3: Clicking the gear icon on your video tab will make a new window show up, where you can drag the slider bar to change file size; here you can also customize your output format, adjust resolution and bitrate, etc.
Step 4: Press the "OK" button to go back to the main interface, and now you can click the "Compress" button to start to reduce the size of MOV file.
Part 3. Compress MOV File Online - Clideo
Clideo is an online video compressor available for free to use. The requirement of free use of that software is, you can upload the file with a maximum size of 500MB. In case you need to compress a file greater than 500MB, then buy some package of Clideo and proceed with your compression process.
In order to compress the MOV file, you are allowed to upload the file from Google Drive, Dropbox, your own PC, and you can add the URL of your file. Clideo guarantees you fast compression, secure encryption, smooth download, and an intuitive tool with a simple interface. It supports many popular formats like MOV, AVI, VOB, MP4, WMV, etc.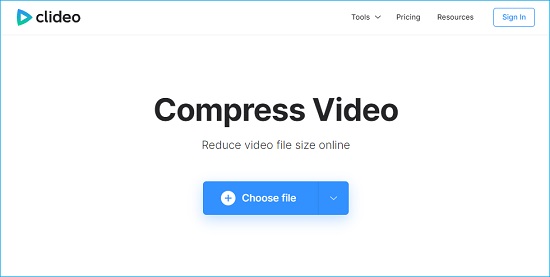 Step 1: Open the video compressor by Clideo and then click the "Choose file" button or the down arrow button to upload your MOV video in the way you like;
Step 2: The uploading process can take several minutes, and when your MOV video is uploaded successfully, the video compressor will reduce its file size automatically;
Step 3: Now on the resulting window, you can press the "Download" button directly to save your compressed MOV to your computer; you can also use the many buttons below the "Download" button to merge and subtitle MOV.
Part 4. Reduce MOV File Size - VEED.io
It is an online software to reduce MOV file size online and easy to use. This software tool allows you to compress files up to 50MB for free. To compress large files, you need to buy their monthly or annual packages. You can simply upload a file from Dropbox or paste a URL of the file to compress and reduce the file size of a MOV file. You can also drag and drop your PC file.
This online software offers you MOV file compression, flexible features for editing, fast compression, and simple steps to done compression in no time. You can also choose your preset options like YouTube 4K, 720p, 1440p, 1080p for quick MOV compression.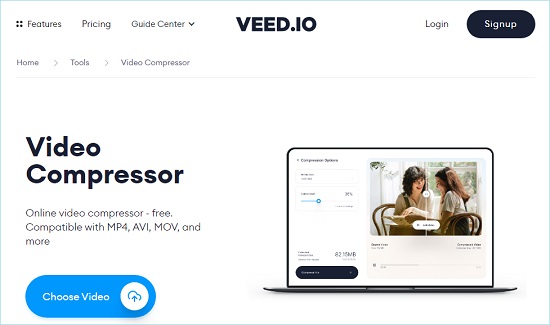 Step 1: Open the video compressor by VEED.io on your web browser and then tap the "Upload Your File" button to upload your MOV file, and you are also allowed to drag and drop your MOV video files as well; MOV videos from Dropbox and web are also accepted;
Step 2: On the "Compression Options" box, you are able to drag the bar to decide the compression degree or even press the "+ Advanced Settings" button select a compression mode and adjust frame rate according to your needs;
Step 3: When you are done with settings, you can hit on the "Compresss Video" button at the bottom of the web page to start to compress MOV file;
Step 4: On ther resulting web page, you are free to click the "Download Video" button to save your compressed MOV to your device.
Part 5. Reduce MOV File Size Online - FlexClip Free Video Compressor
FlexClip is a browser-based free video compressor software tool. It offers you fast compression of video length up to 1 minute. For compressing videos larger than 1 minute, you need to buy one of their packages that are basic, plus, and business. To compress MOV files, browse a file from your PC or drag and drop it in the FlexClip interface for continuing compression.
This software supports video formats like M4V, MP4, MOV, WebM, etc. It provides users with many more related tools to edit video like Trim Video, Record Screen, Convert Video and etc. FlexClip allows you to customize settings like you can change Compressed quality and Resolution before compressing a video.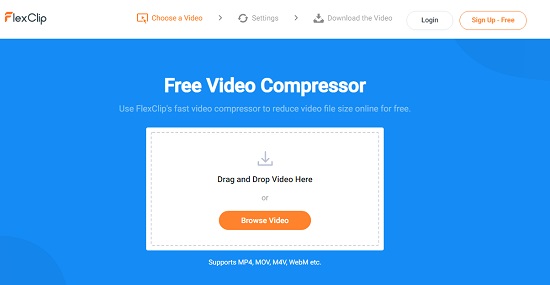 Step 1: To begin with, open FlexClip Free Video Compressor, then you can add your MOV to the web service by dragging and dropping or tapping the "Browse Video" button;
Step 2: After that, you are free to customize the compressed quality like "Extremely Low", "Low", "Medium-low", etc.
Step 3: Besides, it is also easy to adjust video resolution by expanding the "Resolution" dropdown list;
Step 4: Hit on the "Compress Now" button to let FlexClip Free Video Compressor compress your MOV video immediately.
Part 6. Compress MOV Files - Ezgif Online Video Resizer
Ezgif is an online video resizer tool that could help you to reduce the size of the MOV file. It provides you with a lot of video editing options like resize, effects, optimizes, rotate, split, reverses, or crop a video. You can also convert video to GIF, GIF to MP4, and can mute or speed up your video. For compression, you can upload a file from your computer or simply paste a video URL.
This software supports many video formats that include FLV, MOV, MP4, 3GP, AVI, WebM, etc. You are allowed to upload a maximum file size of 100MB. After complete resizing, it will show you your resized new video.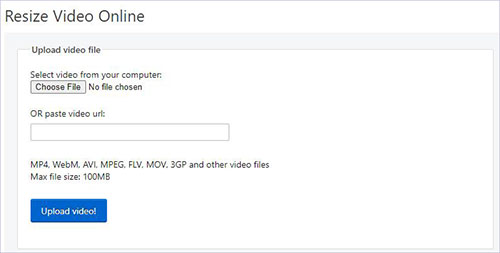 Step 1: After opening Ezgif Online Video Resizer, press the "Choose File" button or paste the URL you copy to upload the MOV video you are about to compress;
Step 2: Click the "Upload video!" button and the online resizer will begin to compress your video smartly, and when the compression is finished, you will be able to view your MOV online, whose information will be displayed below the preview window as well;
Step 3: More customization options can be seen, such as convert MOV, rotate video, crop scenes, cut out unnecessary portions, etc., and when you are done with editing, you can tap the "save" button to download your edited MOV to your computer.
Part 7. How to Reduce MOV File Size - FVC Free Video Compressor
FVC is an amazing tool for compressing large-size videos for free. It assures you to compress your files that could be MOV, VMV, FLV, MP4, M4V, AVI, TS, M2TS, MKV, and more formats free of the watermark. You can download its desktop version from its interface. To reduce MOV file size, you are required to add your file and adjust some settings then it will begin compression.
To add files for compression, you need to download FVC Launcher first. You can trust FVC as it is easy to use, do batch compression, has no watermark, compress 4K videos, and it has a 30X fast compression speed. FVC protects your privacy by not saving your information.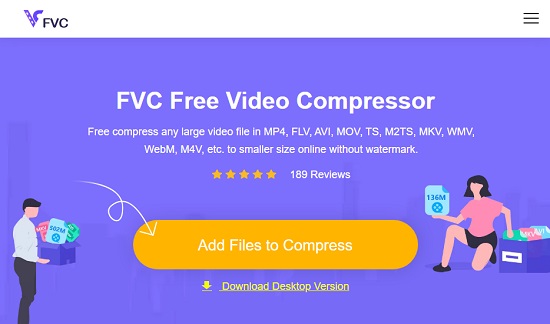 Step 1: Open the FVC Free Video Compressor and click the "Add Files to Compress" button; if this is your first using this service, you will be asked to download the FVC Launcher first;
Step 2: Start to adjust the output settings such as the output format, video size, bitrate, and resolution in the way you like;
Step 3: Finally, hit on the "Compress" button to start compressing your MOV file using the FVC Free Video Compressor.
Part 8. How to Compress MOV Files - VideoSmaller
VideoSmaller is free software that reduces video file size online without losing the quality of your videos. It compresses the real video file and makes it smaller. It offers you to reduce the file size of those videos having a maximum space of 500MB. You can browse videos from your computer. You can also set a compression level, the scale of the new video width, and remove audio from the video.
You can compress the MOV file online using VideoSmaller. Some of the features of this software include your uploaded files will be deleted within few hours, best video reducing services, and it supports some video formats that are MP4, MOV, MPEG, AVI.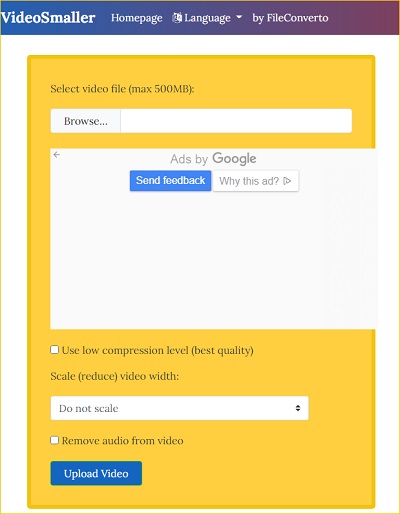 Step 1: Having opened the web page of VideoSmaller, click the "Browse" button to browse and add your MOV file to the online service;
Step 2: You are free to tick the checkbox of "Use low compression level" and scale video width as you like; Removing audio from video is available as well;
Step 3: In the final step, press the "Upload Video" button and when the uploading process is completed, you will be able to get a compressed MOV video.
Part 9. Reduce Size of MOV File - Movavi Video Converter
Movavi is a video converter that can convert your video file into more than 180 formats, and it also includes HD format. It can merge, rotate and crop several parts of your video. You can use Movavi by downloading or buy its latest version for free, available to download on its site. It provides you with fast conversion in other formats and easy editing of pictures and images too.
The solution of how to compress a MOV file in Movavi is, you can simply drag and drop your file in its app interface. You need to choose your desired output format and then initiate the conversion process. You can also watch a Video Guide provided by Movavi for better use.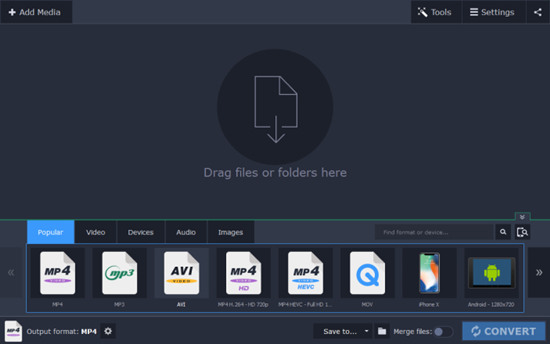 Step 1: Launch Movavi Video Converter on your computer and then go to Add Media > Add Video to select the MOV file you would like to compress;
Step 2: To configure compression settings, you are able to right-click on the file size, which will open a new window, and you can use the slider bar to select your target MOV file size;
Step 3: On such a window, you are also allowed to press the "Convert sample" to preview your MOV video and check the "Apply bitrate to all files";
Step 4: Moreover, if you click the cogwheel icon at the bottom of the window, you will be able to adjust frame size and change video resolution;
Step 5: Before compression starts, you can click the "Save to" button to select a folder, and after that, hit on the "Convert" button at any time to start your MOV compression at any time.
Part 10. How to Compress MOV - iMovie
It is a tool that can successfully turn your videos into a magical new formatted video for a better experience. You can download iMovie for iOS and for macOS. It doesn't make a big difference whether you are using Mac or iOS; you can deal with all video editing options in both interfaces. To make a cinema-quality video, it also supports 4K video file formats.
You can also download iMovie and can compress MOV files with perfect customization and editing in your video files. You can experience high-fidelity filters, extra-special effects, and many soundtracks while using iMovie.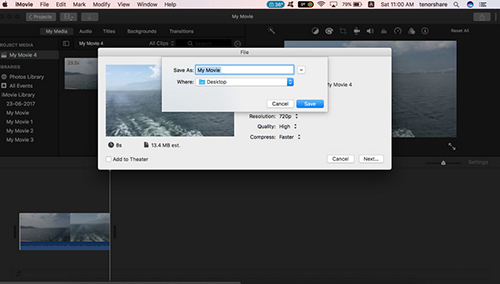 Step 1: Open iMovie and then press the "Import Media" to import your MOV to iMovie;
Step 2: You can start to edit your MOV videos in the way you like, and after editing, you need to go to File > Share > File... and begin to adjust your export settings;
Step 3: To compress MOV, you can adjust the resolution and the quality, which will have the most impact on the file size of your MOV video; lower resolution and quality make MOV smaller;
Step 4: Now you can save your compressed MOV video easily.
Part 11. Compress MOV File - YouCompress
YouCompress is famous as the easiest tool to reduce any kind of formatted video files that also reduce MOV file size online. You can use it online without downloading any tool or software on your computer. YouCompress assures you of the original quality of your video after compression completes.
To improve the security feature, it uploads the video files using encrypted connections. YouCompress is easy to use when it comes to understanding the interface. It has some drawbacks, like it doesn't offer any customization and the compression process is quite slow.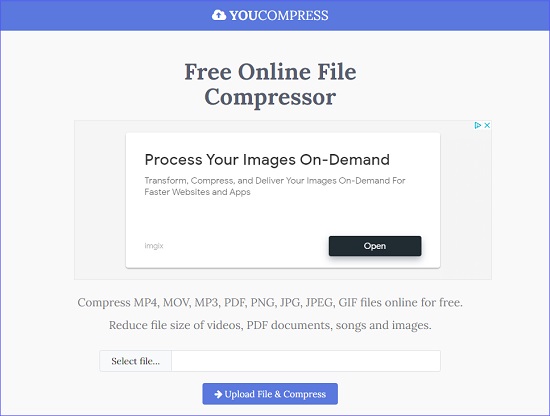 Step 1: When the web page of YouCompress is opened, hit on the "Select file" button to browse and upload the MOV video you want to compress;
Step 2: Click the "Upload File & Compress" button and YouCompress will start to compress your MOV automatically and smartly, and after that, you are free to tap the "Download" button to save your smaller MOV.
Conclusion
The use of video files without any hindrances is quite important for people in many fields. You can use the simplest ways to compress MOV file to avoid such hurdles. In this article, we recommend many video compressor tools that can help you compress your videos and how you can do possible editing using those tools. You can also take a deep look at Joyoshare VidiKit. It is the most efficient video editor and compressor to compress videos at 40X faster speed in the blink of an eye. We hope that you can get your best experience in compressing and editing video files.