Video game enthusiasts love flaunting their game skills among friends. For this reason, they record exciting clips from the game. However, they are met with disappointment when the video cannot be shared on some platforms. For example, you want to upload a file above 8 MBs on Discord. You might face trouble uploading it because Discord does not support huge file sizes. That's when video compression can save you. It is used when you want to reduce the size of the video or change it into another format. In this article, we have listed seven ways you can compress video for Discord.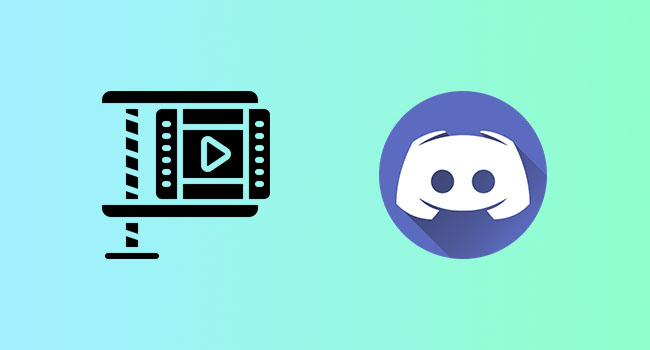 Part 1. Compress Video File for Discord - Joyoshare VidiKit
Joyoshare VidiKit is the best video compressor for reducing file size to store or share easily and efficiently. It is a flexible tool that comes with a 40X fast compression speed. Not just that, you can also play the video to preview before compressing it. In short, you do not need to worry about how to compress a video for Discord when you have Joyoshare VidiKit. You can compress multiple files at a single time using this software.
Key Features of Joyoshare VidiKit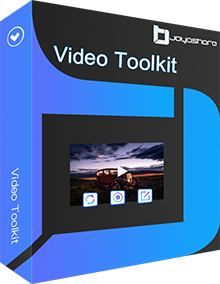 Two solutions to compress video for Discord
Change resolution and output format as you want
Check your compressed video with its built-in media player
Support a multitude of video formats that you need
Compress video for Facebook, Twitter, Instagram, Vimeo, YouTube and more
Step 1

Open Joyoshare VidiKit and Add Video Files

Download Joyoshare VidiKit on your computer and launch it by double clicking its icon on your screen. Select Convert section and run Video Compressor. To add files from your computer, hit the Add Files button or drag and drop files into this program.

Step 2

Compress Video for Discord in 2 Ways

It gives you the power to compress video files by file size and percentage. In the rear of your added video files, you can click the Edit button and change Size by dragging the blue slider. You can also customize Format and Resolution as you want. To compress video by percentage, hit the Compress button in the lower left corner and set the parameter. Click Apply to All sign to compress your files in batch.

Step 3

Begin the Compression

Now hit the Output button to select file location and then click Compress to start the compression process. To preview them, open the History window and double click your files.
Part 2. How to Compress Video for Discord - 8mbvideo
8mbvideo allows you to compress video in your desired file size. You can use the drag and drop feature for adding the file you want to compress under 8MB. This software has been specially designed to resolve the Discord issue stating, "Your files are too powerful." You can compress a 2GB video to 8MB for Discord. It supports GPU acceleration in 47 times real-time faster than other tools. It is a clean and safe tool that also allows you to trim the video. Follow these steps to know how to compress video using 8mbvideo: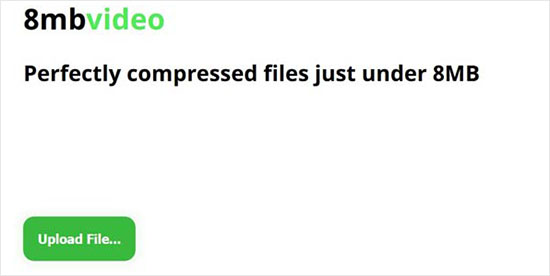 Step 1: Open the official website of 8mbvideo to compress a file.
Step 2: Click the Upload File button to upload the file you want to compress.
Step 3: Select the file and hit Browse or enter the URL to add the file. Press Upload for uploading the video. Finally, select the file size 8MB.
Step 4: Save the file when the compression process is completed.
Part 3. AnyMP4 Video Converter Ultimate
You can use this software to compress video file for Discord by downloading it for free. It is an all-in-one video converter that converts 8K/5K/4K/1080p HD videos into more than 500 different formats. Its compression speed is 70X faster than others. You can also use this tool for making GIF videos. It consists of advanced hardware-accelerated 4K audio/video processing of NVENC, CUDA, NVIDIA, Intel, etc. You can also make full use of a multi-core processor on the computer for making a batch conversion faster with cores.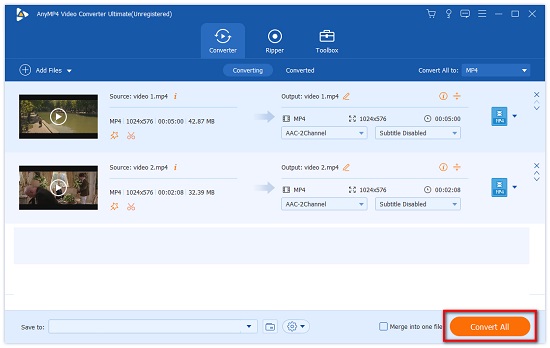 Step 1: Download this software from its official website, install it, and get registered.
Step 2: Click Add File and select Add Folders or Add Files.
Step 3: After importing the files, move the slider or click on the downward arrow of the 'size' option to reduce the size to less than 8MB.
Step 4: Tap on the Convert All button after setting its format. Also, select its location to save it.
Part 4. Compress Video to 8MB for Discord - FreeConvert
FreeConvert allows you to compress video through online means. You do not need to download it for compressing the video. This software supports the video codec of H264 and H265, and H265 codec is more reliable than H264 codec as it offers high-resolution video. It also provides different compression methods that include targeting a file size (percentage), video quality, max bitrate, etc. Follow these steps to use FreeConvert: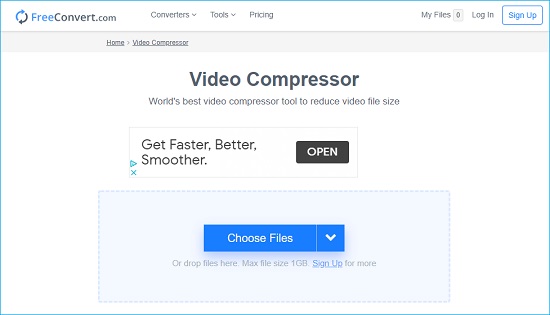 Step 1: Open the official website of FreeConvert to use this online tool.
Step 2: Click Choose Files to upload the files for conversion.
Step 3: Choose your required file size as 8MB and hit the Compress Now button. Also, set output file format.
Step 4: Finally, tap on the Download button for downloading the compressed file.
Part 5. Compress a Video for Discord - VideoProc
VideoProc is a one-stop video processing software that allows you to resize, process, and edit large-sized videos, DVDs, and audios in no time. It offers fast speed to compress a video as it is 47X real-time, more instantaneous, where the quality of the video is not affected after compression. GPU acceleration of this software can also speed up video decode/encode remarkably. You can also convert the videos shot from camcorder, Android, iPhone, DJI, etc. Follow these steps to use VideoProc for video conversion: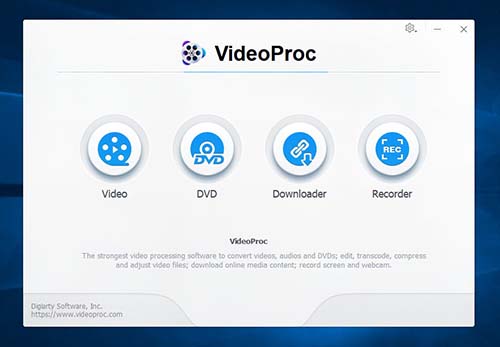 Step 1: Download VideoProc from its official website.
Step 2: Click the Video icon to upload the video to be compressed.
Step 3: Select MP4 format for the output file. Click on Target Format and then re-encode the video with H.265/HEVC video from the 'General Profiles' menu. Or you can lower the frame rate to 24 FPS and lower the video resolution to 720p to reduce the file size.
Step 4: Click the Run button to start the compression process.
Part 6. How to Compress Video Files for Discord - GiliSoft Video Converter
This software allows you to convert or compress the videos without compromising their quality. It helps enhance your video clips with minimal effort. This software is compatible with more than 160 video formats, including MP4, FLV, AVI, etc. You can also rotate, cut, or merge the videos using this software. Follow these steps to know how to compress video files using GiliSoft Video Converter: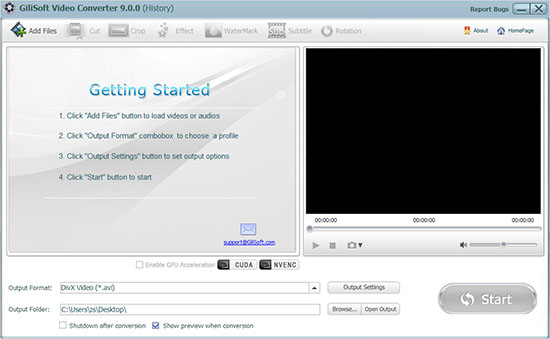 Step 1: Download GiliSoft Video Converter and launch it.
Step 2: Click Add Files for adding audio or video files to convert. Then choose Output Format to select the profile.
Step 3: To compress the video, choose a lower resolution or cut & trim the unwanted parts from the video. You can also lower the bit rate 20-50% to get the file size under the limit.
Step 4: Hit Start to start the conversion process and save the file.
Part 7. Video Compressor for Discord - Any Video Converter Ultimate
Any Video Converter Ultimate is an efficient video compression tool. It does not affect the quality of the video after compressing it. This software is compatible with more than two hundred file formats. The supported platforms of Any Video Converter Ultimate are Windows and Mac. Follow these steps for using Any Video Converter Ultimate to compress large files: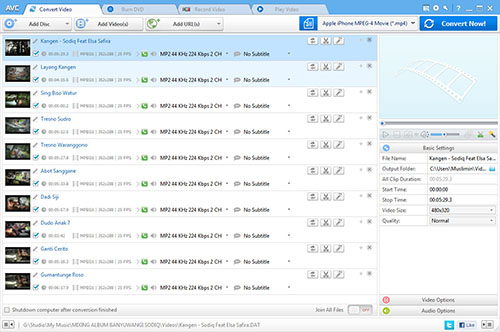 Step 1: Download the software from its official website. Install it when downloaded.
Step 2: Click Add or drag file to add a file to compress.
Step 3: Select the output format as HTML 5.mp4 and then set the frame rate to 23 or less. Then, choose the bitrate as 2000 from the video options and click on 'Convert Now!' to start the compression process.
FAQs about Discord Video
1

What's the limit of Discord file size?

The limit of a Discord file size is 8MB.

2

Why did I fail to send a video with a file size under 8MB?

If you're unable to send videos under 8MB, it might be possible that the format is not supported. Discord only allows MP4, WEM, and MOV file formats.

3

How to send a video on Discord?

To send a video on Discord, select the chat where you want to send the video. Then click on the plus icon and click Upload after selecting the video.

4

Does Discord suggest compressing a video file it does not support?

Yes, Discord displays an error stating the file is powerful, which means you need to compress it to a smaller size.
Conclusion
Discord can only support files with the size of 8MB or less. It displays an error when you want to share a file above 8MB, so you need to compress video for Discord. For this purpose, there are multiple software available with different features. Some of them are offline, and some are online that require an Internet connection to run. These tools ensure excellent video quality even after compression. You can edit your video along with compressing it so that it can be enhanced.