Everyone is at it! No party or event goes on without video capturing. The availability of smartphones has made it easy to capture memorable images and videos while on the go. More so, you can easily share your captured videos with friends over social media platforms. However, your video ought to be of the right size for it to be shared and accessed by the recipient. Otherwise, it will drag if it's bigger than the recommended size for such platforms. Instagram will automatically crop a portion of your video if it exceeds the right size. The best way forward is to compress video for Instagram, Facebook, Twitter, and other media platforms. If compressed, the recipient gets the original quality that is reduced to a smaller size. Here are 6 ways to compress video for Instagram, Facebook, and Twitter.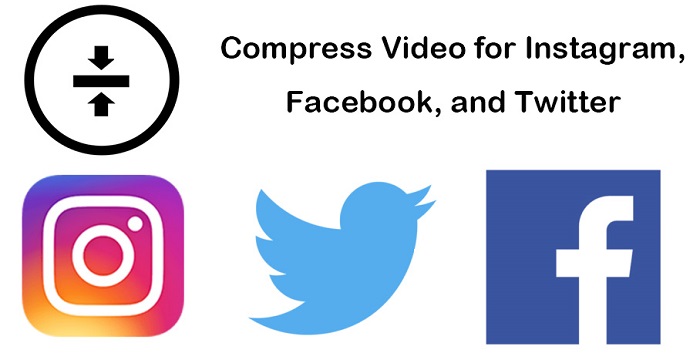 1. Compress Video for Facebook, Twitter, Instagram - Joyoshare VidiKit
The optimal option to compress video for Instagram, Facebook, Twitter is from a powerful tool with advanced features. Joyoshare VidiKit will effectively batch compress your videos without any restrictions. Furthermore, you can share the compressed video on media platforms or save it to any device. With VidiKit, you can enjoy different modes to compress your videos. There's the option to compress by percentage where you can easily adjust the degree of compression. Just add the target compression ratio and it will output matching files. You can also compress your video by file size where you just preset the file size with a definite value.
Key Features of Joyoshare VidiKit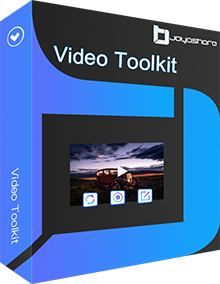 Compress Video for YouTube, Facebook, Twitter, Instagram, etc.
Easily compress your video by file size or percentage
Preview file to ascertain whether it meets your expectations
Support all formats like M4V, MP4, 4K, MKV, ASF, OGV, etc.
Adjust the video resolution and customize it to what you want
Get 40X faster compression speed and adjust video resolution
Step 1

Add Videos to Joyoshare VidiKit

Open Joyoshare VidiKit on your computer and then hit the "Convert" section. Next, launch the "Video Compressor" option and click the "Add Files" tab to add files from your device. You can also drag the files to the app and start the compression process.

Step 2

Compress Video for Facebook, Twitter, and Instagram

Select a file size or percentage to compress. Click the "Compress" button to compress all the added files in batches. You can also decide to individually designate each file. Just click the "Edit" option and manually customize them to the desired compression size.

Step 3

Start Compression and Save Videos

Finally, click the "Output" button to choose a file location to save the compressed video. Then hit the "Compress" button and let the app compress and save your videos locally. Access them from the "History" location. Remember to preview your video before you compress it.
2. Compress Video for Twitter, Facebook, Instagram Online - Clideo
The second option to compress video for Instagram online is via Clideo. This free video compressor works smartly by compressing large files and making them uploadable to media platforms or sending them via email. Clideo has a user-friendly interface that requires no special video editing skills.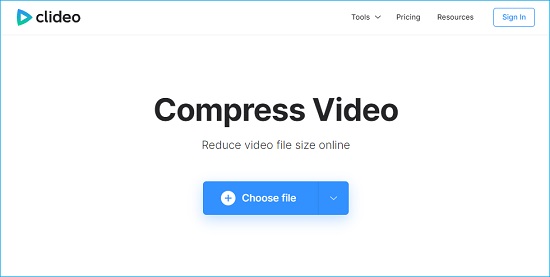 Key Features:
Clideo performs communications via secure channels.
You can first check the preview before saving it to your device.
It works fast to compress your files.
It works online and you don't need to download or install the app.
Support numerous formats like MP4, MOV, AVI, and many more.
Step 1: Launch Clideo in any browser, then click the "Choose file" option to import a video. It should not exceed 500 MB if you are operating the free version. The file could be from your device, Google Drive, or Dropbox account. You can also copy and paste a URL link from the web like YouTube;
Step 2: The app will then automatically compress your video with the necessary parameters;
Step 3: You can preview your video before downloading and saving it. choose to save it to your device, Dropbox, or Google Drive account.
3. Compress Video for Facebook, Instagram, Twitter Online - Clipchamp
Another option to compress video for Instagram is through the Clipchamp video compressor. This tool works in seconds to give you quality videos. It also puts measures on the safety of your compressed content and won't leak data to any third party.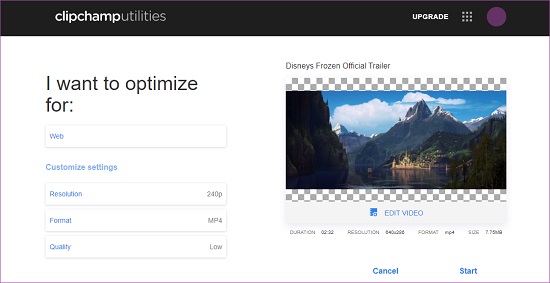 Key Features:
The app is completely safe.
Easily crop your video to a square of ratio 1:1 dimensions to fit Instagram.
The app is free to sign up with a limited number of compression tools.
Step 1: Sign up for Clipchamp if you still don't have an account. If you do, just click the "Sign in" option to log in with your Facebook or Google email and password;
Step 2: Add your video files by dragging and dropping them into the box. You can also select files by clicking on the box;
Step 3: For Instagram, compress your video to an MP4 file with a resolution not exceeding 1080p;
Step 4: Once you confirm that your video is of the right size, click the "Start" button to start saving. You can easily share it on social media. Hit the "Upload & Share" button to share and save your video.
4. Compress a Video for Facebook, Instagram, Twitter - MP4Compress
Let MP4Compress handle the compressed video for Instagram, Facebook, and Twitter freely. The app supports resizing MOV, MP4, MKV, and AVI videos online. you can resize your video for Instagram to a ratio of 1:1 square, 9:16 for portraits, and 4:5 vertical sizes.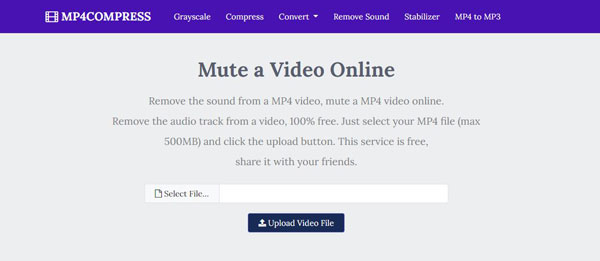 Key Features:
The website uses an encrypted "https" connection which is very safe.
The web service is 100% free.
Access the MP4 compressor from anywhere.
Simple to use.
Step 1: Launch MP4Compressor and then choose the file you wish to convert. Just click the "Select file" tab to continue. There is also the "Upload Video File" tab that you can hit and upload files;
Step 2: Set the correct ratios and let the app continue to compress your video to the desired size. Then save and share your creativity with friends on media platforms.
5. Compress Videos for Social Media - Wondershare Online UniConverter
Among the most reliable tools to compress video for Twitter, Instagram, and Facebook is the UniConverter tool. This tool compresses your files without losing quality. It supports over 1000 video and audio formats and is efficient in batch compression.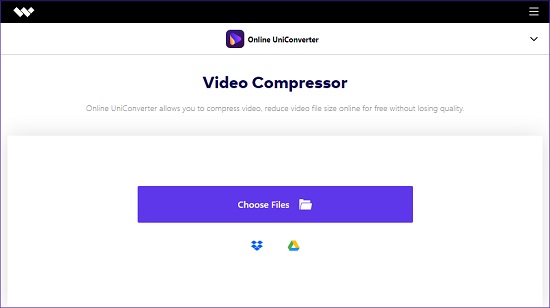 Key Features:
30X faster compression speed.
It supports most popular video formats like MOV, WMV, MP4, FLV, etc.
Easily shrink the video file size by changing the video resolution, file format, and output size.
You can compress your video online via a web browser without installing any app.
Step 1: Launch Online UniConverter and then add your video files from your computer or other devices;
Step 2: Freely compress your video. Just choose the compress settings to reduce the video size. Then hit the "Compress" button to compress your videos;
Step 3: When the compression process ends, download and save your files to Dropbox or Google Drive.
6. Compress Video File for Facebook, Instagram, Twitter with Online-Convert
Online-Convert is more than a video or audio converter. It can also work as an excellent free online video compressor. If you don't want to download any software or plugins, you can compress video for Instagram, Facebook, Twitter, etc. online with this free tool. It works with simple clicks to convert your file to the desired size.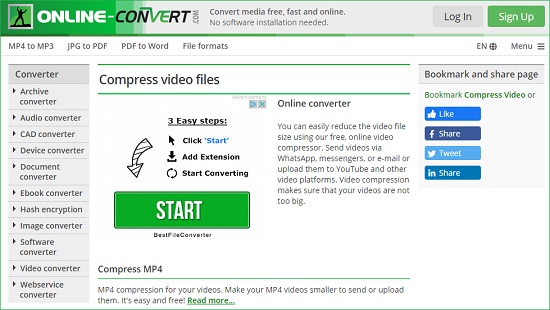 Key Features:
No download or installation is required.
You only need a browser and you are good to start the compression process.
It supports numerous output formats.
Step 1: First, open the Online-Convert on any browser. Then, hit the "Choose Files" button option to add your files. You can also enter URLs and add files or get them from Dropbox or Google Drive;
Step 2: Enter settings at this step. Choose preset and other parameters. You can also cut your video by entering specific dimensions. Then save the settings, enter the desired name and start the conversion;
Step 3: Finally, your video is ready to be uploaded to Instagram.
Conclusion
That's it. You are able to compress video for Instagram, Facebook, and Twitter in these 6 ways. Don't get stuck anymore while sharing videos for your Facebook, Twitter, or other social media platforms. Just use the above tools to get the recommended size to facilitate sharing with friends. If you are looking for a video compressor that can compress videos easily and accurately, you can also give Joyoshare VidiKit a try. Let it help you compress all kinds of videos at 40X faster speed with ease.