It is hard to think that a basic video can occupy a lot of space on your system. This is really a matter of concern when we want to make backups for safe storage or upload videos on Facebook and YouTube. For the past few years, most content creators tried to create the best visual content with the help of high-end video editing tools. For that purpose, we will list out the top-notch programs to compress MKV files, which can reduce the video size, manipulate the format and resolution, and therefore consume less space in your system. In this part, we will briefly discuss the top 8 ways to do that.

Part 1. Joyoshare VidiKit
With 40X faster compression speed, Joyoshare VidiKit allows you to resize MKV files swiftly and accurately. It provides multiple functions to facilitate your compression process like real-time preview, Apply to All mode, compressing any number of MKV in batch. Also, you have the freedom to adjust the resolution according to your requirement. What's more, you can compress your videos via dual mode using this powerful program. Besides compressing videos like MKV, it also enables you to reduce the file size of MP4, MOV, GoPro video, 3GP, Vimeo video and many more as it supports a series of video formats. Before the compression process, you can choose to compress video files in batch or one by one as you want.
Key Features of Joyoshare VidiKit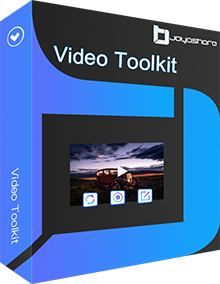 Offer dual mode to compress MKV video files
Compress video files at 40X faster compression speed
Provide built-in media player for users to preview files
Best program to compress MP4, MOV, MPEG, 3GP, YouTube video
Allow users to compress video one by one or in batch
Step 1

Download Joyoshare VidiKit and Add MKV

Open Joyoshare VidiKit by clicking the program icon on your screen after installing it. Click Convert and select Video Compressor to activate its function. On the interface, you can add files by dropping media files or clicking plus-shaped icon on the menu bar.

Step 2

Compress MKV in 2 Ways

It allows you to compress files through 2 methods: Compress by percentage; Compress by file size. To reduce MKV videos file size by percentage, you can click Compress sign and drag slider to what you desired. Also, you can press Apply to all. Hit the gear icon on the rear of each video tab and change file size, output format and resolution. In doing so, you can compress MKV by file size.

Step 3

Start the Compression

Hit the Compress button when you have done settings. Then, this program will start the compression process. To check the compressed files, you can click the History button to preview them using its built-in media player.
Part 2. HandBrake
For fast and free video compression, HandBrake is the best open-source software that helps the users to do video compression and conversion with efficiency. It offers various presets for smooth functioning on both mobile and other platforms. One of the best features of HandBrake is batch-processing, which allows you to compress videos in batches in a short time and can process the MKV media file easily. It provides you an opportunity to choose various options to add subtitles, filters and also personalize audio and video codecs separately.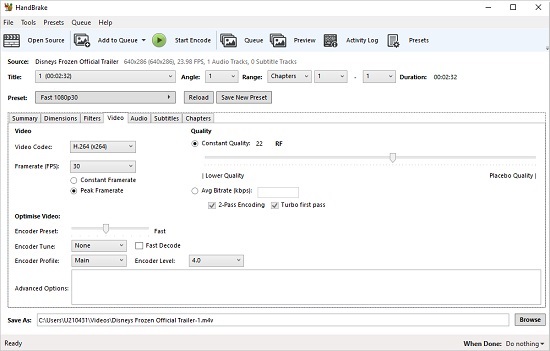 Step 1: Go to HandBrake's official website and download software compatible with your computer. Install this program and run it on your screen.
Step 2: To add your files, choose Open Source and press File. Then click the file that you want to compress. Click Browse under the Destination to choose where you want to save your compressed video.
Step 3: Under the Output settings, you can set the Container. It allows you to customize Codec, Preset, Framerate and more.
Step 4: Click Start Encode to start the compression process. To check your final files, you can go to the appropriate folders.
Part 3. VLC
VLC is a widely used media player; however, it also helps to compress MKV files. This program has many hidden functionalities, and video compression is also one of them. You can compress your videos without having a separate compressing tool. It allows the users to apply editing features to the videos, and even they can change the frame rate and bit rate of the video. Once you have done compression of MKV videos with VLC, then you don't need to go to any other tool. VLC is not only the popular media player in the world but also it provides the facility to compress files without downloading or installing any additional software.
Step 1: Download VLC on your PC and operate it. In the toolbar, click the Media - Convert. Press Add and choose video to select file that you want to compress. Click Convert again.
Step 2: Select the desired output profile and customize aspect ratio. Click Browse to set output path after changing settings.
Step 3: To start the compression, you can click the Start button. VLC will notice you when the compression is done.
Part 4. FVC Free Video Compressor
This web-based online video editor, FVC Free Video Compressor, allows you to compress any format video, such as MP4, MKV, WMV, AVI, MTS, WebM, etc. It maintains the video quality and reduces its size within seconds. Moreover, this editor offers various video settings so that you can easily customize by making a few adjustments. You can customize the resolution, bitrate, and size to make your videos able to share on social media. If you are not familiar with specific parameters, then you use the video slider to adjust the video compression ratio and bitrate.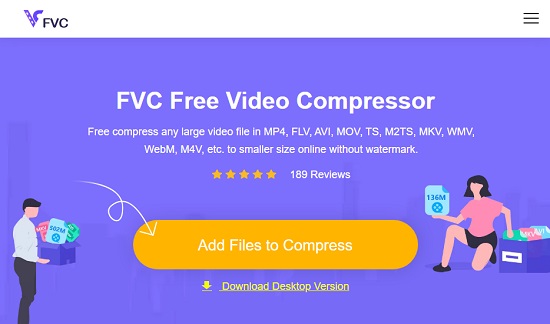 Step 1: Open FVC Free Video Compressor website and click Add Files to Compress. Now, choose your video file to add your videos.
Step 2: It allows you to change video size, format, bitrate, resolution and many more based on your need.
Step 3: Click the Compress sign to begin compressing your files and save your videos.
Part 5. PS2PDF
PS2PDF is a free online video compressing tool that instantly reduces the file size. It provides you with options to compress the video size, preset quality, constant bitrate, or by using variable bitrate. You can opt for slower compression speeds to keep the quality of the video. If you speed up the compression process to save your time, then you may get a poor-quality video. In addition, the user can quickly upload speeds from Dropbox and Google Drive. PS2PDF has no file uploading limitations, which means you can upload any large size file to compress. Also, you can try out different compression methods to reduce the file size.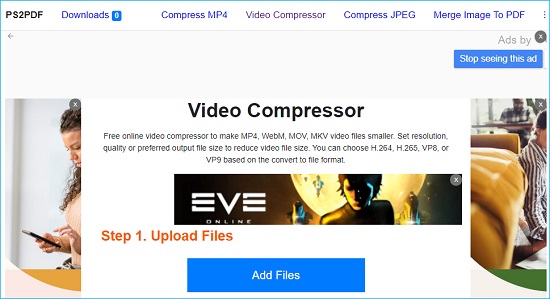 Step 1: Open your search engine and navigate to PS2PDF. Go to PS2PDF MOV compressor.
Step 2: Hit Add Files and select your MKV files. Then, you can configure output format, codec, quality, output dimension, etc.
Step 3: Click Compress Now! to get started. Download the files after compression by hitting the Download button.
Part 6. Clideo
Another web-based video editing app, Clideo, lets its users perform basic video editing tasks, including trimming, rotating, and compressing. You can use this compressing option by just signing in to the platform through your Facebook or Google account. If you are using a free version of Clideo, then it watermarks all of the videos that you compress. Clideo offers various ways to reduce the file size of the video. With the help of a wide range of editing tools, you can even edit your compressed videos to look much better. This tool has a quick compression process, which is why it is highly recommended.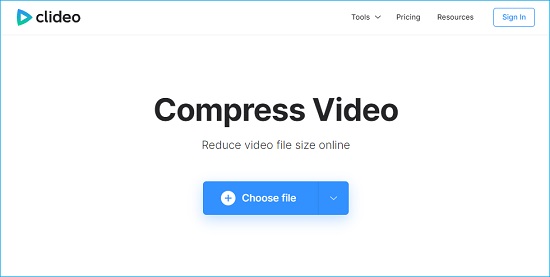 Step 1: Click Choose file to select WKV files from your Mac, Windows, Dropbox or Google Drive.
Step 2: It will compress your files after the upload that takes a moment or two.
Step 3: Preview your compressed videos and save them to your computer, Dropbox or Google Drive.
Part 7. Aiseesoft Video Converter Ultimate
Aiseesoft Video Converter Ultimate is all one solution to compress and edit videos with ease. It has stunning filters to apply, including whirlpool, Hong Kong, etc. Its users can easily add 3D effects to the video after compressing it and make them impressive for the viewers. Aiseesoft Video Converter Ultimate will let you add MKV files, change the name, size, format, resolution, and bitrate of that file. You can then simply compress the file and get the required high-quality video. It supports many output formats, like MP4, M4A, and MKV. Apart from the compression option, this tool has exceptional speed and attractive editing features.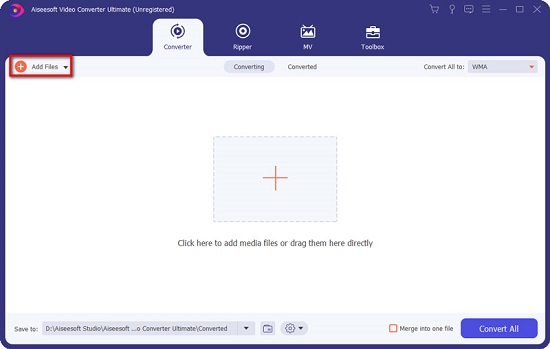 Step 1: Download and install Aiseesoft Video Converter Ultimate on your computer, then run it on your screen. Click Video Compressor and select rectangle area to add MKV files.
Step 2: To customize quality, encoder, frame rate, bitrate and resolution, hit the gear icon in the Video Compressor window.
Step 3: Press the Compress button on the interface to start compressing files.
Part 8. MacX Video Converter Pro
This all-in-one tool, MacX Video Converter Pro is a video converter, downloader, editor, compressor, and slideshow maker. MacX supports a wide range of output formats such as MP3, AAC, AC3, MKV, MPEG4, etc. It delivers a 4K video processing and gives the full rights on the output file size. This tool can compress HD/4K videos smaller for YouTube or Email. You can set the resolution, bit rate, quality to compress the videos. In addition, MacX scales down 4K video to HD 1080p to allow the UHD videos to reach almost any screen.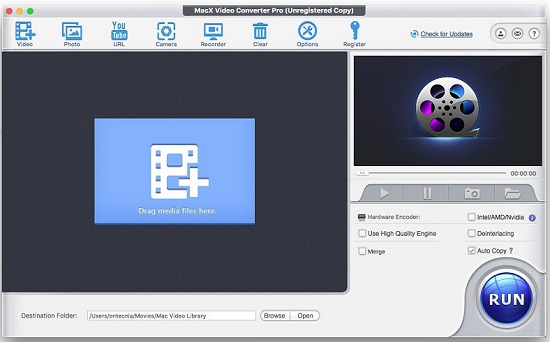 Step 1: Install MacX Video Converter Pro and operate this program. Press add videos sign to import MKV files.
Step 2: Tap the Edit button to crop and trim video files. Click RUN button to begin the video processing.
Conclusion
In the above article, we have listed the best 8 ways to compress MKV videos online and free. These tools will help you to save space on your system, allow them to be uploaded on YouTube and Facebook with high-quality resolution and editing. So choose any of the compression tools according to the requirements. However, if you want to compress your videos without losing quality, we highly recormmend you select Joyoshare VidiKit to help you. You will term it as the best video compressor after you try it.