Capturing a video is straightforward; you take out the camera and record, but it gets complexed when you store or upload it. These modern era cameras of a cellphone or digital cameras can take videos with extreme detailing and saturation. Uploading large videos takes a tremendous amount of time and space. Fortunately, compressing files using a free video compressor saves enormous time. Another great advantage of video compression is that you can save vast data of security footage while allowing you to store more data on a hard drive. It does not affect the visual or audio quality of the video depending upon which tool you are using. So today, we've made a list of the top 15 free video compressors you can use in 2021.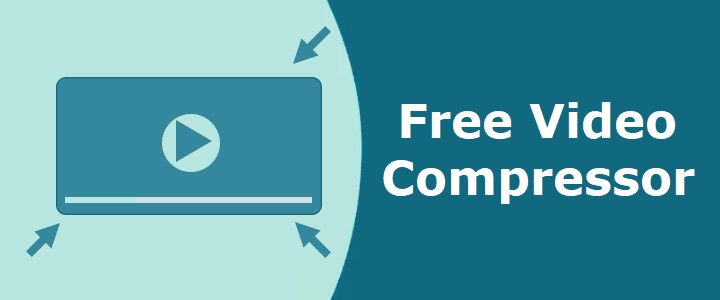 Recommendation: Compress Video with No Limit - Joyoshare VidiKit
You can choose Joyoshare VidiKit without any hesitation when it comes to video and audio compression. Offering custom compression, this tool allows you to reduce the file size of almost all videos and audios with efficiency and accuracy. You can compress MP4, AVI, MKV, MP3, OGV, 4K video, M4V, ASF, HEVC video, etc. by percentage or by file size at 40X fast speed.
Joyoshare VidiKit has more features. For instance, it enables you to adjust video resolution freely. You can also preview files before starting a single or batch compression. If you need to apply all your settings to your files, one-click and the work will be done. In brief, using Joyoshare VidiKit, you will be able to compress an unlimited number of videos and audios in the way you want with a high success rate.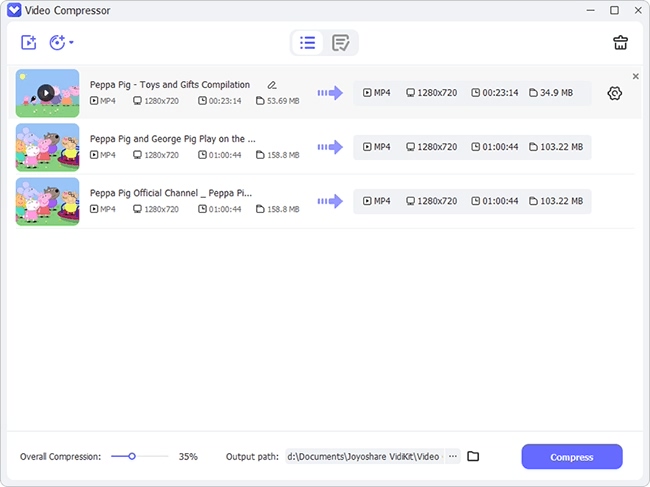 Features:
No size limit on the file size of the added videos and audios
Compress file by percentage or file size flexibly and accurately
Support any video/audio like MP4, 3GP, AVI, M4A, WMA, OGG, MPEG, etc.
Offer 40X fast compression speed and a real-time preview function
Compress an unlimited number of video and audio file singly or in bulk
Customize video resolution and designate the save path in the way you like
Pros:
Easy-to-navigate user interface
Compress as many videos as you like
One-click to apply to all
Support numerous formats
40X fast compression speed
Cons:
The free trial version has limited functions
1. Wondershare Online UniConverter
You can accomplish limitless tasks as Wondershare Online UniConverter provides you thousands of video, audio, and image formats to compress a video or edit. It is the best option for video downsizing as you can use various custom settings to meet your requirements. Moreover, it can compress videos 30 times faster than any other video compressor free available on the internet.
The tool is easy to use as you can upload and compress files with just a few clicks. All you need to do is install and launch the software, add video, set file size, quality and format to get the desired results. The final file can be downloaded to your device, saved in a storage device or shared on online platforms.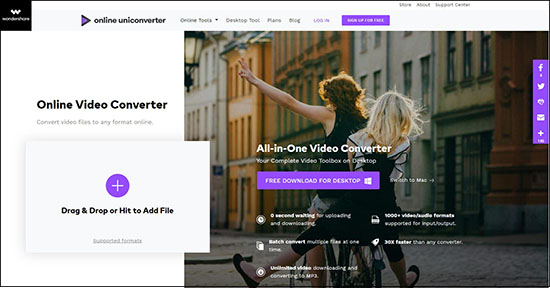 Features:
Best video compressor with various formats
Customize video resolution, format, bitrate
Trimming, adding effects and watermarks
Work well for iOS/Android, recorders, DVDs
Pros:
Download files up to 8k
Compress videos 30 times faster
Cons:
Optimization is not up to the standard
2. VLC
Compressing videos with VLC is simple and free. Although, it can be tricky for those using it for the first time. You can change the parameters of the file like bit rate, size, resolution, etc. The quality loss you get from this free online video compressor is very minimum.
Since it's a browser-based compressor, you can compress the file online without any hassle. The file compression process is similar to Uniconverter and suitable for beginners without any complex redirections.
Features:
Select the size of the compressed video
Hundreds of formats available like MP4, MKV, M4V, MOV
Cut, change bit rate, resize, crop, etc.
Stream and download videos
Pros:
Compatible with desktop and mobile platforms
Cut and trim video before compressing
Cons:
The quality loss is noticeable
3. HandBrake
HandBrake is a free, open-source video compressor that can transform videos into any format like MP4, MKV, WebM, reducing them to the smallest size. It is the best free video compressor with video encoders of H.265 (x265 and Quick Sync), H.264(x264 and Quick Sync), H.265 MPEG-4, and MPEG-2, VP8, VP9, and Theora.
It is another software that features a drag-and-drop option for file compression. Once the video in uploaded, you can convert it into any format of your choice, customize it by adding filters, adjust from rate and encoding speed. You can also toggle with bitrate, audio and video quality to further downsize the file. The final file can be saved anywhere on your device for quick and easy access.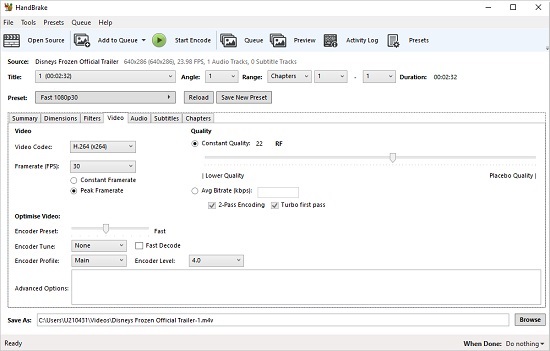 Features:
Compress videos in MP4, MKV, and many other formats
Video preview and live statics
Add subtitles in the video
Add video filters
Constant and variable frame rate
Pros:
Constant and variable frame rate feature for video compressing
Multiple formats present
Cons:
Video compressing steps are complex
4. VSDC Free Video Converter
VSDC Free Video Converter is an online video compressor free and easy to operate. Moreover, you can change the frame rate, format, quality, and codec while compressing videos. The quality loss is minimum. Once you've downloaded the software, you can compress files of any format.
It lets you change formats, file size, and output options. However, it doesn't automatically store the changes and that is why, you need to click on "apply changes" before compression begins. To save the file, you need to export it first and store it in the desired location. The interface is quite daunting so beginners find it difficult to use.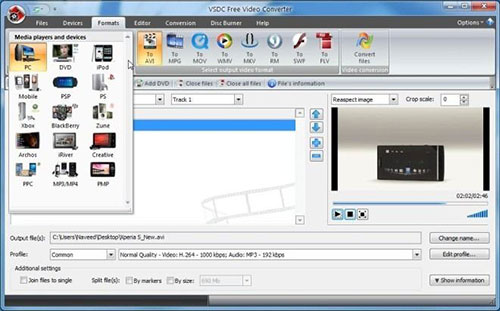 Features:
Support all formats and video codecs
Remove background with chroma key tool
Compress non-linear videos
Pros:
Multiple formats and customization options
Offer high-quality compression
Cons:
5. Any Video Converter
This free video file compressor can compress and convert HD and 4K videos with few clicks. The uploading file size limit is only 2GB. However, you can upload even bigger files through AST-link. Plus, with this software, you can download videos from the internet.
Once you've installed the video compressor, you can upload the file even from your handheld devices as it supports multiple formats. Alter frame and bit rate to resize the file and share it easily with your friends and family. Moreover, you can also remove the audios from the file to reduce the size and minimal quality loss.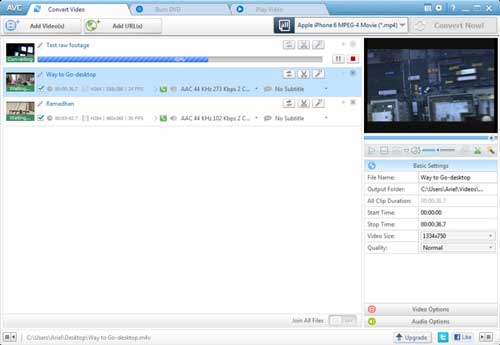 Features:
Compress videos 30 times faster
Trim, crop, add effects to your video
Support format like mp4, FLV, AVI, MP3, etc.
Extract audios
Pros:
Quickly compresses videos
Work more efficiently with NVIDIA CUDA
Cons:
The free version doesn't contain all features
6. Freemake Video Converter
Freemake Video Converter is a video file compress free that can download easily. It supports all famous and rare formats. Whether it is compressing videos or turning photos into a video, it is all free. Due to the clean and simple interface, the tool is a top choice among beginners.
With a single click, you can add the file to the downloaded software. You can edit the file by adding effects, subtitles, and trim the videos for downsizing. Moreover, the file can primarily be saved to the DVD instead of any other storage device. For that, you need to select the PAL NSTC format to be compatible with the DVD version.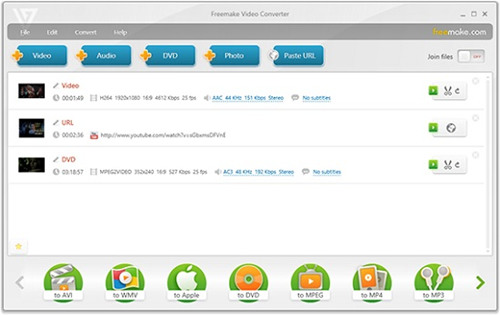 Features:
Can compress videos into any format
Edit videos, rip and burn DVDs, add effects, photo slideshow, etc.
Trim videos or transform pictures into a video
Compress large files
Pros:
PAL or NTSC format available for Australian or UK format
Simplest layout
Cons:
7. Clipchamp
Clipchamp is a video compressor available online and free. It does not affect your PC performance while offering multiple features from basic editing, cropping, adding colors to professional video compression.
Being a web-based tool, it allows you to compress large files online with just a press of a button. Directly upload the file and make changes for downsizing the file. You can preview the compressed version before finalizing it. Once satisfied, click compress and save it in your PC. You can even upload it directly to share with friends online. Clipchamp is popular as it quickly compresses, publishes, and shares videos.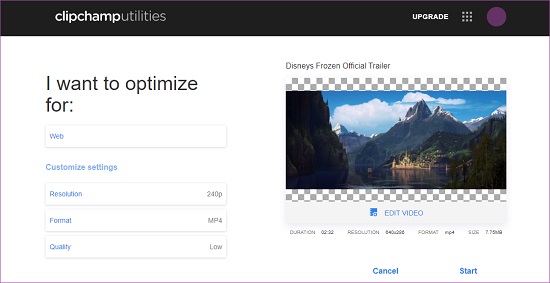 Features:
Compress MP4, AVI, MOV, and many more formats
Compress any video format online and free
Quality loss is not noticeable
Only compress a video quickly
Pros:
Easy to use
Preview before downloading or uploading
Cons:
For complete benefits, you need to buy the premium version
8. Windows Movie Maker
Windows Movie Maker is a video file compressor free to use for beginners. It comes within the windows, so you do not have to download it separately. Moreover, adding filters, animations, effects can also be done while compressing videos. It can compress videos into MP4, MKV format easily.
It's an in-built MS software that lets you convert and convert video files of multiple formats. You can do custom settings to suit your requirements as it allows adding effects, slideshows, speed and overlap. Once done, click Save. It will automatically be on your PC.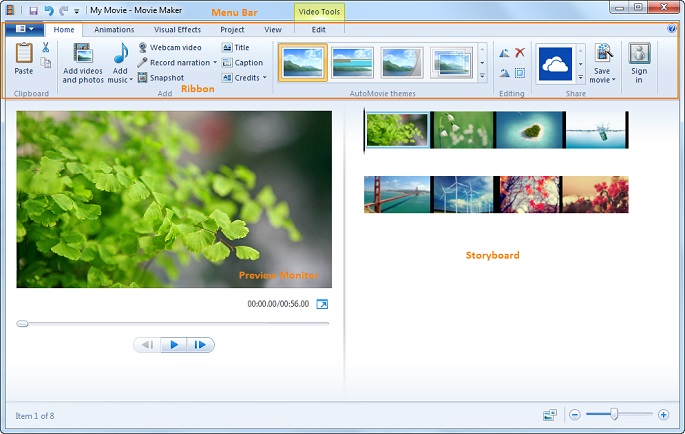 Features:
Multiple formats
Straightforward layout
Build-in windows software
Make slideshow, overlap videos, slow-mo
Pros:
More features available in windows 10
Ideal for beginners
Cons:
The pro version is not free
9. Free Video Compressor
Free Video Compressor is a free online video compressor software with a user-friendly layout. Also, the space it takes on your hard drive is only 10.92 MBs. Compress, convert, edit videos into any format you wish. Open the link on your browser and add files to edit it. You can customize the video size by changing the bitrate and video format.
You can even cut the video to convert it to a smaller size. Once done, tap compress and download the file. Since it has a vast library of formats, you can convert literally any video available online and offline and share it on various platforms.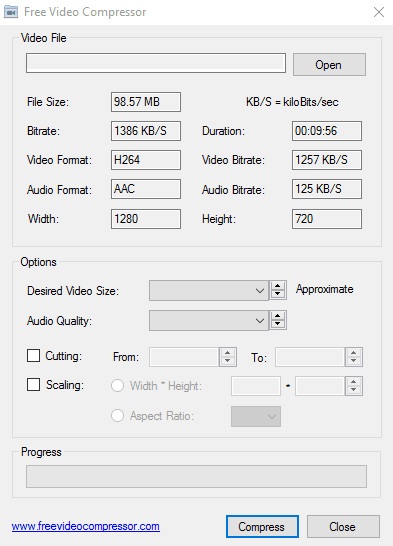 Features:
Ideal for large-sized files
Fast operating software
Choose any format from its vast library
Edit or crop videos easily
Pros:
Support all kinds of formats
Default settings are ideal for large files too
Cons:
10. CloudPresso
With just a few clicks, you can get all kinds of videos compressed into smaller sizes with this free video compressor online. There are no irrelevant ads while using it. Although it's free, you can only upload 100 MB files. It operates faster and responds quickly to your commands.
It's an ideal online compressor for relatively smaller videos. It further compresses the file for easy sharing and saving. With its drag-drop option and SSL encryption, you can rest assured of data privacy and security. Moreover, you can also downsize images, word docs and APX files. Since you can adjust the file quality, you can set multiple file sizes.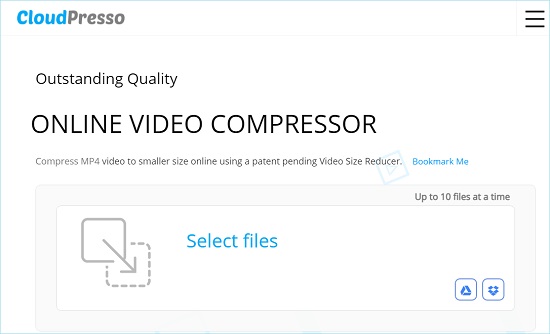 Features:
Compress videos, APK files, images
Perfect compression for JPEG, PNG & GIF files
Everything is secured by SSL encryption
Minimum quality loss after compression
Pros:
80% minimum quality loss
Files secured by SSL encryption
Cons:
Can only compress 100 MB file
11. Keepvid Online Video Compressor
This video compressor software free can compress all your videos with simple and easy steps. Moreover, it is entirely free to use. Moreover, it boasts minimal quality loss with the smallest file size possible. You can either upload the file directly or drag and drop to begin the process. By selecting the file format, size and quality, you can customize the compressed video as per your needs.
The tool is easy to operate and even a beginner can compress the file with just a few clicks. However, if you want to use all its features, you need to create an account and log in. This will help the tool remember the custom settings you've selected for file compression.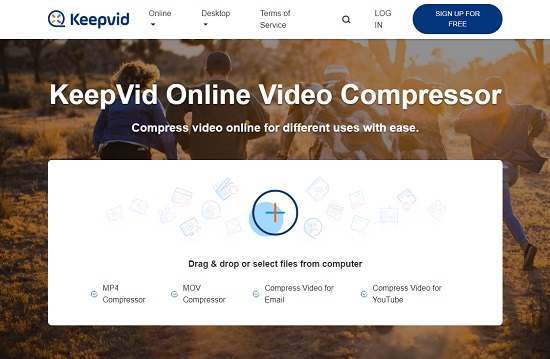 Features:
Customize compression
No quality loss
100% free
Support multiple formats
Pros:
Ideal for small files
Compress any video with just one click
Cons:
Require log-in to compress files
12. Softonic Video Compressor
While using this free video file compressor, you can rest assured that the audio or video quality doesn't deter. You can even change the bitrate and video resolution to reduce the file size. It supports and operates multiple file formats. Its clean interface, user-friendly customer support easy-to-use features, making it popular among beginners and professionals.
Once you've downloaded the software, you can compress, convert, edit and do a lot more with just a few clicks. The tool allows you to translate video content and add subtitles. For downsizing, you can cut or trim videos and get a file of premium quality that is easy to share or upload online. However, you would need to buy the premium version to unlock all its features and get video compression as per your needs.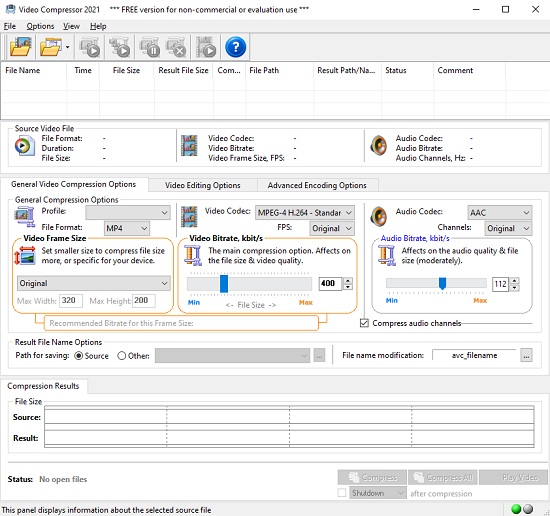 Features:
Support all kinds of formats
Can translate videos into 39 languages
Resize videos without losing the original quality
Can add or trim videos
Pros:
User-friendly interface
Multiple file formats available
Cons:
All features are not free
13. Online Converter
Online Converter is one of the best online video compressors available for free. You can use video files in various formats, including MP4, AVI, FLV, MOV, 3GP, MKV, WMV, and more. This is one exceptional tool that lets you improve the quality of shaky videos.
Other than videos, you can compress audio files, images, word docs, and ebooks. You can even customize the file format to make it compatible with various software. While it compresses videos, it doesn't deter the audio files for clear sound. All you need to do is to select and upload the file, set the output device and video size. Once done, you can compress the file for easy sharing.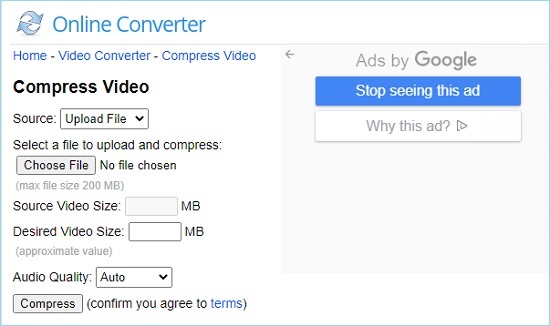 Features:
Reduce the size up to 30%
Do not tamper with the audio quality
Fix corrupted files while compressing
Stabilize a shaky video
Pros:
Support 100+ formats
Quality loss is minimal
Cons:
14. Photos App
The Photos app offers unlimited storage for compressed videos. You can upload files in any format, and it boasts in-built features to provide premium-quality resizing. It is a free video compressor for Andriod users.
Download the tool on your Android phone to compress and share files directly. It comes with in-built features and lets you resize photos and video clips. Since the tool supports multiple file formats, you can work on any video or image. You can upload the file by clicking on recover storage. Once done, you can save it in its online library and share it directly from there.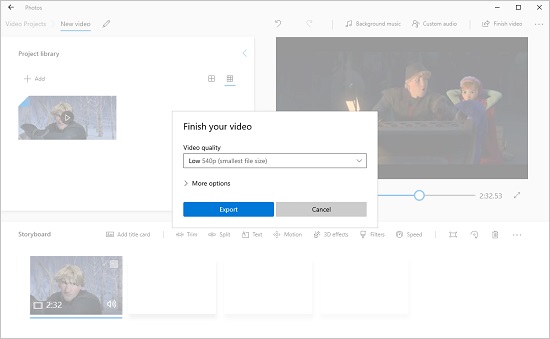 Features:
No size limit
Support multiple formats
Unlimited storage
Build-in feature in android phones
Pros:
Unlimited storage
Compress videos and software
Cons:
Require internet to re-access the videos
15. YouCompress
It is simple to use YouCompress to reduce the file size of videos, images, your favorite songs, PDF documents, etc. including MP4, MP3, MOV, GIF, JPG, JPEG, PDF, and more. This web-based service requires no registration, and you don't need to install extra plugins, extensions, or apps to compress videos easily and quickly. More importantly, no watermark will be added to your edited video. Conducting batch compression using this tool, you will be free to resize an unlimited number of videos in a fast and safe manner.
YouCompress has many other features that may amaze you. For instance, this service promises to do its best to reduce video file size without reducing visual quality. You don't need to worry about the privacy of your files as it will automatically delete the videos you added after a few hours.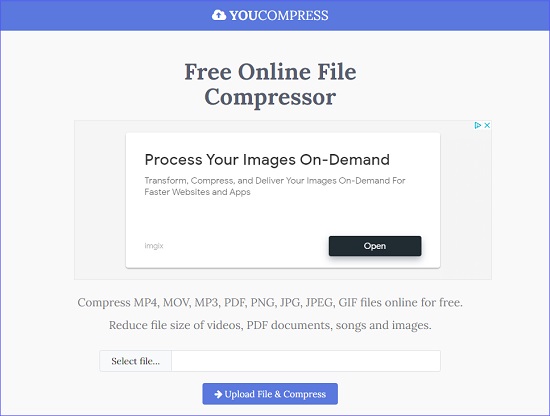 Features:
Work smoothly on any browser
Support 100+ format
100% free and online
Quality is preserved
The site does not add its watermark
Pros:
It has an encrypted connection
Compress videos within minutes
Cons:
The site lags if you upload large files
Conclusion:
The video compression tools are indeed a need for those who wish to save large files into small hard drives. With so much digitalization, even hard drives with several gigabytes can fill up in no time. With the above software and tools, you can compress any video into a small size with minimum quality loss. If you choose to use Joyoshare VidiKit, you will be able to batch compress numerous videos accurately in the easiest way ever. Although you may find many free or paid tools to resize files, the above-listed ones are the best free video compressor you can find in 2021. So, compress your videos now and save ample space.