Q:"I want to remove the audio file from an AVI video and then add my own one. Is there a reliable program to easily remove audio stream from AVI?" - from Digital Spy Forum
Do you also have a requirement to strip the intrinsic audio track from your AVI video and insert a personal audio file to it? Benefitting from thriving software technology, it is fairly easy to implement. If you do an internet search on this question of how to remove an audio track from AVI, you'll find there are plenty of audio removers available. To protect you from devoting too much time to try them one by one, this article lists 4 well-received and pragmatic software for deleting audio from your AVI video in a trouble-free manner.
Part 1. Remove Audio Stream from AVI by Joyoshare Media Cutter
To silence an AVI video, Joyoshare Media Cutter is worth a shot. Developed as an outstanding video and audio editing software, what it can do is beyond your imagination. Other than simply and losslessly cutting and merging, Joyoshare video editor is equipped to crop, rotate videos, mute video files, extract audio from any video, add audio files and subtitles to video, insert watermarks and logo, etc.
Magically, It's so versatile, but featuring a clean interface. Everyone can be free to operate it without any hassle. Else, it does well for oodles of media and device-supported formats, involving AVI, MPEG, FLV, 3GP, MOV, MP4, MKV, WMV, ASF, VOB, DVD, 4K, Apple, Samsung, Motorola, Blackberry, etc.
Advantages of Joyoshare Media Cutter:
Delete audio track from AVI without re-encoding
Besides muting AVI, also extract audio from AVI
Convert AVI without audio to lots of other formats
Offer 60X-speed and encoding mode for different needs
Numerous input and output media formats are accepted
Cut, crop AVI and apply effects, add audio files and subtitles, etc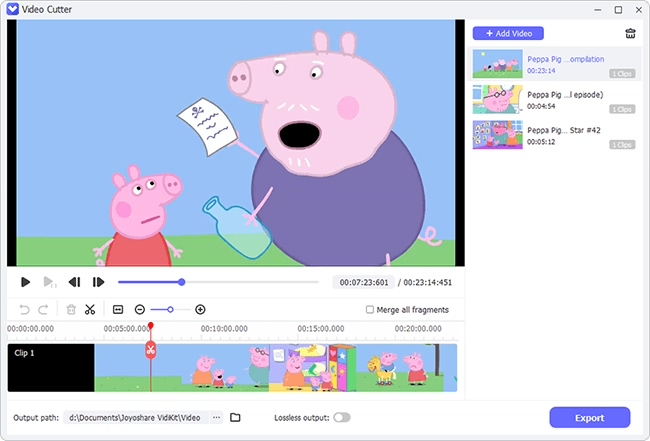 Step 1

Upload AVI video to Joyoshare Media Cutter

Go to Joyoshare official website or directly click the above download button to download and install a proper version of Joyoshare Media Cutter on your computer. After running it, please head to "Open" to add AVI file. Or, you can drag and drop.

Step 2

Set up mode and output format

Next, tap on "Format" to leave for the format window, in which you not only need to select an output format but also specify a mode. In order to delete audio tracks from AVI, you have to enable the encoding mode, as the high-speed mode is designed to losslessly cut, split, and merge files at 60X speed. With encoding mode, you get the permission to choose any output format and custom codec, resolution, bit rate, and frame rate of the chosen format.

Step 3

Remove audio from AVI

Now, make you way back to the main window please and then locate "Edit" - "Audio" tab in the edit window. In the "Volume" section, drag the inverted triangle volume slider to the far left or direct enter "0" in the box of volume adjustment to mute audio in your AVI video. After that, do other editing according to your needs, like trim, crop, video effects and frames, watermarks and subtitles, etc. Once done, touch "Start" in the first interface to export the AVI video without audio.

Note: In case you feel like inserting your own audio file to the AVI video after removing its original audio, go for "File" - click "..." to add the target audio file under "Audio" option.
Part 2. Remove Audio Stream from AVI by Avidemux
Another effective tactic to disable audio in the AVI video is making use of Avidemux. It is a free and open-source video editor to cut, filter, and encode video and audio files on Microsoft Windows, Mac OS, Linux. Also, it well supports a wide range of file types including AVI, MP4, MPEG, DVD, ASF and more. Although without a forthright operation interface, it is not hard to use at all.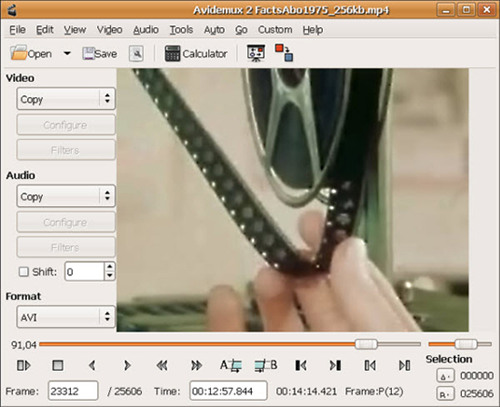 How to delete audio tracks from AVI by dint of Avidemux:
Step 1: Please launch Avidemux after downloading and installing. Afterwards, go for "File" - "Open" to import AVI video to it;
Step 2: To delete audio from AVI video, next you should choose "Audio" tab in the top menu - then to "Main track" - "Audio source" - "None";
Step 3: After completion, select an output format and proceed to "File" again for "Save" to export your video with disabled audio.
Part 3. Remove Audio Stream from AVI by Shotcut
Like Avidemux, Shotcut is also a free cross-platform video editor that can be the same with Windows, Mac, and Linux. Not only basic editing features like cut, copy, resize, etc, it also comes with the ability to convert media files and images, configure deinterlacing, custom video modes, parallelle verwerking video, disable audio, etc. Powerfully, it can handle lots of media formats, such as AVI, MP4, MPEG, WebM, H.264, FLV, MOV, etc. With a somewhat complex interface, it is not that simple for beginners to operate to remove audio from AVI. But you can follow the detailed instructions below.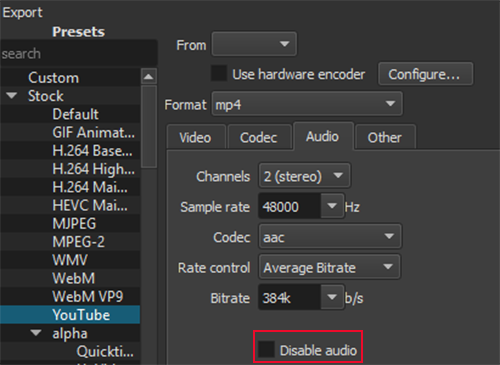 How to remove audio from AVI by means of Shotcut:
Step 1: Get Shotcut downloaded and installed on the computer. Then, open it and go to "Open File" located in the upper left corner to select the AVI video from your local file;
Step 2: When your AVI video is uploaded, Shotcut will play it automatically. You can preview it and cut certain unwanted segments. Or, do some required editing on your AVI video;
Step 3: After that, press on "Export" in the top menu. You will be presented with format setting options. In "Format" option, opt for an output format. Next, touch "Audio" tab and tick "Disable audio" box to mute your AVI video;
Step 4: What follows is hitting on the "Export File" button to identify an output path and name the new AVI file. Lastly, click on "Save" button to export it. You can watch the AVI video without sound by "Jobs" icon in the top right.
Part 4. Remove Audio Stream from AVI by Online AudioRemover
AudioRemover.com is a totally free web service to remove audio track from AVI video without re-encoding. Besides AVI, it gives support to MP4, WMV, MPEG, MOV, etc video formats. Without any installation, it mutes a video with a few clicks. Notice, however, that it is forbidden to upload video files more than 500MB and you have no option to preview your video.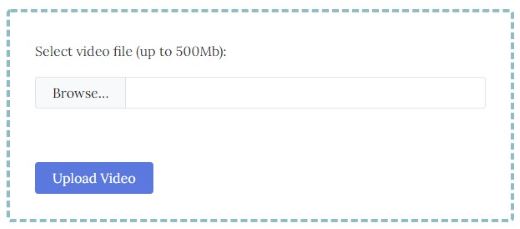 How to delete audio tracks from AVI by way of online AudioRemover:
Step 1: Firstly, navigate to www.audioremover.com and tap on "Browse..." to designate your AVI video;
Step 2: Secondly, click "Upload Video" to let the online service to silence your AVI video. How much time it will take depends on your video length and network speed;
Step 3: Finally, press on "Download File" to download the AVI video without audio.