Q:"I have a four-minute MP4 video that I plan to use on my Facebook. Before uploading, I feel like adding my canned music track to it. Any suggestions to add audio to MP4?" - from VideoHelp
There are times when you might need to insert background music or personal audio track to a video like MP4 for the creation of new video work. Or, you just do it to make your video more impressive and attract more people to give a like after sharing it on social media platforms. Whatever the purpose, making it happen entails a specialized video editor. Below assembles 3 such software. You can read the article through and evaluate which is the best for you.
Part 1. Joyoshare Media Cutter: Simply Add Music to MP4
Known as a user-friendly and all-sided video editor, Joyoshare Media Cutter would undoubtedly be the first choice to add music track to MP4 video. With only 3 step, you could get it done.
Apart from audio addition, it also allows you to remove aduio track from video, separate audio from any video, embed multilingual subtitles to video, design personal watermarks, add visual and sound effects, and do basic editing including cut with millisecond precision, losslessly merge, flexibly trim, crop, flip, and more.
Powerfully, Joyoshare video editor goes for a multitude of input and output formats of MP3, MP4, OGG, DVD, VOB, AVI, WMA, WAV, OGG, MPEG, MOV, MKV, FLV, web video, HD, 4K, TS, and many others. Even, it helps you convert your video to device-supported formats (iPhone, iPad, Windows Phone, smart TVs, Xbox one, PSP, etc) with 60X speed.
Key Features of Joyoshare Media Cutter:
Fully applicable to both Windows OS and Mac OS
Simply add audio to MP4 or extract audio from MP4
Convert video to any other format at 60X suprising speed
Cut, split, and merge files without loss of quality and frame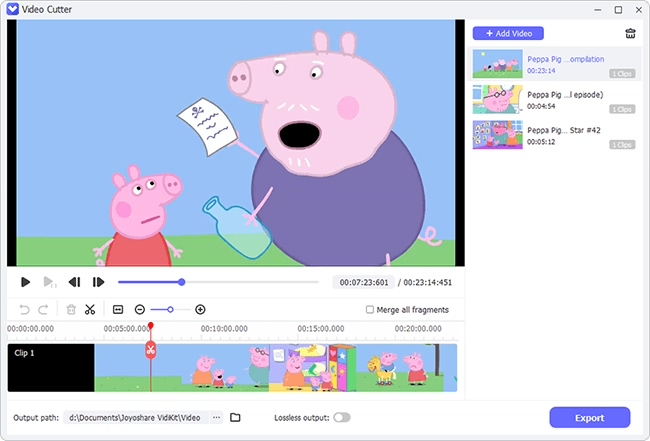 Step 1

Add MP4 to Joyoshare Media Cutter

Visit Joyoshare official website to download and install the right version of Joyoshare Media Cutter on a computer. After running it, click on the "Open" button at bottom left to input your MP4 video from the local. Or, more simply, drag the video to the middle of the main interface.

Step 2

Perform format settings

Proceed to "Format" to designate a mode and an output format. The program is equipped with two modes. But to add music to a MP4 video, you get to cooperate with the encoding mode, which is designed for video editing and format customizing. Upon selection of mode and export format, tap a gear icon to adjust the output quality and parameters like codec, resolution, bit rate, frame rate, sample rate, etc as needed.

Note: The high-speed mode is a lossless mode dedicated to cutting and merging files at 60X amazing speed with zero quality loss.

Step 3

Add audio track to MP4

Return to the beginning interface and press the "Edit" icon. In the new window, go to "Audio" - "File" - "..." to access the local folder and select the required audio file to upload. After that, preview the video with audio. If there is a need, you can pump up or down the audio volume and weight, use sound effects. With no other editing requirements like trimming, cropping, visual effects, subtitles, etc, touch the "Start" button in the first window to save the video.
Part 2. Windows Photos App: Freely Add Audio To MP4
Intended to replace the older Windows Movie Maker, Microsoft Photos app is a modern and single-instance image organizer and video editor built in Windows system. With it, you not merely add background music or customized soundtrack to the MP4 video but also modify the playback speed, trim the video, add text, 3D effects, 3D animations and styles to it, etc. Above all, it requires no payment and installation.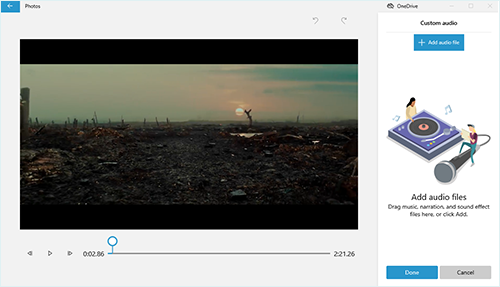 Step 1: On your Windows 10 computer, head to Windows icon and then to Photos. After that, go for "Video Projects" or "New video" - "New video project". Next, you need to name the new video and tap on "Add" to import your MP4 video;
Step 2: Before starting to add music track to the MP4 video, you need to drag the video to the storyboard. Afterwards, find "Background music" to select a music track from a number of given audio tracks and further set the music volume. The music will automatically adjust to the length to your video;
Step 3: If you would like to add your customized audio tracks to the MP4 video, select the "Custom audio" tab at the top of the window and press on "Add audio file" to add audio track. It is better that duration of your imported audio file and video file stays the same, as it doesn't support trim or loop audio during the process with this option;
Step 4: In the end, do other editing if needed. Then, touch "Finish video" to set video quality prior to hitting on "Export" to export the new MP4 video.
Tips: How to Add Audio to MP4 Online with Clideo
Ranked at the top, Clideo is an all-purpose website editor that enables you to add music to MP4 video online without downloads. It resembles the kind of online toolkit, consisting of various editing tools, such as Add Music to Video, Slideshow Maker, Add Subtitles, Compress Video, Merge Video, and more. It works with any common format like MP3, MP4, WMA, OGG, WAV, WMV, AVI, VOB, etc. For secure, it only keeps your uploaded files for 24 hours. You need not worry about anything.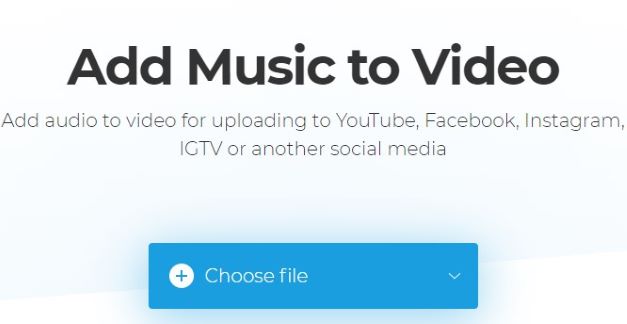 Step 1: The first thing to do is navigating to www.clideo.com and then choose the "Add Music to Video" tool;
Step 2: In this interface, click on "Choose file" to open your local folder and import the target MP4 video. You cna also upload file from Google Drive, Dropbox, and URL;
Step 3: When your MP4 video is loaded, you will be guided to the next interface, in which locate "Add audio" to upload the audio file that you want to add to MP4. According to your requirements, you can feel free to trim the audio, loop audio, customize the start time of the added audio, and control the audio and video volume;
Step 4: The last thing is going to "Format" to select a desired output format and followed by the "Create" button. Remember to download the video added with music track to your computer after the process gets done.