Joyoshare Media Cutter is a dedicated multimedia cutting tool well developed to help users cut any audio and video files quickly and accurately without lowering original quality. It is, however, because of its recognized lossless output quality and 60X trimming speed that more and more cracked versions are shown in the current market. This is not surprising, when you are looking for official one, you happen to come across the recommended Joyoshare Media Cutter crack, which claims to allow you enjoying the same functions as the copyrighted full version without spending a penny. However, it is not as good as you think, and with potential risks. This is why we are here to analyze and tell you whether to use it or not.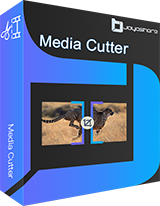 Part 1. What's Joyoshare Media Cutter Crack?
Joyoshare Media Cutter crack or Joyoshare Media Cutter with keygen is a program altered to remove the copyright protection from official licensed software. It gets rid of the serial number or hardware key so that everyone has a direct access to operate it. There is no limitation and you can completely use it for free.
Part 2. Is It Legal to Use Joyoshare Media Cutter Crack?
In most people's opinion, it doesn't matter to privately use the cracked version of Joyoshare Media Cutter as long as they don't share or sell it to others. However, according to the law, it is illegal to download and run copyrighted software without authorization and with no valid license. That's to say, it's copyright infringement if you crack a program and copy the software. Besides, the aforementioned unauthorized personally use of the cracked version of the program can regarded as fraudulent acquisition, which is also illegal. All that this means you will be prosecuted or fined if you use Joyoshare Media Cutter full crack.
Part 3. Risks of Cracked Joyoshare Media Cutter
There will inevitably be some unpredictable potential risks when using a cracked version of Joyoshare Media Cutter. You may want to know what they are. If so, just take a look at the following points:
1

Virus and Malware

Hackers and crackers can only use code to invade and modify the program without the permission of the original program developer. This cracked version of Joyoshare Media Cutter will carry unknown viruses, Trojan, or malicious software to harm your computer. What's worse, these viruses may not be detected. They may damage important files when you don't know.

2

Defective Functions

You can hardly get all the same functions as the official program from the cracked version of Joyoshare Media Cutter. In the process of using, it is also possible that the program crashes due to sudden errors. Generally speaking, the cracked version will have serious technical problems, and you have no way to solve it.

3

Privacy Leak

You will see a variety of online websites offering cracked versions of programs for you. Some of their sharers don't even have any personal information, or require you to register and log in to download. These untrustworthy websites may ask you to provide credit card or other private information, which is likely to be leaked or control your payment account.

Part 4. Cracked Version VS Licensed Version

Apparently, it's secure and trustworthy to use official copyrighted Joyoshare Media Cutter, which can avoid any unexpected risk. What's better, you're entitled to use all features it offers. To let you clearly know what differences between the crack version and licensed version, we here make a comparison tablet:

| | | | | | |
| --- | --- | --- | --- | --- | --- |
| | Security | Legality | Performance | Updates | Tech Support |
| Joyoshare Media Cutter Cracked Version | × | Illegal to copy software with copyright infringement | Unstable and unreliable with errors | × | No update |
| Joyoshare Media Cutter Licensed Version | √ | Legally-registered with copyright | Work well with all professional features | √ | Lifetime free support |

Part 5. Official Coupon Code of Copyrighted Joyoshare Media Cutter

In fact, most users looking for and using the cracked version have budget problems. Don't worry about not being able to afford it anymore, we offer you a 20% discount, which can be applied to any type of license, including single license, family license and unlimited license. Also, you can use it to get either Windows or Mac version of copyrighted Joyoshare Media Cutter.

20% Off Coupon Code: MCED20ALCC

Here is how to get licensed Joyoshare Media Cutter with discount:

Step 1: Copy the 20% off coupon code, "MCED20ALCC" here:

Step 2: Navigate to official purchase page of Joyoshare Media Cutter for Windows or Mac in Joyoshare;

Step 3: Choose the license you want and click on "BUY NOW" button to purchase;

Step 4: In the new window, paste "MCED20ALCC" to "Coupon Code" and click "Apply" to confirm it. You'll soon see a reduced price.

Conclusion:

There is no doubt that using a cracked version of Joyoshare Media Cutter is not advisable. If you really want to have a guaranteed copyrighted tool and manipulate it safely, aside from the mentioned coupon code, you might as well pay more attention to the special offers or giveaway activities on our official website or some third-party websites we authorize. All of that can help you save a lot!