Q: "How do I figure out my iPhone passcode? I have tried to connect iTunes but it requires me to enter passcode to trust my computer. Obviously, it can not be done. Is there any other method to unlock my iPhone without passcode? Any idea?" - from Quora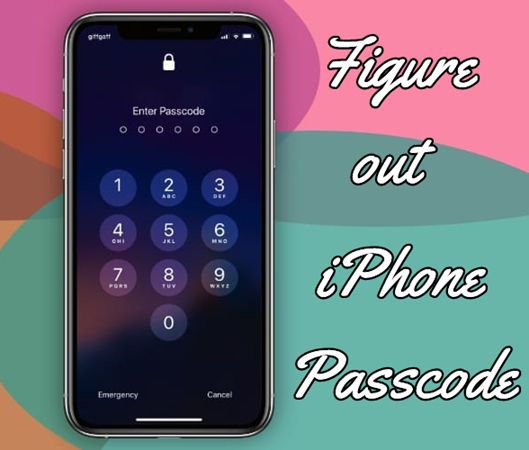 In effect, how to figure out iPhone passcode if forgetting it is a nagging question, which almost everyone has had at some time. Supposing that you are in one of such cases, calm down, as you are not the only one suffering from the problem. Despite it is not always trivial to settle the issue that is incurred by forgetting passcode, this guide tables 7 responsible approaches after much testing to help you out. Go to know how to figure out iPhone passcode.
Part 1. Ultimate Method to Figure out Passcode on iPhone
Like something the aforementioned, lots of users forgot the passcode on their iPhone. And it is a bit difficult for us to remember the passcode when trying many times. When being stranded in such a frustrating situation, the optimal solutions is to take advantage of an iPhone unlocker - Joyoshare iPasscode Unlocker.
Stabilized performance and vigorous flexibility make it not only to handle various problems with the screen locks like cracking iPhone passcode and bypassing iPhone passcode but also breeze through the same task on the iPhone, iPad, or iPod touch. Besides, it supports figuring out 4 kinds of screen locks consisting of 4 digit passcode, 6 digit passcode, Touch ID, and Face ID without any restriction. Additional functions you should know are that it has an intuitive interface and is compatible with all models of iOS devices.
Key Features of Joyoshare iPasscode Unlocker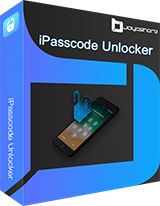 Figure out iPhone passcode with no difficulty
Remove the screen locks in different circumstances
Support all iDevice models and the latest iOS version
Bypass digital passcodes, Touch ID, and Face ID on the iPhone
As for how to figure out 4/6 digit passcode on iPhone, as well as, Touch ID and Face ID, with Joyoshare iPasscode Unlocker, you can refer to the following, which depicts the specific steps to do that.
Step 1

Open Joyoshare iPasscode Unlocker

Make sure that Joyoshare iPasscode Unlocker has been installed on your computer. Next, launch it and connect your iPhone to the computer. As soon as the program recognized your device, simply click on the Start button to get started.

Step 2

Manually Put iPhone into Recovery Mode

Select the model of your iPhone and then manually put the iPhone into recovery mode as pointed on the screen. If that fails, you can click the link located at the bottom to switch to DFU mode. When the Next button lights up, click it to go further.

Step 3

Download and Verify the Firmware Package

This section will request you to download and verify the firmware package. Note that before doing this, you need to confirm the displayed information about your iPhone on the screen. If the information is incorrect, you can manually correct the information.

Step 4

Start to Figure out iPhone Passcode

Now you only need to click on the Unlock button to unzip the firmware package. Once unzipped, the program should figure out your iPhone passcode within mere minutes. During the period, your iPhone should be connected all the time.
Part 2. How to Figure out the Passcode on an iPhone
It's pretty easy to crack iPhone passcode with the help of Joyoshare iPasscode Unlocker. But if your iPhone has been synced with iTunes before or you have enabled Find My iPhone on your device, then you can consider using iTunes, iCloud or Find My app to remove passcode from iPhone. Or you can directly erase your iPhone if you remember your Apple ID password.
2.1

Figure out Passcode for iPhone via iTunes

By using iTunes, you can remove passcode from your iPhone. If your computer has been trusted by your iPhone, then the process would be easier. Is it possible to figure out passcode on iPhone in a case where your iPhone had not been synced with iTunes previously? Without peradventure, the answer is yes, but there is no guarantee for absolute success. There are two options for you to restore your iPhone with iTunes and lets' get started now.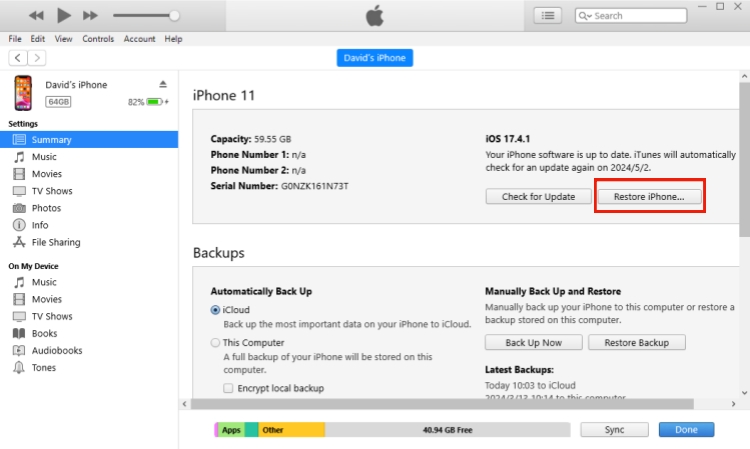 Step 1. Connect your iPhone to the trusted computer and then launch iTunes on the computer.
Step 2. Click on your device icon on the window of iTunes and go to the Summary tab.
Step 3. Select Back up now before restoring your iPhone and then click the Restore iPhone button to start restoring your device.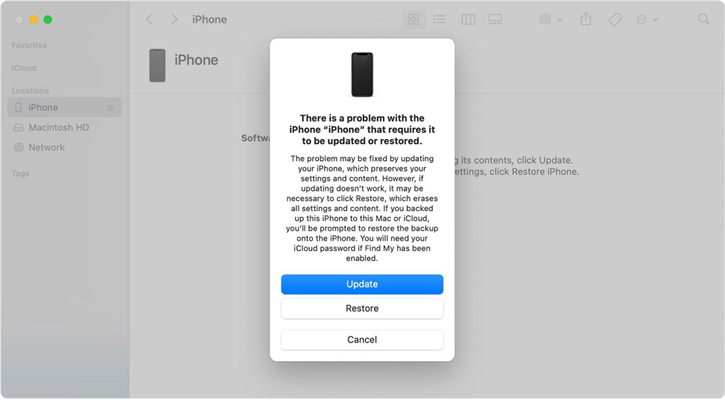 Step 1. In the first step, boot your iPhone into recovery mode and then use a proper USB cable to connect your iPhone to the computer.
Step 2. Open iTunes, and when iTunes detects your iPhone in recovery mode, it will pop up a window.
Step 3. Simply click on the Restore button to unlock your iPhone without passcode.
2.2

Figure out Passcode for iPhone via iCloud

Another way to consider to figure out iPhone passcode is to harness iCloud. However, actually using it takes a few conditions, one of which is that Find My iPhone is enabled and the iPhone must be connected to the network. Besides, you have to bear Apple ID and password regarding the iPhone in your mind. Not a single one of these conditions can be dispensed with. If appropriate, you are able to do it according to the easy guide below.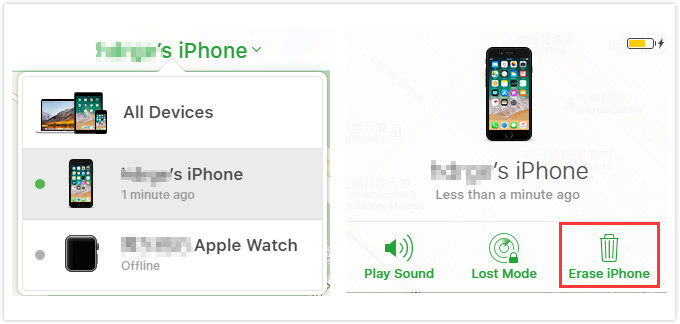 Step 1. Get into the official website of iCloud on the computer or another workable iOS device then sign in to iCloud with your Apple ID and password.
Step 2. Click Find My iPhone on the home screen and choose All Devices under the Find My iPhone option.
Step 3. After clicking All Devices, all iOS devices related to this Apple ID will present in your sight. You need to select the iPhone you want to figure out the passcode.
Step 4. Simply click Erase iPhone on this window. Once done, your iPhone will be restarted without any passcode.
2.3

Figure out Passcode for iPhone via Erase iPhone

When you attempt to enter the wrong passcode on your iPhone, you will be warned that your iPhone is unavailable. Don't panic. Go on to enter the wrong passcode until you are allowed to enter your Apple ID password for erasing your iPhone. That is to make use of security lock on your iPhone. Here's how to.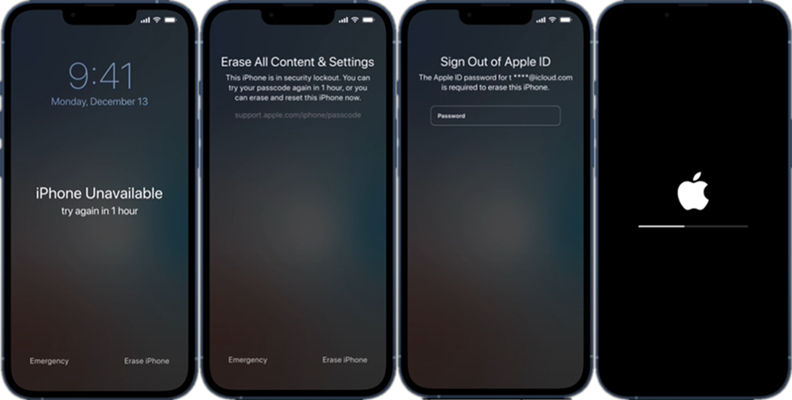 Step 1. Enter the wrong passcode until the Erase iPhone option appears on the screen of your iPhone.
Step 2. Tap Erase iPhone and tap it again to confirm that you want to erase your iPhone.
Step 3. Go to enter your Apple ID password and then log out of your Apple ID on the iPhone.
Step 4. Tap Erase iPhone to start erasing all the data and settings on the iPhone.
2.4

Figure out Passcode for iPhone via Find My App

If have another Apple device such as iPad or iPod touch, it would be possible to figure out passcode on your iPhone by using Find My app. When you use the same Apple ID on your Apple device, you can find all your Apple device listed in Find My app. By using Find My app, you can erase all the data and settings, including the screen lock on your iPhone. Here's how to.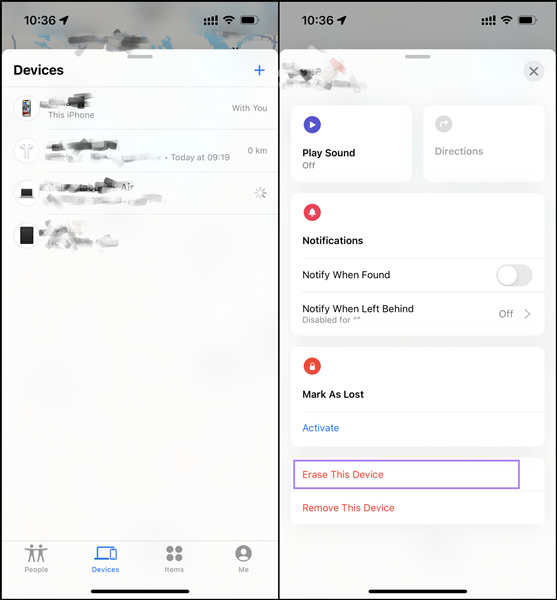 Step 1. Open the Find My app from the Home screen of your iPad or other Apple device.
Step 2. Touch Devices at the bottom of the screen and then find your iPhone.
Step 3. Tap your iPhone and scroll down to tap Erase This Device.
Step 4. Select Continue and tap Erase This Device to confirm to reset your iPhone to factory settings.
Part 3. How to Figure out a Passcode for iPhone with Calculator
The way of figuring out a passcode for iPhone has not been completely proved. It could be regarded as a game with your girlfriend or boyfriend. But it is only suitable for 4 digit password or 6 digit password. Here's how to figure out your girlfriend's or boyfriend's iPhone passcode by using calculator.
Step 1. Open the Calculator app with the shortcut and enter a random sequence of numbers.
Step 2. Multiply this number by the passcode and press the Enter button for the result.
Part 4. How to Figure out iPhone Passcode without Restoring
There is a knack that can also assist you in figuring out passcode on iPhone if your iPhone running on iOS 8.0 to iOS 10.1. That is to use Siri, which won't hurt any data on your device. Although it is not an official method, many users claim that Siri really works under certain conditions. Maybe this is new to you, but it does not hinder you from trying it as follows.

Step 1. First of all, activate Siri by holding down the Home button and then ask Siri to open the world clock on your iPhone.
Step 2. When the clock appears, touch it and tap the + button to add another one.
Step 3. Enter the Choose a City interface, in which you need to type any city in the search bar. Next, tap on Select All and Share options.
Step 4. After that, in a small pop-up window, hit on Message. Later, enter something in the To filed and tap Return on the iPhone keyboard.
Step 5. In this step, just choose Create New Contact to add photo. To do it, you may tap the Choose Photo option to get into your photo library on the iPhone.
Step 6. Once entered, select any photo and press the Home button to get out. Like that, go to the home screen without passcode.
Conclusion
Undoubtedly, it would be a bit difficult to figure out passcode on iPhone when completely forgetting your passcode. With Joyoshare iPasscode Unlocker, the process of cracking iPhone passcode becomes easier and more convenient. It also enhances the success rate of the whole process. Have a try, and you'll find it out.