Q: "Help me. I bought this Apple card and it ask for my security question and I did remember and I wanted to reset them but didn't have enough information. Please help." – from Apple Community
Have you ever been asked to answer security questions when you trying to sign in with your Apple ID or make purchases? And a message pops up saying "We don't have sufficient information to reset your security questions" when you are resetting your Apple ID security questions. This could be an annoying issue if you are locked out of your Apple ID or cannot buy anything in the App Store. Hence, to fix the problem that Apple ID cannot reset security questions, this article will discuss security questions of Apple account in a comprehensive way.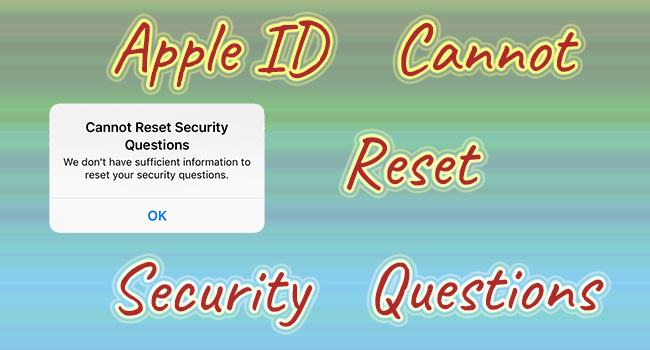 Part 1. What Is the Function of Apple ID Security Questions
Security questions are designed to recognize your identification because they are set up and customized by yourself. When you forget your password, you could use them to log into your Apple account or reset the password. In this case, it protects your Apple ID from being compromised by others. And sometimes, you may be asked to answer the questions as well when you need to purchase apps or music. So, it is recommended that you'd better set up security questions for your Apple ID.
Part 2. Why Can't Apple ID Reset Security Questions
Since Apple ID security questions are pretty critical, it is troublesome when you are unavailable to reset them. There are several causes that may lead to it. Once you know the reason, you will gain the solution.
Insufficient information. As the prompt implies, you might enter some wrong information, especially your phone number, or the details are not finished yet.
Enter the incorrect Apple ID password. It is required to enter your Apple ID password when resetting security questions. If there is a typo or you forget your password, you cannot reset the security questions either.
External conditions, such as unstable Apple system status and unavailable network, are possible to disable security questions reset.
Part 3. How to Reset Apple ID Security Questions with Password
If you remember your Apple ID password and confirm that there is nothing wrong with your network and Apple system status, you could reset the security questions by visiting the Apple ID website.
Step 1: Visit https://appleid.apple.com/ and click Sign In to log into your Apple account.
Step 2: On the Sign-In and Security section, choose Account Security.
Step 3: Click on the Change security questions option.
Step 4: Set up your new security questions and answers. Click Update and enter the password to finish the reset progress. Keep the answers in mind in case you need them next time.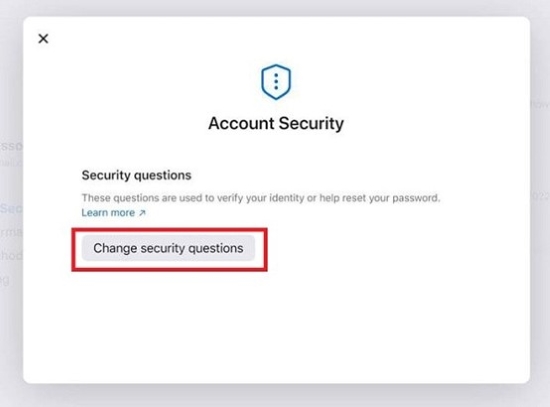 Part 4. How to Fix "Cannot Reset Security Questions in Apple ID"
4.1 Remove Apple ID Password
When it comes to "Cannot reset security questions", it could be inferred that you not only forget the answers to your security questions but also your Apple ID password. If it is true, try to ask Joyoshare iPasscode Unlocker for help. With it, you could remove your Apple ID password without knowing your security questions and the answers. This outstanding program possesses powerful strength in unlocking iPhone, iPad and iPod touch. Apart from Apple ID, it is able to remove all types of screen locks, Screen Time passcode and bypass MDM restrictions. At the same time, this software assures you of high compatibility, a high success rate and user-friendly operations.
Key Features of Joyoshare iPasscode Unlocker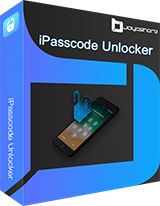 Unlock screen lock, Screen Time and MDM without passcode.
Compatible with almost all iOS devices and the latest iOS software.
A high success rate and user-friendly operations.
Step 1

Plug Device into Computer and Choose Unlock Apple ID

Run Joyoshare iPasscode Unlocker and plug your iPhone, iPad or iPod touch into a trusted computer. Choose Unlock Apple ID on the main interface.

Step 2

Confirm the Status of Find My

Check and confirm the status of the Find My feature on your device. If it is disabled, you could move on to the next step and your data will be well preserved. If you turned it on, make sure that the screen lock and the Two-Factor Authentication on your device are enabled. But in this case, you may lose some information.

Step 3

Remove Apple ID without Resetting Security Questions

After the confirmation, click on the Download button to gain the corresponding firmware package. Once the progress ends, you could reset your Apple ID and its password. The Apple account turns back to normal.
4.2 Enable Two-Factor Authentication
If you can't reset your security questions, there is another way to recover your Apple ID – use a verification code with enabled two-factor authentication. The two-factor authentication is turned on by default actually, but if you disabled it before, enable it this time. After that, make sure you have another trusted Apple device to receive the verification code. Below are two ways to obtain the verification code to recover your Apple ID when fail to reset security questions.
On Settings:

Step 1: Open Settings on another device that you trust.
Step 2: Tap your Apple ID, choose Password & Security and select Get Verification Code.
Step 3: Tap Allow and enter the code to verify your identity.
Step 4: If you can't receive the number, you could tap the "Didn't get a verification code?" option.
Step 5: On the Sign In interface, decide to get the code with a text message or phone call, and enter your phone number.
Step 6: Enter the verification code sent to your phone number.

On Mac:

Step 1: Open Apple Menu, choose System Preferences and click on your Apple ID.
Step 2: Select the Password & Security module, and click Get Verification Code.
Step 3: Tap Allow on your device and enter the number you receive.
4.3 Use Emergency Email
If you have set up an emergency email in your Apple ID, there is a chance to get your Apple ID back when meet the reset security questions failure.
Step 1: Go to https://appleid.apple.com/ and sign in with your account.
Step 2: On the account page, locate the Edit option and click it.
Step 3: Click on the "Are the Security Questions already being there?" option and answer the questions.
Step 4: Hit "Add Security Questions" to re-set up new questions and answers.
Step 5: Enter your emergency email address to verify it. Thus, your Apple ID is recovered.
4.4 Contact Apple Support Team
The final solution is to contact Apple Support if the above methods cannot resolve the problem related to security questions. On the Apple Support website, choose Apple ID, click Forget Security Questions, hit the Continue button and follow the instructions to chat or call the Support team.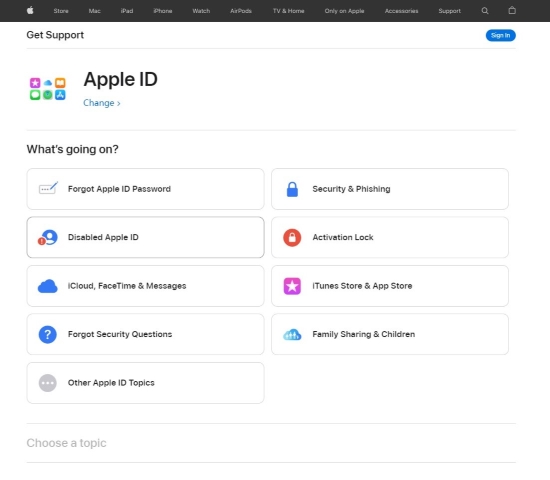 Wrap-Up
This article explains to you what Apple ID security questions are, why your Apple ID cannot reset security questions, and how to fix it in two situations. With an Apple account password, you could directly reset it on the website. Without it, the verification code with enabled two-factor authentication and the emergency email are available to recover your Apple ID. Besides, it can be fixed by removing the Apple ID password with Joyoshare iPasscode Unlocker. It allows you to unlock your Apple account without security questions and a password. However, if these methods are useless, it is time to ask Apple Support for aid.