Apple sets activation lock to iOS devices for security. However, this can sometimes become a constraint, preventing you from accessing device smoothly. Especially when your second-hand iPhone is linked to an iCloud account, you cannot get the correct credentials for typing in. You may look around for professional tools in removing such an activation lock and find that 3Unlocker has a high demand. Does it really work well? Is it worth using? If you have lots of questions like these, then don't miss out this comprehensive 3Unlocker review. We'll take you through all aspects.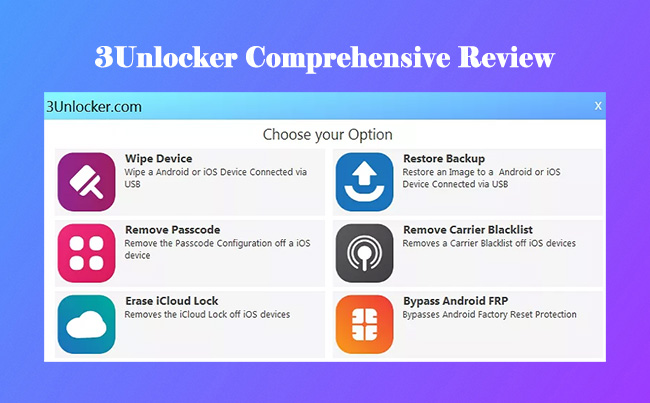 Part 1: In-depth Software Review about 3Unlocker
You will be confused about where to find information about 3Unlocker and as a result, hesitate to use it. Don't be anxious. Here we'll show everything about this iCloud lock removal and you can take a close look at them.
1.1 What's 3Unlocker?
3Unlocker is a tool integrated many functions, among which "Erase iCloud Lock" is highly used by Apple users. This function can be applied to remove iCloud activation lock off iOS devices, including iPhone, iPad, and Apple Watch. The specific models 3Unlocker covers are iPhone 4s, iPhone 5/5s/SE, iPhone 6/6s, iPhone 7, iPhone 8, iPhone XR, iPhone X, iPhone XS, iPhone 11/11 Pro, any iPad, and any Apple Watch.
Aside from the function to erase iCloud lock, 3Unlocker has the ability to wipe device, remove screen passcode, remove carrier blacklist, and restore backup.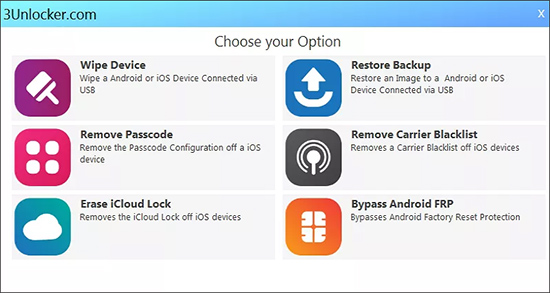 Pros:

User-friendly program interface with clear functionality sections
Free to use without requiring a payment
Support to download on Windows 7/8/8.1/10
Offer possibility to get rid of iCloud activation lock from iOS devices
Cons:

Only provide quite low success rate to erase iCloud lock
Your computer is vulnerable to virus and malware if 3Unlocker is installed from untrusted websites
There is no official website of 3Unlocker in any search engines, lacking of detailed software introduction as well as authorized download link
1.2 How to Download 3Unlocker?
Finding a trustworthy download address to get 3Unlocker is actually a challenging thing. Currently, there is even no official website, such as 3Unlocker.com, to download the tool directly. You'll have to look around, and you may even be unlucky enough to fall on a phishing sites or spam sites, which lead you to risky places to download other insecure programs, or asks you to take questionnaires.
Considering that we are also unable to find this tool from well-known and authoritative download sites, we are sorry to inform you that there is no available download link for you. If you're fortunate to get this tool, you can install it to test if it satisfies your needs.
1.3 Does 3Unlocker Work?
Its regular operations to unlock iCloud lock are relatively simple. You can run 3Unlocker on your PC, connect your iPhone, and then follow what's shown on the screen. However, according to many uses' feedback and tests, unlocking failures happened often on different device models, including iPhone 6, iPhone 7, iPhone 8 Plus, iPhone 11, and iPhone X. During the use, your device will always be stuck at "uploading 3Unlocker to device" screen and cannot move any further. That's to say, this software cannot work as expected and the iCloud lock can still exist on your device. But if you'd like to try, check out steps below:
Step 1: Open your installed 3Unlocker and select "Erase iCloud Lock" from its main interface.

Step 2: Connect your device that has an activation lock. Generally, 3Unlocker will automatically detect it. If not, you can click on the drop-down list under "Select Target Device Type" to confirm your device model. Then click on "Continue" button.

Step 3: Keep your device connected. It will show activation lock screen now and you can click on "Upload" button in 3Unlocker. This helps to upload 3Unlocker to your iOS device and the uploading process will last a long time.

Step 4: Once all related files have been uploaded to your device, you can click on "Begin Setup" → "Delete iCloud Data and Wipe" to start erasing iCloud lock.

Step 5: When device booting process is completed, you can see a message showing "A Stock iOS Image has been Restored" on the screen. Simply tap on "Go to Homescreen" to use your iOS device without a lock.
1.4 Is 3Unlocker Free?
3Unlocker is free. You can use it without subscription and account registration. Just keep in mind that even you luckily get a workable download link in a website, don't pay for it if you're requested. There is no official refund guarantee.
1.5 Is 3Unlocker Legit?
Considering there is no authentic source to download 3Unlocker from, the program legality cannot be guaranteed. However, if you can get a qualified one, it's legal to use it to bypass iCloud activation lock for your second-hand device or an old device that you forgot iCloud account. Just note that using 3Unlocker to erase iCloud lock from others' devices without permission is not legal.
Part 2: Remove iCloud Activation Lock with 3Unlocker Alternative [Hot]
You can now have a general understanding about 3Unlocker's features, usability and overall effectiveness. There is no doubt that this tool comes without good reliability and certainly is not a perfect solution for iCloud lock removal since the success rate is too low. If you have tested it by yourself already and would like to find an alternative, then Joyoshare Activation Unlocker is highly recommended.
Whatever situation you get yourself into, such as iPhone is linked to a previous owner, unable to activate, iPhone has been lost with an activation lock, etc. this software can be put into effect. It bypasses your iCloud lock on iPhone, iPad and iPod for unlimited times. Also, you can use it to unlock your Apple ID without password and turn off Find My feature professionally.
Key Features of Joyoshare Activation Unlocker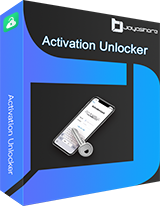 Unlock iCloud activation lock for unlimited times
Good compatibility across various iOS devices
Offer secure download & installation, and update support
Support activating iPhone, iPad, iPod in different lockup cases
Here you can see how this 3Unlocker alternative works to bypass activation lock screen and access your device. You can download the latest version of Joyoshare Activation Unlocker on your computer first.
Step 1

Connect iOS Device to Computer

Launch the program of Joyoshare Activation Unlocker on your desktop and connect your device, such as iPhone. In the main interface, carefully read note and disclaimer. Confirm them with "Agree" and then click on "Start".

Step 2

Jailbreak iOS Device

For different iOS devices and versions, the corresponding jailbreak operation is also different. You can have a close look at the jailbreak guide here and strictly follow instructions to do that.

Step 3

Remove iCloud Activation Lock

After jailbreaking your connected device, Joyoshare Activation Unlocker will show detailed device information and give an access to "Start to Remove". Simply click on this button and the iCloud activation lock removal process will begin. When it comes to end, you can be prompted with "Done".
Part 3: Summary
3Unlocker has a reputation for unlocking iCloud activation locks. However, through a comprehensive analysis, it is not difficult to see that the era of this tool is coming to an end. If you don't want to spend too much time searching for an authoritative download address and waiting for the iCloud lock to be removed by 3Unlocker, you should check out Joyoshare Activation Unlocker. It can work well for you and keeps its update in compatibility.