WhatsApp is one of those apps that almost everyone all around the world uses, including iPad and iPhone users. It has made communicating with dear ones a lot easier, be it through text messages, voice messages, sharing pictures or other attachments, voice calls and video calls. However, chances are that just like many others you too are experiencing the problem of WhatsApp temporarily unavailable iPhone or iPad and there can be many reasons behind the same. But what should you do in such a situation, how do you fix the problem? If these are the questions now running in your mind then continue reading and discover some helpful tips.
1. Restart Your iPhone
The problem of WhatsApp not loading on new iPhone or even on your old one maybe just because of some bug and a simple thing like restarting your phone can possibly help solve this issue. If you are using iPhone X and later, then you need to follow these steps: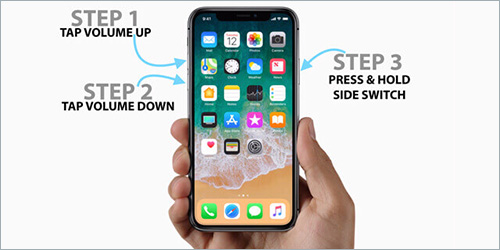 Step 1: Press both the iPhone side buttons and Volume Down or Up buttons. Keep holding these two buttons until you see a slider and then drag this slider and your phone will be shut down.;
Step 2: Once your iPhone X is off, press and keep holding on your phone's side button until you can see the Apple logo.
If you are using iPhone 8 or below, or an iPad then follow these steps:
Step 1: Press the top or side button until the slider is visible. Drag this slider and your gadget will be turned off;
Step 2: Once it is off, press and keep holding the top or side button until you notice the Apple logo.
Your WhatsApp application should likely work properly on your iPhone or iPad now.
2. Close out of the App
WhatsApp crashing iPhone can be a result of the app itself malfunctioning. At times, by just closing out of WhatsApp and then reopening it can help solve little issues. What you need to do is: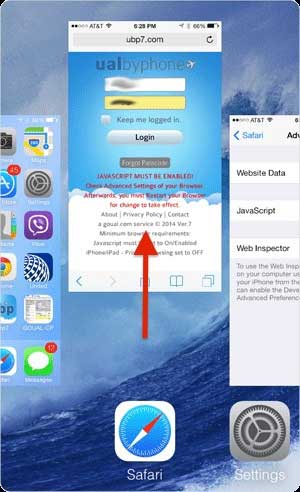 Step 1: Double click on the Home button and the app switcher will open. This will display all the apps you are using on your device. You just need to swipe WhatsApp up and off on your screen;
Step 2: When the logo does not appear on your app switcher anymore you can be sure the app is closed;
Step 3: Reopen WhatsApp and try using it again.
3. Look for Any Updates
App developers regularly offer updates to help remove glitches or bugs and to add more interesting features. Your WhatsApp crashing iPhone can be a result of you using an outdated version of this app. You need to look for an update and to do so:
Step 1: Tap on the App Store and then select the Updates tab that you will find at the bottom of your screen;
Step 2: If you see there is an update available then tap on the blue Update button that is present towards the right. You may also choose to update all the apps you are currently using at a go by selecting Update All.
4. Try Changing Network
One of the reasons behind WhatsApp not working on iPad can be a bad network connection. In such a situation, you simply need to switch between your mobile and WiFi internet. To do so you need to: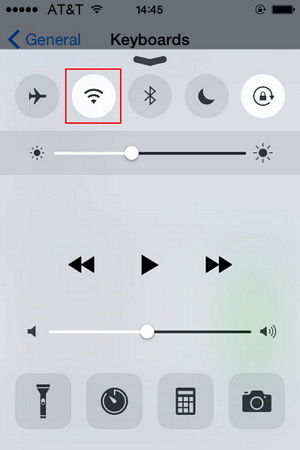 Step 1: Swipe up from the bottom of your screen to reach the Control Center;
Step 2: Select the WiFi icon and disable it and enable your Cellular icon.
5. Forget WiFi Network and Reconnect
Yet another thing that you can give a try is to forget WiFi network and then reconnect it to your iPad or iPhone. When you connect your iPhone to your WiFi network for the first time some information gets stored in your iPhone concerning how to connect to that particular network again.
If there is some problem with this process then you may not be able to connect to that network and thus will not be able to use WhatsApp either. If you forget the network and then reconnect it will be equivalent to connecting for the first time and things should start working perfectly now.
6. Delete WhatsApp and Install It Again
When you next face the problem of WhatsApp temporarily unavailable iPhone yet another thing that you can try is to delete the app and then install it again. If some file within WhatsApp has got corrupted then following this tip will help make things work fine again. To delete WhatsApp you need to: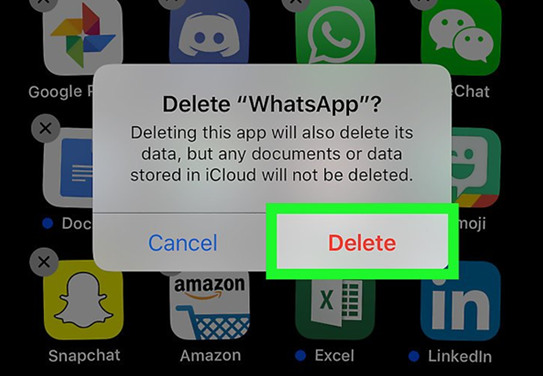 Step 1: Keep holding the WhatsApp icon until your iPhone vibrates briefly and your apps stars jiggling;
Step 2: Now, tap on the small X that you will find next to the upper left-hand side of the app, and delete and install the app yet again.
Note: Even if you delete the app your WhatsApp account will not get deleted. You just will have to enter your login information yet again after reinstalling the app. However, while trying to make WhatsApp work again on your iPhone or iPad you may accidentally end up losing/deleting some important data and this can make you feel even more helpless. Do not worry as we have Joyoshare iPhone Data Recovery solution for this problem as well
Besides WhatsAPP messages and attachments, other lost data like calendars, Viber/Kik messages, videos, photos, Safari's bookmark, or SMS, all of these can be easily retrieved with 3 recovery modes. The lost data can be recovered directly from iOS, iCloud and iTunes backup. In fact, even if your iOS gadget gets stolen you can still get your data back with the help of Joyoshare iPhone Data Recovery.
See also: How to Recover Deleted WhatsApp Messages from iPhone
To Conclude
WhatsApp not working on iPhone or iPad is quite a common issue yet when people experience it they do get worried because this is the one app that helps them stay connected with their dear ones and in such a seamless way. However, now that we have shared some easy and helpful tips, if you ever again find WhatsApp not working on your iPad/iPhone you should not worry at all and instead start following these tips right away, get WhatsApp working again, and enjoy staying connected with your dear ones always.