Owning an iPhone indeed is a big deal and it becomes one of your most prized possessions pretty soon. It becomes all the more exciting when new updates keep coming adding new features and thus more for you to explore and more reasons for you to stay hooked on to your precious gadget. However, the new software updates also at times come with their own share of problems. Ever since the iOS developer beta was released by WWDC people were eager to use it but soon they started experiencing app crashes. If your app keeps crashing on iPhone/iPad (iOS 12/11) then just like others you too must be in search of solutions and this is exactly what we shall share with you right away.
1. Reboot your gadget
Before you try anything else it will be best to first reboot your iPad or iPhone. A solution as simple as this works really good for many app crashing problems and it hardly takes any of your time. So, to begin with, you need to force reboot your iPad or iPhone by holding your gadget's power button and also home button until you notice the Apple logo. Now, allow your device to boot back up and then use the app that was crashing yet again. It should work without any problem now, and if it does not, then you can try the other solutions mentioned here.
2. Force close the app and re-launch it
The next thing you can try if you have the problem of iPhone/iPad apps crashing frequently is to clear the app from your gadget's memory by quitting the app or force closing it and then launch it all over again.
To access the app switcher or multitasking tray you simply need to tap on the Home button of your device twice. If you own an iPhone 6s or 6s plus, then you can move to the multitasking view by firmly pressing on the left side of the screen. Now, find the faulty app, swipe up on its preview to close it, and now tap on the Home screen and launch your app again.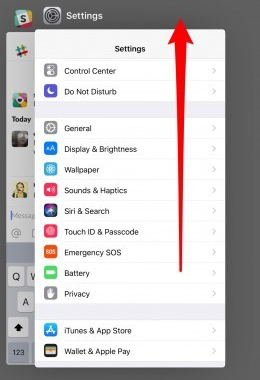 3. Delete and re-install the app
For those who experience the problem of iPad/iPhone apps crashing on iOS 12/11, the next thing to try is to delete the app and reinstall it immediately. This is a pretty fast process; however, some apps that are larger in size may take a little longer to download.
So, what you need to do in this case is to find the problem app on your Home screen. Now, press and hold on the app's icon. Press the X (delete) icon as soon as it appears and go on and to confirm that you wish to delete this app. Next, you just need to visit the App Store and search the app you just deleted and download it once more. Use the app again and it should be working properly. Also, you will have got rid of the app cache that will offer you some extra free space. Those caches may also have been the reason why you were experiencing the app crashing issue in the first place.
4. Find your app's latest version
Even after launching the app you still face the problem of crashing apps on iPhone/iPad (iOS 12/11) then it could be because the app has a bug or there is some compatibility problem. If you are experiencing this problem then chances are the developer of the app may have released a fresher version of that app wherein the issues have been fixed. If the app has not automatically updated yet, then you can check for the updates on the App Store. After visiting the App Store you need to select the Updates tab, and if you notice Pending Updates then tap on the Update button and enjoy using the latest version.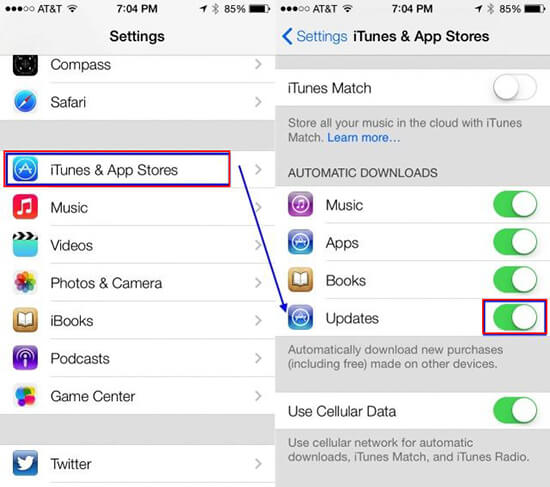 5. Free some memory
Yet another reason why you may be noticing iOS 12/11 iPhone/iPad apps crashing frequently may be because of lack of storage capacity. If you love your iOS device and use it every single day, situations are you must have saved lots of pictures, videos, and songs in it. Though this may seem all so nice, if the memory of your phone is way too full, you may experience app crashing issues. What you then need to do is just clear the iOS 11/12 memory and enjoy some free space. Remove the apps you do not need, and then try using the app that was crashing so long.
6. Turn off the Wi-Fi
Some iOS users, particularly those with iPhone 6s/7, have experienced frequent crashing of the Apple music app. To fix this issue all they did was to disable the Wi-Fi on their gadget, and a simple step like this helped make their app work again. Though it cannot be said exactly how Wi-Fi can cause a problem, if you are facing app crashing issue, you can disable the Wi-Fi on your phone and maybe try another Wi-Fi network to see if it starts working fine again.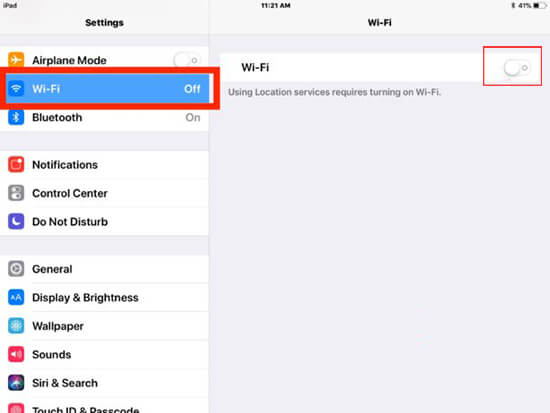 More Tips
If you have app crashing problem on your iOS device then you might also end up losing important data, and no matter how frightening this may sound, you need not worry as Joyoshare iPhone Data Recovery is here to your rescue. You can recover any lost data using it. It has been created to help you recover over 20 types of lost and deleted data like contacts, call logs, photos, voicemail, reminders, notes, and videos from iTunes and iCloud backup, and iOS devices, and that very easily too.
Conclusion

On the first place try not to load your device with too many apps, delete those that you hardly ever use, and keep updating your apps on a regular basis and this may help prevent the problem of apps crashing from occurring at all. However, if it does, then you just need to follow one/more of these tips and your problem is going to be solved for sure.