Are you exhausted of seeing the iMessage displaying "waiting for activation" error on iOS 12/11? Well, this may irritate and probably scrap the last tolerance left in you. No need to stress out as this sort of problem has been encountered by many iDevice users from time to time. In some instances, text messages even don't appear to be sent and delivered. There are a lot of recommended solutions and quite a majority of them are easy to operate. Let's look at following 6 crucial tips to troubleshoot the iMessage waiting for activation issue and get your iOS device back to track.
Solution 1. Check Internet Connection
A very strong and good internet link is essential for iMessage to function perfectly on every iOS device. The poor cellular connection will lead to your gadget having issues with iMessage. Here are the steps you can follow to ensure your internet is on top notch. Go to locate setting > choose Wi-Fi/Cellular > turn off the switch > restart your device > switch on Cellular.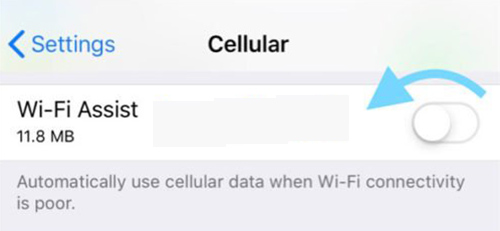 You may also reset the network settings on iOS device to erase the Wi-Fi passwords as well as login details. You can fix network issue at some occasions though shutting on/off Airplane mode.
Solution 2. Switch Off/On iMessages And Reboot Your Gadget
Follow these steps below to switch off and on your iMessages:
Step 1: Go to the settings app and find Messages;
Step 2: Make sure iMessage is off;
Step 3: Restart your device by pressing the ON/OFF pin and Home button in one instance until the Apple logo appears on the screen for approximately 10 seconds;
Step 4: After restarting your iOS device, switch on the iMessage.
Wait for some time for the activation process to end and send an iMessage to one of your contacts. If iOS device still displays the iOS 11/12 iMessage stuck on waiting for activation, head to solution 3.
Solution 3. Sign Out/In Apple ID
In some cases, Message awaiting the activation error can be easily solved by logging out Apple ID and logging in again. If you not sure on how to do this, here is a simple guide.
Step 1: Go to settings > Message, scroll and tap on where there is Send & Receive;
Step 2: Press the Apple Identification icon and tap sign out;
Step 3: Turn iMessage off;
Step 4: A moment later turn on your cellular/Wi-Fi connection and turn on the iMessage;
Step 5: Re-enter your ID and reactivate the iMessage.
Solution 4. Carrier Contact
If nothing seems to work on the waiting for activation iMessage error, you should check to see if your iOS device carrier supports the kind of message you severely trying to send. For off chance you are trying to send MMS, you ought to consult if your carrier supports MMS. If you want to send MMS, ensure it is enabled in your device.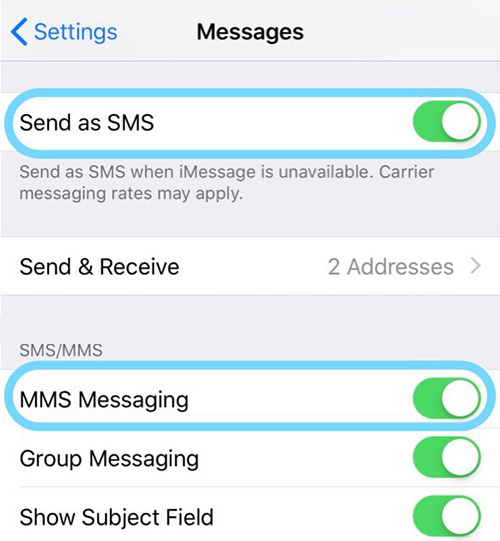 Step 1: Go to settings;
Step 2: Find Messages;
Step 3: Check if MMS is enabled.
Get in touch with your Carrier support and confirm any restraining condition on the iMessage or limitations on sending messages.
Solution 5. Set Personal Cell Number To Be Able To Send And Receive A Message
The iMessage awaiting for the activation problem may at many cases be caused by not enabling personal number to receive and send any message. Here is how.
Step 1: Go to settings, Messages then Send & Receive;
Step 2: At this step, you ought to view your number and a linked Apple ID in the list. You can easily arrange the list;
Step 3: In order to get the iMessage to start working normally, you will have to:
1. Use the phone number without the email ID;
2. Choose either iPhone or email to test if iMessage performs with one of them;
3. Handpick a phone number as well as email;
4. You will then see a section labeled "Start New Conversation from";
5. Choose your personal number for this.
Solution 6. Update To The Latest Version
If above solutions can not solved your iOS 11/12 iMessage awaiting for the activation error, then try updating the gadget to the newest version. Many a time users have effectively fixed these problems by updating their devices. If you have no idea on how to do this, then here is a guide to help you out.
Step 1: Find settings;
Step 2: Head to General;
Step 3: Select download Software Update.
If no available update, proceed to restore your iOS device with iTunes. Ensure you back up your files before restoring everything. This is the last option.
The above solutions have been tested and proven as working by many users experiencing iOS 11/12 iMessage stuck on waiting for activation problem. In case data loss happens, you'd better back up your iOS data to iTunes or iCloud in advance so that you have chance to use Joyoshare iPhone Data Recovery to recover 20+ lost and deleted personal files from your iOS device, iTunes and iCloud backup. Anyway, try out these 6 tips whenever you experience such problems. Hope this article can give you concrete support.