Webinars are conducted to engage the audience in informative sessions. These are becoming increasingly popular as the distant mode of learning has become widely accepted and appreciated. Alongside the educational purposes, they are also helpful for brands to promote their products or services. In short, webinars offer a perfect video-conferencing solution for both professionals and students. However, webinar software is a must for hosting webinars. Today, we shortlist the 13 best options for you. Let's explore them one by one.
1. Zoom
Zoom is known for connecting thousands of people across the globe. You can organize meetings and webinars on Zoom's interactive platform. Zoom makes connection easy through its intuitive and simple interface. In brief, you will enjoy all basic and advanced video-conferencing features in this fantastic live webinar software.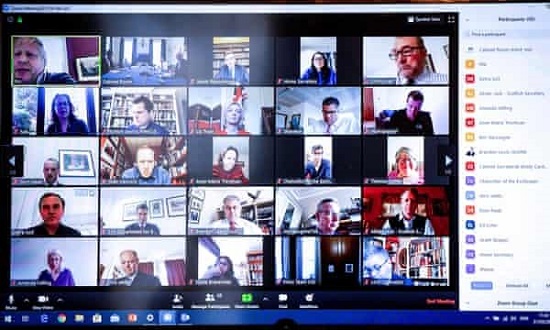 Pros:
Offers screen sharing and recording
In-built chat room to streamline communication during the webinar
Allows scheduling a webinar as a host
In-app integration with Google and Microsoft calendars
Cons:
Forty minutes time limit in the basic version
Price:
Varies from $14.99 to 19.99 per month
Supported Platforms:
Android, macOS, iOS, Linux
2. GoToMeeting
GoToMeeting is another famous platform for hosting a webinar with high-powered video-conferencing tools. This webinar software is reliable, fast, and secure for virtual meetings. You can invite attendees by creating invitation links. It supports all mainstream devices and allows you to teat webcam before the webinar starts.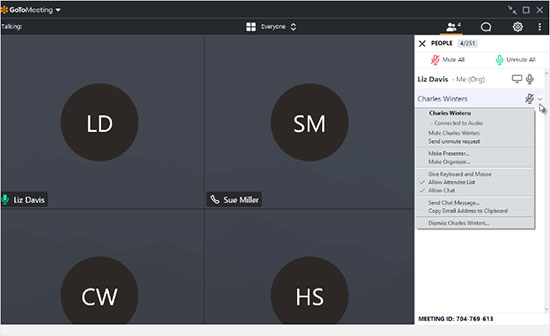 Pros:
Enables you to test webcam before the webinar starts
Comes with integrated business messaging
Built-in commuter mode to ensure distraction-free webinar
No session time limit
Cons:
The trial version expires after 14 days
Price:
Varies from $12.00 to $16.00
Supported Platforms:
3. Livestorm
Livestorm can help you boost sales by engaging your audience in webinars. It is an open source webinar software that provides state-of-the-art tools to make your webinar interactive. Lastly, this program facilitates you to the fullest.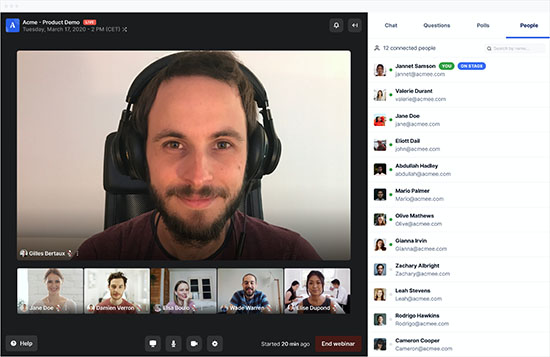 Pros:
Supports live chats and polls
Provides automated and customized emails
Interactive platform for both personal and business webinars
Allows conducted unlimited events
Cons:
Only 20 minutes session in the free version
Price:
Supported Platforms:
Android, iOS, and Windows
4. Demio
Demio enables you to conduct effective webinars very easily. This webinar software will provide you installation-free process for hosting a webinar. It embeds all marketing essentials to convey information to the audience in the best way possible.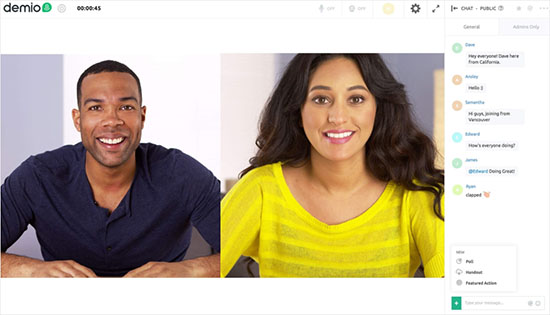 Pros:
Offers exciting webinar features such as customizable domains and featured colors
Allows creating engaging and easy registration process to join the webinar
Options to tag webinar attendees
Auto-pilot mode with automated presentations
Cons:
The trial version includes no feature of the premium version
Price:
Varies from $24.00 to $69.00
Supported Platforms:
iOS, Android, and Windows
5. Webinar Jam
It is a powerful webinar software with fantastic tools and features. You can organize webinars in collaboration with other experts as the software accommodates up to six presenters. It also provides a user-friendly interface and interactive dashboards.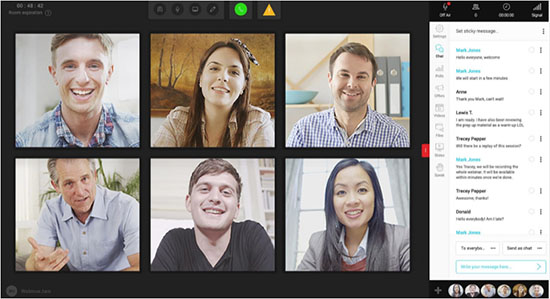 Pros:
Equipped with cloud-based technology
Allows sharing screen
Incorporates capacity of up to 5000 participants
Live chat to make events interactive
Cons:
The free trial version is not available
Price:
Varies from $499.00 to $999.00 per year
Supported Platforms:
6. WebinarNinja
WebinarNinja is a one-stop-shop for teachers, business professionals, trainers, and others to organize virtual meet-ups. This webinar software engages you in a hassle-free process to organize the events. Moreover, it also fascinates users with unique and captivating signup pages.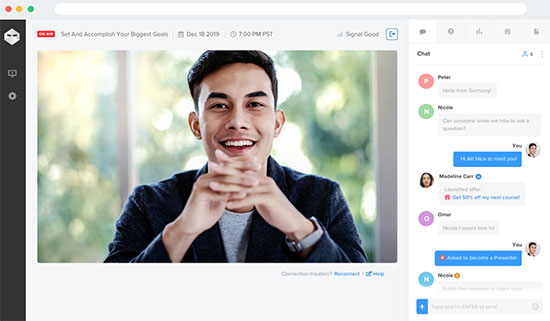 Pros:
Built-in tools for interacting with the audience
Effortless payment mechanism for paid webinars
Pre-packaged sales offer to include in your presentations
In-app integrations with other platforms
14-day free trial version
Cons:
Maximum 8 hours long session
Price:
Varies from $39.00 to $199.00 monthly
Supported Platforms:
7. GoToWebinar
GoToWebinar enables you to host live and pre-recorded webinars. Its powerful integrations and flexible modes make your communication with webinar attendees easy and quick. You can host a scheduled or unscheduled webinar using this webinar software.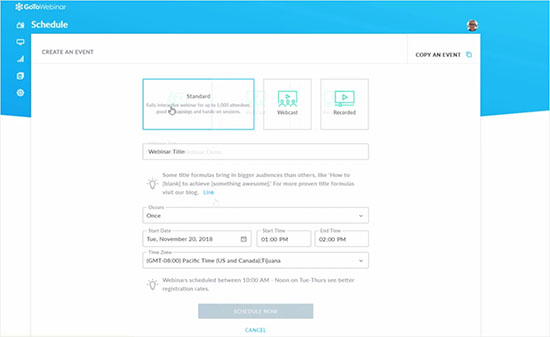 Pros:
Enables you to create customized registration forms
Facilitates users with an analytics dashboard
Automated invites, follow-ups, and reminders
High-quality video
Cons:
Up to 100 participants in the lite version
Price:
Varies from $49.00 to $399.00 monthly
Supported Platforms:
Web, macOS, iOS, Android, and Linux
8. LiveWebinar
LiveWebinar is an advanced software for hosting webinars. It can be used for multiple purposes with its customizable features. It also guarantees a noise-less environment and HD quality of video for webinar attendees. Last but not least, it is also one of the best webinar software.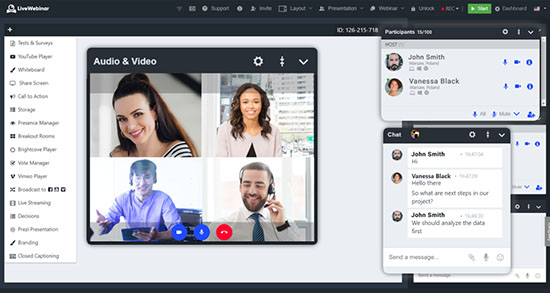 Pros:
Allows creating monetized events
Integration options facilitate you embedding into your brand
Offers whiteboard and drawing tools to make the session interactive
A wide variety of customization tools
Cons:
Only 5 participants are allowed in the free version
Price:
Varies from $11.99 to $95.20
Supported Platforms:
Windows, Linux, Android, macOS, iOS, etc.
9. EverWebinar
EverWebinar is equipped with the latest technology to make webinars smooth and exciting. You can share your webcam footage, screen, or any other document when hosting a webinar through this advanced webinar software.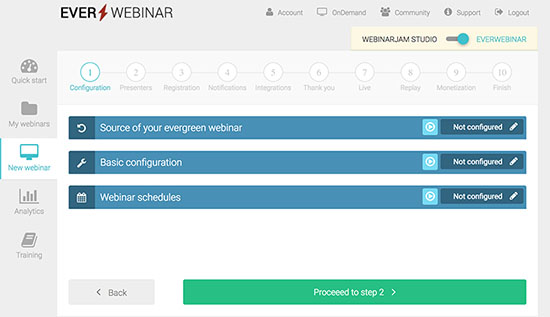 Pros:
Seamless interaction between webinar host and participants
A webinar can be configured to start right away after registration
No additional plugin or third-party app required
Auto-detection of time zone
Cons:
The trial version is also paid
Price:
Varies from $34.00/month to $99.00/monthly
Supported Platforms:
10. BlueJeans
BlueJeans is an efficient webinar software that lets you host virtual events. The embedded tools in this software will make the webinar experience unique. You can also include live poling when interacting with webinar participants in this software.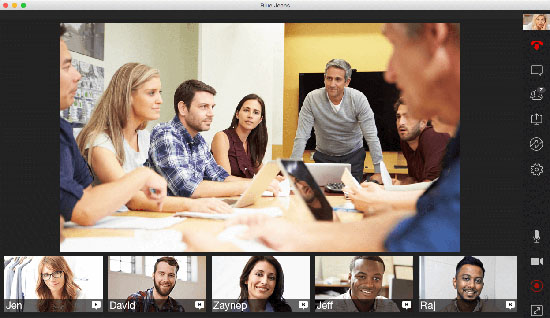 Pros:
Provides an open forum to brainstorm ideas
Comes with three interactive screens to effectively control the event
24/7 customer support
Up to 50000 participants in the webinar
Cons:
Not available in all countries
Price:
Supported Platforms:
Windows, Linux, Android, iOS
11. My Own Conference
It is an interactive platform that allows joining webinars from all devices. This tool supports 16 languages to help webinar participants communicate easily. Furthermore, the application offers private messaging, in-built recording, and much more.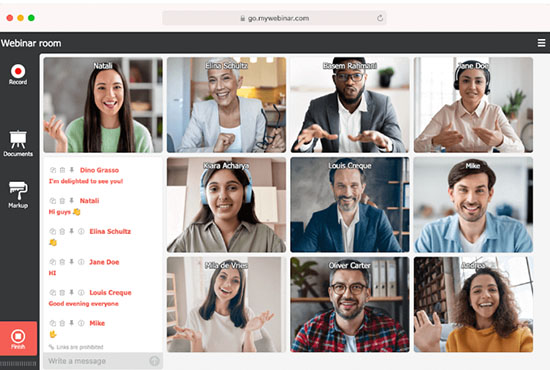 Pros:
Allows tracking the progress of the webinar participants
Enables ten broadcasters to present at a time
5 GB storage in the paid version
Cons:
Limited storage in the free version
Price:
Supported Platforms:
12. EasyWebinar
EasyWebinar is one of the latest tools to organize live and record webinars. This webinar software is equipped with powerful features to ensure high video quality, a quiet environment, and zero jitterings. It also allows live recording webinars.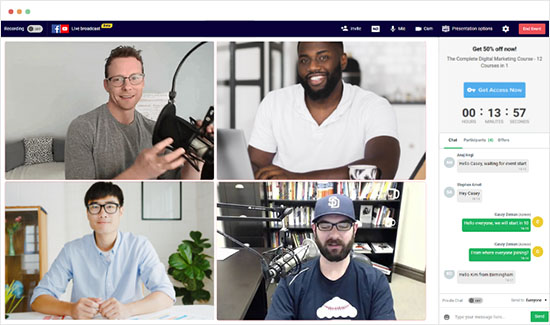 Pros:
HD screen sharing
Allows multiple broadcasters to present
It is equipped with an easycast feature that lets you live stream to many platforms
Automated webinars
Cons:
Only 100 live attendees in standard
Price:
Varies from $78.00 to $499.00
Supported Platforms:
13. ClickMeeting
ClickMeeting offers a perfect mix of online meetings, video-conferencing, and webinars. You can easily demonstrate your skills or market your product using this webinar software. You can reach a large audience utilizing ClickMeeting's collaboration tools.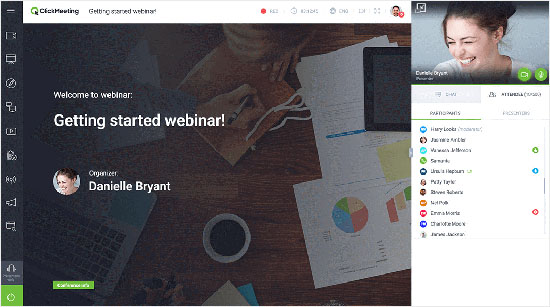 Pros:
Allows collaboration of people from different continents
Offers on-demand webinars
Flexible pricing plans
Cons:
Price:
Varies from $25.00 to $40.00
Supported Platforms:
Recommended Screen Recorder to Record Webinar - Joyoshare VidiKit
Joyoshare VidiKit - Screen Recorder provides HD video recording of the webinar with its user-friendly and robust recording tools, allowing you to record webinars with high quality. With its powerful functions, you can customize your watermark and use shortcuts during recording. What's more, you can specify codec, quality, sample rate and more to enhance your videos. If you want to know how to record in Joyoshare VidiKit, follow the step-by-step guide below.
Key Features of Joyoshare VidiKit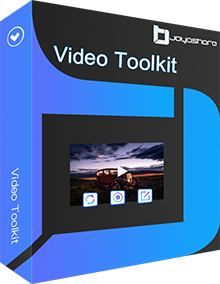 Skip, cut and stop unwanted content and ads during recording
Customize codec, quality, bit rate of your webinar recordings
Record Zoom, BlueJeans, RingCentral and more
Rename and trim your final video after recording
Change storage location as you want
Step 1

Run Joyoshare VidiKit

Activate this software by clicking the icon after download. The homepage window will appear. Select Record panel and then choose Record Screen sign in the homepage window.

Step 2

Check Settings

Move your mouse to tap Record video and audio mode. Click the + button to select the recording areas or choose standard recording area by hitting the triangle icon. Press the gear icon at the bottom to customize video settings. You can customize recording area, set shortcuts, add watermark and schedule your recording task here. You can also show your mouse if you want.

Step 3

Record Webinar and Save Recordings

Click the REC button to start recording after joining the webinar. You can skip, stop and cut unwanted content by pressing three buttons in the minimized toolbar. You are able to rename, preview and trim your recordings in the History window.
Conclusion:
Webinars are an interesting way of conveying important information virtually. The participants get to know everything and that too sitting at remote locations. Webinar software plays an important in hosting virtual events. This article has mentioned different webinar tools to help you make a final decision. However, the ultimate choice is yours. You must thoroughly review the key features, pros, and cons of the listed software. Moreover, hosting a webinar is not enough sometimes. So, you may need a webinar recorder to make things easier for you. We highly recommend Joyoshare VidiKit for recording webinar activities.