The growing need for people to network, internet communication has been on a dramatic uptrend in the last decade. Most notably, the use of video calls to network with business associates, family, and friends is now deemed a necessity. People want to keep that "human touch," even though miles away from each other. With the rumored launch of the 5G network and continued calls for social distancing to curb the spread of COVID19, internet video calls will not only be necessary but fast and amazing.
Well, IT experts and software developers have provided us with an alloy of video chat apps to choose from. The vast number of choices can make it difficult to choose the best video chat application for yourself. To ease your dilemma, we have researched and tested a vast number of them, and below is a list of the top 12 best video chat apps available on the internet for you!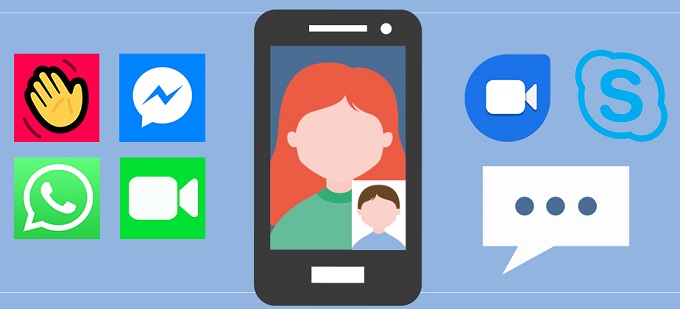 #1. Skype
For a long time, Skype has remained a top video chat app and a favorite for most people worldwide. The app was released and has since then seen over 1 billion installations. It is an easy to use multiplatform video chat application that allows users to easily with people across the globe. Skype video call services are free.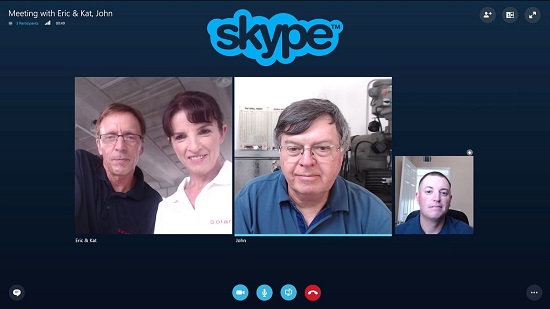 Compatibility: Windows, macOS (desktop), Android, and iOS
Features:
Have low international calling rates
Support text, audio, and voice messaging
Support up to 50 on a video call with no time limit and watermark
Compatible with most conventional operating systems
Pros:
High-quality video calls
Allow many simultaneous callers
Cons:
Have only basic emoji reactions for casual users
#2. Zoom
It is a high-end video conferencing application making it a perfect choice for business meetings, seminars, school classes; basically, all virtual get together. It is also a perfect choice for casual video chats with friends and family. If you want more participants, then you will have to go for a more advanced subscription package.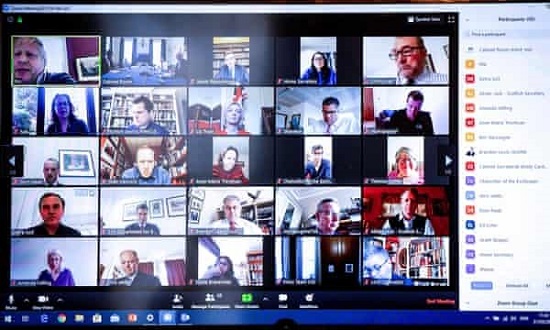 Compatibility: iOS, Android, Windows, Mac, and Web
Features:
Solid web integration
Unlimited one-on-one meetings
Allow up to 100 participants within 40 minutes
Pros:
Comprehensive feature set
Available for most platforms
End-to-end encryption for its free users
Cons:
Free tier has limits for 3 or more participants
#3. Google Duo
Google Duo is a Google video call app masterpiece available all conventional operating systems. The application has fun features, easy to use, and is absolutely free and therefore making a convenient option to connect with family and friends. It has, however, a user limit for only 8 persons.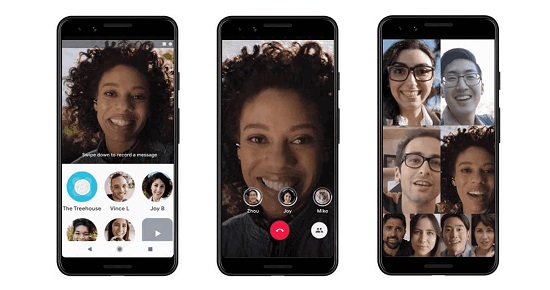 Compatibility: Android, iOS, Windows, and Mac via Web
Features:
Unlimited video calls
Allow for message recording
Cross-platform functionality
Use end-to-end encryption
Pros:
Absolutely free
Simple interface
Easy and fun to use
Cons:
Limited to 8 participants per video call
#4. FB Messenger
The FB Messenger is a remarkably trusted free video chat app across the globe. For Facebook lovers, FB messenger allows you to connect with Facebook friends. The app is more of a social app than a business app. It has awesome stickers, emojis, and reaction comments.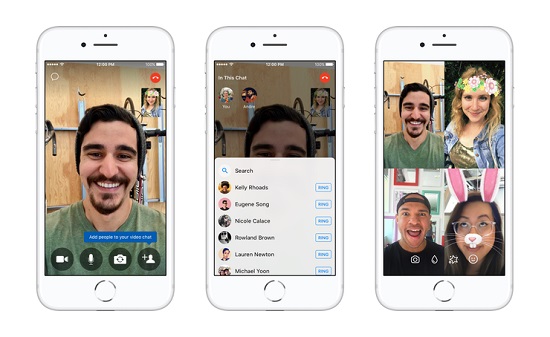 Compatibility: Android, iOS, Windows, and Mac via Web
Features:
HD video quality
Comprehensive art and video effects
Support up to 50 participantson every video call
Pros:
Fun filters
Very easy to use
Available for all software systems
Cons:
A Facebook account is required
#5. Discord
By default, it is an all-time gaming-related video chat app that makes it easy for die-hard gamers to interact. If you love gaming, you should try out this app, especially if you love streaming live games with your gaming friends. It lets live stream video quality to 1080p/60 fps just for free.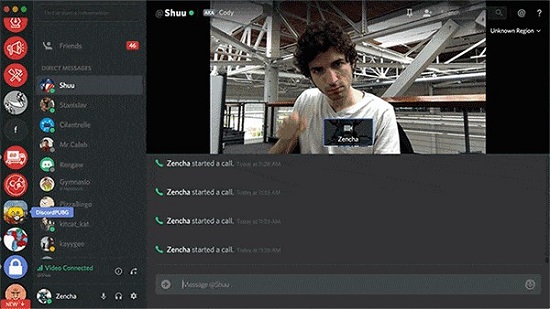 Compatibility: Windows, iOS, Android, Mac, and Web
Features:
Custom emojis & avatars
Ability to create private channels
Up to 10 video call usersand 50 while streaming
Pros:
Great for gaming
Have a smooth running
Cons:
Lack more work-friendly features
#6. WhatsApp
It is one of the most commonly downloaded messaging and video chat app in the world today for it easy to join; you just need a work phone contact. Apart from messaging, WhatsApp has a robust video calling feature. You use it to connect friends, family, and business partners. It has maximum free users of 50 persons.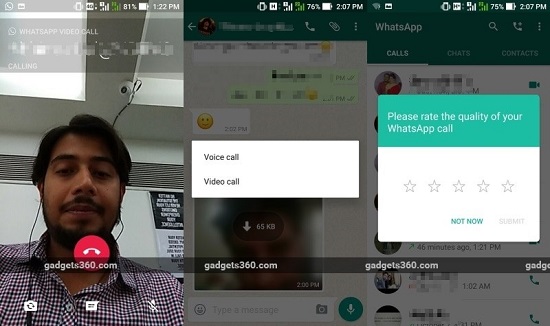 Compatibility: Android, iOS, and Windows
Features:
Support voice calls
Video calls are free
Support document and media files sharing
Pros:
It is free
Easy to join and use
Have end-to-end encryption
Cons:
Only mobile app users have access to video chat
#7. FaceTime
Compared to Android users, iPhone users have fewer live video chat applications, and FaceTime happens to be one of the best video chat apps for them. It is, in fact, one of the pioneer video call applications.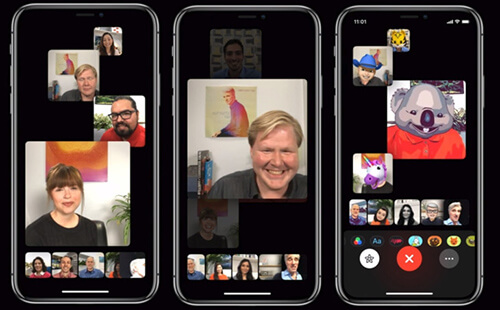 Compatibility: iOS, and Mac
Features:
Have a voice call component
Have fun and useful features
Allow up to 32 people on a single call
Pros:
High-end video quality calls
It is built into every Apple device
Allow for many users, unlike most video chat apps
Cons:
Only accessible on iOS devices
#8. Marco Polo
Popularly referred to "video walkie talkie," Marco polo is a favorite video chat app for "busy" persons. Using the app, you can record a video call message and send it to a group chat, especially when your prospect call is occupied, meaning you cannot engage in real-time interaction. It saves all the messages for future reference and memories.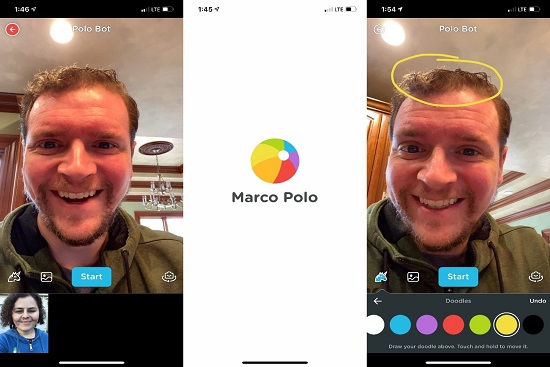 Compatibility: Android and iOS
Features:
Encrypted
Doesn't set any call length limits
Support up to 200 video call participants
Pros:
Easy to use
No third party ads
End to end encryption
Cons:
Only work with mobile users
#9. Snapchat
Unlike most video chat application, Snapchat is profoundly dominated by teenagers. It has even beaten Facebook due to its popularity. If you are a teenager, then you should consider trying out Snapchat. It provides you with an opportunity to meet and video chat with strangers; that sounds pretty amazing for teenagers.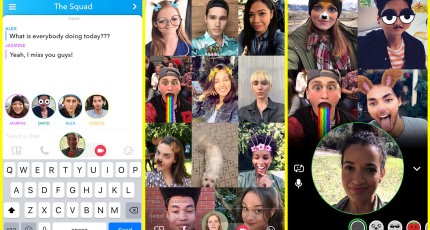 Compatibility: Android and iOS
Features:
You can start visual parties
Ad support content is available
Video clips sharing is possible
Awesome video filter features
Pros:
It is popular
Easy to use
Best in expressing yourself
Cons:
#10. Houseparty
Launched in 2016, Houseparty is a video chat with strangers app that ensures that you virtually hang out with friends, relatives, and even strangers at your room's comfort. You can enjoy playing games like Heads Up or even gatecrash chats with other people.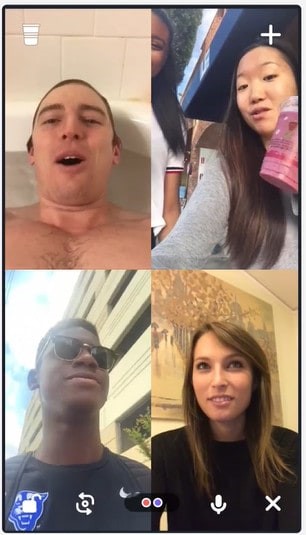 Compatibility: Windows, macOS, Android, and iOS
Features:
Have great games
Easy recording
Support up to 12 participants
Make multiple video-chatting using a split-screen
Pros:
Ability to connect with new people
It has so many fun activities etc. games
Cons:
One might end up in the wrong room of strangers
No end-to-end encryption
#11. Slack
Slack is a perpetual office video chat app and a one-on-one communication platform. The application is designed to enhance collaboration and team within an office setting. It works to collaborate different apps to make it much more effective e.g., Google Drive or Dropbox. The free version allows for only one-to-one. You will need to pay if you want to do call a group.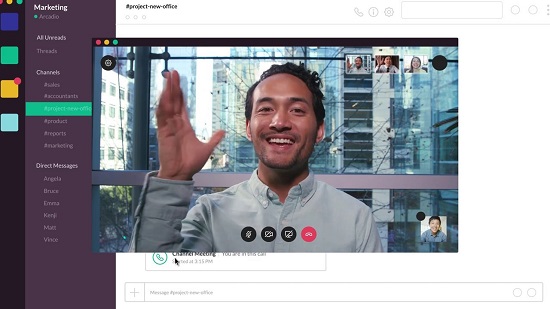 Compatibility: MacOS, Linux,Android, Windows and iOS
Features:
Compatible with other tools
Support up to 15 participants
Heavily encrypted and hence secure
Pros:
Available for most operating systems
It has a corresponding messaging feature
Cons:
#12. Instagram
It is a popular media file social media platform where you share photos and video clips. Here you can enjoy and follow your favorite celebrities, public figures, friends, and family. Besides, Instagram has a live video chat feature that allows you to call and connect with your friends. You can go live with your friends too.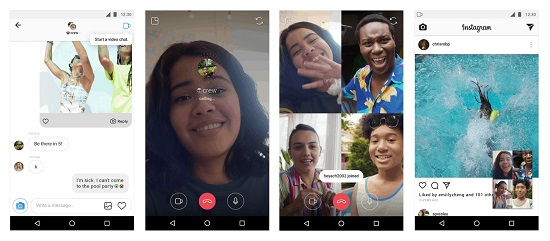 Compatibility: MacOS, Linux,Android, Windows and iOS
Features:
Allow for only four users at a time
Allow multitasking while on a call
Have additional features, such as messaging and posting
Pros:
It is free
Strict privacy
It is very popular
Appealing interface
Cons:
Overwhelming ads
Fewer features on the Web
# How to Record Video Chat - Joyoshare VidiKit
Most of the above video chat applications will not have your video conversation recorded for future reference. Well, that is why we will introduce you to a corresponding screen recording application to help you with that. The Joyoshare VidiKit - Screen Recorder is a professional program available for Windows and Mac users. It helps you capture meetings proceed or even conversation moments with your friends and family. Don't worry. Your recording will never be abruptly interrupted by a time limit, and there will be no lag.
Key Features of Joyoshare VidiKit: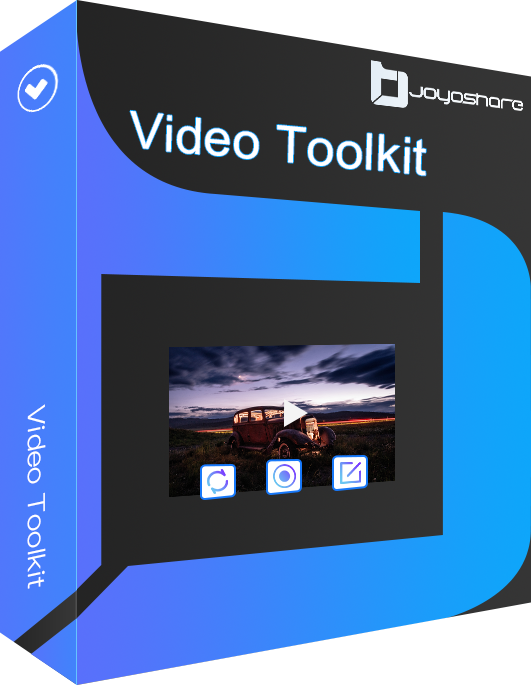 Record Zoom meeting, Skype video chat and more
Sounds both from microphone and system can be captured
Record for a long time without duration limitation
Schedule start time and end time in advance
Keep video in different format at 1080p with no lag
Step 1

Install and Launch Screen Recorder

Double click the icon to launch Joyoshare VidiKit. Access this video toolkit, find and open "Screen Recorder" tool. The main interface will appear on your desktop as below.

Step 2

Select Recording Area

Under the "Record video and audio" mode, click the "+" button in the capture area. A recording window will display. Adjust the recording scale by moving the window to your preferred recording area.

Step 3

Customize Recording Settings

Now click the "Options" button to customize your preferred output video or audio format and cursor effect. To capture video chats, meetings or sessions as plan, you can set a scheduled task to record. Or check other options as needed.

Step 4

Start to Record Video Chats

Simply click the "REC" option on your screen to start recording. You're given 3-second countdown to make possible further adjustment of the capture area. Then Joyoshare VidiKit records the video chat on your computer and you can snapshot, cut or pause at any time.

Step 5

Preview and Manage Recorded Video/Audio

To finish recording, click on the "stop" icon. You can preview the recorded files on the History window. Here you can change the name and preview to decide whether to trim the file.
How to Pick Up the Best Video Chat App?
In fact, there are many similar video chat apps available in the market besides the ones listed here. Faced with so many options, you are likely to be overwhelmed and have no idea how to choose the best one, right? You can consider the following questions, but the most important thing is to use it for yourself. Follow the principle of free or free trial apps first, and then buy according to actual needs.
What system can this video chat app support?
What do you mainly use it for, daily chats or business meetings?
What is the maximum number of people this video chat can accommodate at one time?
How long do you expect a video chat to last?
What is the difference between the free and paid version of this video chat app?
Does this video chat app support recording itself?
Conclusion
The aforementioned video chat apps provide you with just what you need i.e., great features, smooth functionality, optimizations, and efficiency in communication. It is up to you now to try them out and make the best choice that suits your needs. At the same time, it is essential that you're able to capture important and memorable memories from your video interactions with your business partners, friends, and family. That why we recommend Joyoshare VidiKit so that you could record video calls on Facebook, Skype, etc. perfectly. It provides you with an opportune chance to capture important video conversations for future reference. It is easy to use, flexible, affordable, and effective.