As a prestigious instant messaging platform with strong compatibility to Android, iOS, iPadOS, Windows, Mac, Linux and even web browsers, Discord has a broad yet increasing user base. Not only gamers but also other types of groups involved in different fields enjoy communicating via video and audio chats on Discord. However, as long as you have used it in person, you will find the biggest flaw in Discord is the lack of a built-in recording feature. Frankly, waiting for official support and upgrades is far off and uncertain. To get a proper Discord screen recorder to record Discord audio and screen video, here is the right place for you.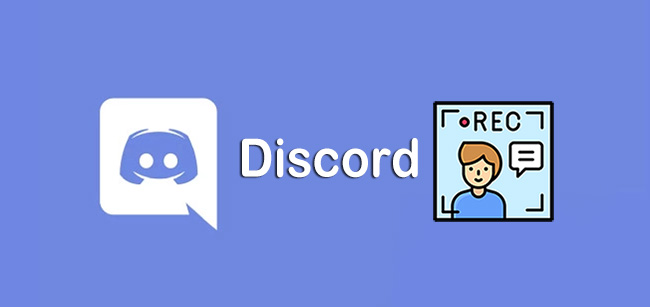 Requirements for Screen Recorder for Discord
For desktop PC like Windows, Mac and Linux:
Screen recording on desktop will consumes resources. Discord takes up to 10% CPU and it also requires 500MB RAM along with extra 300MB for recording. Your computer needs a GPU and the available storage to save recorded files should 15GB~100GB, which depends a lot on how long you're recording.
For mobile phones like iPhone and Android:
There are hardware resources requirements if you'd like to record Discord on smartphones. To run Discord and create screen recording at the same time on your device without lag, make sure you have a minimum 4GB RAM. Also, you should at least have a mid-range processor like Apple A11 Bionic, Snapdragon 768G, etc. Don't forget to leave 10GB and more free space on your mobile phones to save what you record from Discord.
1. Joyoshare VidiKit
Joyoshare VidiKit - Screen Recorder is a qualified video toolkit with capability to record a variety of ongoing desktop activities, from video chats to online meetings, from streaming movies to hot games, being applicable to different scenarios, including Discord. Aside from screencast and screen recording, it's competent to capture synchronous or independent audio in high quality. What's good is that this software supports configuration customization and there is no lag to carry out recording task with the best settings.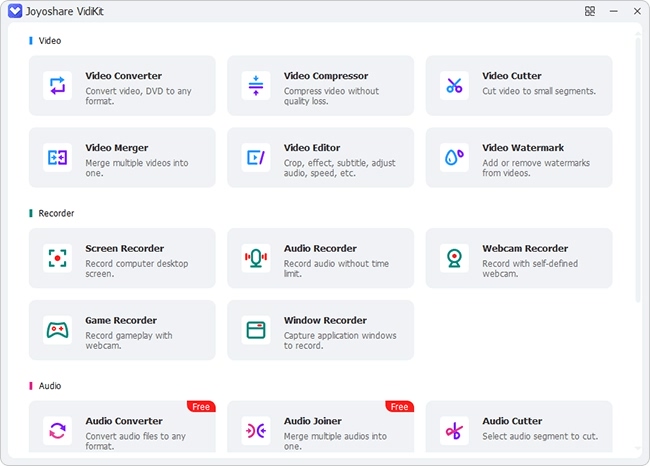 Supported OS: Windows, Mac
Pros:
Record video calls from Skype, Line, Duo, Discord and suchlike
Output video in high resolution up to 1080p/4K
Record gameplay and other possible activities at 60fps
Suitable for low-end PC and have no time limit
Support audio recording, mainstream formats, task scheduler, effects for cursor and clicks
Cons:
The free trial adds a default watermark to video
2. iTop Screen Recorder
iTop Screen Recorder does well in recording and is accepted by a majority of users. It works easily on multiple occasions such as gaming, education and work. In addition to serve as screen grab for Discord, it can be widely used to record music, home-made how-to tutorials, online classes, webinars, etc. Moreover, it's indeed friendly for gamers to deal with high-definition recordings, given that it adopts hardware acceleration to reduce lag.

Supported OS: Windows
Pros:
Compatible with many popular games
Export videos to 4K UHD
Consume low CPU and use hardware acceleration
Provide facecam for screen recording
Cons:
Only support Windows platform
3. Vmaker Screen Recorder
Search for best Discord screen recorder? Vmaker Screen Recorder can be one trusted option right here to help quickly record video and audio chats with unlimited duration. It is powerful to meet diverse needs from you, not confined to Discord, and it's feasible to create presentations, product demos, tutorials, training videos, and the like. Importantly, there is no annoying watermark on your video and it guarantees 720p high resolution. With an in-built video editor, you are allowed to add voice over, insert subtitles, trim and apply transitions.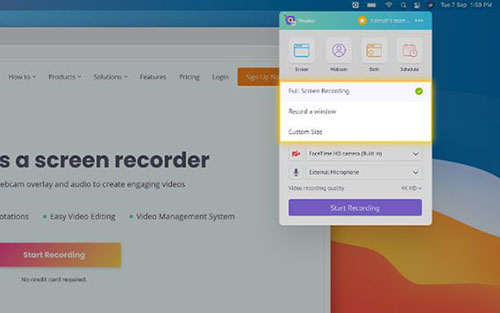 Supported OS: Mac, Windows, Chromebook
Pros:
Record Discord screen with audio and webcam
With editor to polish and process recording videos
Share video via link or automatically save it to cloud
Cons:
Cannot select one screen to record when there is dual screen
4. Bandicam
Bandicam is dedicated enough for users to screen record Discord video chats, online gameplay, conferences, and more on Windows PC. With an intuitive interface, it makes everything simple-to-navigate. What's better, it includes the full support for the latest hardware acceleration from Intel, AMD and NVIDIA, easily producing high-resolution yet high-quality video recordings, up to 4K UHD and 480fps. Except for the basic screen recording, this mighty tool has the ability to record 2D/3D gameplay from external game consoles via HDMI mode, which is highly favored.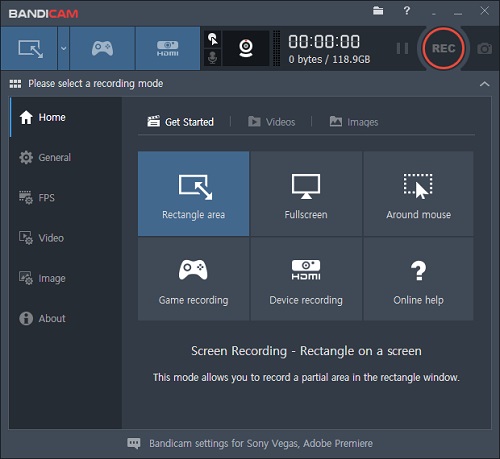 Supported OS: Windows
Pros:
Output whatever record from Discord at 480fps
Get audio along with screen video at the same time
Perform well in recording with hardware acceleration
Support overlaying webcam during recording video chats
Cons:
10-minute limited recording time in free version
Cannot work on Mac
5. Go Record
The one who likes using Apple device will need a Discord screen recording application like Go Record. It ideally integrates recording screen, facecam reaction, and editing together. Simple as it is, you can capture anything like in-app videos, games and audio commentary as you want. The recordings you create can be saved to Photos library by default, or you can quickly upload it to YouTube for sharing.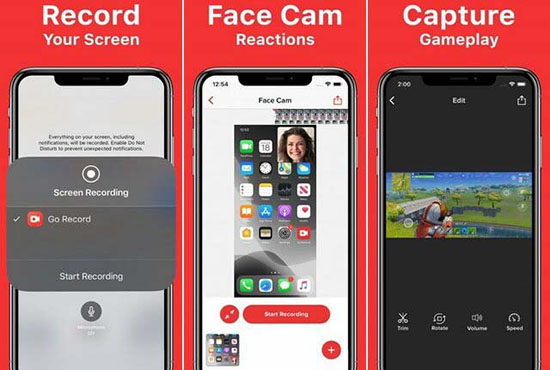 Supported OS: iOS, iPadOS, macOS
Pros:
Record Discord video as well as audio from microphone
Possibly react via facecam
With editing tools to fine tune recordings
Cons:
Sometimes quite randomly without saving recording
6. Screen Recorder - XRecorder
Screen Recorder - XRecorder is a decent Android app with no root needed. It's capable of recording video calls, live gaming shows, undownloadable videos, and ongoing screen events. There is no limit in recording time, no watermark on your Discord files, and even no lag in the recording process. Remarkably, your internal audio can be captured on device without noise interference. To simply post-process your recordings, it's practical to trim, adjust speed, remove the middle sections, and add background music.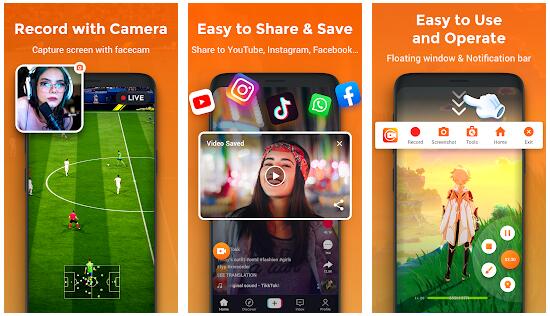 Supported OS: Android
Pros:
Record video calls from Discord in 1080p
Support YouTube and RTMP Live stream
Save recordings to internal storage or SD card
Cons:
Cannot adjust the volume of audio sources
7. OBS
OBS acts as an open-source and cross-platform tool that's frequently used and recommended by users. It's a nice option for Discord in both screen recording and live broadcasting. The most unusual thing about it is that it can record multiple scenes at once and monitor them with Multiview easily. You can add transitions to make everything natural-looking. Also, both screen and audio of Discord can be captured no matter you're chatting or playing games with others.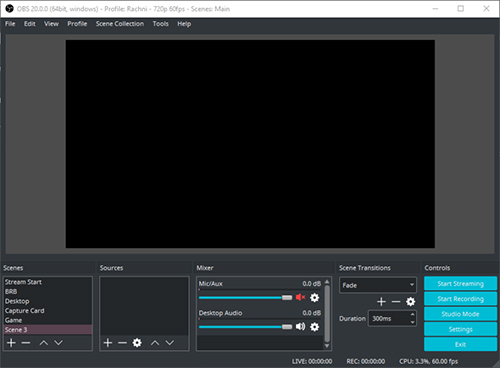 Supported OS: Windows, Mac, Linux
Pros:
Free, open-source, and cross-platform
2-in-one solution: screen recorder + live streaming
Come with audio mixer to record different sounds
Support multiple scenes and sources
Cons:
With a confusing and unfriendly interface
8. Screen Capture
Screen Capture is an online Discord screen recorder that supports various recording sources, including entire screen, browser tab and specific window. It empowers you to set not just screen but also microphone, system sound and webcam to capture. You don't have to spend time downloading and installation. The whole process is fast and simple, allowing saving videos in HD. However, what you should note is that it isn't completely free as it claims. The free version comes with fixed watermark and the format is limited to MP4 only.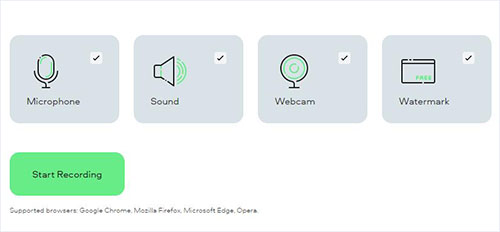 Supported OS: web-based tool for Google Chrome, Mozilla Firefox, Microsoft Edge, Opera
Pros:
Compatible with various popular browsers
Record screen, sound and even webcam from Discord
Automatically detect available recording sources for you to choose
Cons:
Watermark cannot be removed in the free version
Only save video in MP4 online free
FAQs about Discord Screen Recording
Q1. Does Discord tell if you screen record?
A: No. Discord doesn't give push notification to users because it doesn't have that function. When you record screen of it, others who are playing or talking with you are not told.
Q2. Is it illegal to record a Discord call?
A: It actually depends on the area. It's legal to record phones and conversations as long as one party knows the recording in one-party consent states such as Texas, Alaska, Hawaii, New York, etc. However, it's illegal to record in all-party consent states like Washington, California, Michigan, Florida, etc. Anyway, it's better to let others know and get permission in advance before recording.
Q3. Can I capture Discord video in OBS?
A: Yes, you can. Though many users have reported OBS not recording Discord, especial the audio, in fact, it works. You'd better to set up audio correctly. For example, if your default communications device and default device are set on two different devices, OBS will mute audio that comes from Discord chat. Make sure that only one device is well set for communications and anything else.
Conclusion:
You've now learned 8 best Discord screen recorder and had a general understanding of their main features. You can choose what you like based on what Discord platform you actually use, including desktop, mobile phones and even online. Before recording, don't forget to check your system hardware requirements and whether it's needed to get permission from other side first. Hope you can create wanted recording from Discord for sharing and personal saving.