We may need to edit videos for many reasons. For example, we record a video with phone or camcorder, before uploading it to YouTube or sharing it with others, we may wish to make the footage look better by adding some special effects to it. Thanks to the fast development and growing popularity of video editing software, creating personalized video clips becomes much easier and cheaper than before. But here comes a problem. As there are so many free video editing tools coming out day by day, which is the best choice? To save your time, we are including some high-quality free video editors in this article. If you are beginners in video editing and just seeking some simple and straightforward video editors for easy editing tasks, these free video editor recommended here will be perfect for you.
Below you'll find our top picks of the 5 best free video editing software available for Windows and macOS.
1. Windows Movie Maker (Windows)
As a well-known free video editing software for Windows, Windows Movie Maker contains all essential features for editing videos, such as combining video clips, adding video effects and transitions, splitting videos, etc.
You are allowed to begin editing the videos by simple drag-and-drop. After adding the video to the timeline, you can right-click on the video file to get more editing options from the drop-down menu. Besides, you can add new effects and transitions or modify the existing ones using XML code.
Additionally, the full-screen preview and high-definition webcam capture are also a plus, although it faces a drawback that Windows Movie Maker only allows you to export your videos as DV, AVI and WMV formats.
Pros:
Easy to use in editing videos and audios
Support full-screen preview and HD capture
Provides various video effects and transitions
Cons:
Limited output format support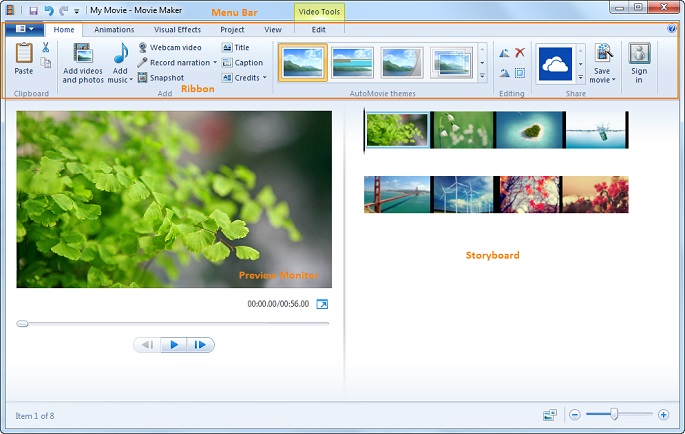 2. Avidemux Video Editor (Mac & Windows)
Avidemux is another free video editor designed for quick trimming, filtering, encoding and other basic editing features. It supports most file types like AVI, DVD, compatible MPEG files, MP4, and ASF.
After loading a video into Avidemux, you can trim the file frame by frame, preview the video, adjust the brightness and contrast, hue and saturation, reduce noise, sharpen edges, and more.
Avidemux Video Editor also allows you to change extensions and select individual output formats when finished editing a video. But the disadvantage of this free tool is that it only supports one video clip to be loaded at a time. So it's impossible to combine different scenes from multiple video clips. It could be a good option to create videos for use by other movie editors.
Pros:
Perfect for small and quick editing tasks
Support multiple file types
Cons:
Difficult to utilize with a less-than-friendly interface
A bit buggy and prone to crashing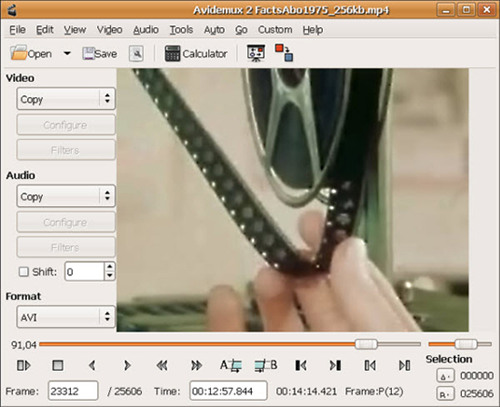 3. Lightworks (Mac & Windows)
Lightworks is described as the professional video editor for everyone and it is fascinating to use a tool employed by Oscar-winning Hollywood movie editors. It doesn't do a lot, but what it does is brilliant.
Lightworks is designed to enable teams of editors using multiple workstations to create two-hour movies containing dozens of scenes and hundreds of clips. This would be impossible with the other video editors.
Notable features of Lightworks include professional-level color correction, GPU-accelerated real-time effects, video capture, and nearly all-encompassing format support.
Pros:
The most powerful and professional free video editor
Easy to use for everyone
Run well on fairly modest hardware
Cons:
Limited to 720p resolution output
Support a limited range of special effects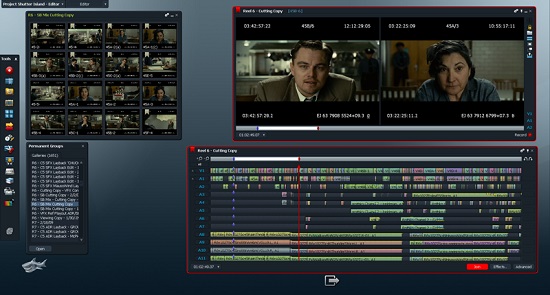 4. VSDC Video Editor (Windows)
As a non-linear video editor, VSDC works in rather a different way to many other video editing tools, letting you position clips and other elements on the timeline and edit them there.
VSDC Free Video Editor provides a great number of effects, filters, overlays, transition effects and color correction abilities to enhance your footage, with both wizards and manual options that are suitable for both beginners and more professional users.
It supports all popular media files and outputs the customized video to DVD, VCD, AVI, MPG and some presets for the PC, DVD, iPod, Xbox, Playstation, mobile phones and more.
Pros:
Support various files formats
Provide a huge array of effects and filters
Cons:
Run slow and not stable sometimes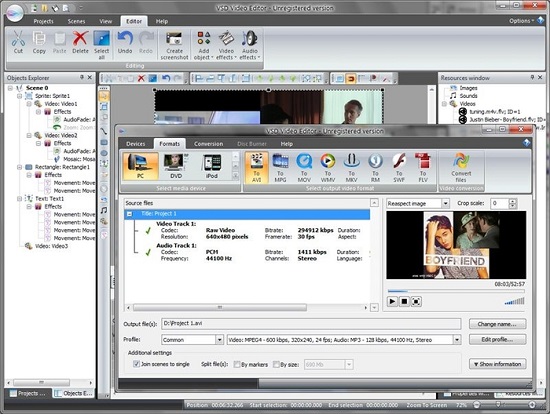 5. Wax (Windows)
As a high-performance and flexible video editing tool, Wax is a good choice for both home users and more advanced users. It can be used not only as a stand-alone application but also as a plug-in to other video editors.
By using graphics acceleration available with your video card, Wax enables you to edit videos with mind-boggling effects in realtime or near-realtime.
Besides, it supports unlimited video and audio tracks with top-down compositing and many compositing modes.
Pros:
Easy-to-use for all users
Preview videos with built-in media player
Cons:
Limited video editing functions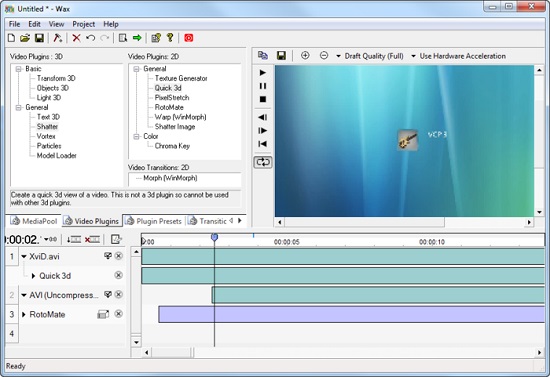 More Recommendation:
If you are more than a beginner user and prefer a much more professional video editing tool, then you should try Joyoshare Video Converter which supports various video editing effects, like trimming, cropping, rotating, etc., while being able to convert and merge different videos, DVDs and audios to other popular formats and devices. Or if you are looking for a powerful and easy-to-use video editor that can cut and merge videos/audios losslessly at 60X fast speed to multiple formats and preset profiles, Joyoshare Media Cutter could be the best choice. It offers 5 opportunities for you to test the full version out. Here you can give it a shot: