Video files have become a large part of communication tools. Although various file formats are available for video files, the MP4 file format is the most common one. Nevertheless, users might need to convert their MP4 formats into other file types, such as a WMV file. The WMV (Windows Media Video) file format is a series of video codecs and coding video formats developed by Microsoft. If you wish to use an MP4 to WMV converter, several third-party software is available. Here, we have compiled a list of the best converter tools for you. Keep reading to learn more.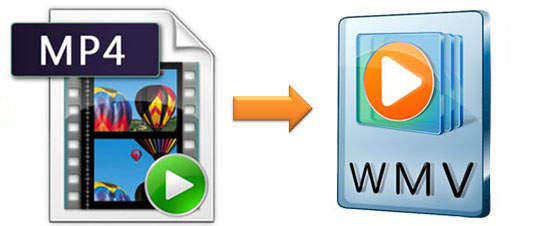 1. Joyoshare VidiKit (Recommended)
Joyoshare VidiKit (originated from Joyoshare Video Converter) is undoubtedly the best MP4 to WMV converter tool currently available in the market. This software is an advanced tool that can support almost more than 150 file formats, converting them into each other within a span of minutes.
The most outstanding feature of this tool is its fast conversion speed, which is almost 60X. In addition to that, it offers the best quality of converted videos, so you can forget the quality loss. These features make Joyoshare highly appealing. The only downside is that the software is not entirely free, so in order to access some features, you might have to buy the paid version.
Key Features:
60X fastest conversion speed and full quality output
Convert MP4 to WMV singly or in batch
Support over 150 popular formats on Windows and Mac
Rip DVD Disc/Folder/ISO image and remove protection
Customize output format and edit videos before conversion
Cut, merge, crop, subtitle, watermark, rotate videos, and more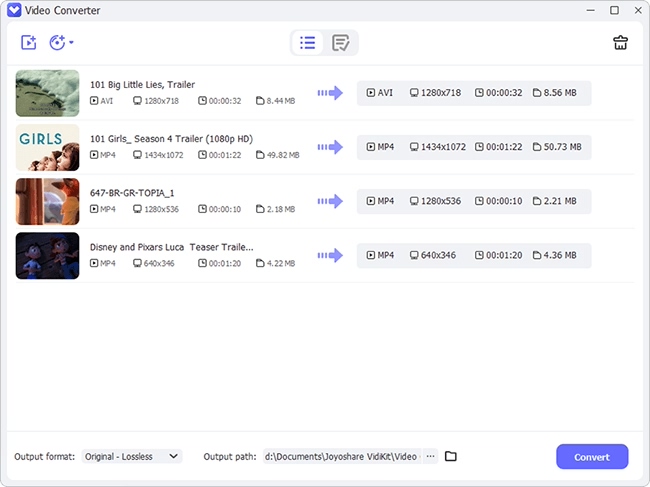 2. Aimersoft Video Converter Ultimate
The Aimersoft Video Converter Ultimate is a fast converter tool that helps you easily convert your MP4 files to WMV files. This online MP4 to WMV converter software enables its users to change the format of their file with a 90 times faster conversion speed and is also lossless.
A major advantage of Aimersoft over other software is its high speed. This tool can convert one type of file format into another within a span of minutes. However, it does not offer direct video transfer options to other devices, which is a major drawback.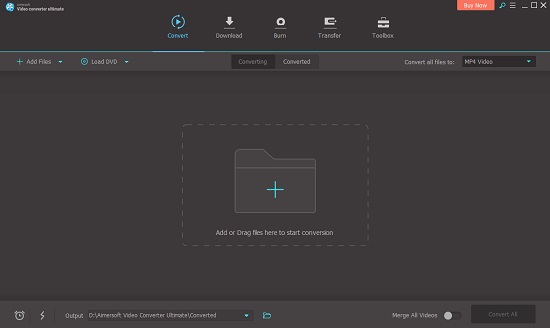 3. VLC
The VLC media player is an all-time favorite for Windows users. This tool can do almost everything without users installing additional codecs or anything. Among other useful features of VLC, one highly beneficial one is that it can be used as a free MP4 to WMV converter.
A highly appreciated feature of the VLC media player is that it's completely free. Now you do not need to pay additional amounts of money in order to access beneficial features of the tool. The only drawback that some users have occasionally reported for VLC is that you will face some issues when playing videos of 4K or higher resolutions.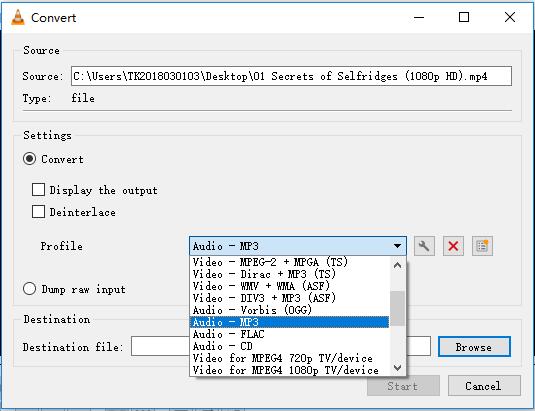 4. Wondershare Online UniConverter
The Wondershare Online UniConverter is another free online MP4 to WMV converter tool in the market. This all-in-one tool can help you compress, convert and edit video as well as audio files. The software features a high user rating too.
Wondershare Online Uniconverter can be used to post-edit and customize your video files after conversion and hence has a visible and great advantage over other tools. But it is a premium tool, which means that you must pay to use some of its features.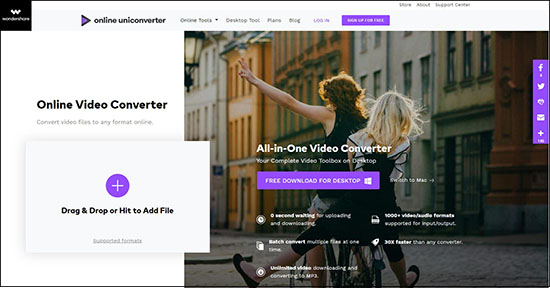 5. Zamzar
Zamzar is yet another free MP4 to WMV converter, which can be used to convert your MP4 files into WMV format easily. The tool supports several file formats and is online and free to use.
One of the most appealing features of Zamzar is its feasibility. The tool is highly easy to use and serves great advantages to people that are not very tech-savvy. However, the tool does not offer simultaneous conversions of multiple files at the same time.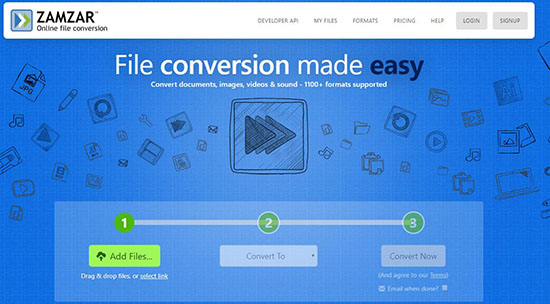 6. Prism Video Converter
Prism is a video converter that could be used as a free MP4 to WMV converter. It offers many file formats for conversion purposes like MOV, WMV, FLV, AVI, etc. To use the Prism video converter for free, you need to download its Windows version.
Once downloading, you can compress or convert your videos into many popular formats. The performance of this converter is incredible due to the high-speed rate of conversion. The popup verification for commercial use is somehow useless as it can close with a single click.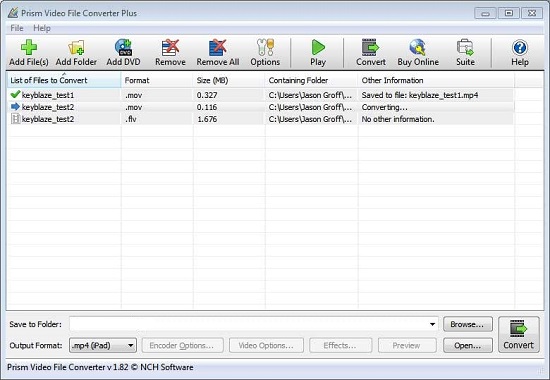 7. CloudConvert
CloudConvert is a free online MP4 to WMV converter, which can convert video files in many supported formats, including WMV, AVI, WEBM, etc. For file conversion, it allows you to select a file from Google Drive, Dropbox, OneDrive, URL, and from your own computer.
This tool allows you to control the aspect ratio, frame rate, video codec, Qscale, and resolution of your video. There are other choices for audio editing and other customizations. But this tool does limit you with the bandwidth that doesn't allow large file conversion.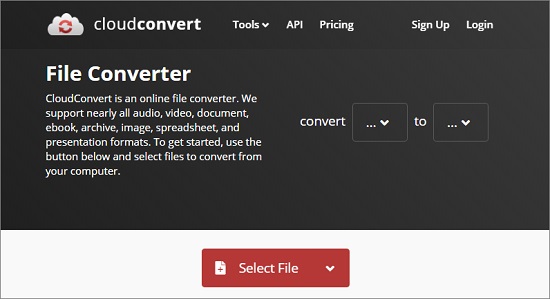 8. MiniTool Video Converter
The MiniTool Video Converter is a free MP4 to WMV converter which supports 1000+ formats for converting video and audio files. It also allows you batch conversion at the same time. For the best use of this tool, you need to download the new upgraded version for free.
The video quality after speedy conversion from the MiniTool converter is quite high. It also helps you in screen recording of your PC screen. The drawback of this tool is that it is only available for Windows.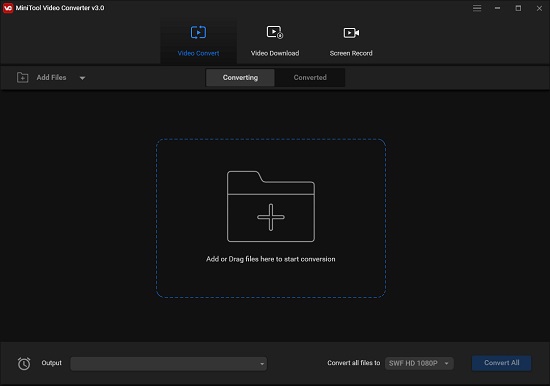 9. Online Converter
As known by its name, Online Converter is an online MP4 to WMV converter. You can upload a file for conversion from your own device or by pasting a URL. It supports a maximum file size of 200MB for conversion. You can simply convert your MP4 file by agreeing to the terms.
This tool is very simple in use which offers multiple formats for the conversion of MP4 files into WMV files with convenient sharing options. If you forget to store your converted file, then you can't access that file after some interval because of the short storage period.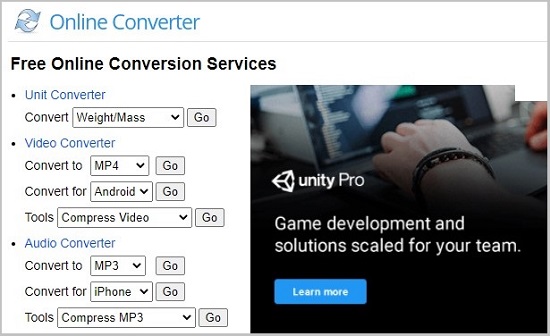 Conclusion
Well, now you know what the best tools in the market are when video file formats are concerned. If you are looking for an online MP4 TO WMV converter, you now have an idea of what the best converter software is. You can use any of the above-mentioned MP4 to WMV converter tools to convert the file format of your audio file.
We strongly recommend using the Joyoshare VidiKit to convert your file formats from MP4 to WMV. This software is highly advantageous over the others and serves several other beneficial features. Try it to get the best results while converting your media file.