Are you in need of some the best MP4 converter online? If yes is your answer, you have landed in the right place. Choosing the right tool is not an easy task if you are new to such apps. Still, if you are a professional, you can easily lay your hands on the best options available in the market, or online. We have done some extensive research for the sake of your ease, so you don't have to go anywhere else in search of suitable converters and find all the details in a single place here.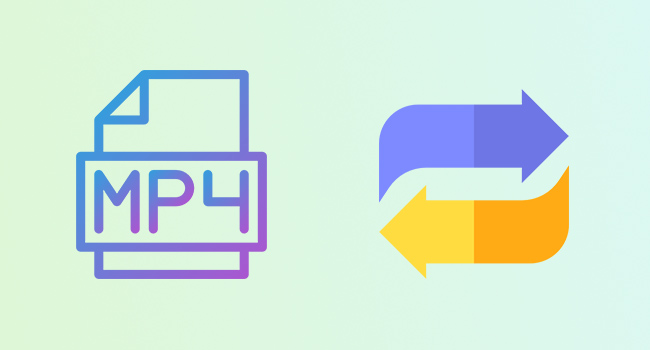 Best Recommendation - Joyoshare VidiKit
Joyoshare VidiKit - Video Converter is one of the finest MP4 converters that one can use for all kinds of audio and video formats. This tool has an easy-to-use interface that even a newbie can make the app work according to their needs. You can easily process and compress the files according to your needs. It doesn't lose the quality of the original content. Additionally, you have the chance to preview converted MP4 videos to check the content.
Key Features of Joyoshare VidiKit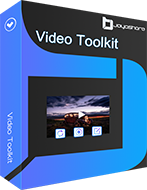 The video can be converted without quality drops
Easy-to-operate UI for users to process video files within few steps
Change watermark and effect as you want
Convert MP4 videos to 150+ different formats
Configure video codec, quality, resolution and more
1. CloudConvert
One of the best online free MP4 converters that users can trust is CloudConvert. This tool allows you to convert your video files online. It is best compatible with WEBM, MP4, and AVI. Users can easily utilize the options according to their needs and can manage size of the file, video resolution, and quality. It works fine with files such as image, video, audio, spreadsheet, presentation, document, eBook, and archive.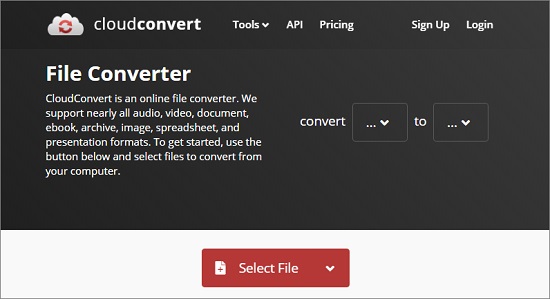 Pros:
Convert a massive number of extensions
Easy to use and simple
No need to download the software
Cons:
At times large files take a lot of time to convert
Sometimes it messes up the font of the file
2. ONLINE-CONVERT
ONLINE-CONVERT is another MP4 online converter that you should know about. It lets you convert files to the MP4 format without any trouble. You can upload your video file or give a link to a video file to convert your video online to MPEG4. With its high-quality MP4 conversion feature, you can optimize for the best quality results, which are free to use. The tool converts files in different formats such as AVI to MP4, FLV to MP4, MPEG-2 to MP4, MKV to MP4, MOV to MP4, and more.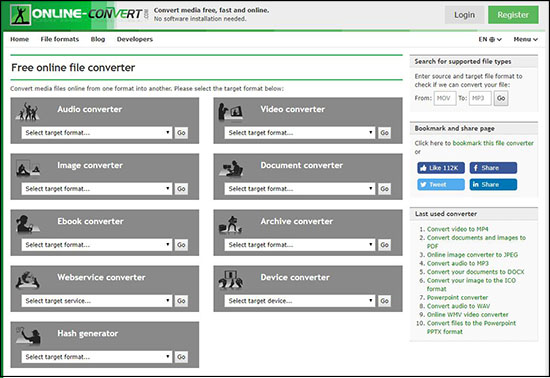 Pros:
Free of cost
Availability of multiple file formats and conversions
Fast and provide the best quality results
Cons:
Don't convert videos from video-sharing websites
Need to purchase the subscription for bigger files
3. Video Converter
This is a free online video converter to MP4 application that converts video files, permitting you to alter the format of the video and change the size of the file right in your browser. Users can easily upload files up to 4 GB in size, do remember that the uploading speed will be based on the speed of your Internet. With the help of this application, you can support more than 300 file formats.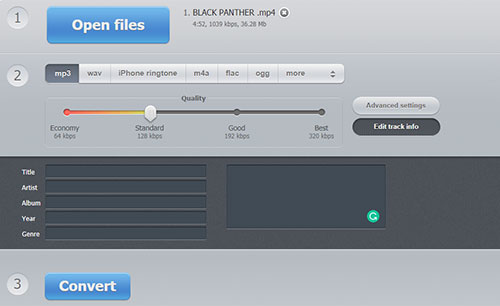 Pros:
Remove data after you are done using the converter
No file limit, convert as many files as you need
Easy and simple to use
Cons:
Take some time to process videos
A bit slow when it comes to conversion
4. FreeConvert
FreeConvert is an MP4 video converter online that functions best for Linux, Windows, Mac, and mobile devices. Using this tool is really simple as you just need to upload a file and choose a target format. All those people who need to convert some highly confidential files can make the most out of this converter, as it doesn't save any of your files in its record and deletes them via automatic processing after 2 hours of conversion.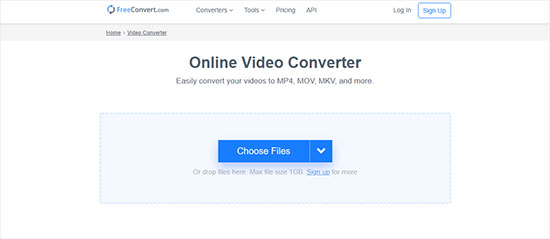 Pros:
Easy and simple to use
Unlimited file formats
Secure to use as it doesn't save any data in its record
Cons:
No export to Google Drive or Dropbox
The video conversion lets you convert only up to 1GB
5. Kapwing
Kapwing is another video to MP4 converter online tool that is the web's best tool for changing MP4s into a new file format. With the help of a number of clicks, users can convert videos into amazing MP3s, avail GIFs, appealing slideshows, and get a lot more for social media content. Save yourself from ads, spamming, and the fear of violating your privacy as the tool doesn't share your information with anyone else.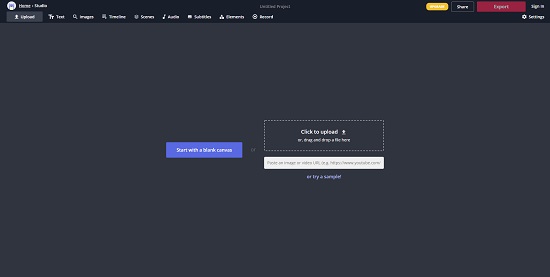 Pros:
User-friendly
Provide numerous editing tools
Offer unlimited templates and tools
Cons:
Worst customer service
The free version has low quality of video
6. Video2Edit
Another video editing and conversion tool that is in the market for more than 10 years now. It's just like the above-mentioned online convert as it uses the same file converter API. The tool provides services in more than one language such as German, Chinese, English, Portuguese, Indonesian, and others.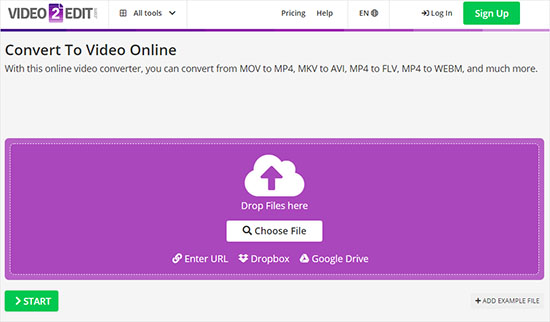 Pros:
Convert videos into various formats
Share your edited videos on social media platforms
Convert links to video files
Cons:
File can't exceed more than 75MB
With the paid version, only 1GB of video can be uploaded
7. Online Video Converter
With the help of this converter, users can convert and download online videos on their devices can gain access to them in offline mode. Videos can easily be saved and watched without any issue, even when you are traveling. You can also copy video or GIFs links from different websites such as Facebook, Twitter, YouTube, Vimeo, or other sites and change them with this free tool.

Pros:
Compatible with mobile phone devices
Easy to use
Allow you to download videos and watch them in offline mode
Cons:
Take a while to convert videos
The speed of conversion is also based on the speed of the Internet
8. Zamzar
Zamzar also has an MP4 converter online free that allows you to convert videos for a long time now. It provides fast conversion and convenience. With its free version, users can convert 2 files for a 24-hour period. It is compatible with numerous video formats that include WAV, FLV, MP4, WMV, AVI, MOV, 3GP, and others.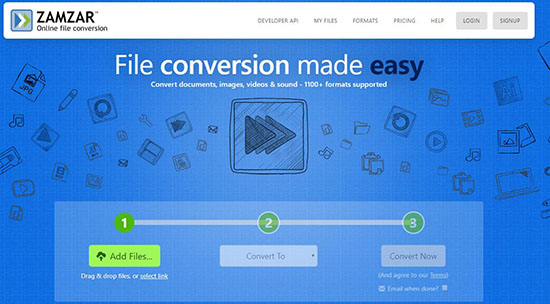 Pros:
Trusted, safe, and legal
Easy to use
No need to download the software as everything is done online
Cons:
Can only convert videos of 150MB
Conversion takes time
9. FLVTO
FLVTO is an expert online converter that let users download and convert their videos to different formats such as MP4 HD, MP3, MP4, AVI, and AVI HD. Users just need to paste the link of the video file to the interface and right after that, the conversion process will start. After that, you are allowed to download the converted file from the interface. It works best with Windows, Mac, and Linux.

Pros:
No need to download the software
Easy to use
Multilingual
Cons:
Can't enjoy the convenience of offline mode
Ads pop up while you are working as it is online
10. SaveTheVideo
SaveTheVideo is a free to use online video to MP4 converter that gives an amazing number of options that can beat many of the similar apps available in the market. It is a free and easy-to-use online video converter, apart from conversion and downloading tasks, it has editing options like video cutting. It allows you to convert video files every single batch.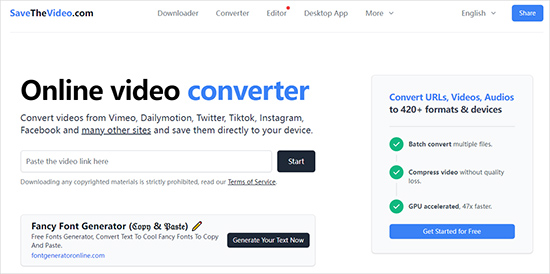 Pros:
Support multiple file formats
Free of cost
Convert videos in batches
Cons:
Slow conversion process
Ads pop up while you are working
11. AConvert
AConvert is an online video converter that allows us to convert MP4 and other files to your preferred formats. You can include files from Google Drive, PC, URL, or Dropbox for conversion. The tool functions directly from the browser and requires no download or installation. You can also change the size, bitrate, frame rate, and do more.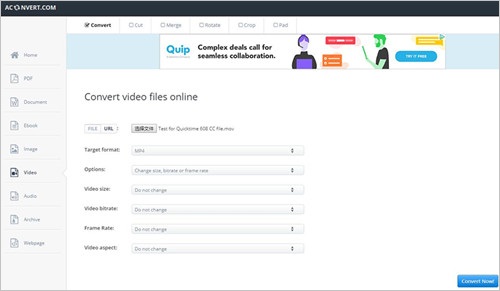 Pros:
Support all popular file formats
Quick to convert videos
Easy to use and free
Cons:
Conclusion
We hope that above suggested MP4 converter online is some of the best options that you can lay your hands on in need. Choose any of the shared converters that you like and let us know about your experience with them. If you have any more questions, you can feel free to reach out to us. We would love to guide you with all the questions that you have and need assistance with.